Long story short I got an open box MSI GTX580 Lightning from newegg at a crazy price...too crazy perhaps. Got it today, open the box and notice there is a tag on the card that says just one word "SWITCH". The rest of the card looks fine, a few scuffs on the cooler, but nothing that jumps out at me. I install it and everything powers up fine but no signal to monitor. Fans on the card are spinning and LED's on the back are lit. I thought maybe first buyer had messed with some of the switches so I check and notice this: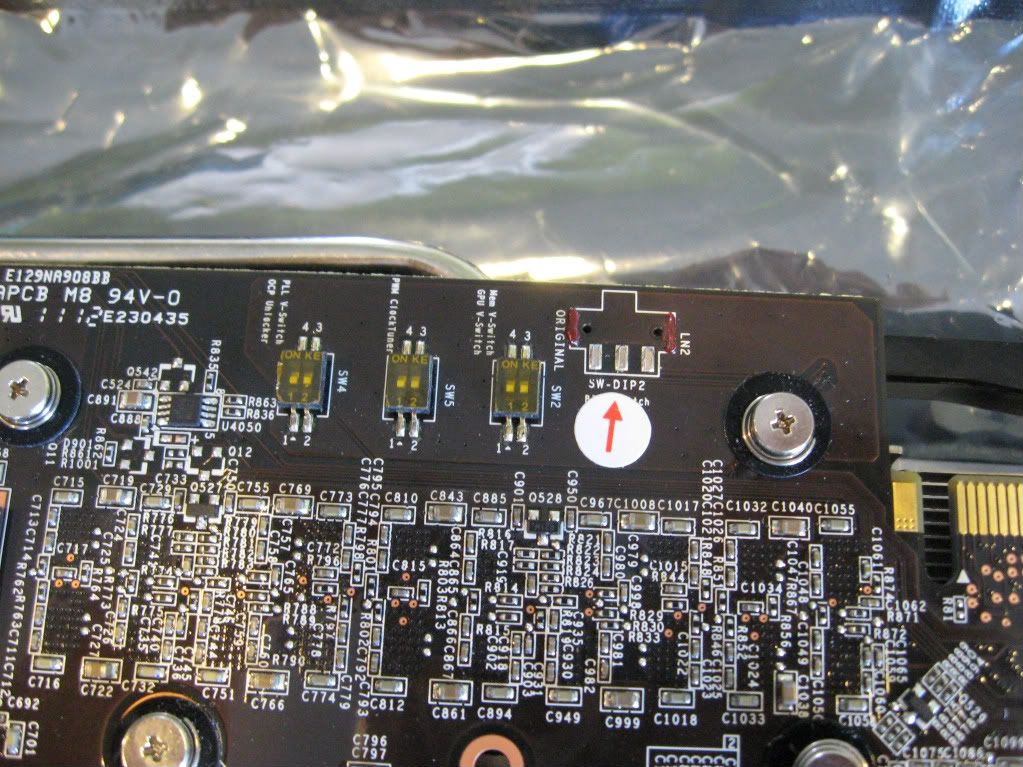 So I think I know what "SWITCH" meant on that tag and when I compare to pics in reviews you can tell something is missing. Also, I notice now the sticker with arrow pointing to the problem.
So is this switch missing the problem most likely? I have no other PC's to test in. I know card was fully seated and PSU is Seasonic X750 so there should be plenty of juice. I put my old card back and everything works just fine as before. Not sure what else it could be.
Now the dilemma is return to newegg and have no card or try to warranty through MSI? I got this for a really good price ($255) so to have no GTX580 at the end would really, really suck. Advice/suggestions please?
CPU
Motherboard
Graphics
RAM
i5-2500k @ 4.4Ghz
Gigabyte Z68XP-UD4
EVGA GTX580
G.SKILL Ripjaws X Series 2x4GB DDR3 1600MHz
Hard Drive
Hard Drive
Optical Drive
OS
Crucial M4 256GB
Samsung Spinpoint F3 1TB
Asus 24X DVD Burner
Windows 7 Home Premium
Monitor
Power
Case
Mouse
Dell U2412M
SeaSonic X750
Antec 902 V3
Razer DeathAdder
View all
hide details
CPU
Motherboard
Graphics
RAM
i5-2500k @ 4.4Ghz
Gigabyte Z68XP-UD4
EVGA GTX580
G.SKILL Ripjaws X Series 2x4GB DDR3 1600MHz
Hard Drive
Hard Drive
Optical Drive
OS
Crucial M4 256GB
Samsung Spinpoint F3 1TB
Asus 24X DVD Burner
Windows 7 Home Premium
Monitor
Power
Case
Mouse
Dell U2412M
SeaSonic X750
Antec 902 V3
Razer DeathAdder
View all
hide details