So I ordered myself an open box 6950 Twin Frozr III from newegg.com.
It arrived today. Or did it?
It arrived in its normal retail packaging... the last two open box cards I got, came in plain white boxes. I was a bit surprised. I was happy that it meant I would probably get a couple accessories (most wanted was the Crossfire bridge)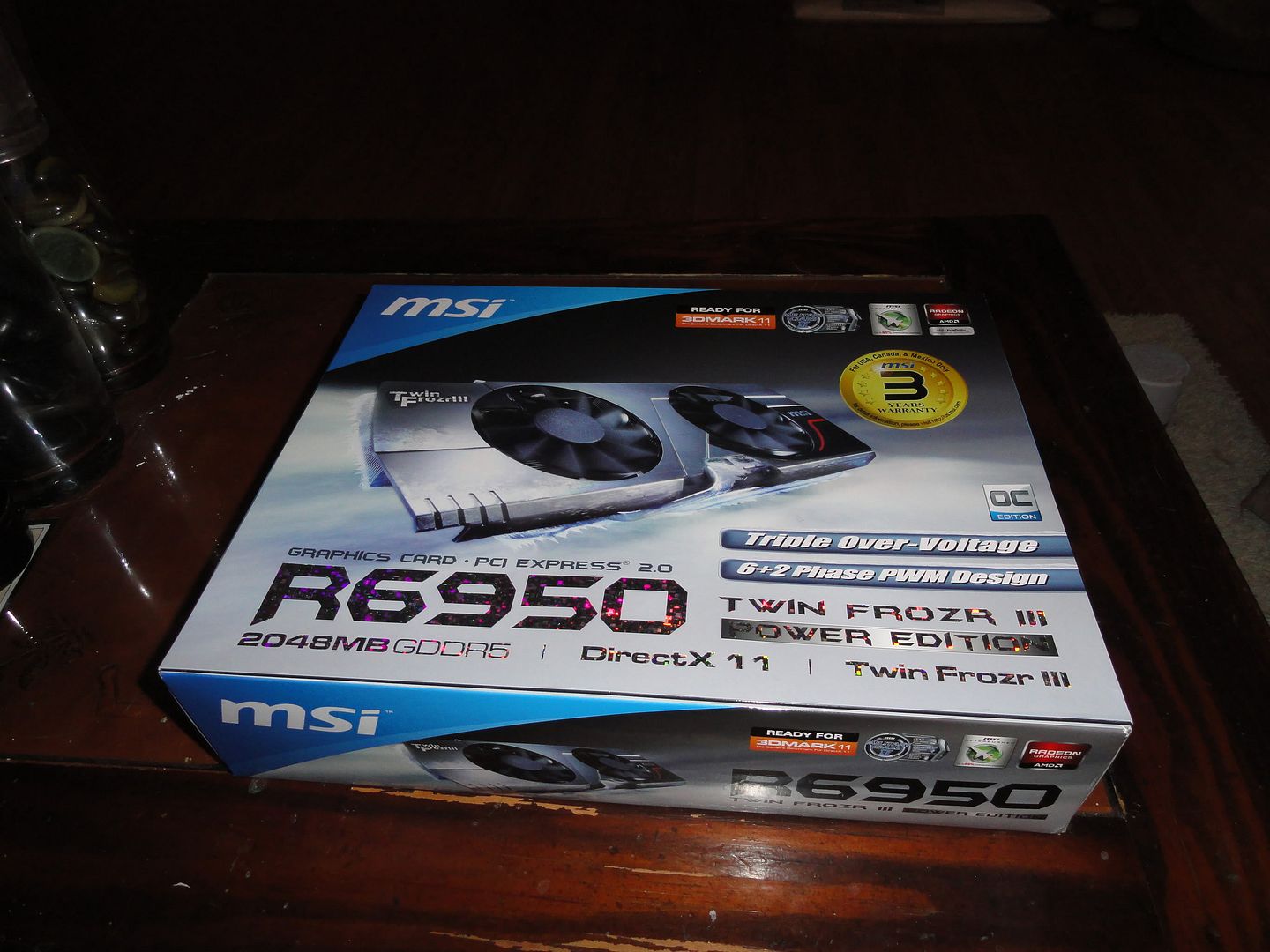 I opened it and slid out the inner box. And I started to get a weird feeling. I wasn't sure what to think.
I lifted the card out of the foam, and went to remove it from the static bag... and i noticed that it looked like it has never been opened. I know you can reseal the bags, but they usually show some sign of distressing... But the folds and creases looked too perfect.
and I have all the accessories, all individually bagged... and what looks like all the paperwork. All in perfect condition.
So the question is this:
Did Newegg sell too many open box cards they didn't have stock for and I got a new one?
Did the Newegg warehouse just pick the wrong card, and I got a new one instead of the open box card I ordered?
Did someone order this card, never actually open it and returned it, paying the restocking fee?
Did I just get a normal open box card, and I am just being foolish, thinking any of this?
Newegg open box experts?
Thanks!
CPU
Motherboard
Graphics
RAM
i5 2500k OC'd 4.9GHz
Asus P8P67-M PRo
Asus GTX-560 Ti Direct CU II
PNY XLR8 8GB DDR3 PC3-12800
Hard Drive
Optical Drive
Cooling
OS
WD Caviar Black WD1002FAEX 1TB 7200 RPM
LG Black Blu-ray Disc Combo SATA w/Lightscribe
Corsair H60
Windows 7 Ultimate
Monitor
Power
Case
Acer G235HAbd 23'' WideScreen LCD monitor
OCZ ModXStream Pro OCZ700MXSP 700W Modular PSU
Corsair Carbide Series 500R
View all
hide details
CPU
Motherboard
Graphics
RAM
i5 2500k OC'd 4.9GHz
Asus P8P67-M PRo
Asus GTX-560 Ti Direct CU II
PNY XLR8 8GB DDR3 PC3-12800
Hard Drive
Optical Drive
Cooling
OS
WD Caviar Black WD1002FAEX 1TB 7200 RPM
LG Black Blu-ray Disc Combo SATA w/Lightscribe
Corsair H60
Windows 7 Ultimate
Monitor
Power
Case
Acer G235HAbd 23'' WideScreen LCD monitor
OCZ ModXStream Pro OCZ700MXSP 700W Modular PSU
Corsair Carbide Series 500R
View all
hide details