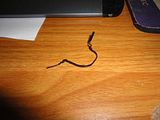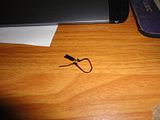 I need about 20-30 of them but something longer and maybe thicker.
I'd also love to know where to get them..
I am thinking of getting an Corsair TX 750 V2 over the TP New 650.. the only beef I have with the TX 2 is that it ain't modular xD
So, I need to find lots of "these" things..
Thanks in advance.
CPU
Motherboard
Graphics
RAM
i5 2500K 4.3Ghz @~1.344 V
ASUS P8Z68 V PRO
Sapphire HD5870 2GB Eyefinity 6
G.Skill Sniper 1866 Mhz 9-10-9-28@1T
Hard Drive
Optical Drive
OS
Monitor
Samsung F3 1TB, Maxtor 500GB, SG 1.5 TB
LG Lightscribe
Windows 7 64bit
Samsung 2333HD (TN Panel)
Keyboard
Power
Case
Mouse
generic wireless keyboard from Logitech
Antec TruePower New 650 watts
NZXT Gamma
dell optical
Mouse Pad
simple
View all
hide details
CPU
Motherboard
Graphics
RAM
i5 2500K 4.3Ghz @~1.344 V
ASUS P8Z68 V PRO
Sapphire HD5870 2GB Eyefinity 6
G.Skill Sniper 1866 Mhz 9-10-9-28@1T
Hard Drive
Optical Drive
OS
Monitor
Samsung F3 1TB, Maxtor 500GB, SG 1.5 TB
LG Lightscribe
Windows 7 64bit
Samsung 2333HD (TN Panel)
Keyboard
Power
Case
Mouse
generic wireless keyboard from Logitech
Antec TruePower New 650 watts
NZXT Gamma
dell optical
Mouse Pad
simple
View all
hide details