Hi everyone,
I am about to order a load of components for the upgrades to my PC. Could you please check these?
Case: Cooler Master HAF X
Motherboard: ASUS P7P55D-E
CPU: Intel i7-860
RAM: 2 x Corsair CMX8GX3M2A2000C​9 8GB = total 16GB
GPU: EVGA GTX480 SuperClocked
Boot HDD: Corsair F120 (120GB)
Storage HDD: 2 x WD 1TB
Monitor: 2 x 24-inch
PSU: Corsair 100W
Water-cooling: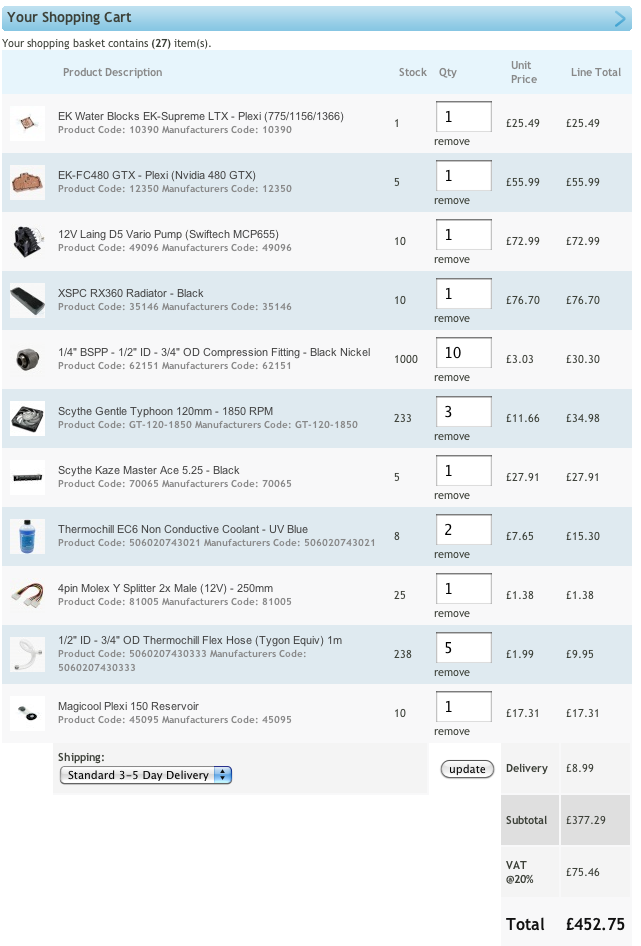 Thanks guys!
hcetech
CPU
Motherboard
Graphics
RAM
i7-860
ASUS P7P55D-E
ASUS ENGTX 480
8GB DDR3 SDRAM
Hard Drive
Optical Drive
OS
Monitor
Corsair 120GB SSD + 2x WD 1TB HDDs
LiteOn iHAS-224 DVD±RW
Mac OS X 10.6.7
Dell U2711 + Samsung BX2450
Keyboard
Power
Case
Mouse
Apple Wireless Keyboard
Corsair HX1000
Cooler Master HAF X
Apple Magic Mouse
View all
hide details
CPU
Motherboard
Graphics
RAM
i7-860
ASUS P7P55D-E
ASUS ENGTX 480
8GB DDR3 SDRAM
Hard Drive
Optical Drive
OS
Monitor
Corsair 120GB SSD + 2x WD 1TB HDDs
LiteOn iHAS-224 DVD±RW
Mac OS X 10.6.7
Dell U2711 + Samsung BX2450
Keyboard
Power
Case
Mouse
Apple Wireless Keyboard
Corsair HX1000
Cooler Master HAF X
Apple Magic Mouse
View all
hide details