Quote:
Originally Posted by
WALSRU;13855479
I pondered this exact same thing. Here's what I came up with and my CPU temps improved by maybe 3C.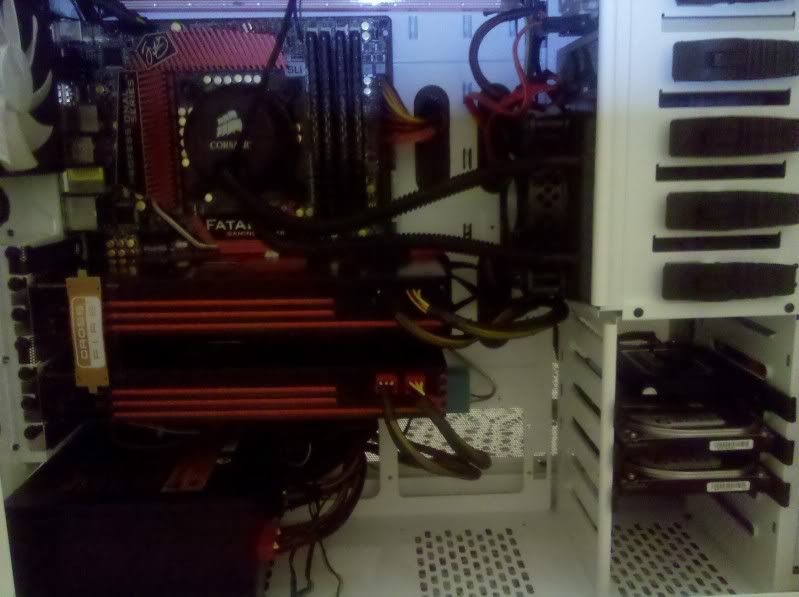 With many cards the majority of the hot air is exhausted out the back of the case with the remainder radiating upward. Reference exhausts almost all, something like a TFII barely exhausts any outside the case. Since my tower has it's back to a wall I figured the H50 intake (on the top left) was probably pulling in whatever just came off the GPU. So I figured out, mounted sideways the h50 fits near perfectly into the 5.25 bay taking up exactly 3 slots. With some two sided tape it's in there SOLID and doesn't vibrate. Cool air (with the door closed) comes in primarily from the backside of the HDD vent.
I recommend it if you don't have more than 2 optical drives! Don't forget there's also 2x 120mm on the bottom right in front of the two HDD cages. Though I removed the second one as I thought it was too restrictive for airflow.
Awesome idea. I will definitely consider this. Thanks a bunch.
I only have one optical drive, it should be possible.
So you just let your front fan blow all the cold air into your H50 and then let your rear and top fan blow all the hot air out.
I assume your 200mm fan is placed on the sidepanel then ?