Ok,
So, I am looking at options to cool my Crossfire Radeon 6950s. I have an RS360 up top (Wishing I had gone with a RX360 but whatever).
Here is what I was looking to do. Keep in mind I am ok with modding and doing my own stuff. So, with that said...
EDIT: NEW BUILD
Ok so this one is a mod free ease of installation idea... Going off the basis for decent temps with mid range fan speeds. Although... I do not know what loop order is best for something like this? What do you guys think?
Options 1
Could I fit a 200mm Phobya rad up front with the 200mm intake and just move the HDD rack back? Or would it be better to have it as exhaust so heat isn't blowing directly into the HHDs? It seems to have plenty of room to move the HDD back and not interfere with the cards. I would remove the top bay of the HDD rack for the tubing from the 200mm rad, and dremel holes for it to come through the back of the rack. Also would this be bad because hot air would be blowing right into the HDDs? Should I do exhaust?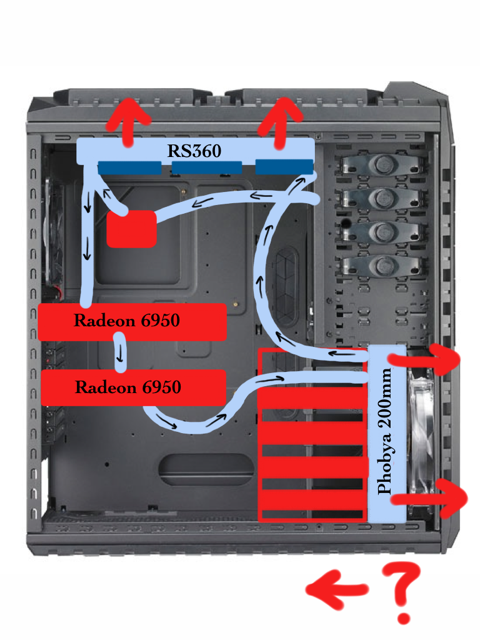 Options 2
This is the more standard approach. I would remove two bays of the HDD rack, and have a RX240 in the bottom. I have seen a few people do this... But i am worried about from where the RX240 gets it's fresh air?? and also hot air would be blown right into the HDDs is this bad? I MIGHT dremel an exhaust hole in the bottom of the case and add a filter.
Options 3
This is the setup I don't quite understand how it would work yet, since as of a few weeks ago I was brand new to water cooling. But I would have a Phobya 200mm on the front again, with the WHOLE HDD rack removed and I would remove the res/pump out of the 5.25 bay area so I could have more room for HDDs. I would use a cylindrical res on the back like I have seen a few people do.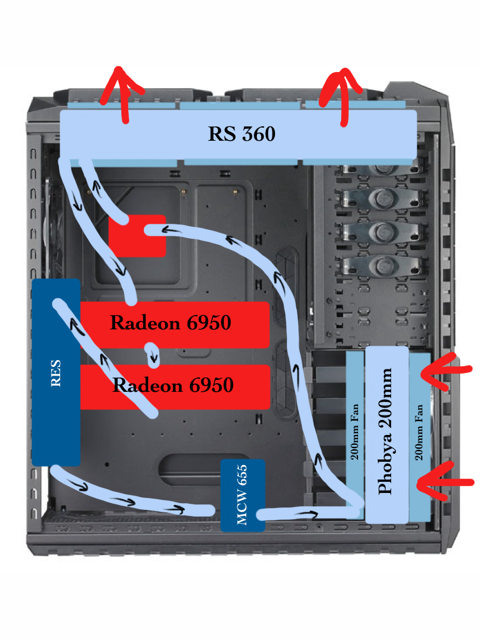 So what do you guys think? One of these options any good? None of them?
Note: For those who don't know here is a Phobya 200mm
http://www.frozencpu.com/products/12...tl=g30c95s1344
Double Note: I don't want to externally mount
Edited by Elmateo487 - 6/13/11 at 12:27pm
CPU
Motherboard
Graphics
RAM
i5 2500k @4.7/1.36V
Gigabyte Z68 UD4
2X Powercolor 6950's
8 GB G.Skill DDR3 1600
Hard Drive
OS
Monitor
Power
Vertex 2 120GB
Windows 7
Asus 27''
Corsair HX850
Case
HAF X
View all
hide details
CPU
Motherboard
Graphics
RAM
i5 2500k @4.7/1.36V
Gigabyte Z68 UD4
2X Powercolor 6950's
8 GB G.Skill DDR3 1600
Hard Drive
OS
Monitor
Power
Vertex 2 120GB
Windows 7
Asus 27''
Corsair HX850
Case
HAF X
View all
hide details