Quote:
Originally Posted by
solsamurai
Quote:
Originally Posted by
nimitz87
Assembled everything yesterday @ idle CPU is 28c ambient were 24-25c so not bad so far.
I plan on moving the rear exhaust to the front drive bays should I block the rear grille?
What about side intake? I have room for 2 120s or one large 200 .
This is what I'm working with I know I need to work on cable management today.
Chad
We need more information to help you out.
What case and components do you have? How many fans? Got any pics you can post? Also you can use the links in my sig to update yours with your system info. It will help other on OCN answer you questions/
Here's a couple shots of the Phanteks itself and running in my case.
Not sure what happened but I quoted my previous post detailing everything...
my setup
Haf 922
i5 2500k + 212+
MSI z77 GD65
Xfx 6870 dual fan
gskills 8gb 1600
xfx 6870
ocz 700 modular
segate barracuda 1tb
at some point an SSD, not sure where I'm going to mount it yet.
I have the top and front fans as intakes and the stock rear exhaust.
Looking to add either 2 120's for side intake or a single 200mm not sure what would be better?
Same goes for the top....1 200 or 2 120's?
What about switching to 120's but blocking off the rear like the OP talked about ?
bottom fan?
Also interested in moving the rear exhaust fan to in front of the drive bays and covering the rear grille
And adding a second fan to the 212+ as a push/pull setup.
At idle it's about 30 deg its not oc'd yet...
Also the 212+ runs @ 100%.
Here is a pic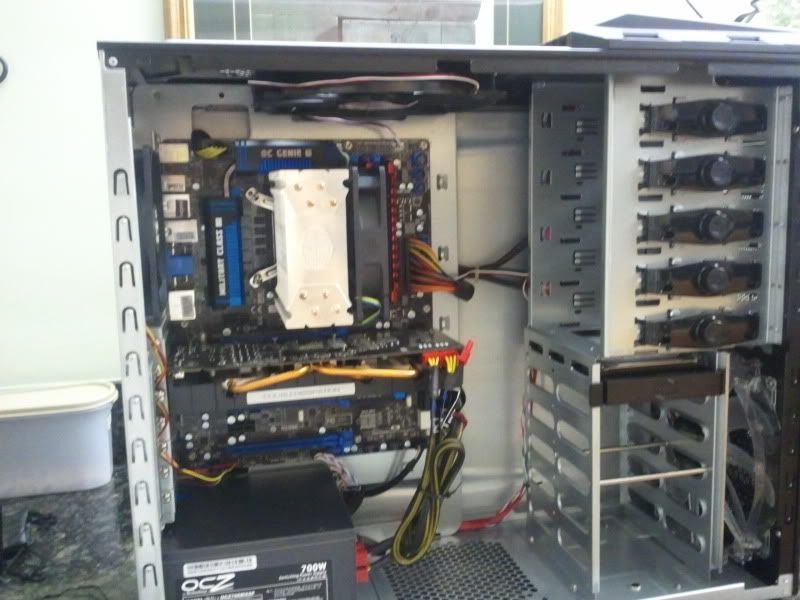 Thanks for the help
Chad
Edited by nimitz87 - 5/6/12 at 3:13am