Quote:
Originally Posted by Riou;13902630 
6xxx cards are 4D.
There are 5 SPs in every block
http://www.anandtech.com/show/2231/4
5 dimensional. AMD hasn't changed the design since 2XXX, so this is still relevent.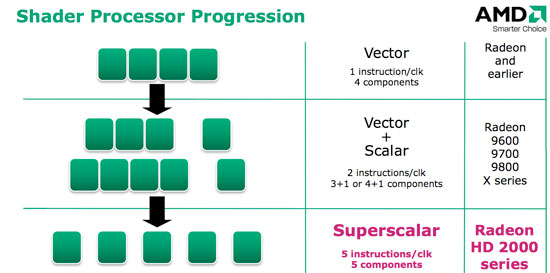 the current VLIW4 (or however it is spelled) is a slightly different topic
found more:
Quote:
The computing part of the R600 and RV670 chips consisted of 64 universal units each of which had five ALUs, a flow control unit, and an array of general-purpose registers. Four out of the five ALUs were rather simple, capable of executing one FP MAD instruction. And the fifth ALU was complex, capable of processing such instructions as SIN, COS, LOG, EXP, etc. In fact, each execution unit was a processor with a five-stage pipeline.

http://www.xbitlabs.com/articles/graphics/display/ati-radeon-hd4850_5.html#sect0
Edited by reflex99 - 6/16/11 at 10:33pm
CPU
CPU
Motherboard
Graphics
AMD Turion ML-42 2.4GHz
AMD Turion ML-40
Alienware nForce3
2X nVidia GeForce Go 7900GS SLI
RAM
Hard Drive
OS
Monitor
1GB DDR 333MHz
Samsung Spinpoint 250GB
Windows XP Professional
1920X1200 Integrated LCD
Case
Alienware M9700 chassis
View all
CPU
Motherboard
Graphics
Graphics
Core i7 3615QM @2.3GHz
Apple Logic Board
Intel HD 4000
Nvidia GT 650M 512MB
RAM
Hard Drive
OS
Monitor
16GB 1600MHz DDR3
500GB Samsung 840
OSX 10.10
1440x900
Power
Audio
Audio
Audio
85W PSU
Schiit Modi
Schiit Magni 2 Über
DT770 Pro
View all
CPU
Motherboard
Graphics
RAM
Intel i7 3770K
MSI Z77 Big Bang MPower
Radeon R9 270X
4X4GB G.Skill
Hard Drive
Cooling
OS
Monitor
Intel X25-V
Cooler Master Hyper 212+
Life without walls? Who needs windows?
Acer
Keyboard
Power
Case
Mouse
G15
Raidmax RX-1000AE
Brooks shoebox
Acer G500
View all
hide details
CPU
CPU
Motherboard
Graphics
AMD Turion ML-42 2.4GHz
AMD Turion ML-40
Alienware nForce3
2X nVidia GeForce Go 7900GS SLI
RAM
Hard Drive
OS
Monitor
1GB DDR 333MHz
Samsung Spinpoint 250GB
Windows XP Professional
1920X1200 Integrated LCD
Case
Alienware M9700 chassis
View all
CPU
Motherboard
Graphics
Graphics
Core i7 3615QM @2.3GHz
Apple Logic Board
Intel HD 4000
Nvidia GT 650M 512MB
RAM
Hard Drive
OS
Monitor
16GB 1600MHz DDR3
500GB Samsung 840
OSX 10.10
1440x900
Power
Audio
Audio
Audio
85W PSU
Schiit Modi
Schiit Magni 2 Über
DT770 Pro
View all
CPU
Motherboard
Graphics
RAM
Intel i7 3770K
MSI Z77 Big Bang MPower
Radeon R9 270X
4X4GB G.Skill
Hard Drive
Cooling
OS
Monitor
Intel X25-V
Cooler Master Hyper 212+
Life without walls? Who needs windows?
Acer
Keyboard
Power
Case
Mouse
G15
Raidmax RX-1000AE
Brooks shoebox
Acer G500
View all
hide details