So a while back I put together my first HTPC. I think it turned out very well!
Specs:
AMD Athlon II X2 255
ASRock 880GMH/USB3 R2.0
Wintec AMPX 4GB RAM
Antec EarthWatts Green EA-380D
Silverstone ML03B
Intel 60 GB SSD
<-- Pretty sure this is the one.. I didn't buy it off of newegg so I can't say for sure.
I was really impressed by how many hard drives you can cram in that case! See below:
Sorry for the google images pic.. Too lazy to take it out of the cabinet to get a good shot.
General over top view. You can see my 2TB WD Black and my two 2.5" 1TB Seagate Constellation.2's.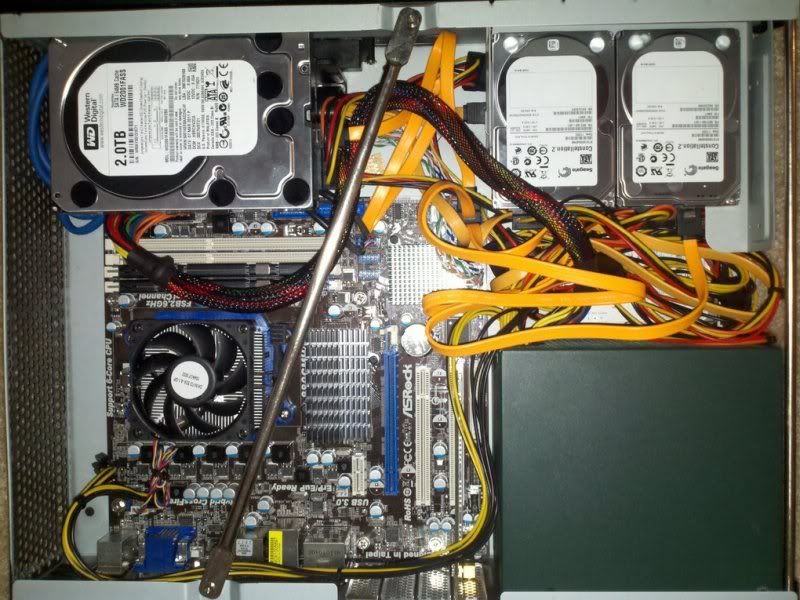 Here you can see on the right, under my seagates, is another 2TB WD drive. To the left of that, you can BARELY see my 2.5" OS drive.
For a total of 6TBs of space.
Plus the laptop HDD for my OS. I am currently working on setting up my server and getting it up and running and once I do, I plan on moving all of my drives (except for OS) into that instead. I'll probably then start to mirror my drives so that if one crashes, I don't have to spend WEEKS re-ripping dvd/blurays...
Just thought I'd show it off a bit. There's not much to do cable management wise... It's pretty rats nesty in there, but since I have all of those hdds, there's no place for the cables to go.
-raiderxx
EDIT: Since the OP I have replaced my OS HDD with an SSD and moved all but 1x1TB HDD over to my server. This 1TB has my blurays on it, since my wireless card is fairly old and doesn't seem to like full HD streaming all the time...
Edited by raiderxx - 2/24/12 at 4:25pm