Was browsing the local walmart and thought it was very cheap compared to other netbooks and tablets. Plus its the 2011 model.
Picked it up and reformatted to dual boot Win 7 Ultimate and Ubuntu so far. Gonna add another gig of ram atleast.
Later i wanna add bluetooth and a eSata.
So far i'm loving it. Much more useable around the house than my Asus Gamers notebook. Does great youtube, netflix, movie streams from networked pc, and remote desktop flawlessly.
It seems very well built. I do want to change the color of the blue lid tho. Either with a decal from decalgirl or maybe painting it. Any ideas? Not gonna change the blue off the hand rests tho it seems nice.
A question i had was how to tell which Media Processing Driver I need off the web site. I don't have any missing drivers under devices. The choices are Broadcom or Quartics.
Thanks for any help or tips.
CLICK FOR LARGER PICS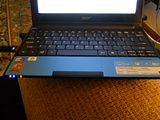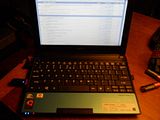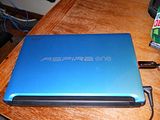 CPU
Motherboard
Graphics
RAM
Intel Core i7 740QM @ 1.73GHz
ASUSTeK Computer Inc. G73Jh (Socket 989)
ATI Mobility Radeon HD 5870 1Gb GDDR5
6.0GB Dual-Channel DDR3 @ 662MHz (9-9-9-24)
Hard Drive
Optical Drive
OS
Monitor
500GB Mobile/WD Scorpio 7200 RPM SATA-II 3.0Gb/s
HL-DT-ST DVDRAM GT32N
MS Windows 7 Home Premium 64-bit
1600x900 pixels
Power
Case
Factory
Factory
View all
hide details
CPU
Motherboard
Graphics
RAM
Intel Core i7 740QM @ 1.73GHz
ASUSTeK Computer Inc. G73Jh (Socket 989)
ATI Mobility Radeon HD 5870 1Gb GDDR5
6.0GB Dual-Channel DDR3 @ 662MHz (9-9-9-24)
Hard Drive
Optical Drive
OS
Monitor
500GB Mobile/WD Scorpio 7200 RPM SATA-II 3.0Gb/s
HL-DT-ST DVDRAM GT32N
MS Windows 7 Home Premium 64-bit
1600x900 pixels
Power
Case
Factory
Factory
View all
hide details