I started this in another thread initially asking for guide links about debezeling a monitor for an eyefinity setup and ended up without much help
Anyways I thought I would post some pictures here in a picture book fashion as an example if anyone else here finds themselves in my position. Without further ado...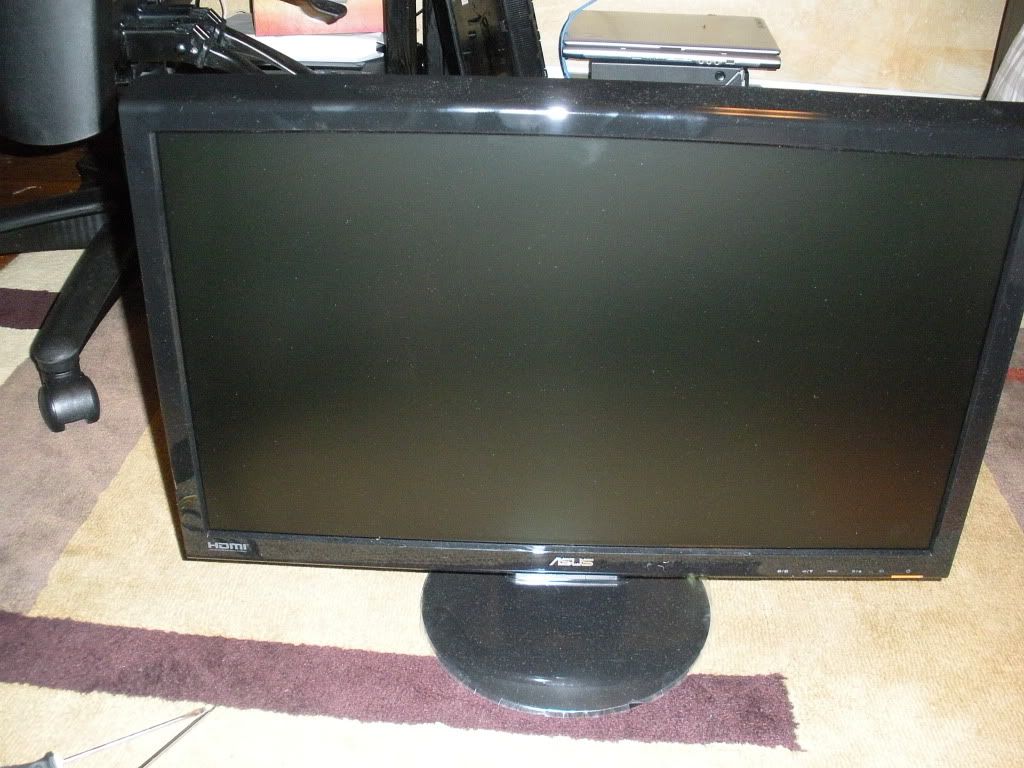 Started with basic Asus 23" monitors. I originally had them all on my desk, but didn't like the height of the stands (wanted something taller), and I wanted the bezels gone to reduce the gap in usable screen real estate.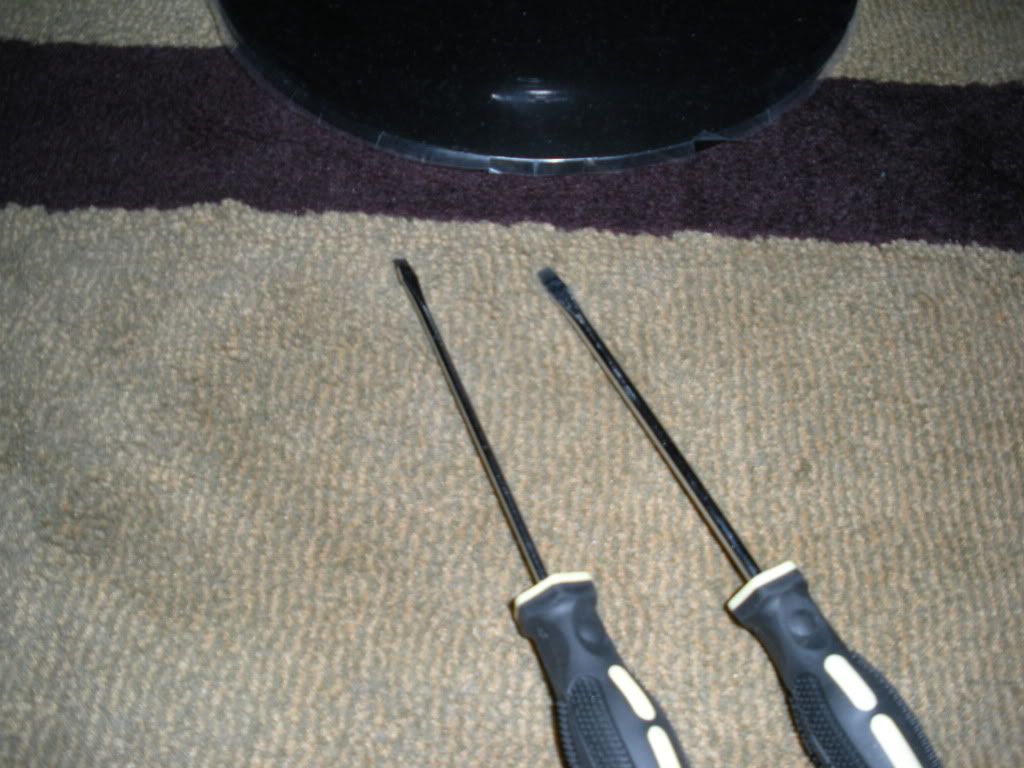 I only used two flat head screwdrivers for the whole project and didn't encounter any trouble at all.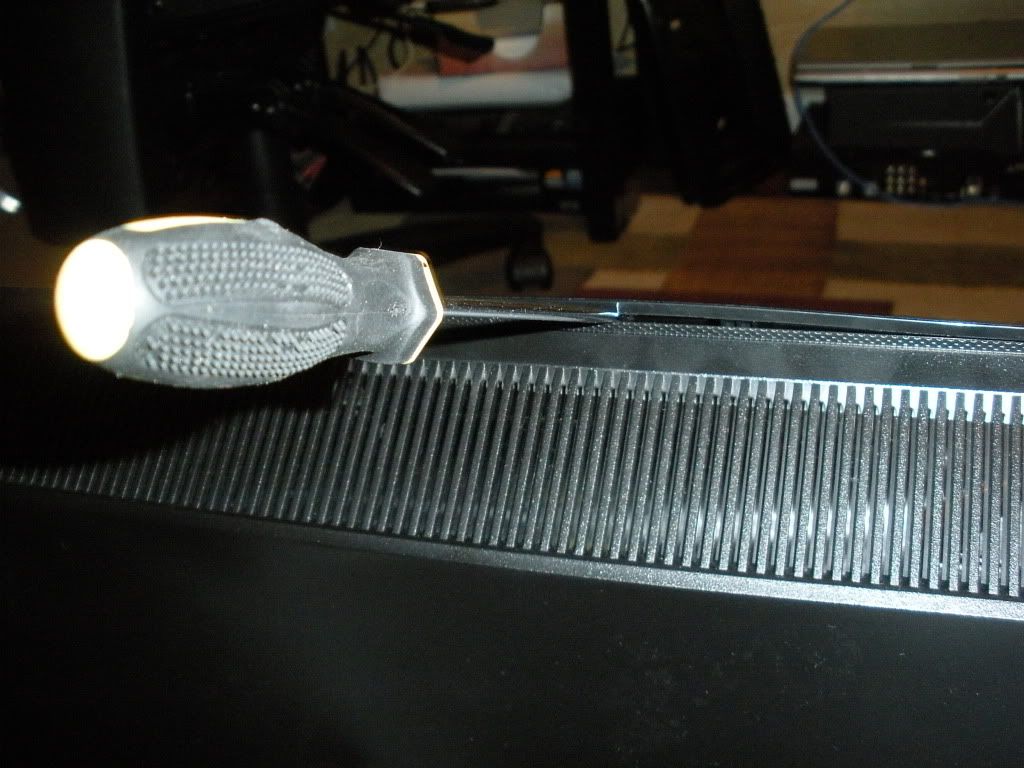 To start I inserted the smaller of the two flat heads into gap between the front cover and the back cover and pried them apart. The only thing holding them together was easily separated plastic clips.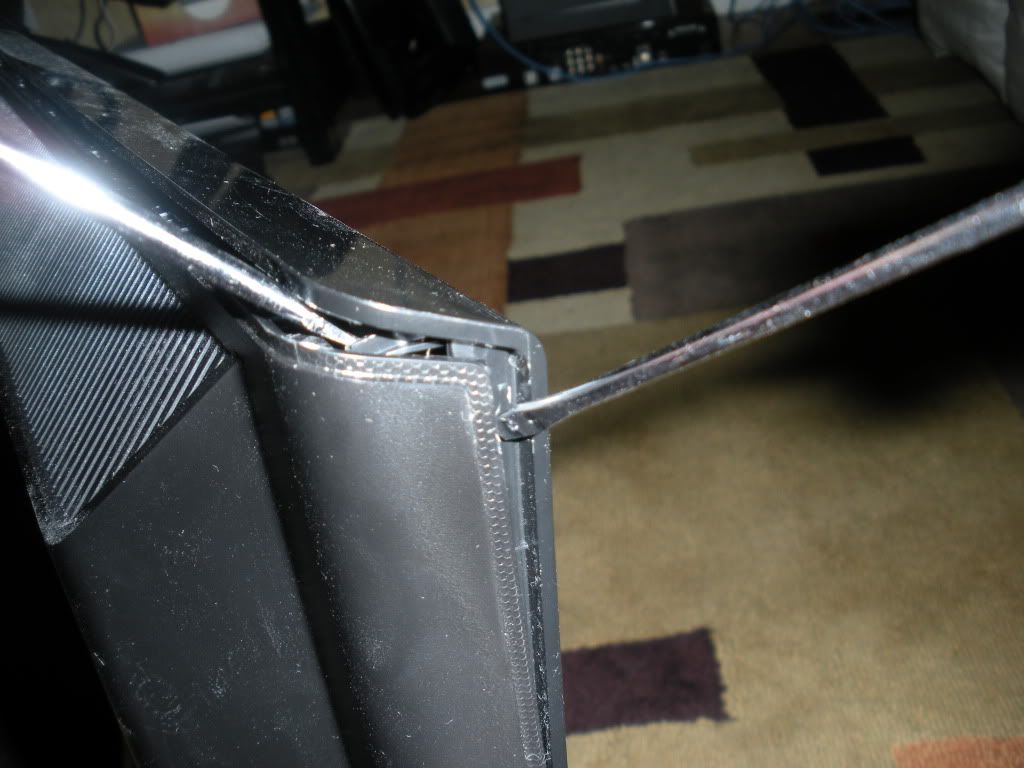 The corners were a little tight. In order to ensure I didn't mar the metal bezel underneath, or ruin the plastic I used the second flat head to keep the bezel raised on the top, enabling me to slide the smaller flat head into the side and pop the first corner loose.
From there it was easy to remove the top and both sides leaving me with the bottom still secured. I wanted to be careful as the bottom is where ASUS mounted the monitor controls. It wouldn't do to have a functioning screen without a power button.
After removing the top of the bezel I realized I should probably remove the stand while the bezel was still in place. I inserted the smaller of the flat head screwdrivers here to remove this plastic shield.
As you can see, it to is just attached with plastic clips, so a little gentle prying is all that was needed.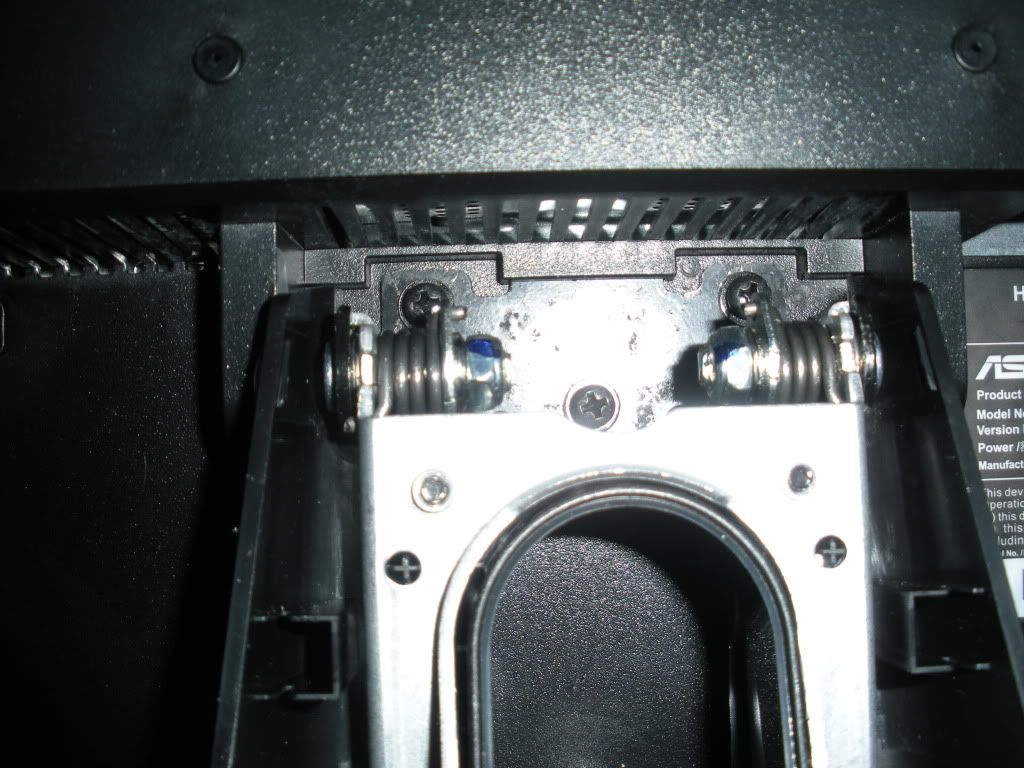 These three screws are what hold the stand in place. I did not grab a phillips head as my flat head fit just fine. The threads aren't very deep so it took all of 10 seconds to remove all three.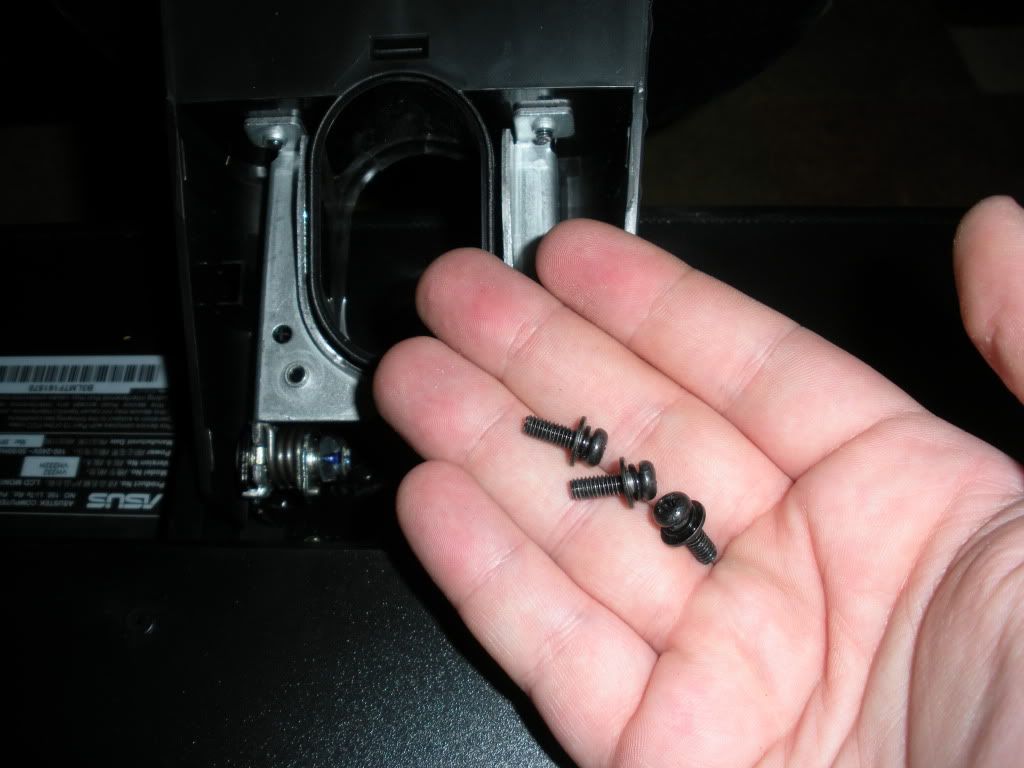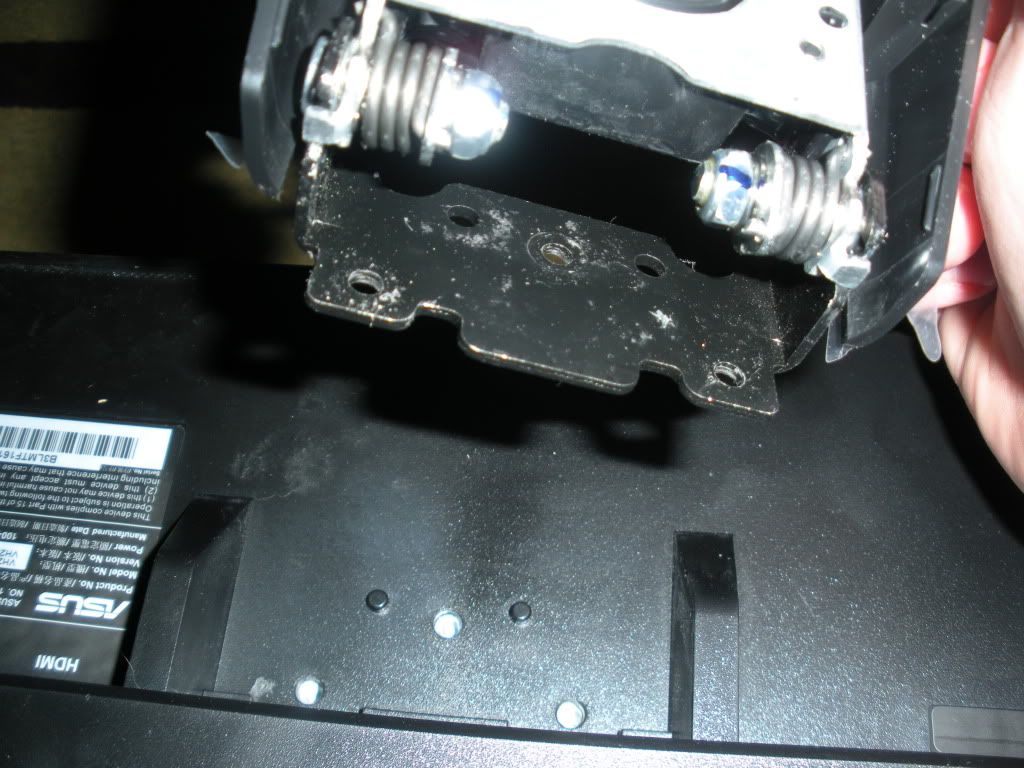 After pulling the three screws, the stand falls right off. Perfect!
What we have removed so far.
Now onto the bottom of the bezel.
These are the monitor controls. They are simply held in the bezel by two plastic clips. Simply press outward on one of the clips and it slides right out.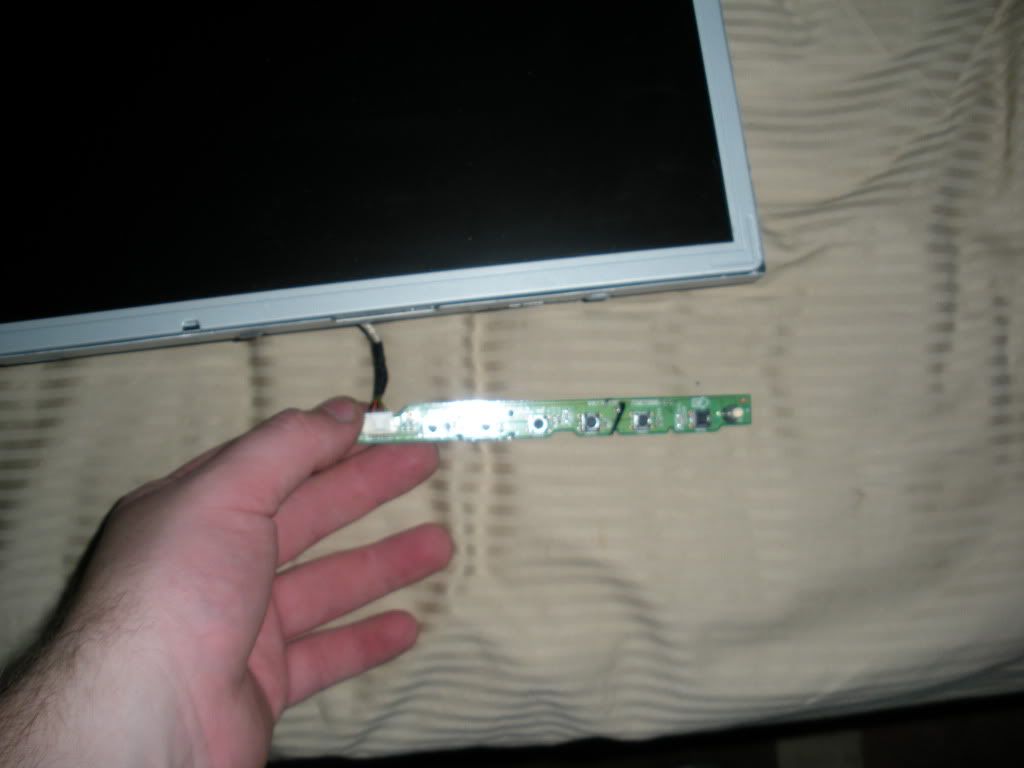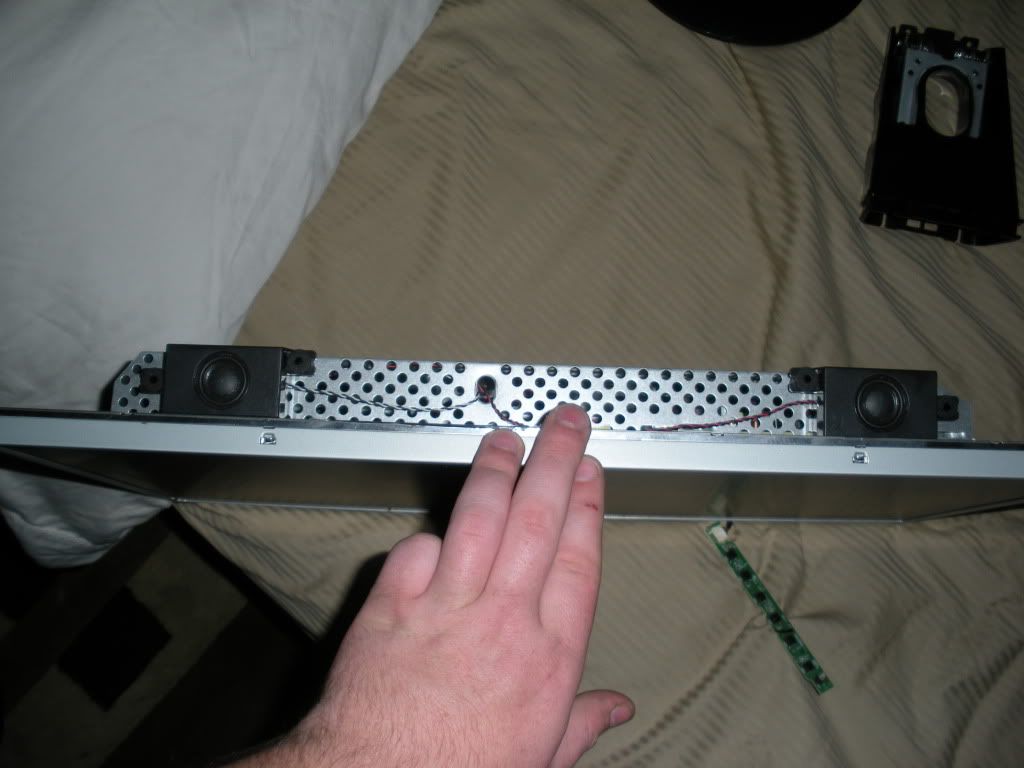 And here is what we are left with! One debezled monitor.
The old bezel.
Everything that has been removed.
Old bezel vs metal bezel vs my thumb. Thumb might win
Continued in next post.
CPU
Motherboard
Graphics
RAM
[INTEL] i7 930, 4.4ghz @ 1.27V
[Asus] Rampage III Extreme
[Sapphire] 2X 6950's Flashed to 6970's @950/1425
[G.SKILL] Ripjaws X Series 12GB DDR3 @ 2133
Hard Drive
Optical Drive
OS
Monitor
[Crucial] 2X C300's in Raid0 & [Samsung] 2X 1TB F3
[Hewlett-Packard] DVD-RW
[Microsoft] Windows 7 64-bit
[Asus] 3X 23" LCD
Keyboard
Power
Case
Mouse
[Microsoft] Sidewinder X6
[Kingwin] Lazer LZ-1000
[Xigmatek] Elysium (Being Modded)
[Microsoft] Sidewinder
Mouse Pad
[XTrac] Ripper
View all
hide details
CPU
Motherboard
Graphics
RAM
[INTEL] i7 930, 4.4ghz @ 1.27V
[Asus] Rampage III Extreme
[Sapphire] 2X 6950's Flashed to 6970's @950/1425
[G.SKILL] Ripjaws X Series 12GB DDR3 @ 2133
Hard Drive
Optical Drive
OS
Monitor
[Crucial] 2X C300's in Raid0 & [Samsung] 2X 1TB F3
[Hewlett-Packard] DVD-RW
[Microsoft] Windows 7 64-bit
[Asus] 3X 23" LCD
Keyboard
Power
Case
Mouse
[Microsoft] Sidewinder X6
[Kingwin] Lazer LZ-1000
[Xigmatek] Elysium (Being Modded)
[Microsoft] Sidewinder
Mouse Pad
[XTrac] Ripper
View all
hide details