Well guys, I have a unique problem.
I have the new Crosshair V Formula 990FX and am planning on purchasing the daughter pci board, the ROG Xpander.
Problem is, I can not find a case that will accommodate this setup, as the pci daughter board mounts "on top" of the motherboard, effectively increasing the dimensions of the board from just height and width, to height width and depth.
Since I know of no cases that can handle a motherboard with depth, I suppose I will have to custom build a case myself.
The first option that comes to mind is wood. But herein lies the problem. I dont want a wood pc case. Im not trying to feel "vintage" with this at all.
I want this pc to SCREAM performance.. Im putting tri fire 7990's in it when they release with the best BD at release, so I mean come on...wood?
What other options could be available to me? I have no way to do metal work, but completely DO NOT MIND to find a place to do it for me.
Ive never been a hardware modder but I have done similar things in my life.
I would definately need the communitys help with design, as I am horrible with design, I couldnt be an architect or an engineer
I cant really think of anything else to say, any info you guys need from me so that you may be able to properly brainstorm with me?
Here is what the board will look like set up.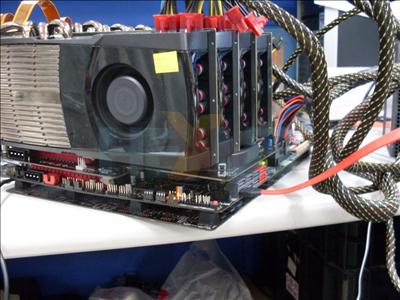 Edited by jeffdamann - 6/21/11 at 11:34am
Motherboard
Graphics
RAM
Hard Drive
Asus Crosshair Hero VI AM4
Sapphire NITRO Fury OC+
Gskil TridenZ 3466 2x8GB
Samsung 960 PRO 256x2
Optical Drive
Cooling
OS
Monitor
None beacuse optical media is dead
Noctua DH15
Windows 10 Professional
Vizio 60" M-series 4K 120hz
Keyboard
Power
Case
Mouse
Saitek Cyborg
Corsair AX1200
CoolerMaster HAF-X
Razer Deathadder Chroma
View all
hide details
Motherboard
Graphics
RAM
Hard Drive
Asus Crosshair Hero VI AM4
Sapphire NITRO Fury OC+
Gskil TridenZ 3466 2x8GB
Samsung 960 PRO 256x2
Optical Drive
Cooling
OS
Monitor
None beacuse optical media is dead
Noctua DH15
Windows 10 Professional
Vizio 60" M-series 4K 120hz
Keyboard
Power
Case
Mouse
Saitek Cyborg
Corsair AX1200
CoolerMaster HAF-X
Razer Deathadder Chroma
View all
hide details