I have been asked for some tips on how I do sleeving so here we go.
*** My DSLR camera is at home and this old Cannon Powershot takes crappy Macro photos so please forgive the image quality. One day I will try to improve some of the photos.
Step one. Get your stuff together.
Paracord from Vermont's Barre Army Navy. I use 450 Cord
http://shop.vtarmynavy.com/parachute-cord-p1454.aspx
3:1 Heat Shrink from Allied Electronics its only .16 cents per foot! Also pick up these two extraction tools. You will need them if you want to sleeve 4 Pin Molex or Cable Extensions. You are already Paying the shipping anyway...
http://www.alliedelec.com/search/productdetail.aspx?SKU=6890391#tab=Specs
http://www.alliedelec.com/search/productdetail.aspx?SKU=8630510
http://www.alliedelec.com/search/productdetail.aspx?SKU=8630530
3/8 inch Heavy Duty Staples (Pick them up at work or school if you can. You aren't going to need many)
http://www.officedepot.com/a/products/344013/Office-Depot-Brand-Staples-38-Heavy/
Use staples to remove pins.
I cut my heatshrink with a razor and make each piece 5/8 inch long.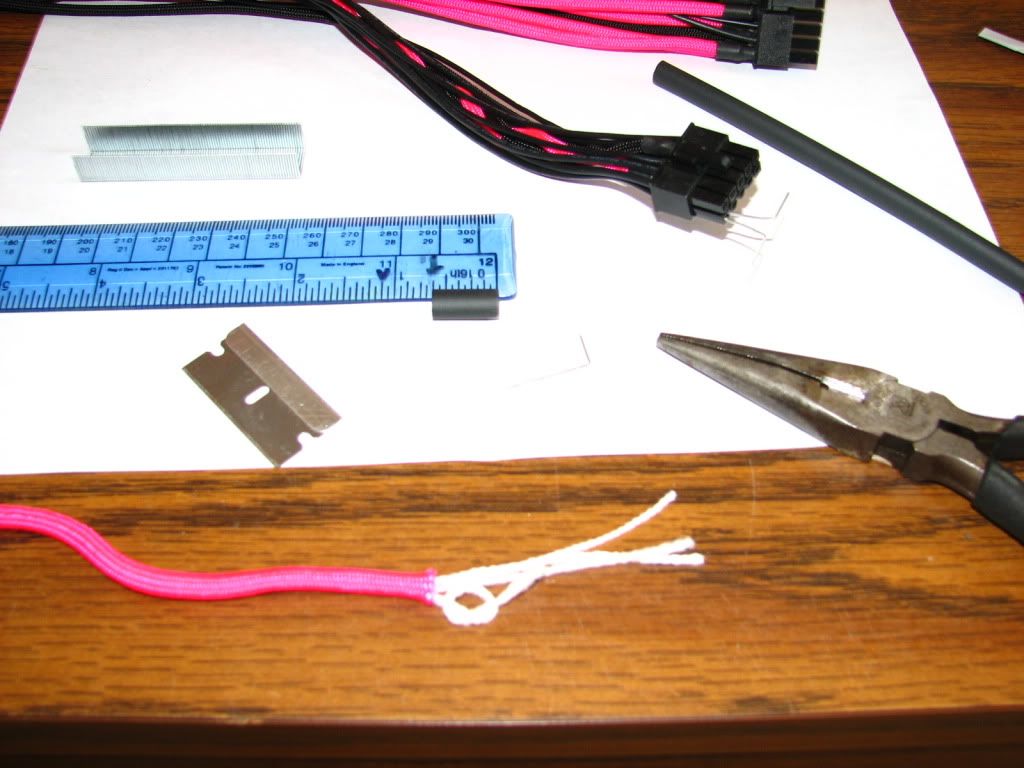 Cut your sleeving where it will be tight... I made two marks on my desk so that I can continue to get consistent length on each piece of cord.
Pull the guts out of both ends of the sheath. Tie one string around the bumps on your pin (see picture)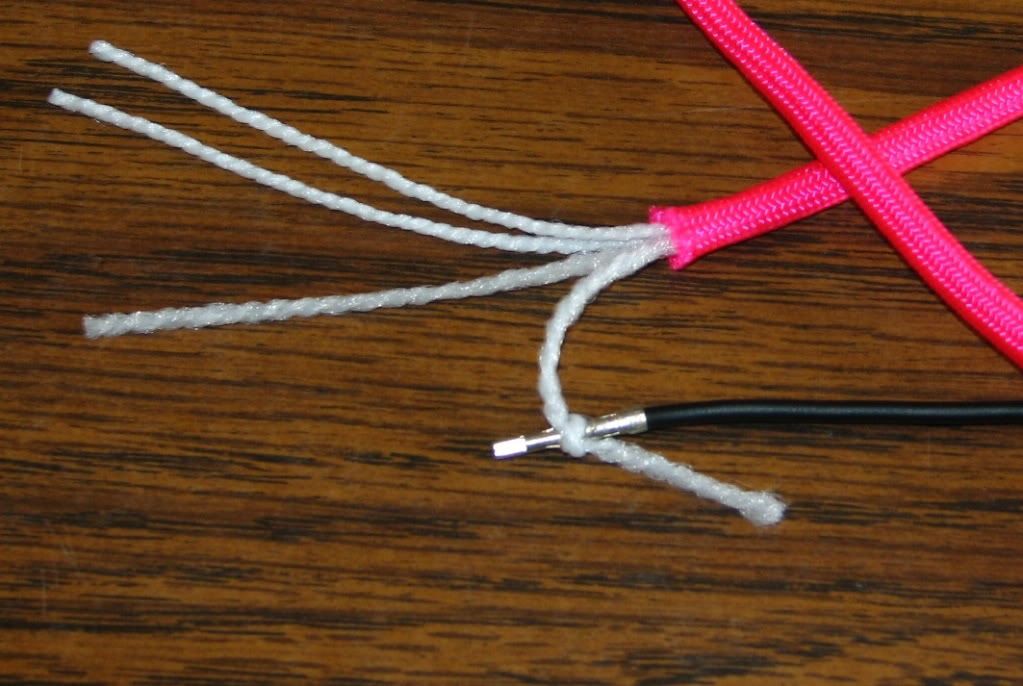 Pull all the guts and the wire through together. Slowly. Really its more like pushing the sheath over the pin while holding the other end of the small white cords. If you pull it will snag.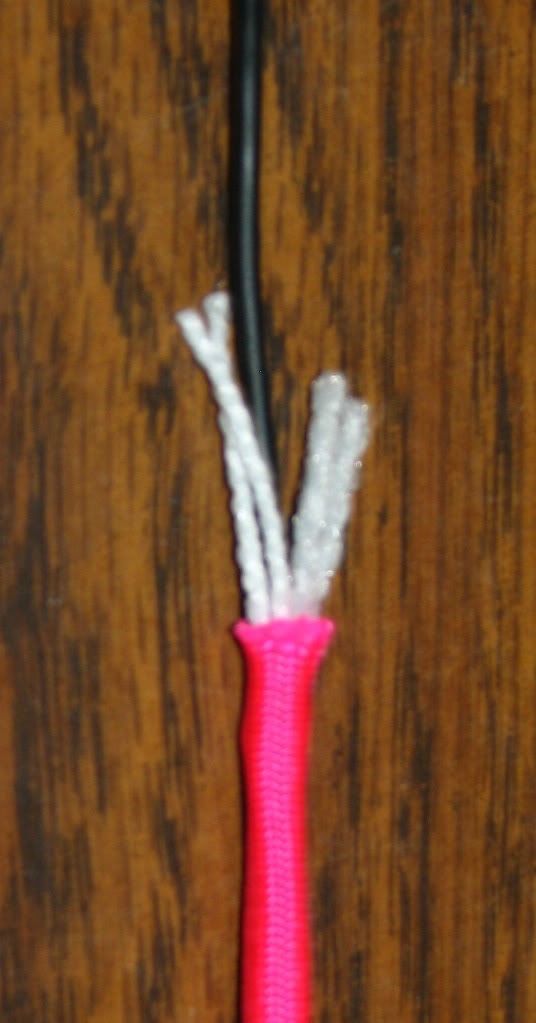 melt the frayed ends just a little... in the pic one is melted and the other not.
Line everything up... and shrink it with a lighter.
Remember I said to melt the frayed ends just a bit. This gives you a ridge under the shrink as an anchor. if you forget this is what will happen.
Ok now you should have something that looks like this. Total length 1 1/8 inch.
Repeat on the other end. Compare your two ends. The end that is closest to your desired length is the end that you put back into the MOBO or GPU Card. The less desirable end you put into the PSU Plug. This way you end up with the most consistency on the visible part.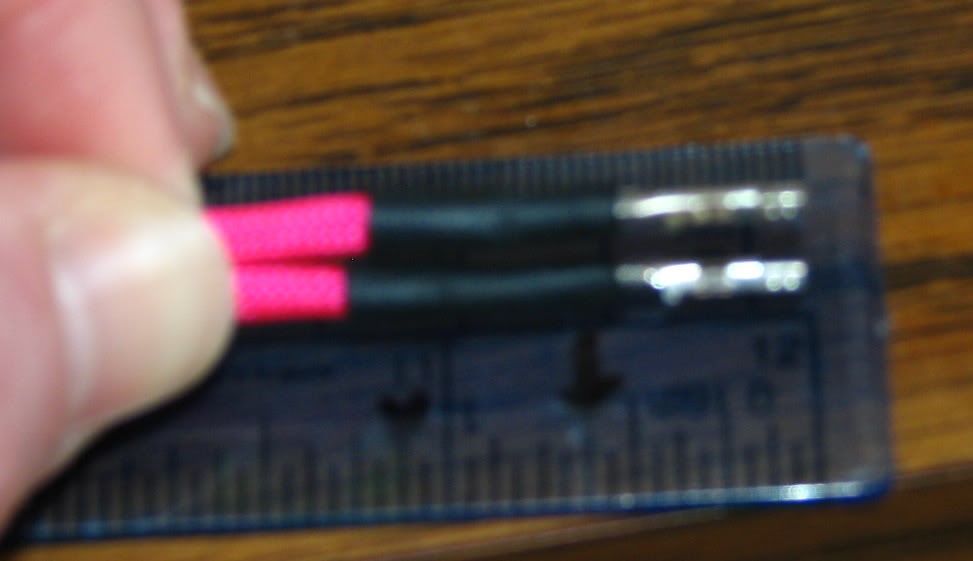 Repeat over and over and you will end up with something like this.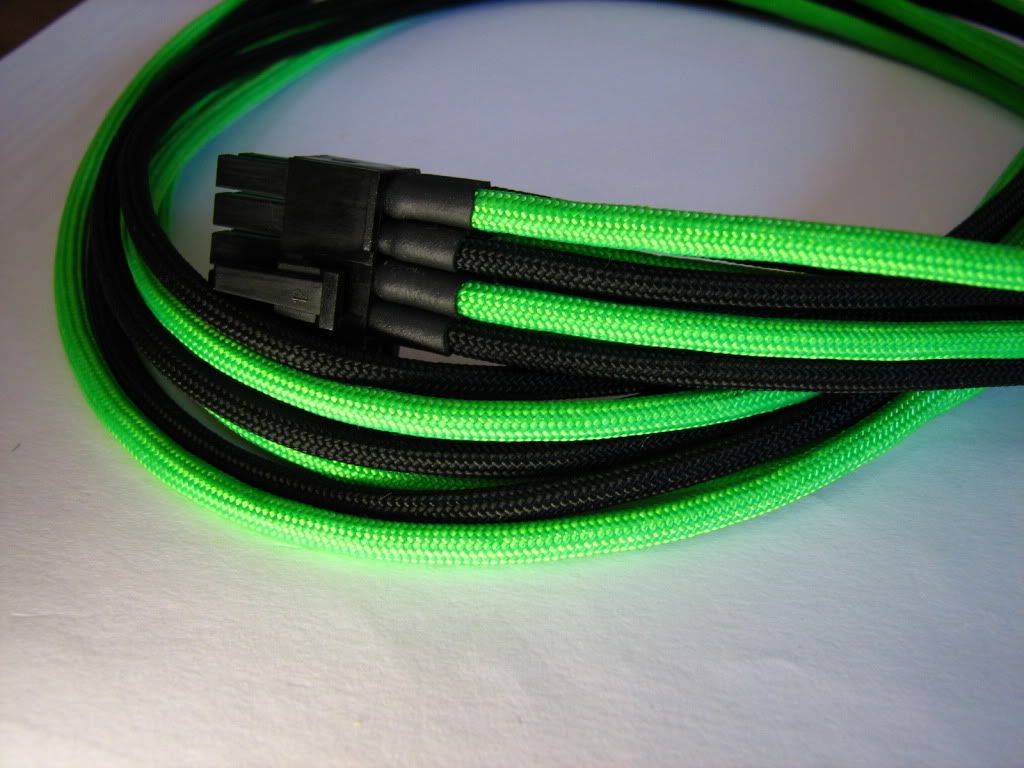 Other thoughts:
Superglue can come in handy...
Put a twist tie through the empty pin in the plug and twist it off. Leave it there till your done. This way you always have a reference point and you don't accidentally end up with a wire there.
Finding Pin Outs on the net that match you particular plug can be really handy if you have all black wires. This will allow you to remove more than one wire at a time. Just be careful. If you have any doubts about your ability to read pinouts, or you attention to detail is just not that great, Do this one wire at a time.
***I am not responsible if you fry your board because you crossed your wires!***
Edited by Brittain - 7/7/11 at 3:18pm
CPU
Motherboard
Graphics
RAM
Gulftown 970 [6 Core]
Gigabyte G1 Assassian
ASUS DirectCUII 570 x2
Dominator GT 6GB DDR3 2000mhz
Hard Drive
Optical Drive
OS
Monitor
2x300gb Raptor RAID 0
SAMSUNG Black 12X BD-ROM
Windows 7 x64
SAMSUNG FX2490HD LED
Keyboard
Power
Case
Mouse
Sidewinder X6
Corsair AX850
HAF X nVidia Edition
Sidewinder X8
Mouse Pad
Func Archetype MBA
View all
hide details
CPU
Motherboard
Graphics
RAM
Gulftown 970 [6 Core]
Gigabyte G1 Assassian
ASUS DirectCUII 570 x2
Dominator GT 6GB DDR3 2000mhz
Hard Drive
Optical Drive
OS
Monitor
2x300gb Raptor RAID 0
SAMSUNG Black 12X BD-ROM
Windows 7 x64
SAMSUNG FX2490HD LED
Keyboard
Power
Case
Mouse
Sidewinder X6
Corsair AX850
HAF X nVidia Edition
Sidewinder X8
Mouse Pad
Func Archetype MBA
View all
hide details