Gigabyte X58A-OC Takes X58 Bclk World Record @ 276.42 Bclk!!
Hi guys and gals!
After my recent Bclk adventures on phase, I knew it was time to get this setup under some colder temps and try to secure a world record. Yesterday the board was frozen, and the world record at HWBot for Bclk was mine
This is my first world record, I'm so excited!!! So, all you Ln2 users with a X58A-OC board, please let me enjoy the limelight for a little while - thanks! J/K, keep on pushing guys!
This only took me about 10 minutes after booting from the settings I used on phase, tried for more for an hour or two, but this was the limit of this CPU on dice temps. Needless to say I had plenty of dry ice left over haha! I also just realized I had the Uncore set higher than I thought and that may have actually been what stopped me instead of the actual Bclk being the limiting factor. I had it set to x16 and meant to have it on 12-13, so I may be able to take this further with less uncore, we'll see next time around or shortly on phase
Hardware used:
GIGABYTE GA-X58A-OC Motherboard BIOS F5b (What a beast!)
Intel 920 C0/C1 CPU
Mushkin Ridgeback 998826 (4GB) Memory
Crucial RealSSD C300 128GB SSD
PNY FX 5500 - 128MB PCI Graphics card
NZXT Hale90 750W PSU
Dry Ice W/ Acetone @ BartX Custom Dice Pot
The voltages and settings I used can for the most part be seen in the 272 SuperPI 1MB screenshot below, except a little less IOH and a little more PCIE (1.36V / 125.8) for the 276.42 Bclk, if you'd like to know more feel free to ask - enjoy!
SuperPI 1MB 272 Bclk!!
(Could have possibly done it higher, forgot to go back and try
)
Click to enlarge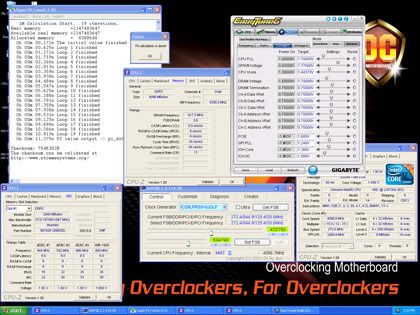 And finally the world record!!
Here is the top 20 current HWBot standings for X58 Reference Clock
http://tinyurl.com/3ww3ehc
276.42 Bclk 4c/8t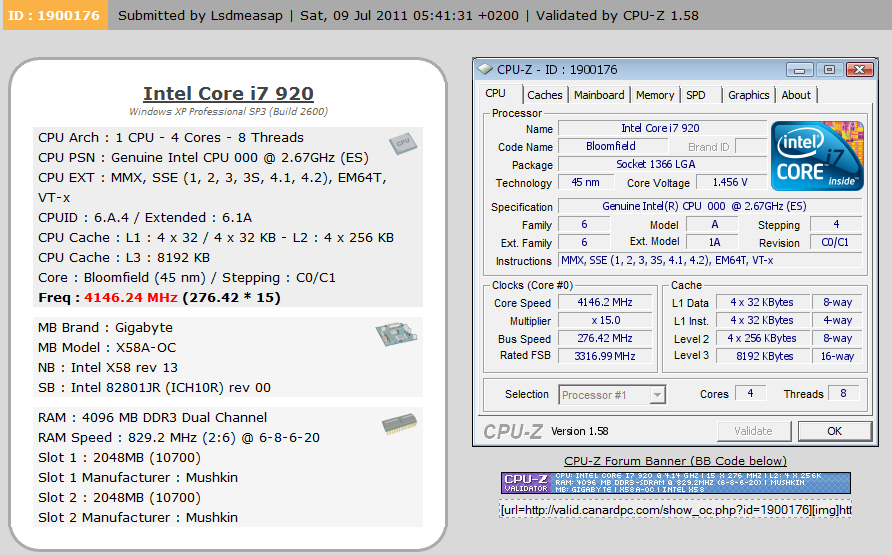 CPU-z Validation Link - 276.42 Bclk
http://hwbot.org/submission/2188081_...oc_276.42_mhz/
I was also able to achieve 263.5 Bclk using x19 multiplier, this CPU isn't able to reach much above 5Ghz though, maybe only about 5.2GHz or so. So that, and the fact that higher voltages and temps mean lower Bclk, this was all I could get using the x19 multi during my short attempts on that multi.
263.5 Bclk @ X19 Multi 4c/8t
CPU-z Validation Link - 263.5 Bclk
Also, here's a video of booting at 260 Bclk, then going up to 276 in windows, for anyone thinking these are from the Bclk bugging out
Quote:
Originally Posted by Lsdmeasap
I felt I needed to add this in, I see many people commenting that this is a golden or binned CPU. In reality it's more like the exact opposite, this was likely a bottom of the barrel and that's why it was sent my way to learn with!

To anyone thinking this is a binned CPU, it FOR SURE IS NOT!!!

This CPU was sent my way back when X58 came out, and was only sent to me so that I could learn X58 to better be able to help others with their issues. This CPU is for sure not a golden or binned sample, it can barely do 5.2Ghz. It's been sitting on my shelf unused for a long time because I have other newer better CPU's, and it's been sitting due to that and because this is one of the early ones with locked memory multipliers at 8/10.

I am not an extreme enough overclocker to be sent binned or cherry picked CPU's, far from it!!

Bclk is all about the CPU though, my other 2 can't go this high on Bclk but then can do MUCH better overall Ghz. If anyone wants to send me a 920 for testing I'll be up for testing it, otherwise don't comment that I need to test retail as there is no point really because this CPU is the same or worse than retail (Likely much worse since it's early C0/C1 and locked memory multi's). I can't afford to bin, and no one is binning for me because I'm not a record breaking extreme overclocker, I only have access to Phase and Dry Ice, binned CPU's and cherry picked samples end up in the hands of extreme LN2 users whom are known for breaking important records such as 3DMark, PCMark, ect.

So to sum it up, this is NOT a Golden, NOT Cherry Picked, and NOT hand picked sample!! This is a run of the mill, sub-average overclocking, very early sample, only sent my way to learn X58 (Overclocking was not in mind at all). It's only luck of the draw that this CPU can do high Bclk's, and you get that luck of the draw with any CPU, that's all it can do is high Bclk and I only found that out by luck in choosing to dig out this CPU and give it a try again (it could only do 231 Bclk previously on UD4P).
Huge thanks to everyone @ GIGABYTE for all of their continued support!!
Edited by lsdmeasap - 7/12/11 at 7:30am
CPU
Motherboard
Graphics
RAM
Intel i7 980X EE ES
Gigabyte GA-X58A-UD7
GIGABYTE GV-R587SO-1GD SOC 1GB GDDR5
Mushkin 998826 Ridgeback / 998966 Radioactive
OS
Monitor
Power
Vista Business x64 SP2
Asus Designo MS238H 23" LED
NZXT HALE90 750W 80+ GOLD
View all
hide details
CPU
Motherboard
Graphics
RAM
Intel i7 980X EE ES
Gigabyte GA-X58A-UD7
GIGABYTE GV-R587SO-1GD SOC 1GB GDDR5
Mushkin 998826 Ridgeback / 998966 Radioactive
OS
Monitor
Power
Vista Business x64 SP2
Asus Designo MS238H 23" LED
NZXT HALE90 750W 80+ GOLD
View all
hide details