I've been revolving parts through my media pc quite a bit over the last several months; Changed cpu and motherboard (3 times), RAM (twice), video card (4 times), case (3 times), added 2 additional hard drives etc.
I am finally comfortable with its performance and specs.
Day to day, I have it connected to a second monitor and wireless kbd/mouse in my home office (with a good set of 2.1 speakers). (Mind you I use my Sennheiser headphones more often so as not to annoy the wife)
In the evenings I move it to one of my several house tv's (depending on where we are watching) and connect it via hdmi to the receivers.
Here are the final specs:
CPU: Intel i5 2500k (L108A650) running at 4 Ghz for the moment, haven't had time to tweak it yet.
Motherboard: Asus P8P67-B3 (Bios 1850)
Graphics Card: Asus 6850 1 GB
Memory: G.Skill F3-12800CL9D-8GBRL
Primary Hard Drive: 64GB Kingston SSD
Storage Drives: WD Caviar Blue 1TB + 2 - WD 1TB Caviar Green
Optical Drive: LG - GH22LS30 22x
Power Supply: Corsair TX650M
Display: Samsung BX2350 LED
Case: CM Storm Scout
Sound Card: Creative Audigy SE 7.1
Speakers: CREATIVE I-TRIGUE 3400 2.1
Mouse: Logitech M510
Keyboard: Logitech K800 Wireless LED backlit
Operating System: Win XP Home 32 bit SP3
CPU Cooling: Corsair H70 with push pull AP15's
The case fans have been upgraded: Top is a 120mm Xigmatek red LED, side door has another Xigmatek 120mm red LED, front changed to a Xigmatek 140mm red LED.
I also have an NZXT Sentry 2 5 channel fan controller linked to all 5 fans in the case.
Added a Lian-Li EX-33N Hard drive cage with an Enermax Twister red LED fan (for more hard drive storage down the road).
I'm running XP currently on it as I have several legacy streaming/encoding applications that will not run under Win7.
I control it when connected to the TV with a neat little wireless mouse with a 30' range.
I had everything in a NZXT Vulcan at one point but it was just too cramped for all my hardware (and I keep adding hard drives).
The Scout is great in that the carrying handle is very sturdy plus the case has great air cooling. I looked at a Bit Fenix Survivor but frankly was underwhelmed by its airflow (even though I am running an H50) and also its a bugger to take apart (something I do frequently).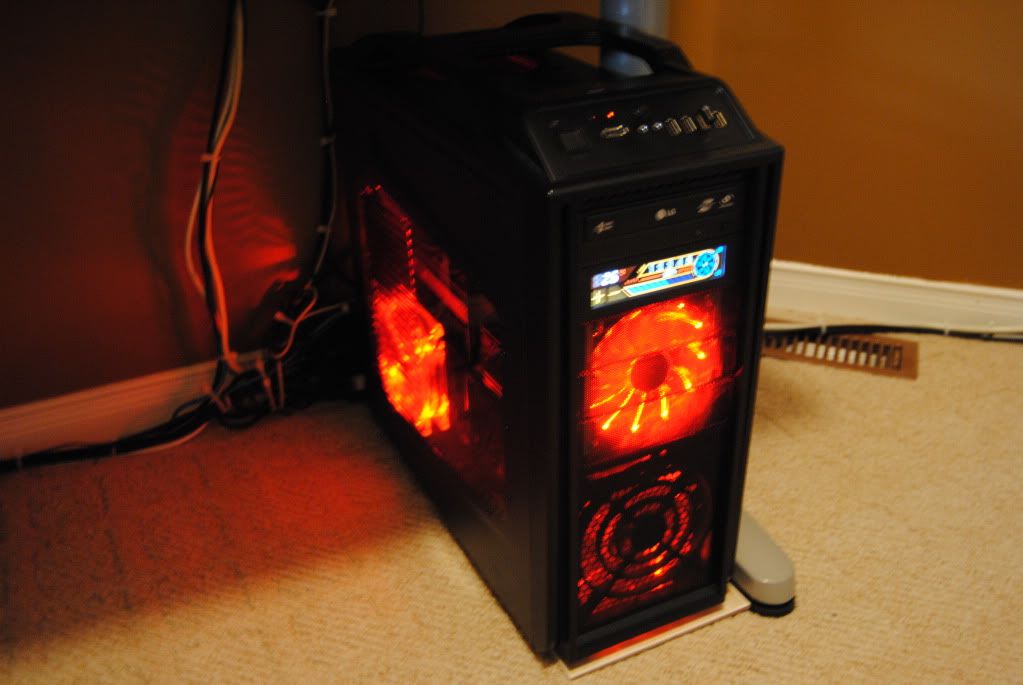 Edited by Robilar - 10/2/11 at 1:32pm