I had a few questions. I want to know if this will work or if its even possible. Heres a picture of what I was thinking of doing.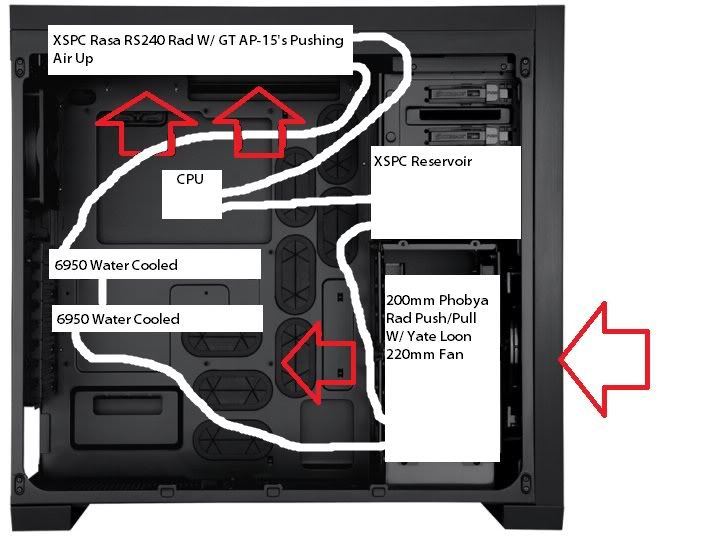 I'm thinking of buying a XPSC Rasa RS240 kit, because the RX240 is to thick for the top. I also wanted to add some GT AP-15's on the top rad pushing air out.
For the 200mm rad I was looking at this one. Phobya 200mm.
http://www.frozencpu.com/products/12103/ex-rad-186/Phobya_Xtreme_200mm_Radiator_Silverstone_Cooler_Master_Yate_Loon.html#blank
Was thinking of using this rad on a push/pull config. with 2 220mm Yate Loons if possible. If not just 1 Yate Loon for pulling.
http://www.frozencpu.com/products/11022/fan-707/Yate_Loon_220mm_x_30mm_System_Fan_D22SL-12H.html
Would this loop be able to cool my CPU & Video cards without any issues?
Thanks alot & +rep for helpful input!
Edited by WizrdSleevz - 7/17/11 at 6:02pm
CPU
Motherboard
Graphics
Graphics
Intel 3930k
Asus Sabertooth X79
Sapphire R9 290
Sapphire R9 290
RAM
Hard Drive
Hard Drive
Hard Drive
Corsair Vengeance 8GB 1600mhz (9-9-9-24) 1.4v
Samsung 830 128gb
Samsung 850 EVO 500gb
WD Green 2TB
Cooling
Cooling
Cooling
Cooling
Koolance CPU-380I
BitsPower Fittings
PrimoChill Advanced LRT
Koolance R9 290 Waterblock
Cooling
Cooling
Cooling
Cooling
Koolance R9 290 Waterblock
XSPC Dual 5.25'' Bay Laing D5
Lamptron FC5-V2
AlphaCool NexXxos ST30 240mm
Cooling
Cooling
Cooling
Cooling
AlphaCool NexXxos ST30 120mm
AlphaCool NexXxos XT45 180mm
x3 NoiseBlocker E-Loop B12-3
Silverstone Air Penetrator AP181
Cooling
OS
Monitor
Keyboard
Alphacool VPP655
Windows 7 Pro 64bit
Dell Ultrasharp U2711
Ducky Shine 2 Red Cherry MX
Power
Case
Mouse
Mouse Pad
SeaSonic X-Series 1050w
Corsair 650D
Razer Mamba
Razer Vespula
Audio
Klipsch ProMedia 4.1's
View all
CPU
Motherboard
Graphics
RAM
Intel 3570k
Asrock Z77E-ITX
EVGA GTX 670
Samsung DDR3 4gb x2
Hard Drive
Cooling
Cooling
Cooling
Crucial MSata 256gb
Aqua Computer Cuplex Kryos HF
Aqua Computer AquagraFX
Alphacool NexXxoS ST30 240mm
Cooling
Cooling
Cooling
Cooling
Swiftech MCP655
Gentle Typoon's AP-13 x2
Koolance Threaded Acetal Pump Base W/ Reservoir
Bitspower 3/8-5/8 Matte Black Fittings
OS
Monitor
Keyboard
Power
Windows 7 Home 64bit
LG Electronics 47LM7600
Razer Lycosa
SeaSonic X-750w
Case
Arctic BitFenix Prodigy
View all
hide details
CPU
Motherboard
Graphics
Graphics
Intel 3930k
Asus Sabertooth X79
Sapphire R9 290
Sapphire R9 290
RAM
Hard Drive
Hard Drive
Hard Drive
Corsair Vengeance 8GB 1600mhz (9-9-9-24) 1.4v
Samsung 830 128gb
Samsung 850 EVO 500gb
WD Green 2TB
Cooling
Cooling
Cooling
Cooling
Koolance CPU-380I
BitsPower Fittings
PrimoChill Advanced LRT
Koolance R9 290 Waterblock
Cooling
Cooling
Cooling
Cooling
Koolance R9 290 Waterblock
XSPC Dual 5.25'' Bay Laing D5
Lamptron FC5-V2
AlphaCool NexXxos ST30 240mm
Cooling
Cooling
Cooling
Cooling
AlphaCool NexXxos ST30 120mm
AlphaCool NexXxos XT45 180mm
x3 NoiseBlocker E-Loop B12-3
Silverstone Air Penetrator AP181
Cooling
OS
Monitor
Keyboard
Alphacool VPP655
Windows 7 Pro 64bit
Dell Ultrasharp U2711
Ducky Shine 2 Red Cherry MX
Power
Case
Mouse
Mouse Pad
SeaSonic X-Series 1050w
Corsair 650D
Razer Mamba
Razer Vespula
Audio
Klipsch ProMedia 4.1's
View all
CPU
Motherboard
Graphics
RAM
Intel 3570k
Asrock Z77E-ITX
EVGA GTX 670
Samsung DDR3 4gb x2
Hard Drive
Cooling
Cooling
Cooling
Crucial MSata 256gb
Aqua Computer Cuplex Kryos HF
Aqua Computer AquagraFX
Alphacool NexXxoS ST30 240mm
Cooling
Cooling
Cooling
Cooling
Swiftech MCP655
Gentle Typoon's AP-13 x2
Koolance Threaded Acetal Pump Base W/ Reservoir
Bitspower 3/8-5/8 Matte Black Fittings
OS
Monitor
Keyboard
Power
Windows 7 Home 64bit
LG Electronics 47LM7600
Razer Lycosa
SeaSonic X-750w
Case
Arctic BitFenix Prodigy
View all
hide details