So I'm loving my HAF 922 thus far. I'm wondering what the best fan/airflow configuration would be for my rig.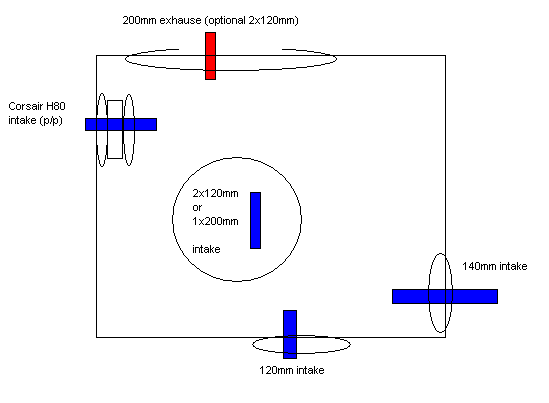 This is how I was planning on setting it up, but it seems like there's too much intake...and there's only one exhaust (albeit a large one).
Right now I have the stock front 140mm intake and top 200mm exhaust, my H80 in push/pull intake, and one 120mm intake on the side panel (will grab a second when I get a second video card, or throw in one 200mm). Throwing a 120mm on the bottom doesn't seem like it'd hurt, I'm just waiting on a modular PSU so I have the room down there.
How would you guys do it?
EDIT: the side panel fan is a 10db Slipstream fan. I may use Gentle Typhoons for all of the 120mm's (besides the H80 ones) for less noise since I could have up to 8 fans going depending on the config.
Edited by TMallory - 7/19/11 at 7:16am