To start off this thread I have an antec skeleton case, basically no side or ceiling panels, which was intended to create completely open circulation for hot air. Secondlly......I have a gtx 460 which I'm currently overclocking. I'm pretty new to OC'ing equipment but the only software im using is the newest Precision. It has a feature that monitors my gpu temps and FPS during games.

now I have been overclocking my core clock and memory clock by 10 values at a time and im currently running my core clock at 860MHZ, The shader clock at 1750 and the Memory Clock at 2000. From what ive read this is generally where most people stop but according to precision my in game temps dont even pass the 60C point so I feel compelled to ask? Did I sell my soul to the devil? or is Precision not doing it's job?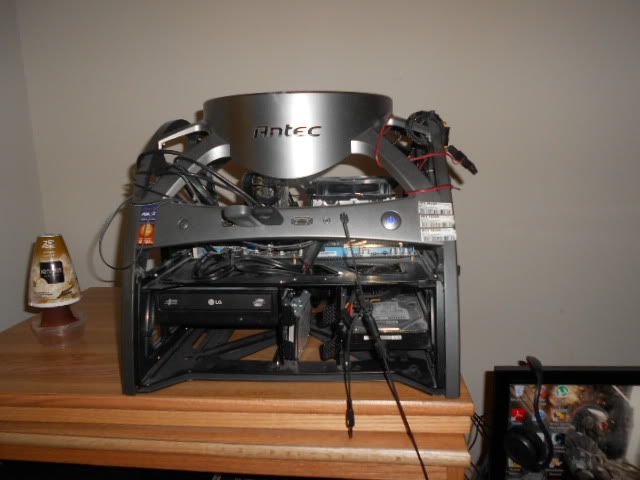 If you want you can watch this commentary of a game I played in Crysis 2. Precision is running the entire time and as you can see im averaging about 50 FPS while fraps is running.

Edited by ConsciousInsanity - 7/20/11 at 1:06pm
CPU
Motherboard
Graphics
RAM
I7 920
ASUS P655DE
GTX 460 (890MHZ)
6GB OCZ (DDR3)
Hard Drive
OS
Monitor
Power
550GB Total (nothing special here)
WIN 7
Samsung P2350 (60HZ)
BFG 800WATT
Case
Mouse
Mouse Pad
Antec Skeleton Case (very cool)
Logitec gaming mouse
Anti static mat
View all
hide details
CPU
Motherboard
Graphics
RAM
I7 920
ASUS P655DE
GTX 460 (890MHZ)
6GB OCZ (DDR3)
Hard Drive
OS
Monitor
Power
550GB Total (nothing special here)
WIN 7
Samsung P2350 (60HZ)
BFG 800WATT
Case
Mouse
Mouse Pad
Antec Skeleton Case (very cool)
Logitec gaming mouse
Anti static mat
View all
hide details