Hey guys, I joined up and old P4 of mine with one my friend had. He wanted a better PC but doesn't want to spend any cash (maybe a couple dozen bucks, but no more..). My insides came from a Gateway 500X:
Intel MB (I don't know the model, no OC, few BIOS options, standard layout for this socket (the same as his). No SATA.
P4 2.53GHz SL60W + CM heatsink, w/ ~40mm fan; maybe Cooler Master DP4-6I51? (link:
http://www.cwc-group.com/dp46i51.html
)
512MB DDR 166MHz (?)
NVidia GeForce MX 440 (I also have an 6200GT lying around, but I've got to look for it).
80GB HDD (IDE)
Sound Blaster Audigy Live!
No PSU (died some time ago, that's why it was sitting around...).
His:
ASRock P4i65G
P4 2.26Ghz + Intel heatsink. A bit bigger than the CM sink,
512MB DDR (Unkown clockrate, 133MHz maybe?). I put my RAM in his MB and it worked, so I'm guessing it is 133MHz and mine is underclocked.
Integrated GPU (won't even run GTA SA, lol).
Unknown sound card (looks like junk, it's got 1/4" plugs).
Crappy PSU, no brand. I can't remember the stats, but I'm pretty sure that it had more amps on the 5V rail that the 12V rail so it's probably useless...
Anyways, I was planning on using the case the 500X came in: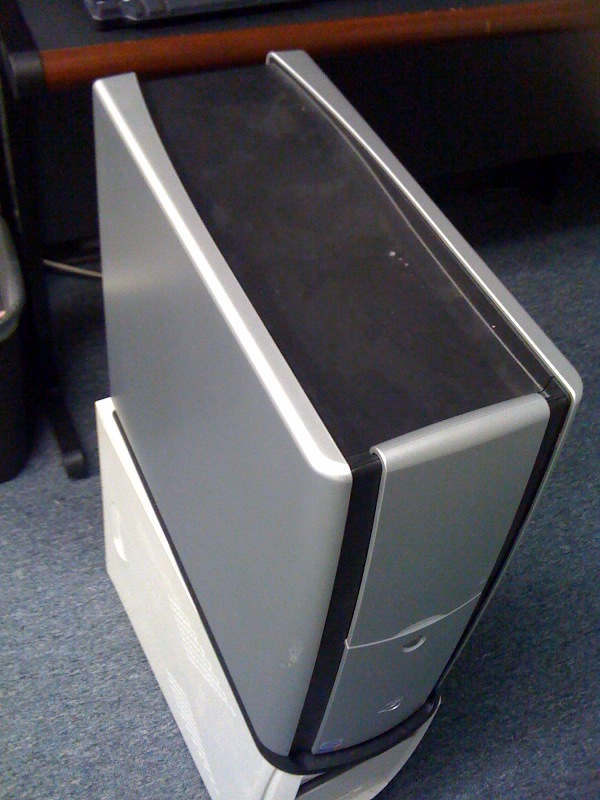 Very nice case, even screwless PSU installation. The only con is I couldn't get the MB of, lol. No, I'm not dumb, even the gateway instructions say to remove screws and slide to the right (there are some latches on the back) but it's like it's stuck in mine... the dude said he likes the looks of his case anyways so I forwent any further exploring...
So I ended up with:
P4 2.53GHz SL60W w/ the other CPU's heatsink (intel stock)
ASRock P4i65G
His PSU
GeForce MX 440 (will be changed for a 6200 GT)
1GB DDR RAM, which I assume is running @ 133Mhz
2x80GB HDDs (IDE)
Sound Blaster Audigy Live!
I told him he should get a good SATA drive, like the Samsung Spinpoint F4 2TB, since it would be faster that his IDE drives, and he won't have to worry about storage for quite some time... He could even use it in his next build, so it wouldn't be $ spent pointlessly on a P4...
So now the plan is to OC this thing, and install W7 on it (I'm going to strip it to barebones) or XP, if W7 doesn't work well and he doesn't want to buy another GB of RAM.
So, the questions are:
How OCble is the CPU? Which heatsink should I use (I already installed the stock one, just b/c they're both aluminum and the stock is bigger)? Noise isn't a bigge, but a quiet PC is preferable over 100MHz, lol.
Is W7 stripped to the minimum w/ no superfetch a good choice?
Should he get the SATA drive? Will the SATA drive connected to 1st gen SATA be faster than his IDE drives?
Edited by adriangb - 7/20/11 at 8:13pm