Ok so I've been reading a lot and searching around and Newegg seems to have the best prices and service so I chose to go with them.
Also after consulting with so many other members(too many to list) I've come to the decision of going AMD.
THANKS GUYS!
So here's some screenies of everything in the shopping cart, that I just purchased and hope to get soon.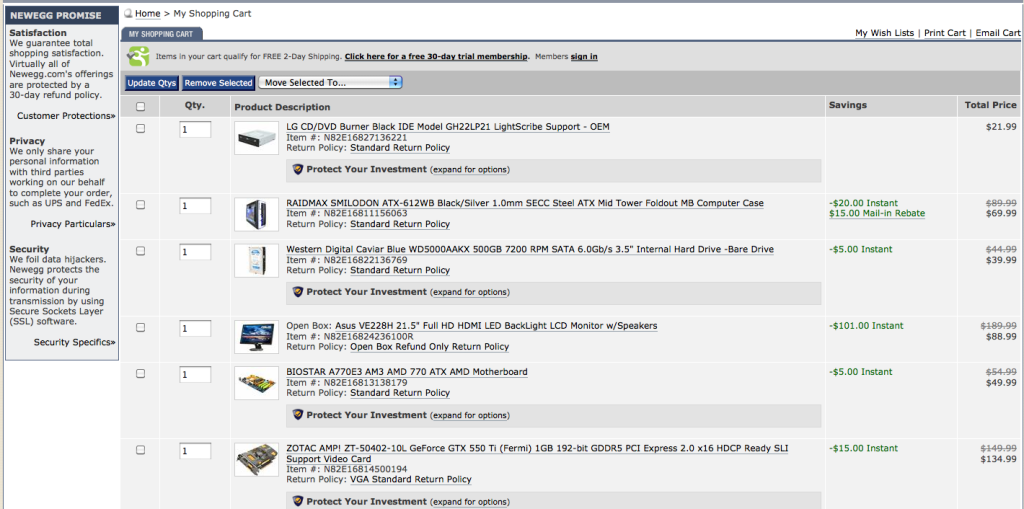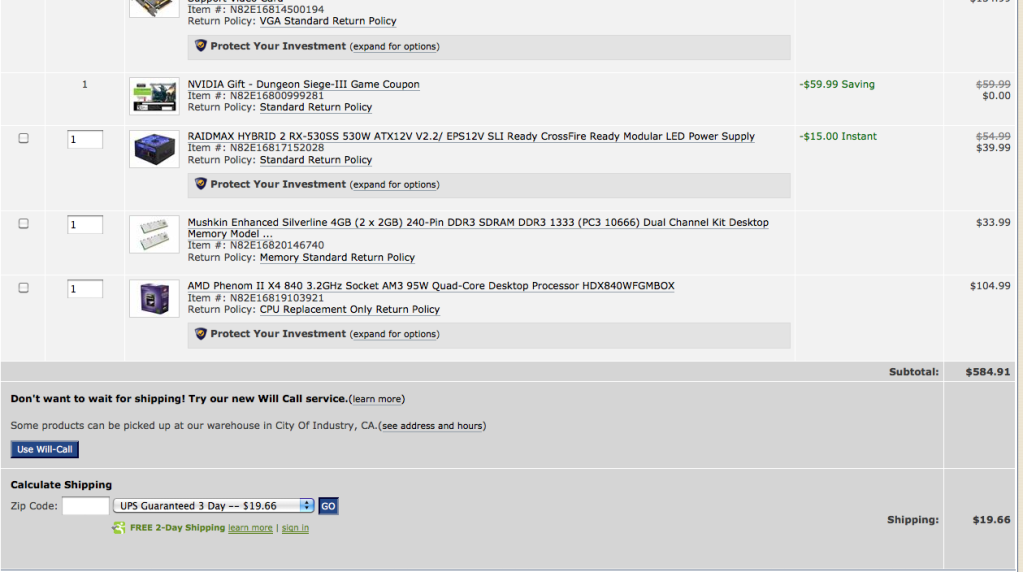 Once everything is here I shall update on the progress.
Question Time:
Can anyone recommend or sell me a keyboard/ mouse combo for under $30?
I also need a wireless network adapter.
Thanks for looking!
~Scott
CPU
Motherboard
Graphics
RAM
AMD Phenom II X4 840 3.2GHz
BIOSTAR A770E3
ZOTAC AMP! ZT-50402-10L GeForce GTX 550 Ti
Mushkin Enhanced Silverline 4GB
Hard Drive
Optical Drive
OS
Monitor
Western Digital Caviar Blue 500Gb
LG CD/DVD Burner Black IDE
W7 Ultimate x64
Asus VE228H 21.5" Full HD HDMI LED
Keyboard
Power
Case
Mouse
OEM Dell
RAIDMAX HYBRID 2 RX-530SS
RAIDMAX SMILODON
Bluetooth Targus
Mouse Pad
Puppies
View all
hide details
CPU
Motherboard
Graphics
RAM
AMD Phenom II X4 840 3.2GHz
BIOSTAR A770E3
ZOTAC AMP! ZT-50402-10L GeForce GTX 550 Ti
Mushkin Enhanced Silverline 4GB
Hard Drive
Optical Drive
OS
Monitor
Western Digital Caviar Blue 500Gb
LG CD/DVD Burner Black IDE
W7 Ultimate x64
Asus VE228H 21.5" Full HD HDMI LED
Keyboard
Power
Case
Mouse
OEM Dell
RAIDMAX HYBRID 2 RX-530SS
RAIDMAX SMILODON
Bluetooth Targus
Mouse Pad
Puppies
View all
hide details