Stage II: MCR320-QP-K Rad added to top of case put in just CPU loop.
Add Drain line.
Box of fun stuff.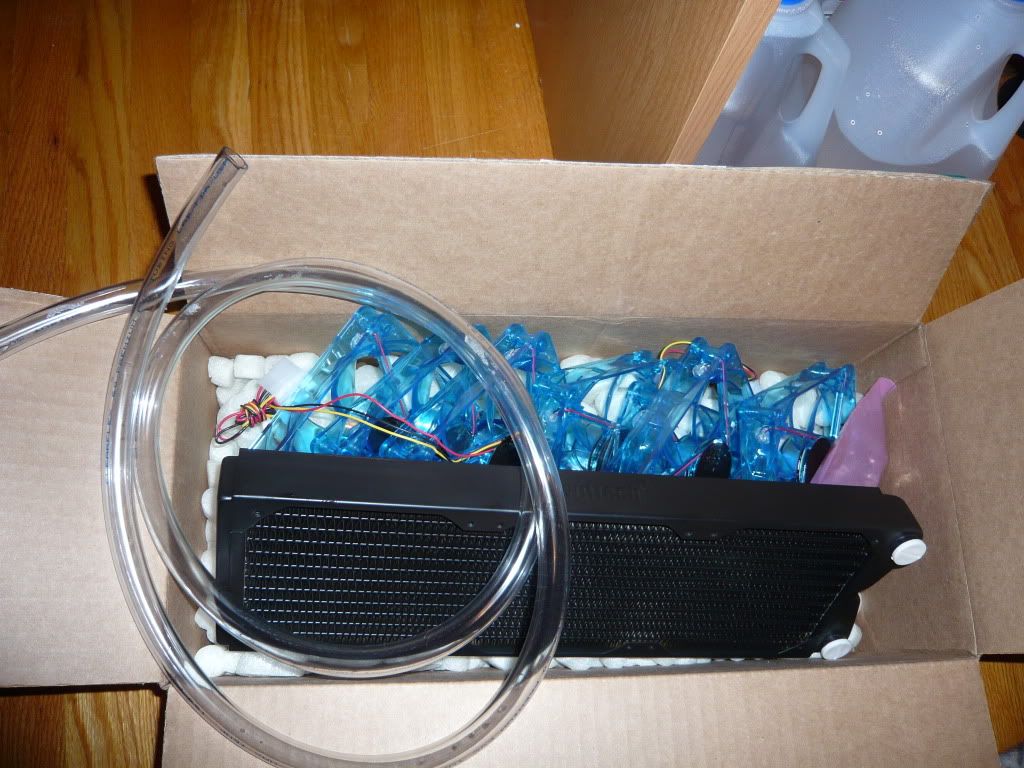 Had to pull the 240 rad out in order to drain the loop. Total pain! Always remember to add a drain line or an easy way to drain.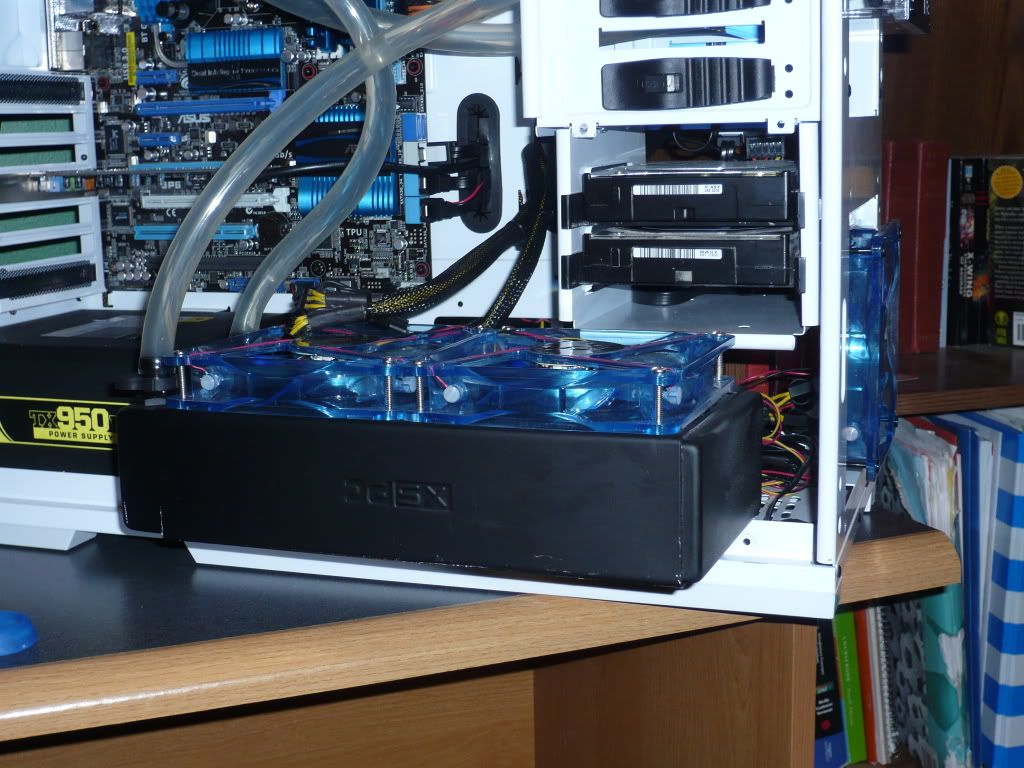 I just used the middle fan to hold the rad onto the middle piece from the 200mm top fans. Seems pretty secure and made things a lot easier than cutting and building a mounting plate.
The line is where I had originally intended to cut the metal and make a bracket. I'm really glad I didn't, things are always different when you have the product in your hands. Also I plan to cut the front out in the future to add a 6th fan.
Leak testing. Only had a minor problem with my drain plug dripping. Fixed with some Great White pipe joint compound.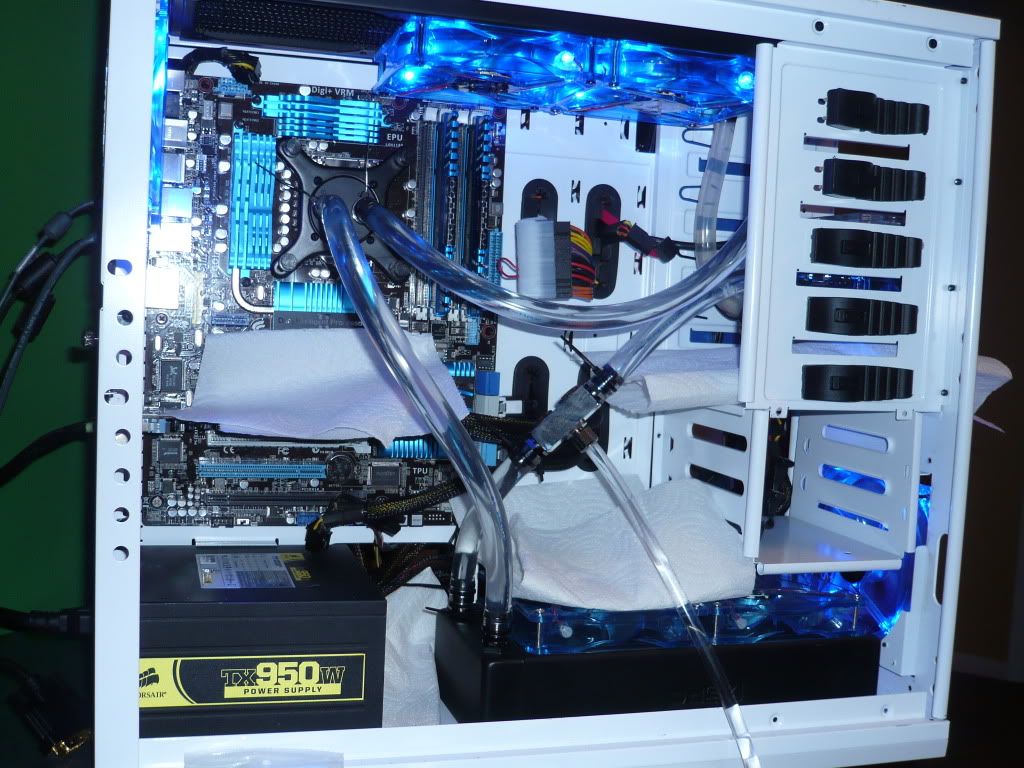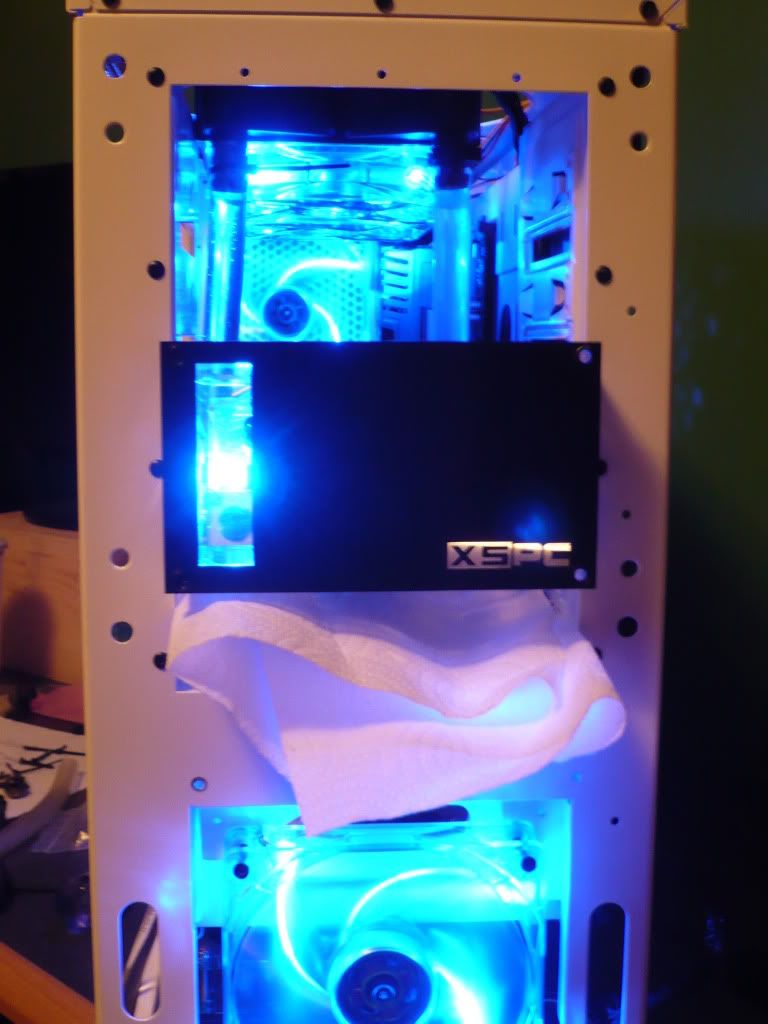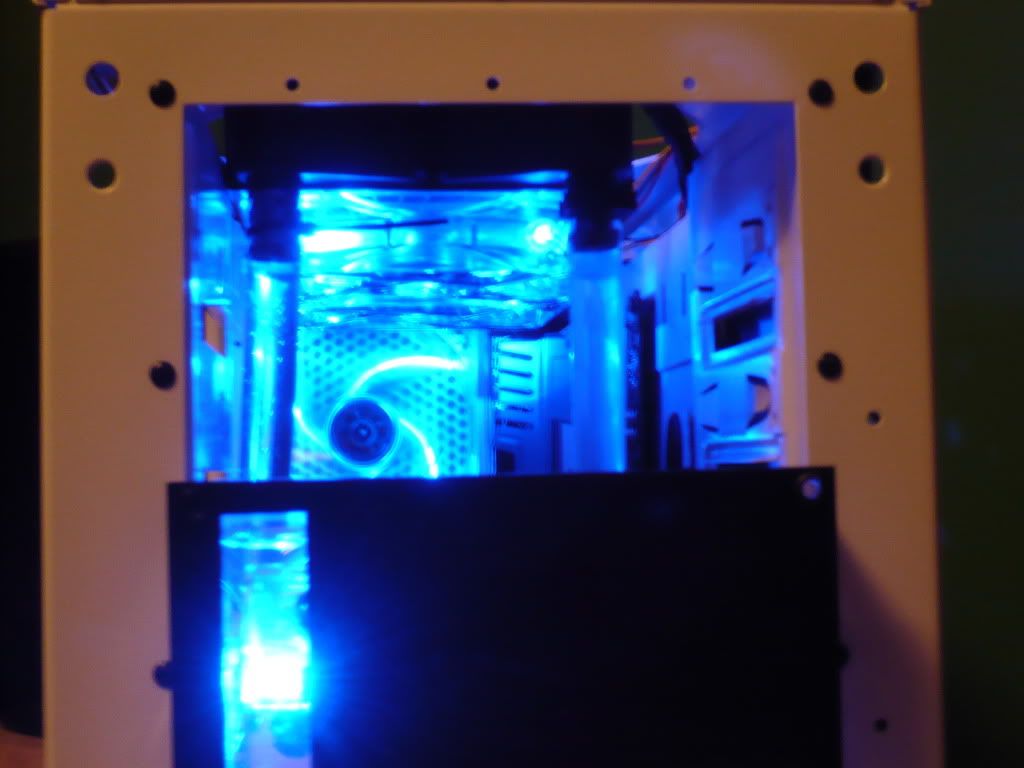 GPU's back in, which was a mistake actually. I thought I took into account the bend for the cards, but when I got them in there things were a little tight. Not actually thrilled with the way the loop looks this time. It's very busy in front of the cards. Luckily this is only going to be this way for a few weeks.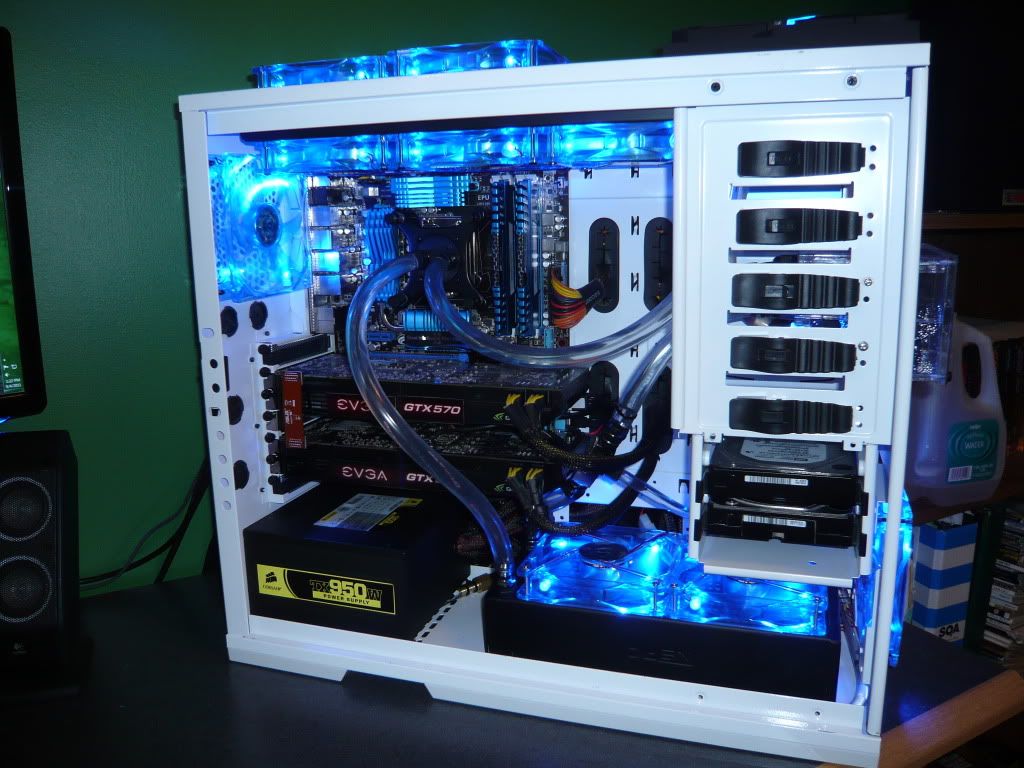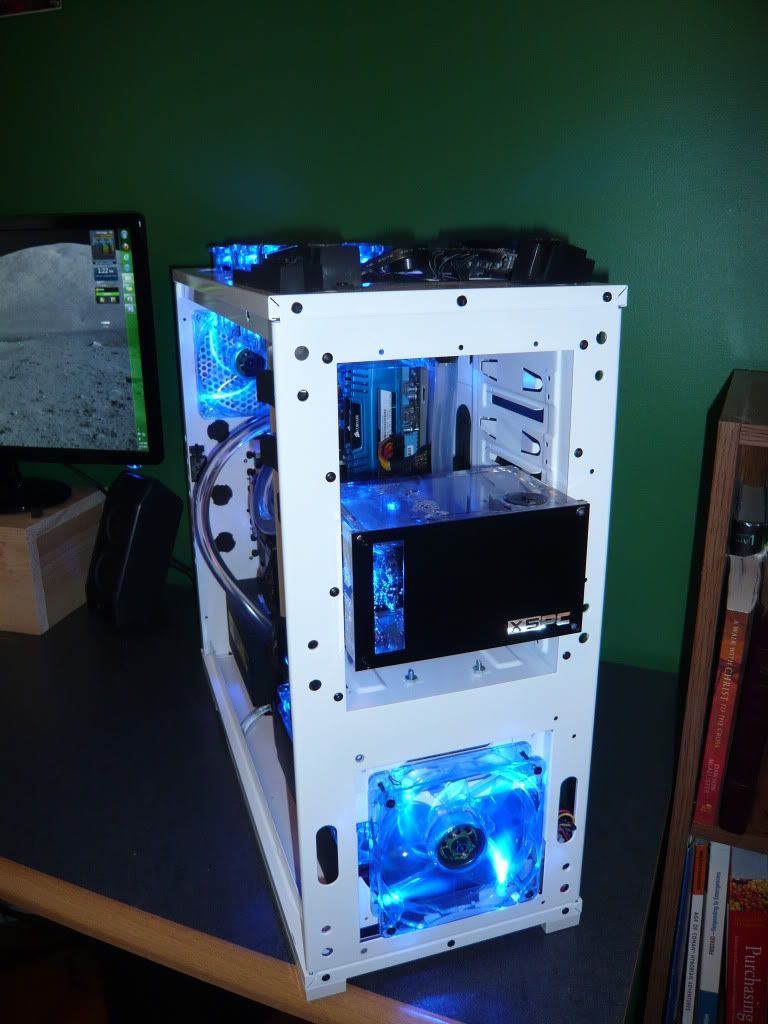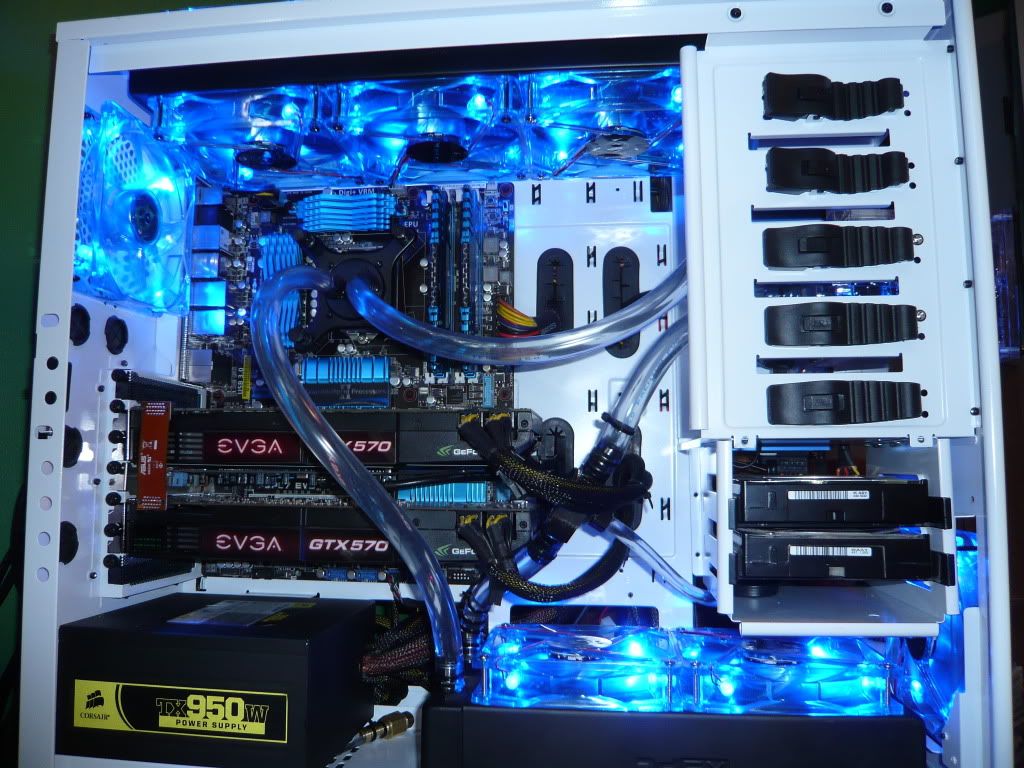 Those Yate Loons are awesome! I just hope they last.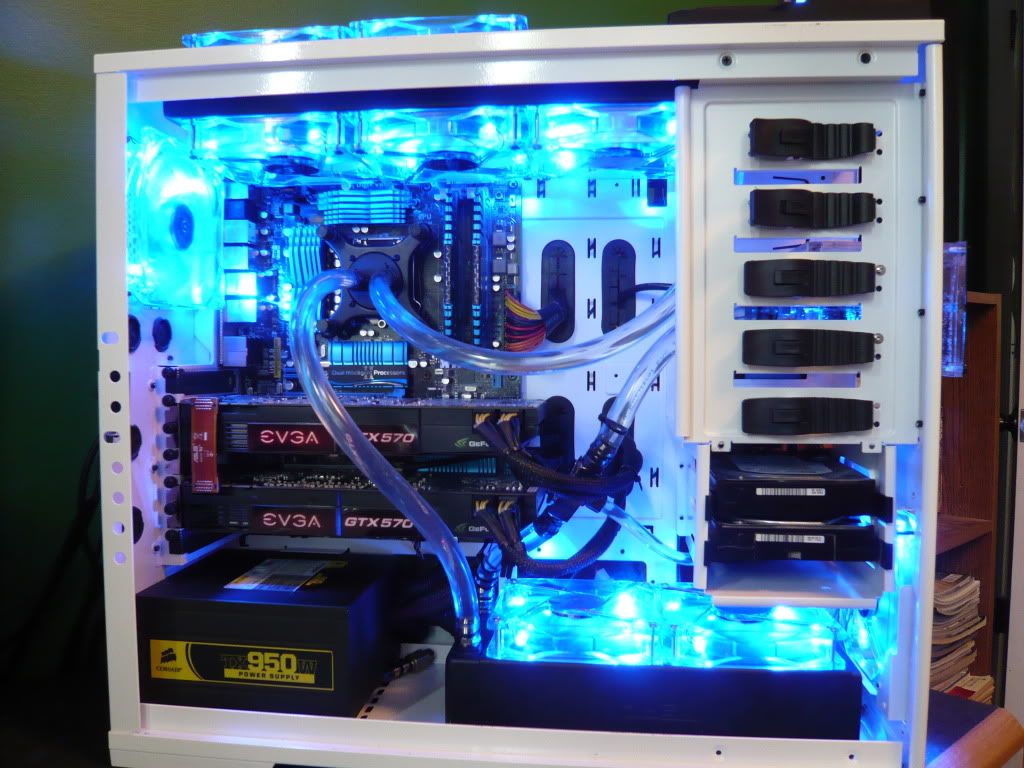 Case back together. Love the way things look with all those LED's.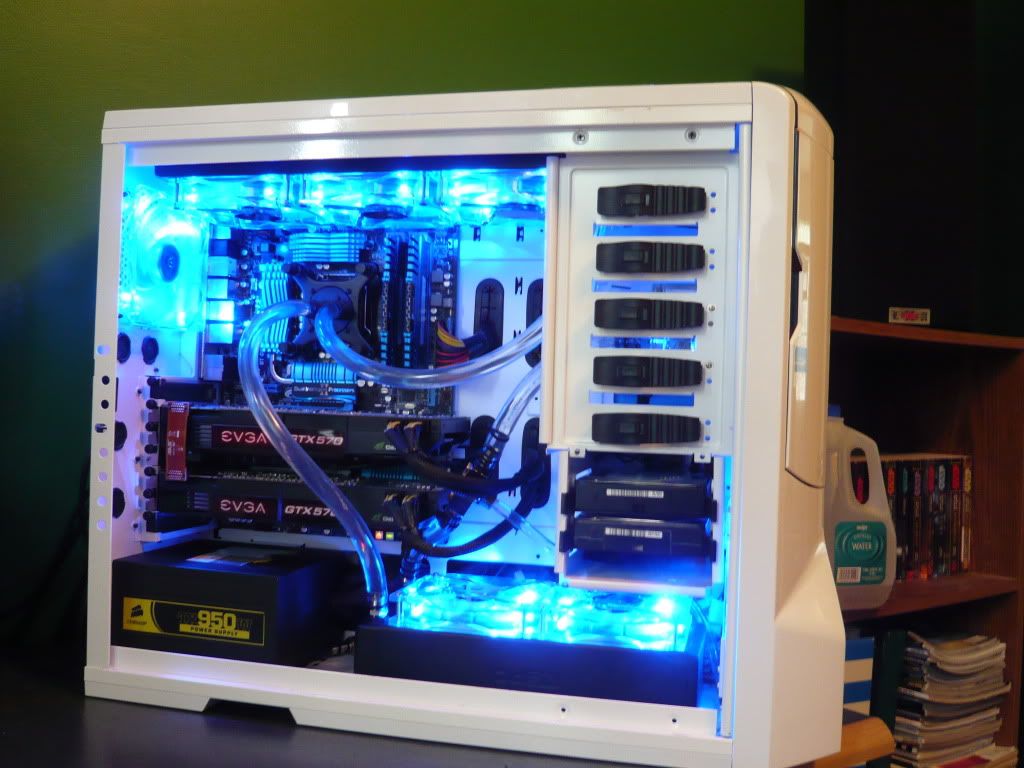 Looks sick!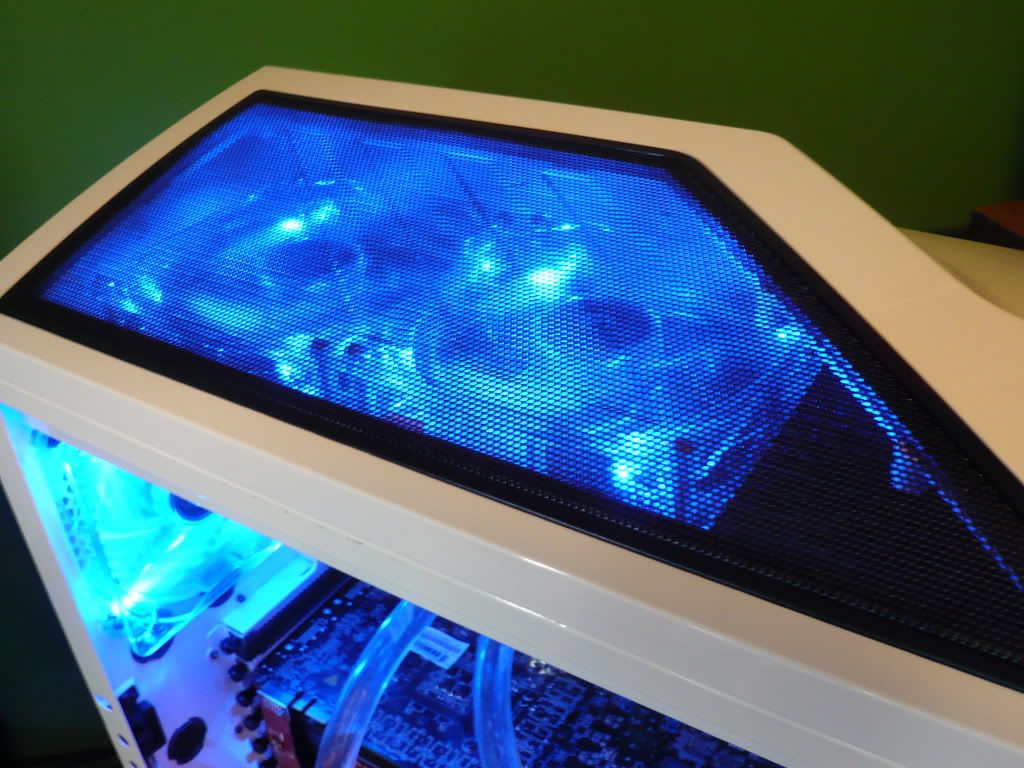 All done!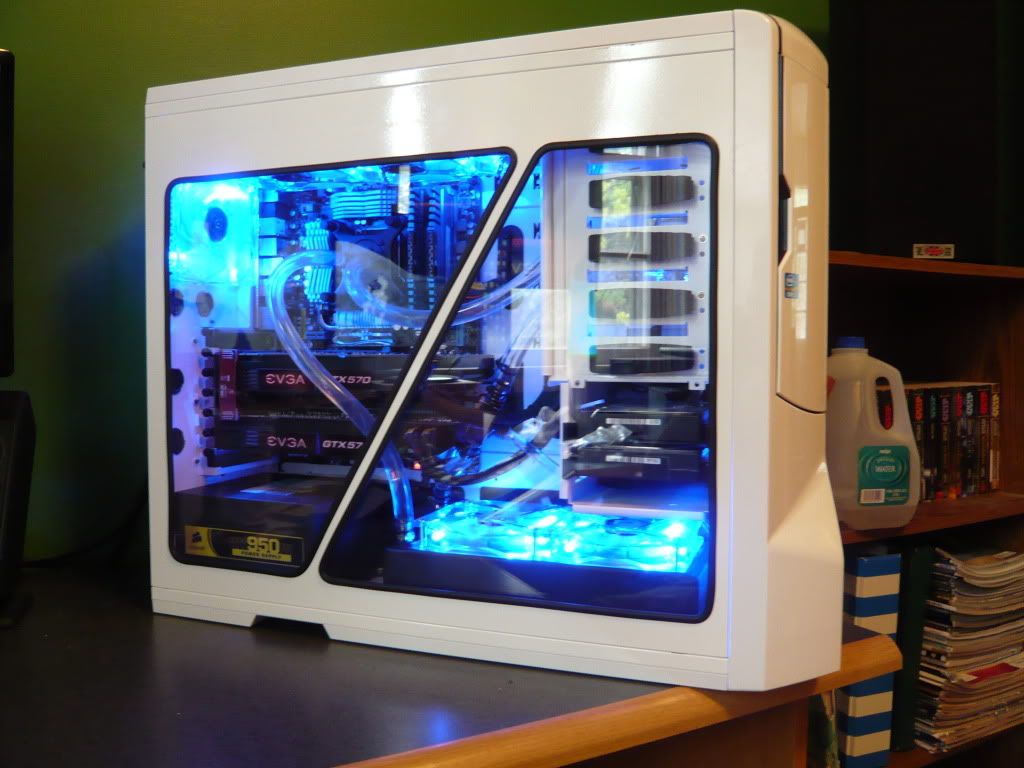 Koolance splitter. This thing is pretty cool, it gives you a lot of options. I'm totally happy with the purchase. Also you can see how I had to use 3 zip ties just to get that bend to work. I bought that tubing because I knew I would be replacing it soon, but never again! It was terrible. Way to flexible - 1/2id 5/8od.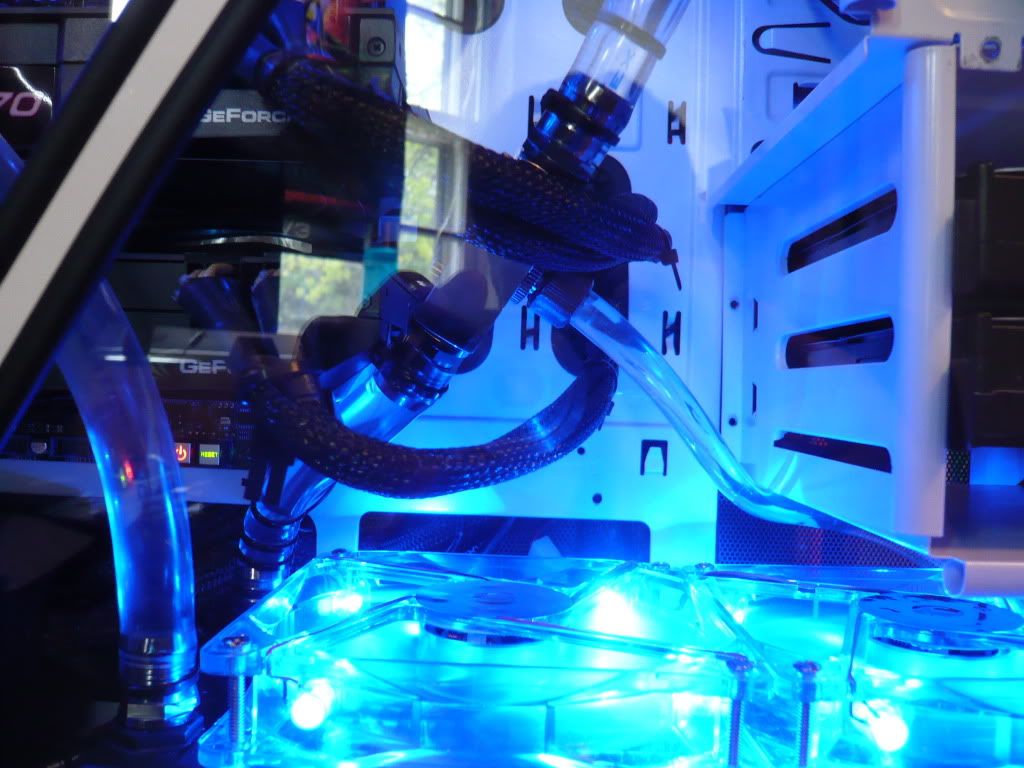 So pretty lol and soo cold! Temps are awesome! Time for some HWbot!
So that's where I'm at right now. Comments and questions are always welcome! Next step is some EK full blocks for the GPU's. Any suggestions on what I will need to do that from here would be great.
Final question, honestly will the pump from the Rasa kit (XSPC H20 I believe) handle this set-up? If not what pump should I replace it with?
CPU
Motherboard
Graphics
RAM
2500K
ASUS P8P67 EVO
Calibre GTX 480
Corsair Vengence
Hard Drive
Optical Drive
Cooling
OS
Vertex 2
LG DVD
What ever is being tested
Windows 7 professional 64bit
Monitor
Keyboard
Power
Case
Acer 23"
Generic
High Power Astro PT 700w
Antec 900/TBD
Mouse
Mouse Pad
ooold Microsoft POS
Wood
View all
hide details
CPU
Motherboard
Graphics
RAM
2500K
ASUS P8P67 EVO
Calibre GTX 480
Corsair Vengence
Hard Drive
Optical Drive
Cooling
OS
Vertex 2
LG DVD
What ever is being tested
Windows 7 professional 64bit
Monitor
Keyboard
Power
Case
Acer 23"
Generic
High Power Astro PT 700w
Antec 900/TBD
Mouse
Mouse Pad
ooold Microsoft POS
Wood
View all
hide details