Ok so here are pictures of my most recent addition. I added a 2nd MCR320-QP-K to the front. This required reconfiguring most of the build. The only thing that really stayed where it was is the top 360. I didn't touch that. Although next week I'm going to be flipping all the fans on it so they are all exhausting out the top. The front is pulling is and so is the bottom so I figured that I should have more than just the top back exhausting. Also I need some more fittings as some things didn't quite work the way I wanted. And I need 3 more yate loons for the new rad.
Also as far as tubing/dye is concerned. I had the fantastic idea to try and use both the blue tubing and the green dye. Unfortunately I didn't consider that the tubing is blue/clear. So the color of the tubing is now a terrible dark green. I hate it. I'm not sure exactly what I want to do as I love the bright green every where else.
Picture time!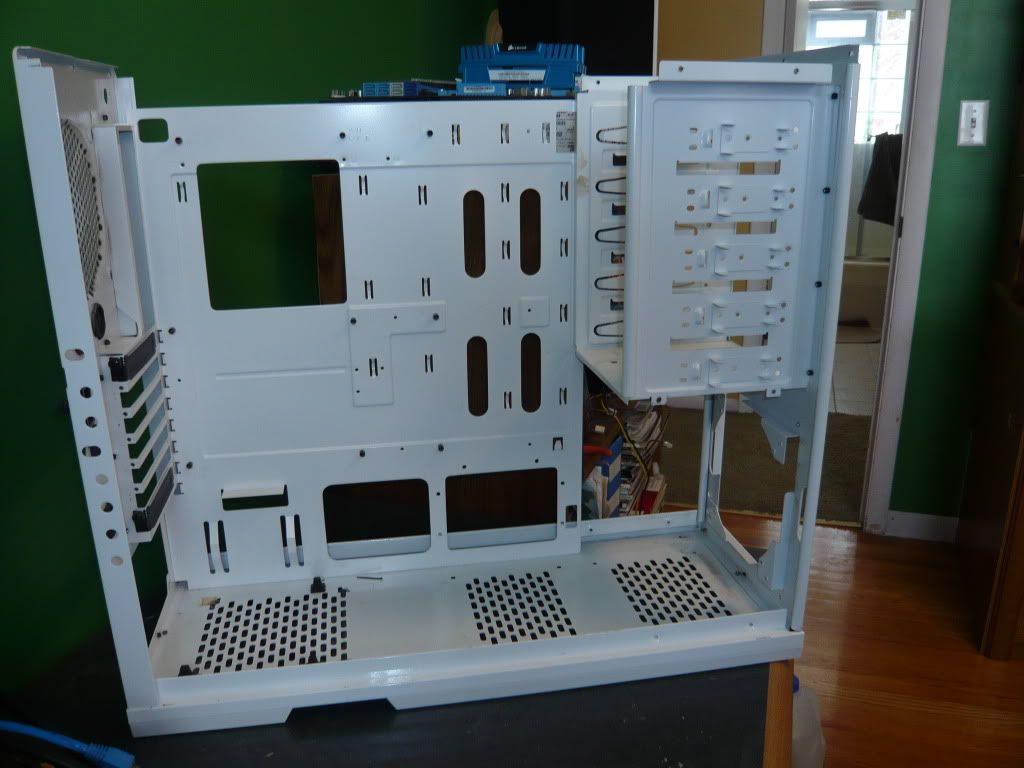 Stripped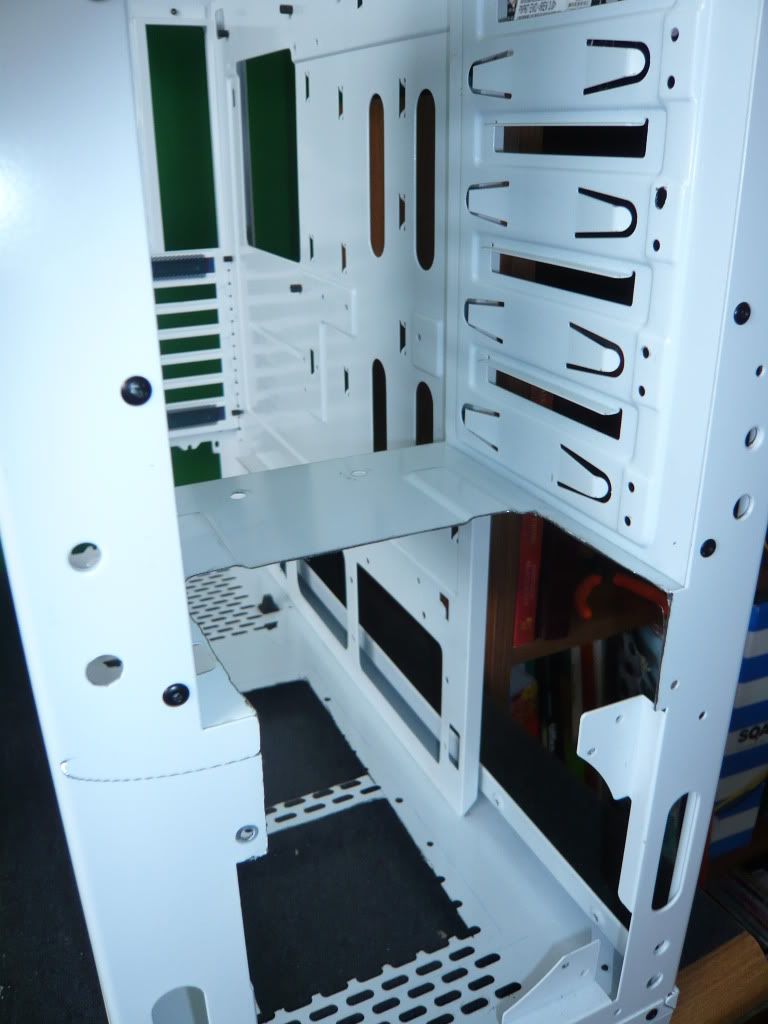 Used a dremel to cut this notch out.
Dremel again on the bottom. The only tool I used was the dremel actually. No saws.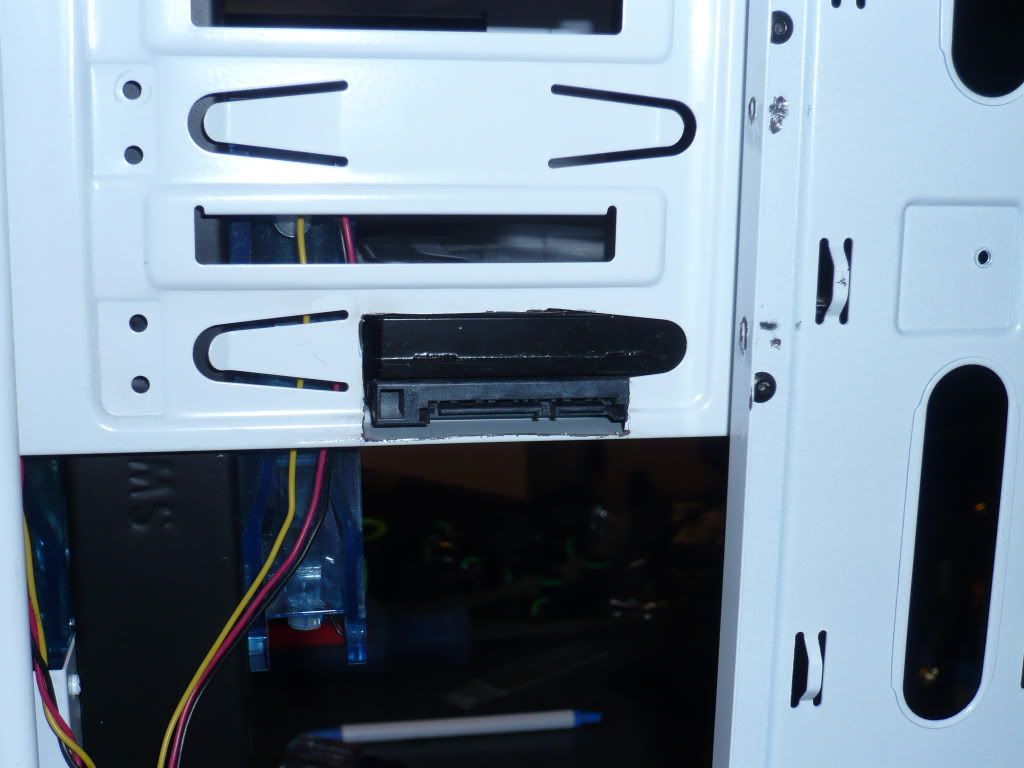 You'll understand....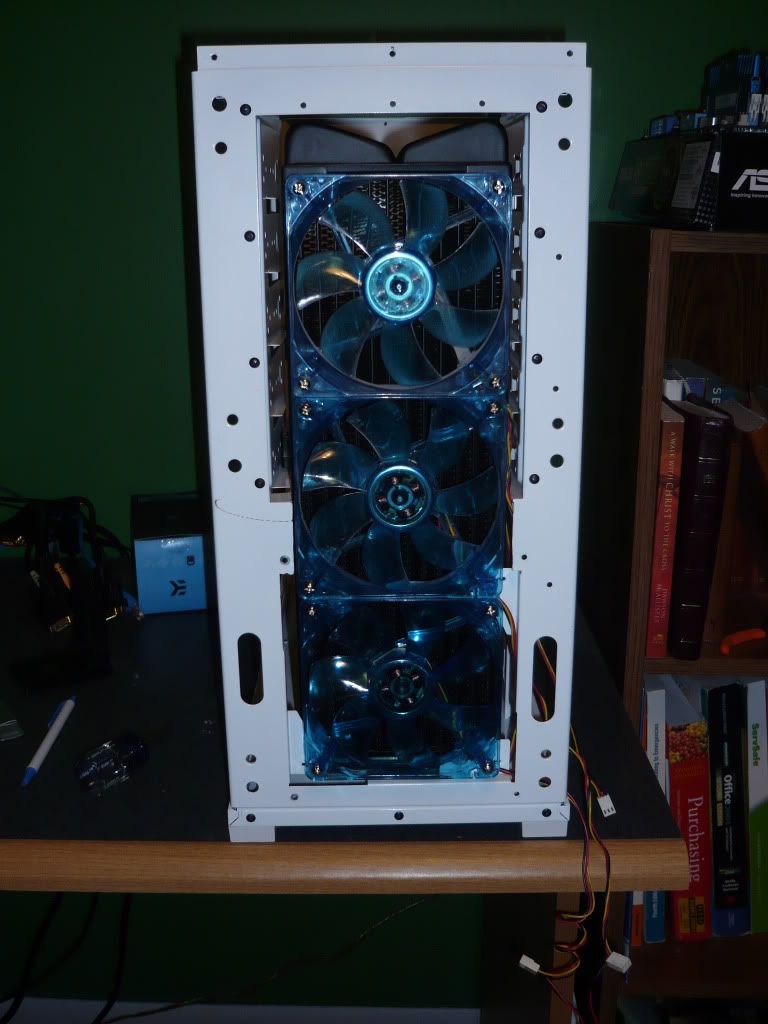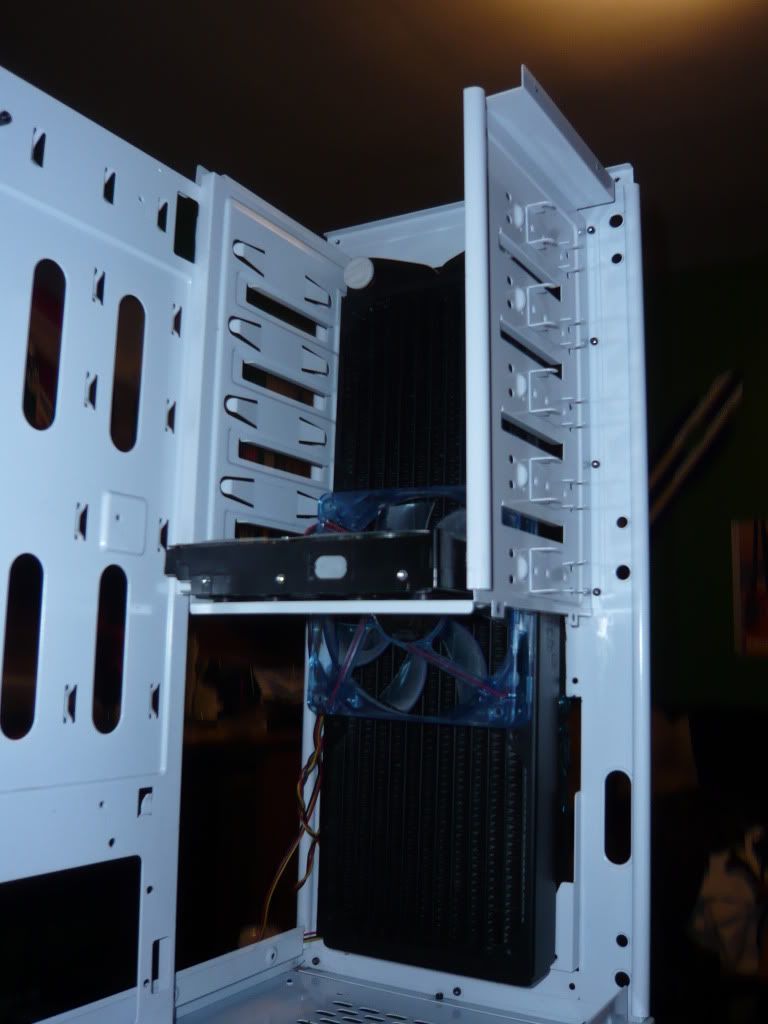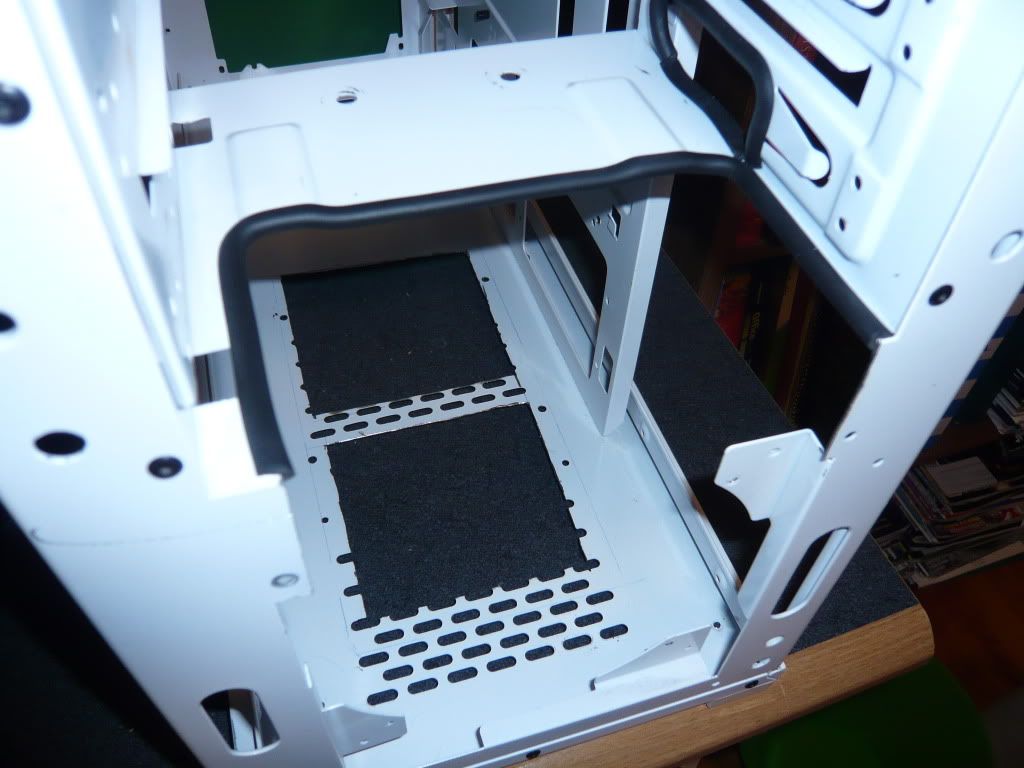 Used some left over edging for clean things up.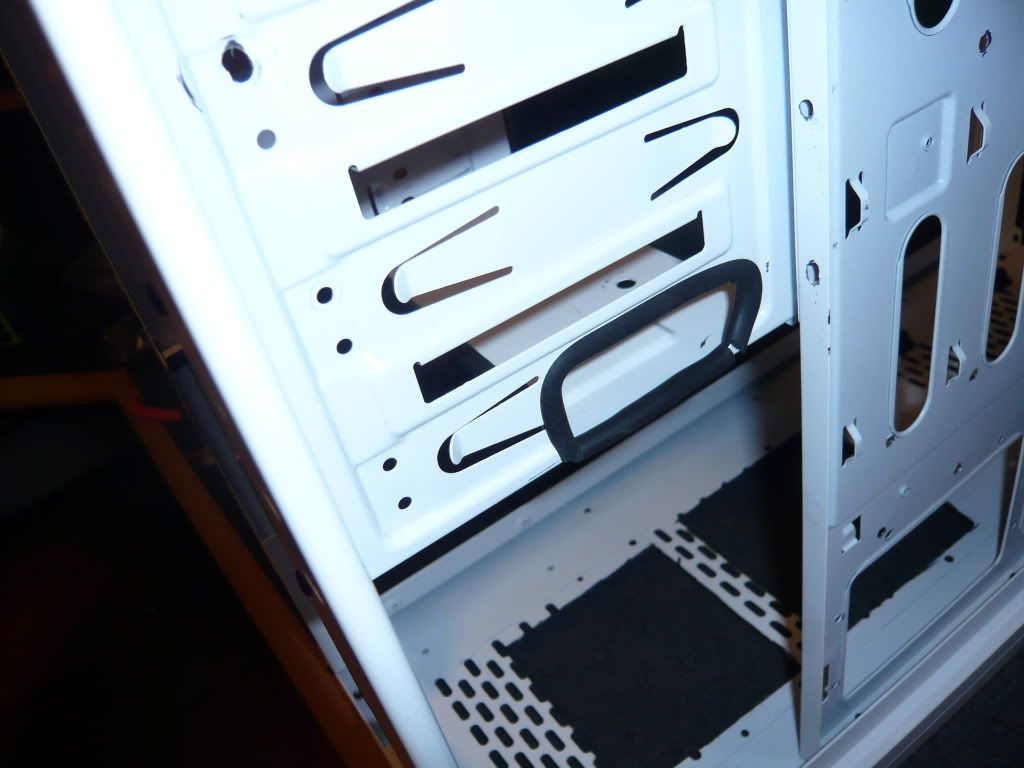 No water.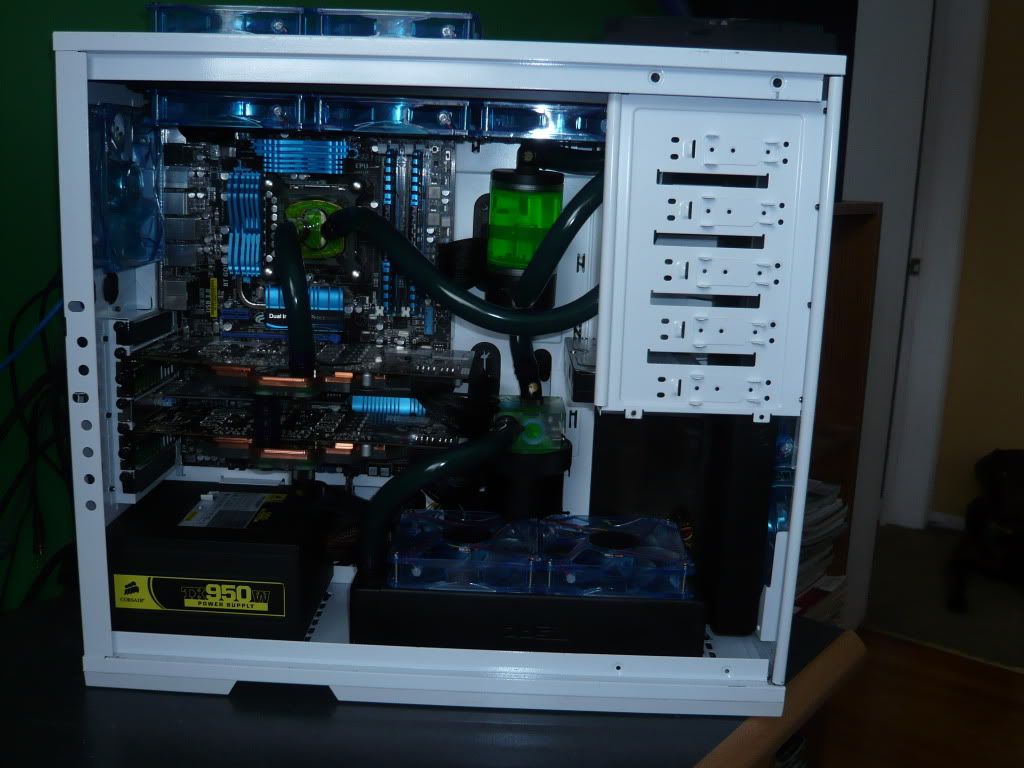 Filled with dye.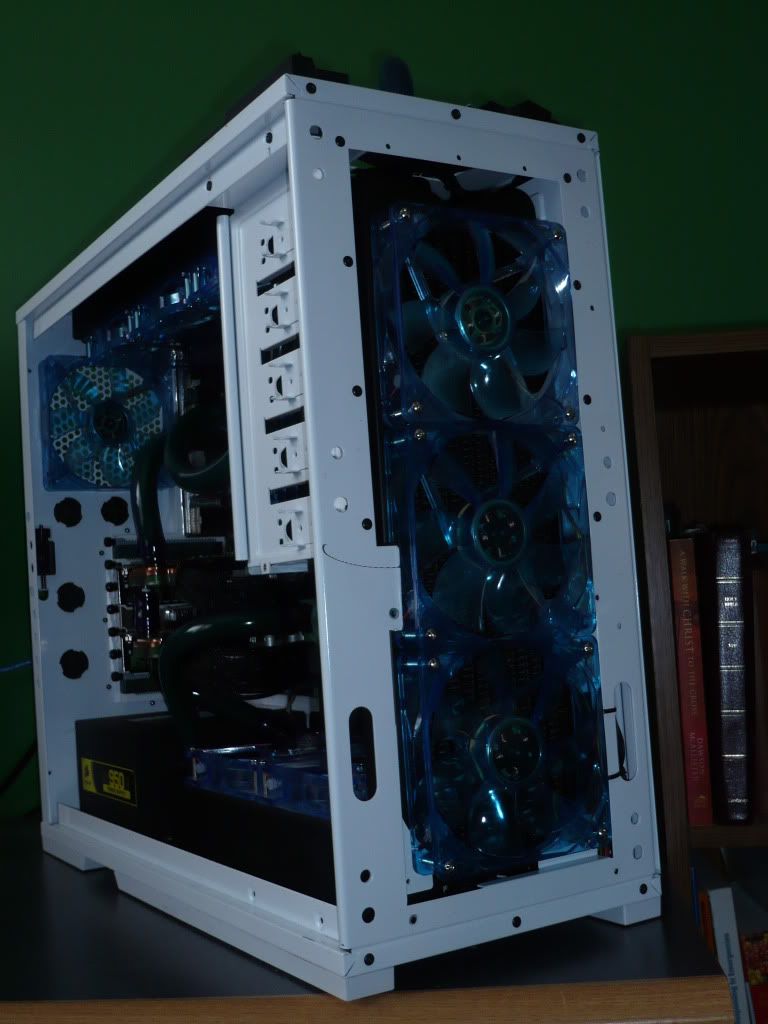 Scratched the front with the dremel, but it's covered by the plastic.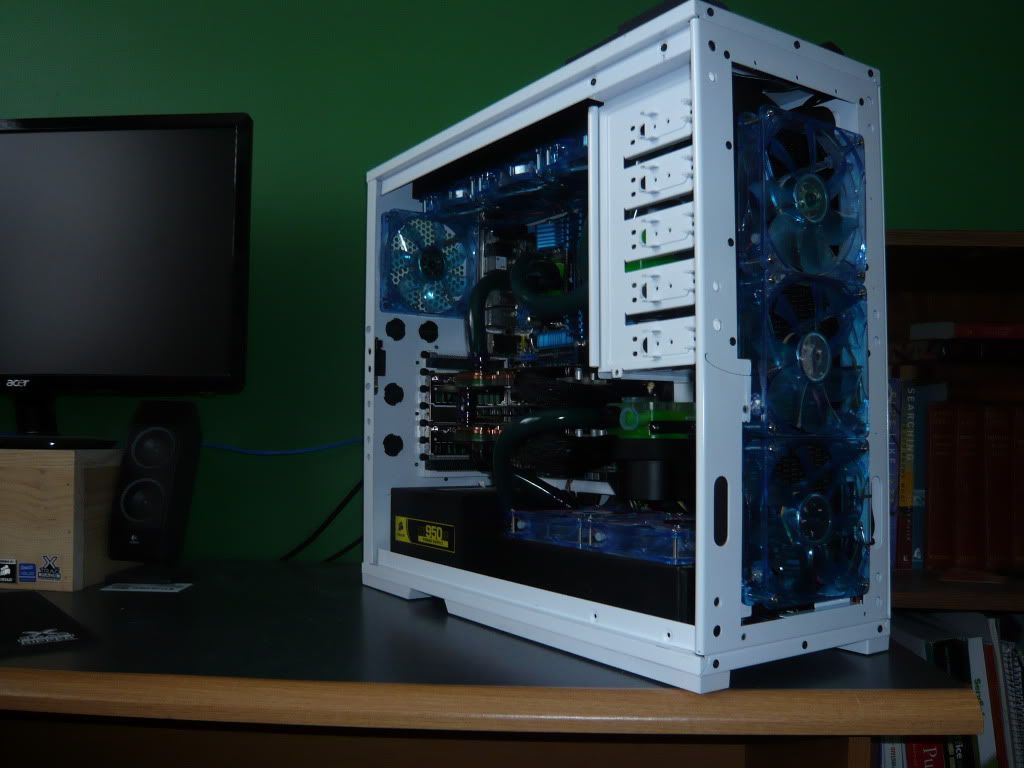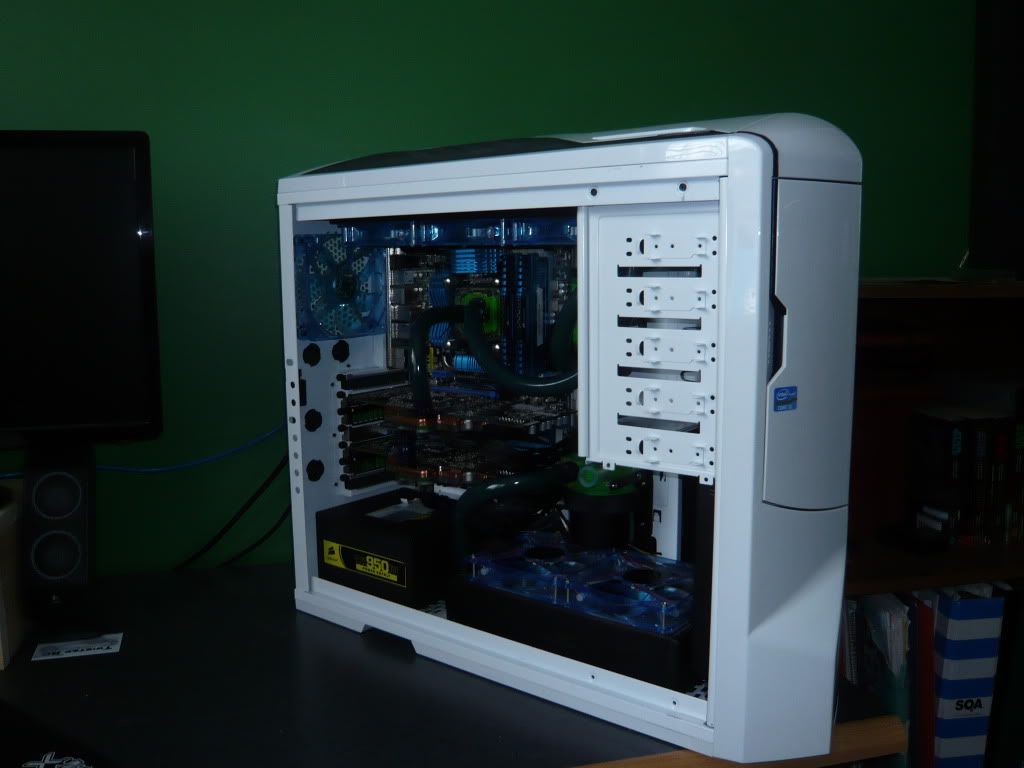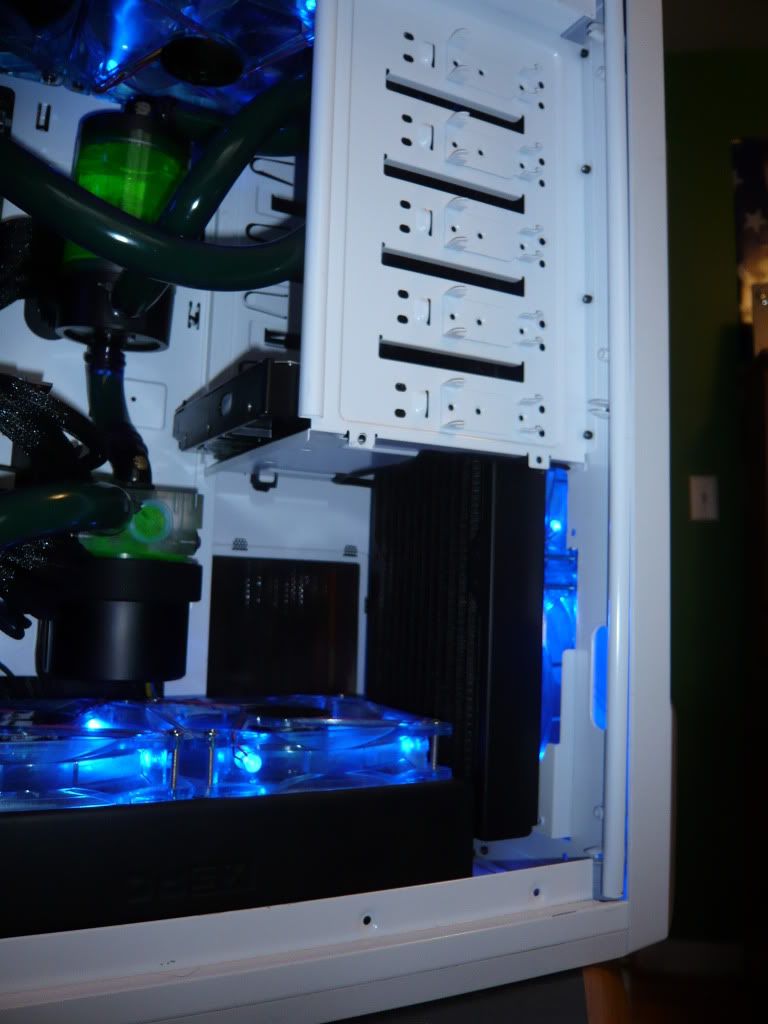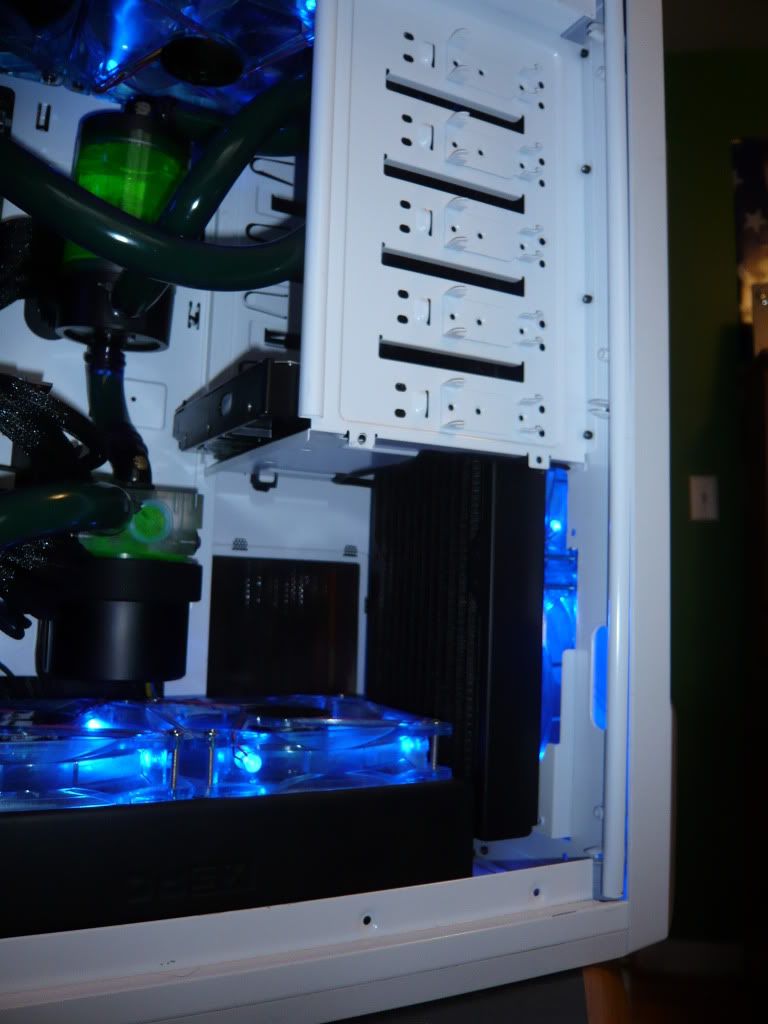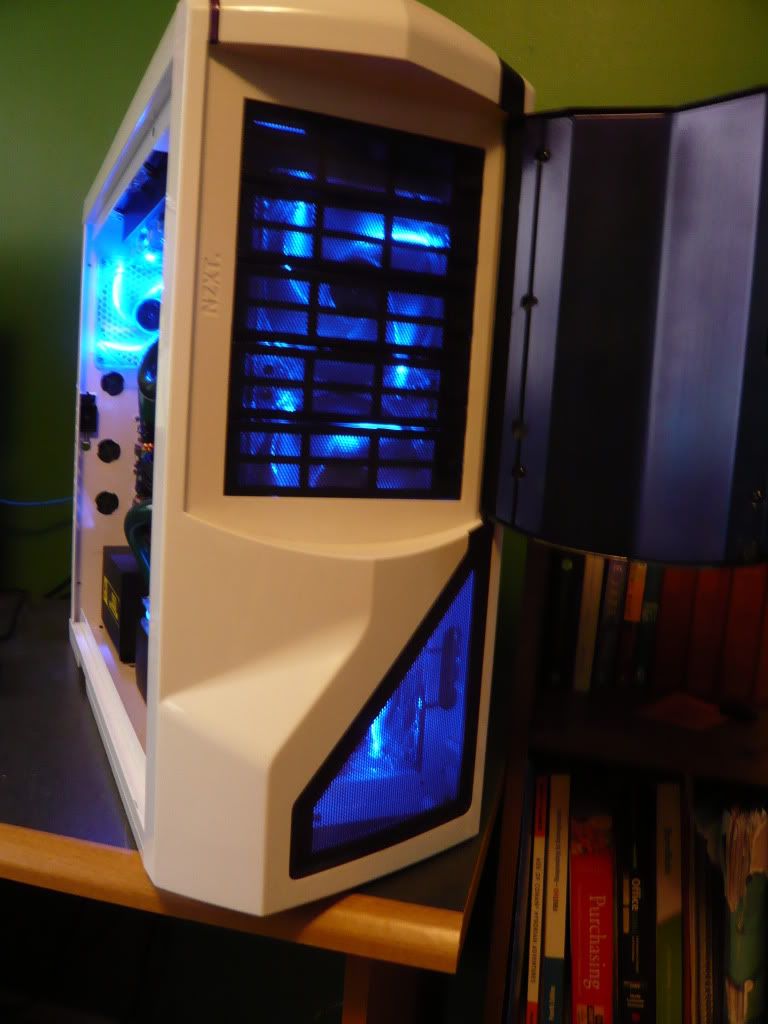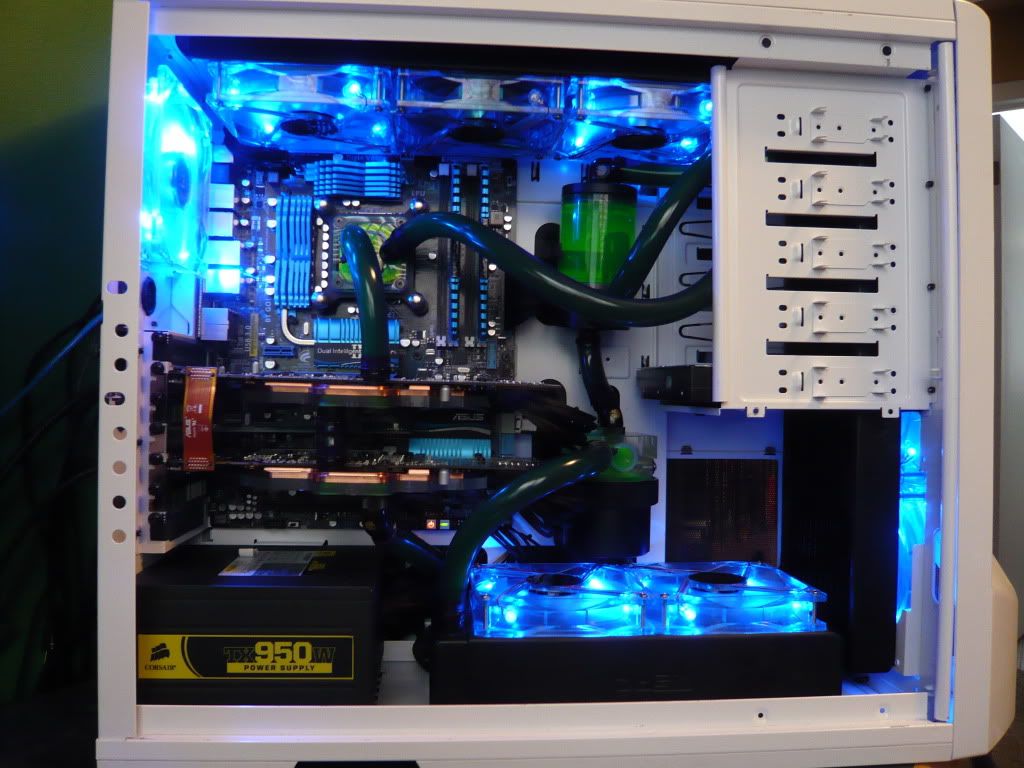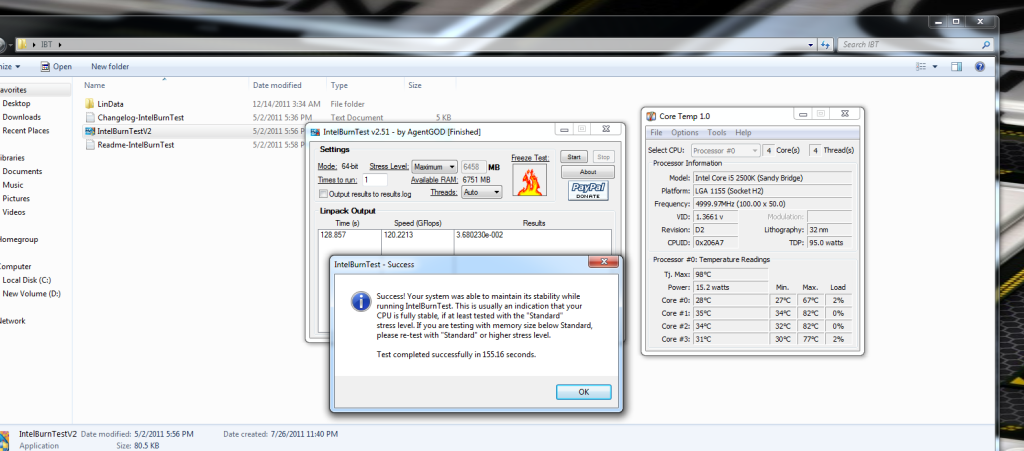 And finally a screen after IBT. Dropped like 10 degrees C with the new rad. Better even on some cores. I'm thinking that I need to re-apply thermal paste actually. The cores are really getting some varied results. So that's on the to do list. Also to note I dropped 20 degrees C during BF3 on the CPU and by GPUs never go over 43C under full load.
I'm pretty happy with the performance of this setup. I really didn't know what to expect. I almost thought it might raise temps bc of restriction. So some minor aesthetic changes and I'll be really happy. I'll update with pics when I get it perfect of course.
CPU
Motherboard
Graphics
RAM
2500K
ASUS P8P67 EVO
Calibre GTX 480
Corsair Vengence
Hard Drive
Optical Drive
Cooling
OS
Vertex 2
LG DVD
What ever is being tested
Windows 7 professional 64bit
Monitor
Keyboard
Power
Case
Acer 23"
Generic
High Power Astro PT 700w
Antec 900/TBD
Mouse
Mouse Pad
ooold Microsoft POS
Wood
View all
hide details
CPU
Motherboard
Graphics
RAM
2500K
ASUS P8P67 EVO
Calibre GTX 480
Corsair Vengence
Hard Drive
Optical Drive
Cooling
OS
Vertex 2
LG DVD
What ever is being tested
Windows 7 professional 64bit
Monitor
Keyboard
Power
Case
Acer 23"
Generic
High Power Astro PT 700w
Antec 900/TBD
Mouse
Mouse Pad
ooold Microsoft POS
Wood
View all
hide details