Hey guys Im ordering myself some Fans that are Non-PWM and Im going to be getting a Maximus IC Gene-z so I said hmm 5 PWM headers and only 1 PWM fan (the CPU fan)..... I wonder if I can make a small circuit to control the fan with PWM
I have some experience with electronics and after a bunch of reading and thinking I cam across this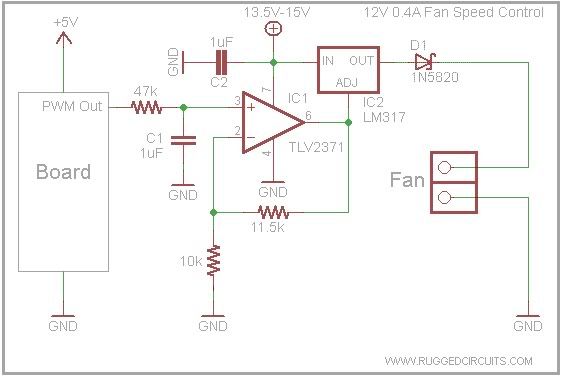 Seems good to me but I was wondering if anyone else here has any input on the circuit design
I decided to look for an OpAmp circuit because I understand they dont interfere with the Tachometer
Im not sure how the PWM would interact with LEDs though
Id have to isolate the LEDs of the fan in order for them to not get dimmed by the PWM controller correct?
Or are the LEDs generally already on a separate circuit so that the LEDs always draw their 3.3V (or whatever x amount of Volts)
Other thoughts, what do you guys think of only using the PWM pin of the mobo and using the 12V pin from a molex as to not over draw current from the motherboard for higher current fans?
Although im not using any of those insane Delta fans, so is that even worth doing?