Contract - a rendering beast.
Recently I was contacted by a peer, an architecture student, at

O

klahoma

S

tate

U

niversity (go Cowboys). His request? Build him a computer that can handle graphics rendering in Rhino 4. That's right - the primary use for this PC will be studio rendering...which makes for one hell of a gaming PC on the weekends.
Spec

ifications:
Intel Core i7 2600k
EVGA Superclocked GTX 580
Lian Li Lancool PC-K62
Asus P8 P67 LE
G.skill Ripjaw DDR3 1600 2x4GB
Corsair AX850
Pro

gress:
Case unboxed, prepped.
Motherboard first look, installed.
CPU/RAM seated, heatsink mounted.
PSU unboxed, installed.
GPU unboxed, installed.
HDD mounted.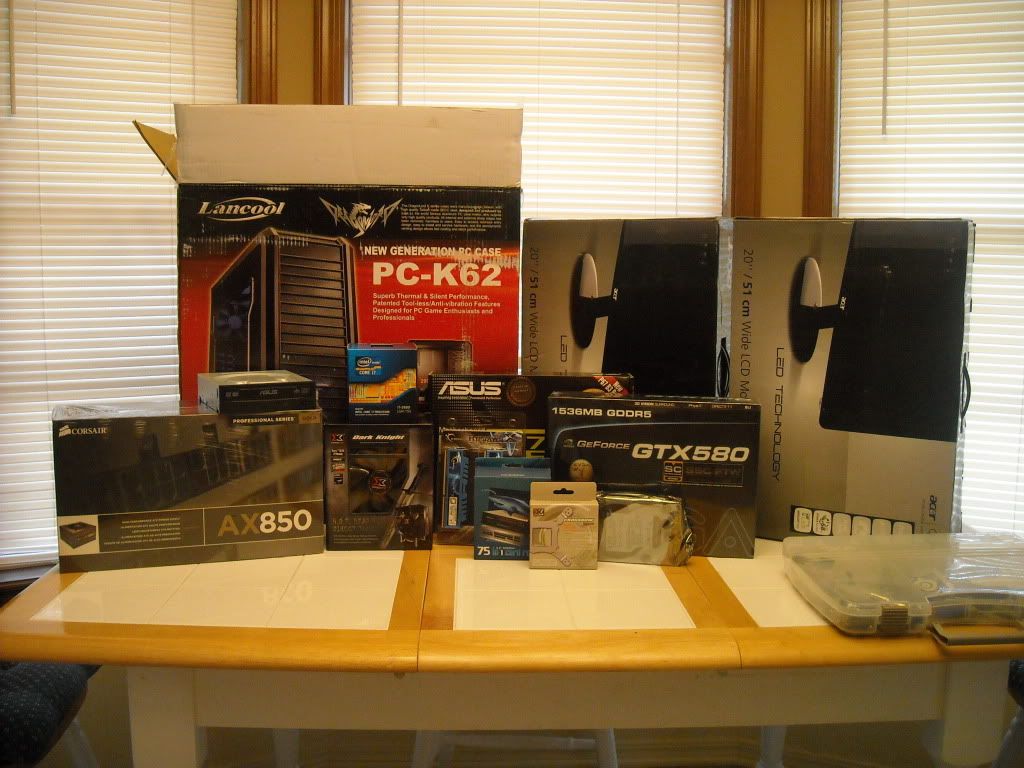 Edited by Osiris[405] - 7/21/11 at 7:15pm
CPU
Motherboard
Graphics
RAM
Q6600 G0 2.4 - 3.4 GHz
ASUS Rampage Formula
XFX OC 5770 Crossfire
G.SKILL Pi Series 4GB DDR2 1300 OC
Hard Drive
OS
Keyboard
Power
WD Caviar Black 640gb RAID 0
W7 Enterprise x64
Razer Tarantula
Antec Truepower 750
Case
Mouse
Lian Li PC-A71F-B
Razer Mamba
View all
hide details
CPU
Motherboard
Graphics
RAM
Q6600 G0 2.4 - 3.4 GHz
ASUS Rampage Formula
XFX OC 5770 Crossfire
G.SKILL Pi Series 4GB DDR2 1300 OC
Hard Drive
OS
Keyboard
Power
WD Caviar Black 640gb RAID 0
W7 Enterprise x64
Razer Tarantula
Antec Truepower 750
Case
Mouse
Lian Li PC-A71F-B
Razer Mamba
View all
hide details