Hey guys, it's been a loooooong time since I built a new rig; this will be my 2nd rig I have ever built. I will post spec's about my OLD PC that I still use to this day that I made in 2004 (LOL).
Anyways, I've been researching for the last week, and I want to go all out. This PC will be used for everything: graphic design, web development, and playing all the newest games.
I do have some questions though. Now before I never really played around with having more than 1 hard drive. Nowadays I hear that people use a SSD drive for booting up faster, and another drive or two set in a RAID. Can someone explain this to me?
Also, I live in a hot area so my room is always hot until night time when it gets colder. I'm really looking to achieve a cooling system that is not noisy at all (possibly water cooling) but still achieve low temps. My old rig had a Vantec heatsink fan sitting on my P4 3ghz Prescott. That fan would blow up to 5600 rpms of fan speed. Talk about a jet engine.
Anyways I have made a lil wishlist on newegg so far. Tell me what you think.
ALSO, I added a monitor because I'm still rockin the good ole CRT box that weighs 100 pounds.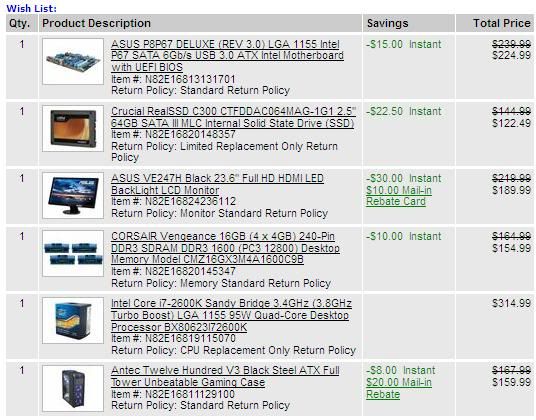 Let me know what you guys think. I want to know some good choices for a video/sound card, PSU, heatsink, etc.
I have about 1,200 saved up but I work a lot so getting money isn't a problem. I'm looking to spend around $1,800.... but let me know whats up OC.