Quote:
Originally Posted by
Usario
Barcelona wasn't as bad as everyone is making it out to be. The Phenom 9650 is just as fast as the Q6600. But the 9650 can't even dream of overclocking as well... and that was its only problem at the time.
I have to disagree here. Part of the problem here is that the Phenom 9650 is a revised version of the original Phenom, which came out 4 months after Phenom initially came out and almost 1.5 years after Core 2 Quad. The original Phenoms were even less competitive and also suffered from the TLB bug. In some cases, the original Phenoms were slower than AMD's earlier Athlon X2!
Even with the additional revisions over the initial Phenoms, the Phenom 9650 was not competitive with a Q6600. Even the faster clocked 9850 was not competitive: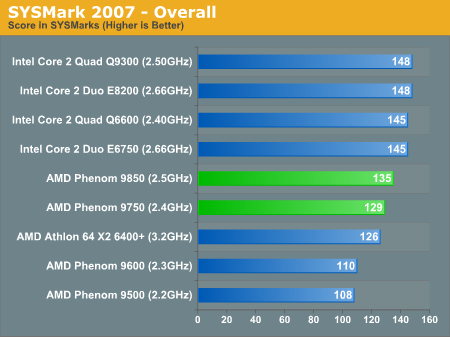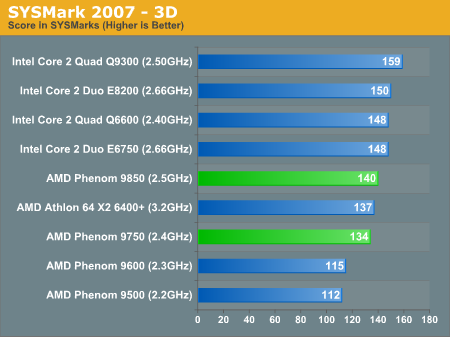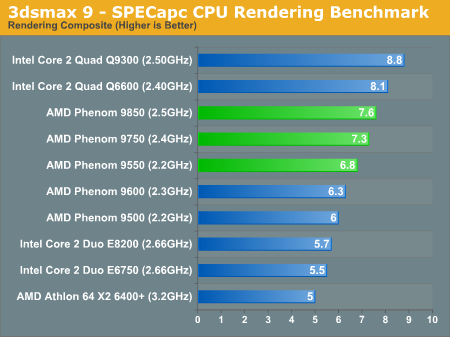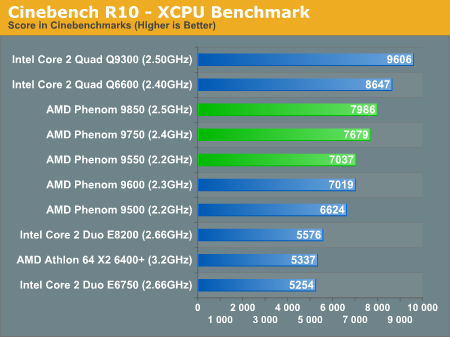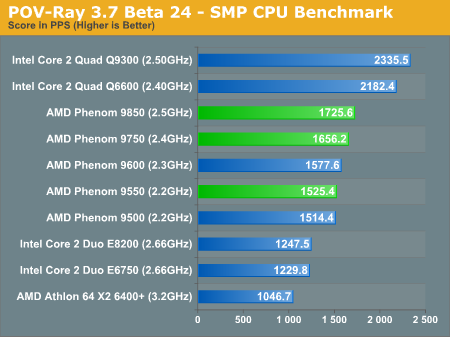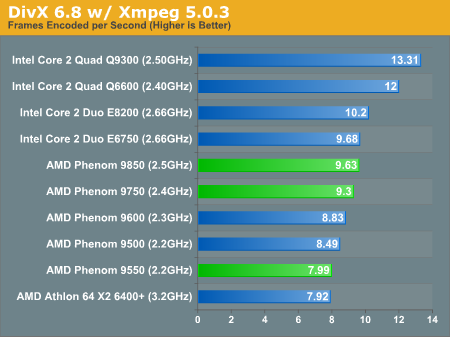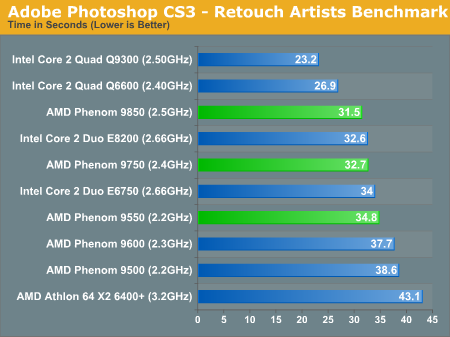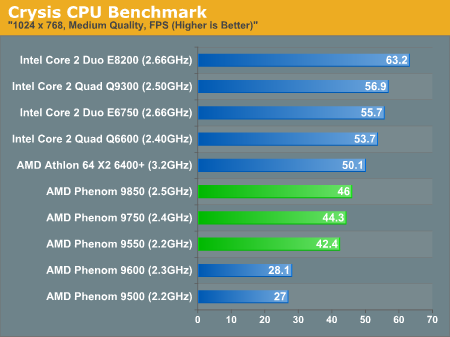 And for all the lackluster performance, power comsumption was worse than Core 2 Quad as well: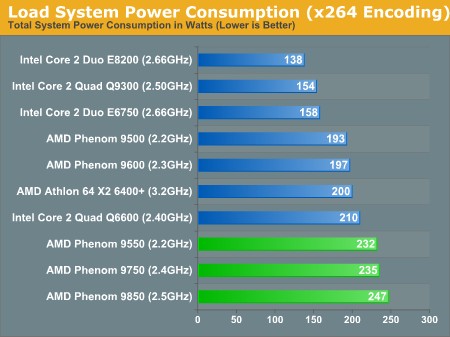 Heck, if you really want to compare, even the Phenom
II
X4 910 @ 2.6 GHz with 2MB L2 and 6 MB L3 is barely breaking even with a Core 2 Quad Q6600 that's clocked 200 MHz slower. Clock for clock, Phenom II is still slower than even the early Core 2 Quads like the Q6600.
http://www.anandtech.com/bench/Product/85?vs=53
Edited by 996gt2 - 7/28/11 at 9:38am
CPU
Motherboard
Graphics
RAM
Core i7-2700K @ 5.0 GHz, 1.38V
Asus Maximus IV GENE
Asus GTX 670 DC II
4x4GB Samsung 30nm @ DDR3-2133 9-9-9-21 1.5V
Hard Drive
Hard Drive
Hard Drive
Hard Drive
Plextor M3 SSD
WD Velociraptor 500GB
WD Caviar Black 1TB
WD Caviar Green 2TB
Cooling
OS
Monitor
Keyboard
Thermalright HR-02 (GT AP-15 Push/Pull)
Windows 7 Pro x64
LG 27" 2560x1440 S-IPS (Calibrated with Eye-One)
CM Quickfire Rapid
Power
Case
Mouse
Mouse Pad
Seasonic X-750
Silverstone SG09
Logitech MX518
Steelseries QcK
Audio
Asus Xonar DX + Shure SRH840
View all
CPU
Motherboard
RAM
Hard Drive
Core i5-3570K
Gigabyte H61N-USB3 Mini-ITX
2x4GB Samsung 30nm DDR3
Samsung 830 128GB SSD
Hard Drive
OS
Power
Case
WD Scorpio Blue 500GB
Win 7 Pro x64
Antec 90W DC-DC/Delta power brick
Antec ISK 110
View all
hide details
CPU
Motherboard
Graphics
RAM
Core i7-2700K @ 5.0 GHz, 1.38V
Asus Maximus IV GENE
Asus GTX 670 DC II
4x4GB Samsung 30nm @ DDR3-2133 9-9-9-21 1.5V
Hard Drive
Hard Drive
Hard Drive
Hard Drive
Plextor M3 SSD
WD Velociraptor 500GB
WD Caviar Black 1TB
WD Caviar Green 2TB
Cooling
OS
Monitor
Keyboard
Thermalright HR-02 (GT AP-15 Push/Pull)
Windows 7 Pro x64
LG 27" 2560x1440 S-IPS (Calibrated with Eye-One)
CM Quickfire Rapid
Power
Case
Mouse
Mouse Pad
Seasonic X-750
Silverstone SG09
Logitech MX518
Steelseries QcK
Audio
Asus Xonar DX + Shure SRH840
View all
CPU
Motherboard
RAM
Hard Drive
Core i5-3570K
Gigabyte H61N-USB3 Mini-ITX
2x4GB Samsung 30nm DDR3
Samsung 830 128GB SSD
Hard Drive
OS
Power
Case
WD Scorpio Blue 500GB
Win 7 Pro x64
Antec 90W DC-DC/Delta power brick
Antec ISK 110
View all
hide details