My Sandy bridge board should ship this Friday, I will add pics of installation and the final setup once I get it. Pics of SB installation will be up by Saturday at the latest.
The very first machine I gamed on was a Dell Dimension 4600 with a 128mb Nvidia card. I played Microsoft Train Simulator and Chris Sawyer's Locomotion.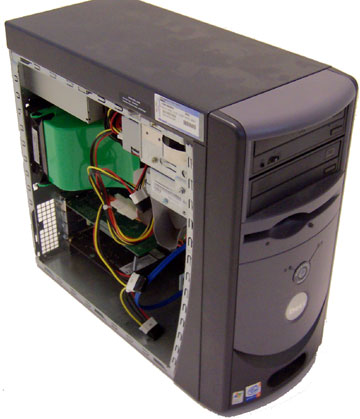 For my 12th birthday my parents bought me Realflight G4, and I loved it. In fact I still enjoy sims. This necessitated a graphics upgrade, so they bought a Radeon HD 2600 pro and had some guy down the street install it on the cheap.
I stuck with that machine for a while, unfortunately I had to share it with my sister and parents. Then at the end of 7th grade I bought a Dell Latitude X200 for $127. It had a 933mhz P3 and 640mb of ram. Naturally I still used the Dimension for games.
At the end of 8th grade I rounded up my computer funds and bought a Compaq with an Athlon II from Best buy, on sale for ~$480 with a 20" monitor included. Still I was forced to use the Dimension for games because I had no dedicated graphics, and the board didn't have an AGP slot for the 2600 pro.
A couple months later I bought these:
I kept this setup for a couple more months.
Then after I got some more money together I bought an Antec 300 and my SSD, which I still have in my sig rig.
I kept this for a while until I got bored of the OEM board (no pun intended) and bought this:
It let me jack the Athlon up to around 3.5ghz stable, from 2.8,
on stock volts.
I also bought my Kingwin PSU at the same time.
But the dual core Athlon was getting boring. It didn't do much past 3.5, and it certainly didn't get me any bragging rights among my friends. I bought some more stuff in the meantime:
And asked Santa for a Phenom II for Christmas.
I got my H50 around xmas too, but I bought that myself.
Then I bought my 6950:
Which brings us to my last working setup:
And to Infernalan 2011
Where I won my 2500k.
[sorry for bad quality, caffeine + 1.3mp phone will do that.)
Moar pics on Saturday! Fatal1ty P67 Professional, 2500k install under H50, GTX 460 2gb
Edited by railfan844 - 7/26/11 at 9:34am
CPU
Motherboard
Graphics
Graphics
Intel Core i5 2500K
P67 Professional
AMD Radeon HD 6950 unlock
NVIDIA GeForce GTX 460 2gb
RAM
RAM
Hard Drive
Hard Drive
G.Skill Ripjaws
G.Skill Ripjaws
Intel X25-V
Seagate Barracuda
Hard Drive
Optical Drive
OS
Monitor
WD Goflex USB 3.0
24x DVD R/W DL
Win7 Ultermate 64
Acer 20in 1600x900
Monitor
Monitor
Monitor
Keyboard
Compaq 20in 1600x900
17in Dell 1280x1024
19in Gateway 1280x1024
Razer Blackwidow mech w/ cherry MX blues
Power
Case
Mouse
Audio
Kingwin LZ-750
HAF 932 + sound activated lights
Logitech G500
Rosewill USB headset
View all
CPU
Motherboard
Graphics
RAM
Pentium 4 3.2ghz w/ HT
HP
Intel IGP
4gb Mushkin DDR2
Hard Drive
OS
Power
Case
80gb sata
WinXP Pro
HP OEM
HP Small form factor
View all
hide details
CPU
Motherboard
Graphics
Graphics
Intel Core i5 2500K
P67 Professional
AMD Radeon HD 6950 unlock
NVIDIA GeForce GTX 460 2gb
RAM
RAM
Hard Drive
Hard Drive
G.Skill Ripjaws
G.Skill Ripjaws
Intel X25-V
Seagate Barracuda
Hard Drive
Optical Drive
OS
Monitor
WD Goflex USB 3.0
24x DVD R/W DL
Win7 Ultermate 64
Acer 20in 1600x900
Monitor
Monitor
Monitor
Keyboard
Compaq 20in 1600x900
17in Dell 1280x1024
19in Gateway 1280x1024
Razer Blackwidow mech w/ cherry MX blues
Power
Case
Mouse
Audio
Kingwin LZ-750
HAF 932 + sound activated lights
Logitech G500
Rosewill USB headset
View all
CPU
Motherboard
Graphics
RAM
Pentium 4 3.2ghz w/ HT
HP
Intel IGP
4gb Mushkin DDR2
Hard Drive
OS
Power
Case
80gb sata
WinXP Pro
HP OEM
HP Small form factor
View all
hide details