Well, this is a mod that I used to have when I had two cheap generic PSUs. Whenever I connected more than 3 fans to my 450W (main) PSU, the machine showed BSODs. So I got the other 400W from the old stuffs, and hooked it up for powering the fans and lights. This is also known as paper-clip mod. Many of you might know this, but this tutorial might be helpful for newbies and people in the condition that I was in a year back.
All you need:
*1 ATX Power Supply (in this tutorial, I've used a PSU that comes with 20 pin ATX connector)
*1 metal paperclip [or gem clip]
*Pliers or any other thing for cutting the clip into two halves.
Step 1. Cut the paperclip into two halves and bend, you will get one half like this: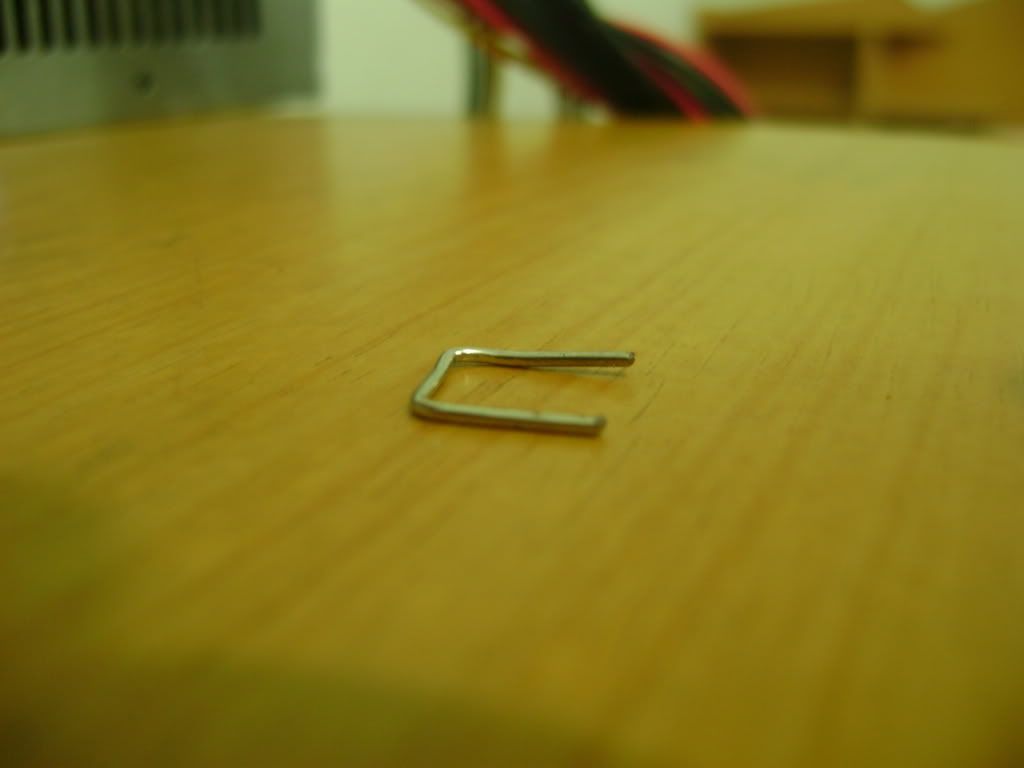 Step 2. Find out the two holes you will plug this pin into. You can find these beside the plastic lock that holds the plug with the female. Find the green wire and beside it a black ground wire. Here I skipped the middle hole between these two.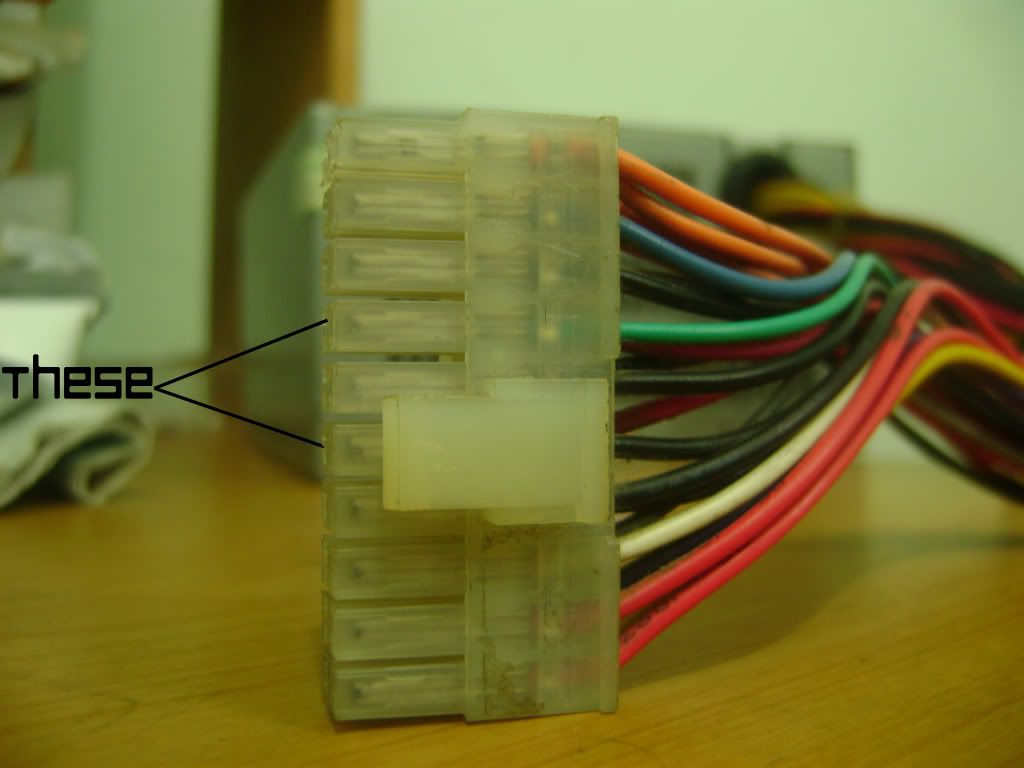 Step 3. Push the two ends of the paperclip into these holes so that they don't come out.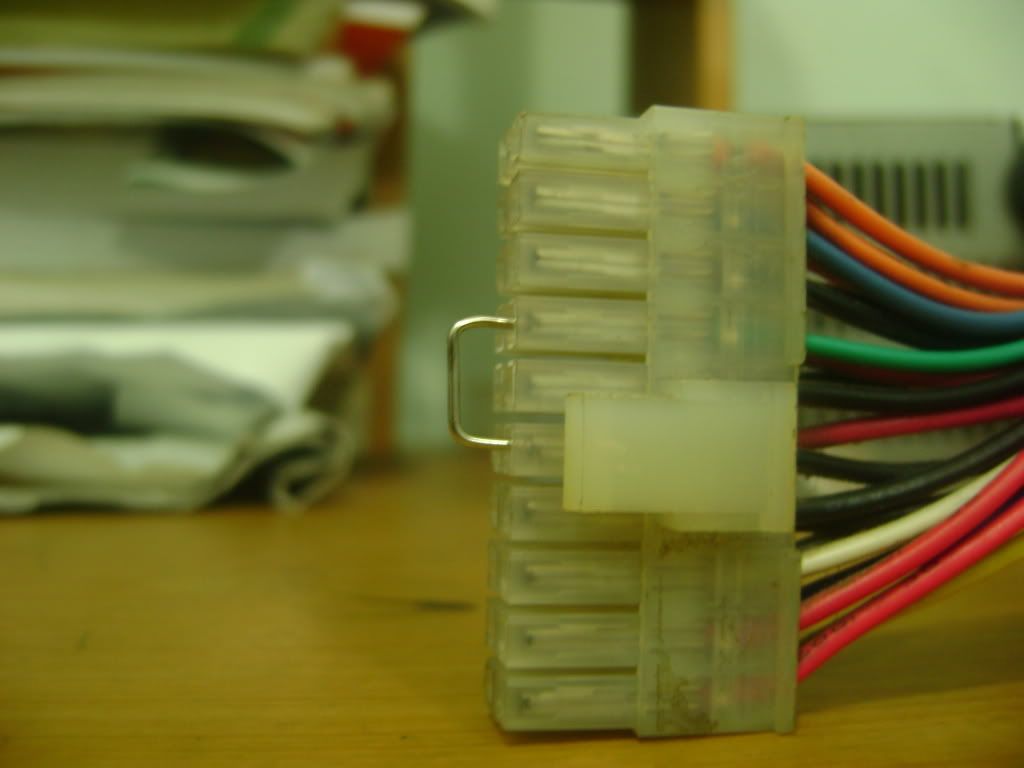 Then you will have something that looks like this: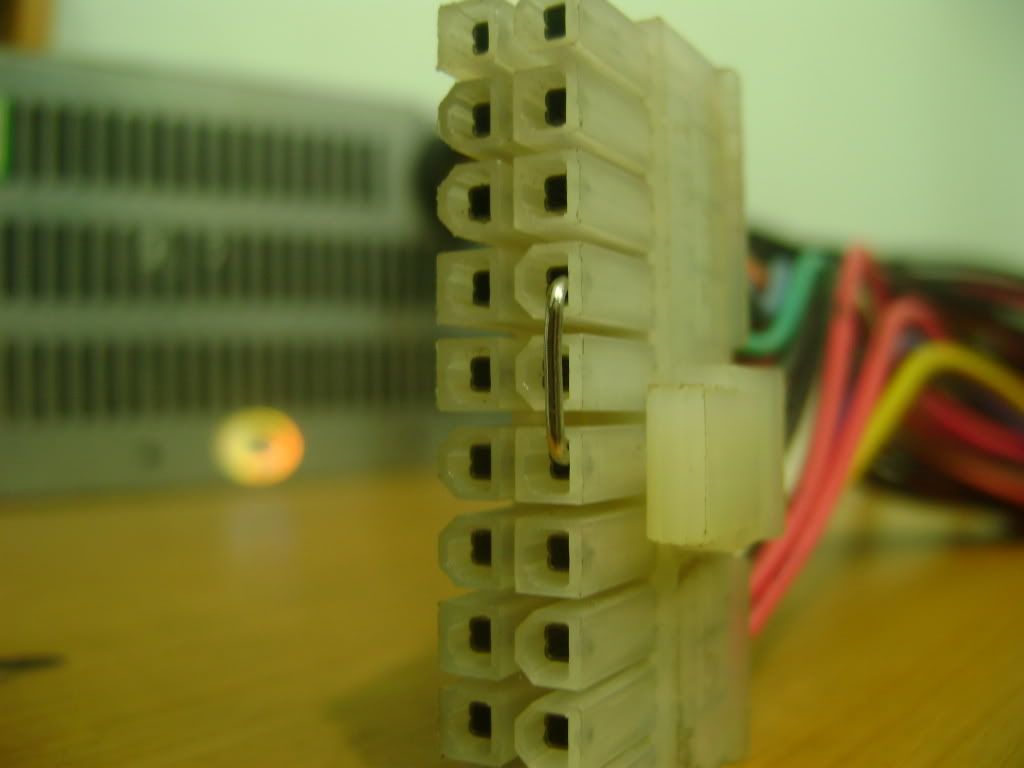 Now where to put this?
In my mid-tower case, it was impossible to accommodate the second PSU, so I put that in the 5.25" cages. It took up two slots and all I had to do was just to bend the clips that usually hold the ODDs.
Done!
CPU
Motherboard
Graphics
RAM
Intel Core 2 Duo E7300 2.66GHz @ 3.56GHz
Asus P5P43TD
Sapphire ATi Radeon HD5750 1GB GDDR5
2x2GB ADATA XPG DDR3 1600MHz
Hard Drive
Hard Drive
Cooling
OS
Samsung F1 250GB
Samsung F4 1.5TB
HF-512
Windows 7 SP1 x64
Keyboard
Power
Case
Mouse
Cheap Chinese crap
XFX PRO550W Core Edition
Modded Delux Case
A4Tech X7 XL-747H
Mouse Pad
Razer Goliathus Fragged Control Edition
View all
hide details
CPU
Motherboard
Graphics
RAM
Intel Core 2 Duo E7300 2.66GHz @ 3.56GHz
Asus P5P43TD
Sapphire ATi Radeon HD5750 1GB GDDR5
2x2GB ADATA XPG DDR3 1600MHz
Hard Drive
Hard Drive
Cooling
OS
Samsung F1 250GB
Samsung F4 1.5TB
HF-512
Windows 7 SP1 x64
Keyboard
Power
Case
Mouse
Cheap Chinese crap
XFX PRO550W Core Edition
Modded Delux Case
A4Tech X7 XL-747H
Mouse Pad
Razer Goliathus Fragged Control Edition
View all
hide details