There seems to be some issue with Some inter series Chipsets where when used with SSD do not perform to their full potential. I had the same issue on my new M4 ssd where it was running slower than usual even on SATA2 until It was fixed with some tweaks.
So today I bring you my SSD SpeedUp Utility which can help modify system settings to try to increase the speed of your SSD on Series 4,5,6 and 965 chipsets.
As many of you know, the JJB tweak is very popular but it requires editing registry files which many people do not like to do, with my application all modifications are done with a click of a button!.
SSD SpeedUP Features:
1 Click SSD speed fix
Basic SSD speed up tweaks
Ability to restore default settings
No need to mess with the registry!
Its free!
It took me a few days to make this but thanks to various members on various forums this has been doable. I realize that its pretty easy to apply the tweaks your self but this app is really one click and finished =).
ISSUES
Increases temperature by a bit
Winsat Disk test only works on 64bit versions of winodws as of now. Im sure many of you use other benchmarks.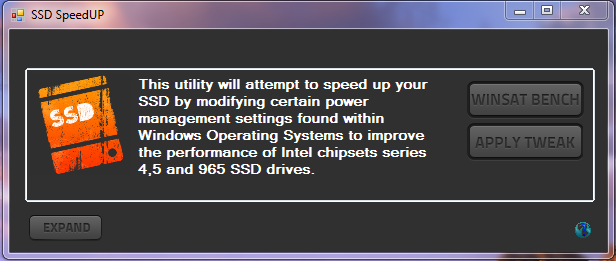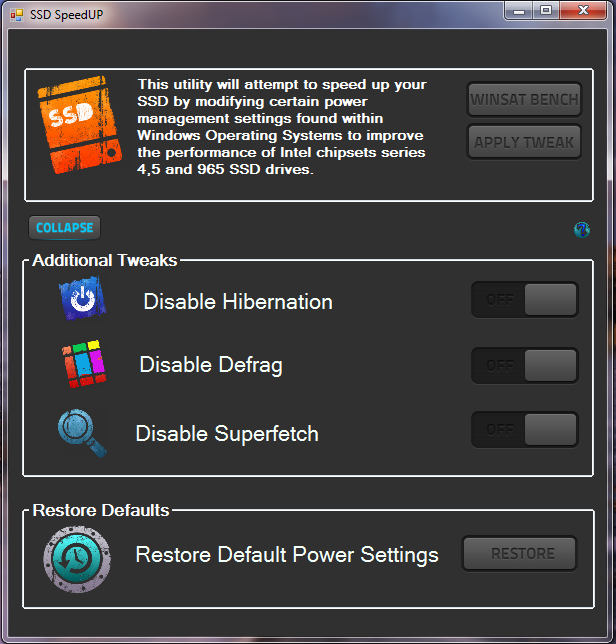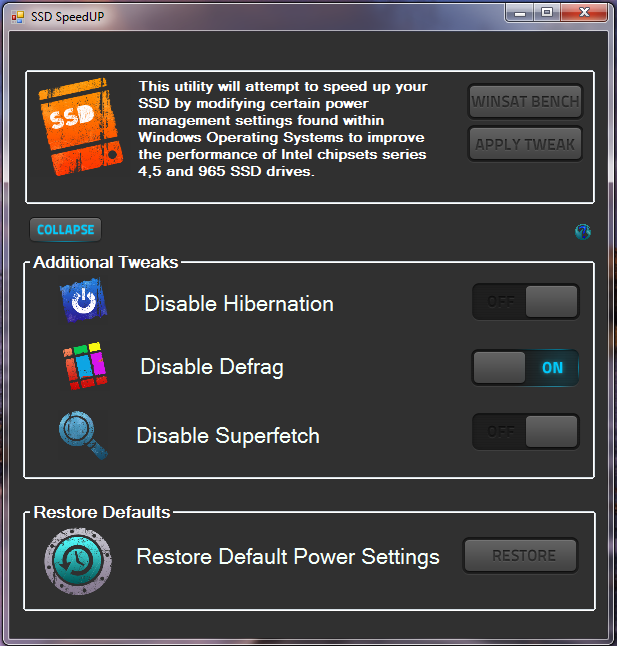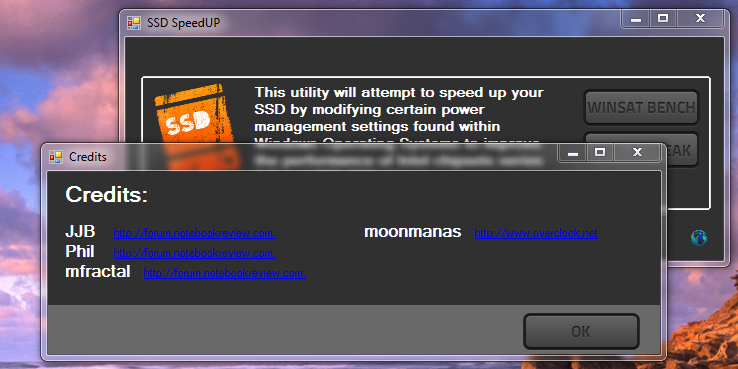 My Results
Before:
After: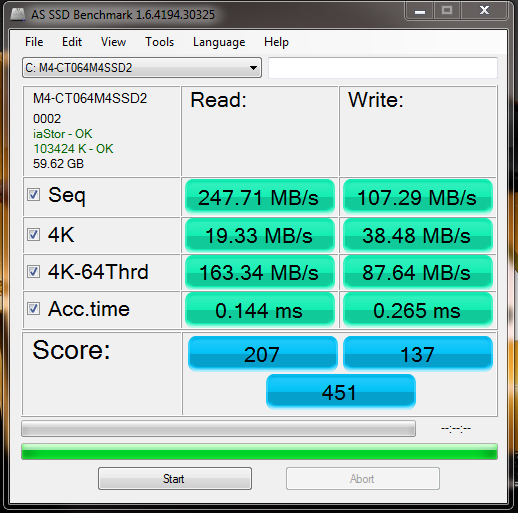 AS you can see there was a nice bump in 4K reads and writes =) and among other things the overall drive performed faster.
NOTE: The first test was done with 32GB free, the second a few weeks later with 26GB free.

DOWNLOAD
http://dl.dropbox.com/u/27634579/SSD%20SpeedUP.rar
FILE SIZE:
~2MB-8MB
CPU
Motherboard
Graphics
RAM
Intel i5 2500k @ 4.5Ghz
Asus V-Pro Z68
GTX 780 ACX
8GB ddr3 G.Skill
Hard Drive
Cooling
OS
Monitor
512GB M4 SSD
H60/620 combo
Windows 7
Yamakasi 2560x1440p 27'
Power
Case
Corsair HX750
HAF 912
View all
hide details
CPU
Motherboard
Graphics
RAM
Intel i5 2500k @ 4.5Ghz
Asus V-Pro Z68
GTX 780 ACX
8GB ddr3 G.Skill
Hard Drive
Cooling
OS
Monitor
512GB M4 SSD
H60/620 combo
Windows 7
Yamakasi 2560x1440p 27'
Power
Case
Corsair HX750
HAF 912
View all
hide details