Quote:
Originally Posted by
problemgaming
But with 2 6950s, don't you need more wattage? Also, what about 2 6970s?
6970s aren't that much faster than 6950s. Not really worth it for the extra cost if your total budget is $1600.
A single 6990 has the same # of processing units as two 6970s, but it is clocked slower due to power/heat constraints. So the end result is that one 6990 performs like two 6950s in Crossfire, but costs a lot more.
FYI, a single HD 6990 actually draws more power than crossfired HD 6950s: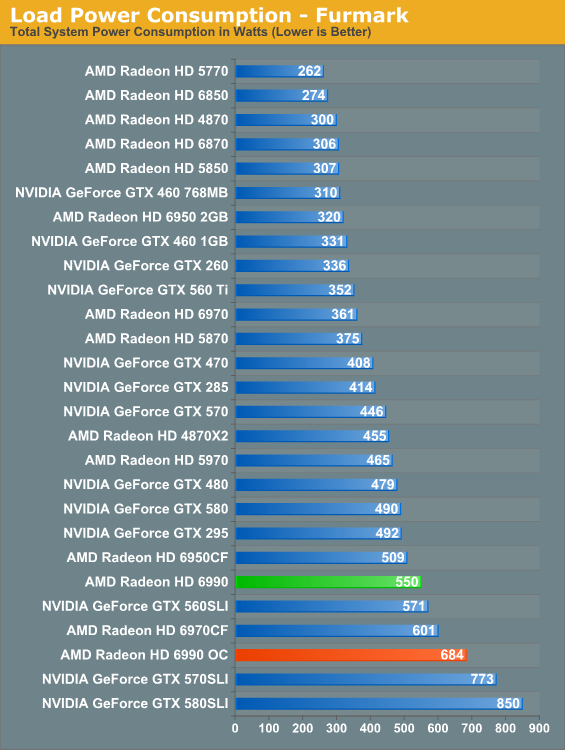 Edited by 996gt2 - 7/25/11 at 11:47pm
CPU
Motherboard
Graphics
RAM
Core i7-2700K @ 5.0 GHz, 1.38V
Asus Maximus IV GENE
Asus GTX 670 DC II
4x4GB Samsung 30nm @ DDR3-2133 9-9-9-21 1.5V
Hard Drive
Hard Drive
Hard Drive
Hard Drive
Plextor M3 SSD
WD Velociraptor 500GB
WD Caviar Black 1TB
WD Caviar Green 2TB
Cooling
OS
Monitor
Keyboard
Thermalright HR-02 (GT AP-15 Push/Pull)
Windows 7 Pro x64
LG 27" 2560x1440 S-IPS (Calibrated with Eye-One)
CM Quickfire Rapid
Power
Case
Mouse
Mouse Pad
Seasonic X-750
Silverstone SG09
Logitech MX518
Steelseries QcK
Audio
Asus Xonar DX + Shure SRH840
View all
CPU
Motherboard
RAM
Hard Drive
Core i5-3570K
Gigabyte H61N-USB3 Mini-ITX
2x4GB Samsung 30nm DDR3
Samsung 830 128GB SSD
Hard Drive
OS
Power
Case
WD Scorpio Blue 500GB
Win 7 Pro x64
Antec 90W DC-DC/Delta power brick
Antec ISK 110
View all
hide details
CPU
Motherboard
Graphics
RAM
Core i7-2700K @ 5.0 GHz, 1.38V
Asus Maximus IV GENE
Asus GTX 670 DC II
4x4GB Samsung 30nm @ DDR3-2133 9-9-9-21 1.5V
Hard Drive
Hard Drive
Hard Drive
Hard Drive
Plextor M3 SSD
WD Velociraptor 500GB
WD Caviar Black 1TB
WD Caviar Green 2TB
Cooling
OS
Monitor
Keyboard
Thermalright HR-02 (GT AP-15 Push/Pull)
Windows 7 Pro x64
LG 27" 2560x1440 S-IPS (Calibrated with Eye-One)
CM Quickfire Rapid
Power
Case
Mouse
Mouse Pad
Seasonic X-750
Silverstone SG09
Logitech MX518
Steelseries QcK
Audio
Asus Xonar DX + Shure SRH840
View all
CPU
Motherboard
RAM
Hard Drive
Core i5-3570K
Gigabyte H61N-USB3 Mini-ITX
2x4GB Samsung 30nm DDR3
Samsung 830 128GB SSD
Hard Drive
OS
Power
Case
WD Scorpio Blue 500GB
Win 7 Pro x64
Antec 90W DC-DC/Delta power brick
Antec ISK 110
View all
hide details