Ok so in my previous thread I was trying all sorts of methods to flash these cards, I figured it'd be ok since they have a bios switch. For the most part yes, I never bricked one I think.
http://www.overclock.net/amd-ati/107...unlocking.html
Now after reflashing both cards back to normal 6950 from 6970, the second one is now doing this.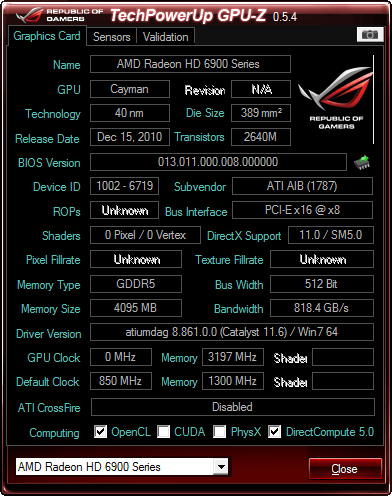 I've also tried hooking up a display too it I haven't done everything possible but same issue even on Switch position 2 (default locked). I've done a force flash from 6970 to 6950 since Winflash would give me an Error since it's changing the model.
The card is being recognized in GPU-Z, MSI-AB, and device manager which has given me this error under it.
Windows has stopped this device because it has reported problems. (Code 43)
(I'm going to go look up this code but if any help on this subject would be greatly appreciated, now that I know these cards aren't unlockable getting them working back to stock is first priority.)
Running a drive sweep and reinstalling drivers is what I have in mind =\\ but this is just odd.