- Gigabyte GA-X58A-OC Review -
- Featuring 4.8-5GHz Testing Vs. UD7 & 9182 - 6GB/s -
Today we will be looking at the GA-X58A-OC motherboard, GIGABYTE's new ground breaking entry in the 1366 motherboard lineup. While the X58 chipset isn't new, and there are other newer alternative chipsets, X58 is still the top-tier chipset of Intel's motherboard platform offerings. Intel has recently released a few new CPU's for the 1366 socket boards as well, the i7-990X and i7-980, and these processors (along with older models) and motherboards are still delivering record breaking results and offering massive performance for the end user.
During CES 2011 this past January, GIGABYTE briefly (about 5 seconds) showed an image of an upcoming mystery orange and black motherboard. Since then, the buzz around the internet about this board has steadily increased, and as time passed Hicookie began to break benchmarking records and release various videos and images of the board in action. A month or two later Colin (Technical Marketing Manager) and Hicookie made a few rounds doing interviews where they spoke in more detail about the board, offering the public a more detailed look at the board, and gave a multitude of information on the design & planning stages telling us how this motherboard came to life. They also talked in depth about what features were added or removed, and why, and mentioned a very reasonable entry price point, giving overclockers even more to dream about.
As with any product discussed early in the design and production phase, nothing is ever as easy as it seems, and due to some features of the board having to be redesigned, and the Intel P67 B2 chipset recall, board production was delayed, and the eventual release price was a fair amount more than initially expected. Finally, on May 5, 2011, the GA-X58A-OC motherboard started shipping to retailers worldwide from the Gigabyte factory in Taiwan. Since that time, and before, it has been breaking motherboard benchmarking records around every corner.
The X58A-OC is designed drastically different in comparison to other motherboards in GIGABYTE's lineup, and it's notably different than any other motherboards from any manufacturer. The X58A-OC's main purpose and intended use is to push the boundaries of motherboard design into a direction suitable for extreme overclocking. There have been other motherboards created for overclockers in the past, by various brands including GIGABYTE, however, the board under review today has had many features removed in comparison to other previous motherboards, and has multiple newly added features with the sole intent being to deliver the board into the hands of extreme overclockers using liquid nitrogen or dry ice cooling. The X58A-OC motherboard was born from a dream of GIGABYTE's in-house benchmarking champion and engineer Hicookie. Hicookie worked closely with GIGABYTE's various in-house departments, and jokingly mentioned that at times this was not an easy task - laughing about various aspects of his intended design which the various departments could never agree upon. In the end they were able to decide what would finally be included on the board and what could be removed. Once everything was finalized, a monstrous motherboard was welcomed into existence, able to deliver record breaking results, while at the same time becoming more ideal for the work/play of extreme overclockers.
Many of the normal motherboard features such as 10+ USB ports, Dual LAN, eSATA, IDE ect. to name a few, have been removed in order to allow for those expenses to be used in other areas of design. After removing many of the various features from a motherboard that extreme overclockers do not utilize, or that they disable from the very first entry into the BIOS, this left the board with a minimal set of features that overclockers would use, and a few that the Marketing team decided were a must (Audio, 4G button, SATA 6Gb/s, USB3). This left a decent amount of allocated resources that could be used for other exciting features that an extreme overclocker desires, such as multiple on-board temperature sensors, easier to insulate components (POSCAP capacitors across the entire board), on-board voltage readout points, PWM frequency dip-switch, Dual BIOS dip-switch allowing the user to choose which BIOS chip to boot from, and GIGABYTE's new "Gear" and +/- frequency and ratio buttons. These removals and deviations from the normal design path also allowed them to keep the board's final cost to a minimal amount, while still allowing the addition of these new features and high end components.
Here's some quick information about GIGABYTE before we get started on the review.
Quote:
Originally Posted by GIGABYTE 
GIGABYTE was founded in 1986 in a small lab by four young engineers passionate to make their mark on the industry. GIGABYTE remains dedicated to the core belief of improving the lives of our users by manufacturing products that are high-performing, reliable, and of excellent quality.

Having over 20 years of manufacturing knowledge, GIGABYTE thrives on delivering the latest technology to users around the globe. They develop, test, and manufacture a wide range of products following strict quality and environmental control standards. Their reputation as a pioneer in motherboard innovation has allowed them to diversify their product range to include graphics cards, notebooks, desktop PCs, PC components, cellular phones, server and datacenter solutions, and more.

Here are some of GIGABYTE's innovation highlights:

G1-Killer Gaming Motherboard (2011) - World's most advanced weapon for elite gamers.

USB 3.0 (2010): First motherboard manufacturer to release motherboards with USB 3.0 support. The 333 Onboard Acceleration Series, exclusively from GIGABYTE, offers the following features:
* A USB 3.0 host controller (NEC) which is 10x faster than USB 2.0.
* 3x USB Power Boost delivers superior compatibility and stability for USB devices, such as external storage devices or optical drives, by supplying sufficient power through a single USB port.
* SATA 3.0 connection to double the performance of the hard disk.

Ultra Durable™ Technology: First motherboard manufacturer to implement the following technologies.
* All solid Japanese capacitors (2006) :
o Long life and extended durability
* Ferrite Core Chokes and Low RDS(on) MOSFETs (2007) :
o Lower resistance for reduced power and heat consumption
* Dynamic Energy Saver (2007):
o Save energy with unique multi-gear power phase design
* 2 oz copper PCB, (2008):
o Cooler operating temperatures
* 24-phase Power VRM (2009) :
o Quicker response time, lower heat, more stable power supply to the CPU

GPU Gauntlet Sorting (2010) - Proprietary analysis system that selects the highest quality GPUs destined for deployment on the Super Overclock Series graphics cards.

Gaming Keyboard (2010) - Aivia K8100 Gaming Keyboard is world's 1st gaming keystroke keyboard with three different built-in keystroke forces, 70, 60 and 50g.

Docking Netbook The Booktop (10", M1022) is the first Netbook to include its own docking station for dual purpose use: lightweight portability and full-featured desktop functionality in the cradle.
In addition, the 13" M1305 is the world's first notebook to include a GPU inside a docking station. This provides an ultra-thin form factor as well as excellent graphics performance when plugged in at home or in the office.

Booktop Series and Slate PC - The innovative Booktop series is designed to give users the power to turn their notebook computer into a desktop PC with an exclusive docking station. The series features many notable models, including the Booktop T1125, the world's first 3-in-1 computer (notebook, tablet and desktop PC), and the Booktop M1405, a unique computer that has a desktop GPU built into the docking station. The 10.1" S1080, which also has its own exciting docking station, is a lightweight and high-performing multitasking slate that offers the full productivity and familiarity of a PC.
Introducing the Gigabyte GA-X58A-OC motherboard
Gigabyte's full specifications for the GA-X58A-OC, and the product overview which some of the following will cover, can be found here:
GIGABYTE GA-X58A-OC Motherboard Overview
Unique Features:
Quote:
Originally Posted by
GIGABYTE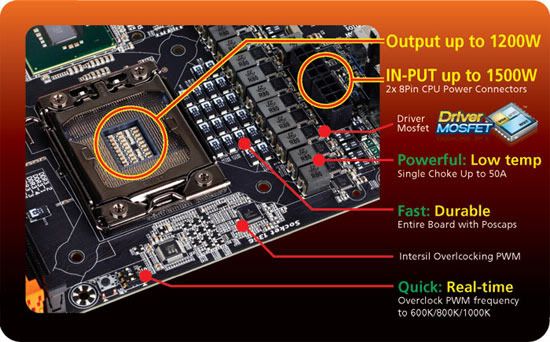 The GIGABYTE X58A-OC features a new VRM design called OC-VRM, which includes a combination of highly conductive POScaps, 50A rated MPFC (Max Power Ferrite Core) Chokes, and Driver-MOSFETs, which combined, are able to deliver higher current to the CPU, with better efficiency and lower temperature. OC-VRM also allows users to overclock the PWM frequency via an onboard switch, for real-time adjustment. When the CPU needs maximum power, users can raise the PWM frequency in order to deliver more current through this unique POScap and MPFC Choke design.

Additionally, GIGABYTE has specially chosen unobtrusive components and carefully designed their layout to make it easier and quicker than ever for extreme overclockers to insulate their boards. I will go into more detail and coverage on this later in the review, using my own comparison images, a timed insulation comparison, and further comments on the ease of use.
OC-Touch enables overclockers to quickly and easily get the best performance from their system. With onboard OC-Touch buttons, users are able to manually raise and lower the CPU ratio, change BCLK settings, and even change BCLK stepping to either 1MHz or 0.3MHz. These changes can be made at any time whether in the BIOS, DOS, or Windows and in real-time without the need for rebooting, so that users can quickly fine-tune to find their CPU's maximum frequency. The onboard 4G Ready button allows novice overclockers to automatically reach 4GHz, while advanced users can use it to get to 4GHz before continuing with OC-Touch to quickly find their CPU's best margin. Onboard voltage measurement modules are also included to help users to conveniently monitor component voltages.
OC-PEG provides two onboard SATA power connectors for more stable PCIe power when using 3-way and 4-way graphics configurations. Each connector can get power from a different phase of the power supply, helping to provide a better, more stable graphics overclock. The independent power inputs for the PCIe slots helps to improve even single graphics card overclocking. For 4-way CrossFireX™, users must install OC-PEG to avoid over current in the 24pin ATX connector. The entire board also features POScaps, helping to simplify the insulation process so overclockers can quickly reach subzero readiness.

OC-Cool features a new LED lit thermal design and 7x 4-pin Smart Fan connectors to allow overclockers to easily control system-wide temperature. The OC-Cool heatpipe maximizes system convection to expel hot air out through the IO panel and optimizes passive cooling. OC-Cool LED lighting on the North and South Bridges further adds to the X58A-OC's coolness.
OC-DualBIOS™ features an onboard BIOS switcher and LED indicator, allowing users to select one BIOS for normal use, and another one for overclocking. It can also act as a backup BIOS in case of BIOS failure during overclocking. With two BIOSes, users are able to save up to 16 different overclocking profiles – a very useful feature when overclockers want to update to a new BIOS, but don't want to lose their original settings.
GA-X58A-OC Technical Specifications:
CPU
1. Support for an Intel® Core™ i7 series processor in the LGA1366 package
2. L3 cache varies with CPU

QPI
1. 4.8GT/s, 6.4GT/s

Chipset
1. North Bridge: Intel® X58 Express Chipset
2. South Bridge: Intel® ICH10R

Memory
1. 6 x 1.5V DDR3 DIMM sockets supporting up to 24 GB of system memory
2. 3/Dual channel memory architecture
3. Support for DDR3 2200/1333/1066/800 MHz memory modules
4. Support for non-ECC memory modules
5. Support for Extreme Memory Profile (XMP) memory modules

Audio
1. Realtek ALC889 codec
2. High Definition Audio
3. 2/4/5.1/7.1-channel
4. Support for S/PDIF Out

LAN
1. 1 x Realtek RTL8111E chip (10/100/1000 Mbit)

Expansion Slots
1. 2 x PCI Express x16 slots, running at x16 (PCIEX16_1, PCIEX16_2)
2. 2 x PCI Express x16 slots, running at x8 (PCIEX8_1, PCIEX8_2)
3. 1 x PCI slot

Multi-Graphics Technology
1. Support for 3-Way/2-Way NVIDIA SLI technology and 4-Way/3-Way/2-Way ATI CrossFireX™ technology

Storage Interface

South Bridge:
1. 6 x SATA 3Gb/s connectors (SATA2_0~SATA2_5) supporting up to 6 SATA 3Gb/s devices
2. Support for SATA RAID 0, RAID 1, RAID 5, and RAID 10

1 x Marvell 88SE9182 chip:
1. 2 x SATA 6Gb/s connectors (GSATA3_6, GSATA3_7) supporting up to 2 SATA 6Gb/s devices
2. Support for SATA RAID 0 and RAID 1

USB

South Bridge:
1. Up to 4 USB 2.0/1.1 ports (2 on the back panel, 2 via the USB bracket connected to the internal USB header)

1 x Etron EJ168 chip:
1. Up to 2 USB 3.0/2.0 ports on the back panel

Internal I/O Connectors
1. 1 x 24-pin ATX main power connector
2. 2 x 8-pin ATX 12V power connectors
3. 2 x PCIe power connectors
4. 2 x SATA 6Gb/s connectors
5. 6 x SATA 3Gb/s connectors
6. 1 x CPU fan header
7. 6 x system fan headers
8. 1 x North Bridge fan header
9. 1 x front panel header
10. 1 x front panel audio header
11. 1 x S/PDIF Out header
12. 1 x USB 2.0/1.1 header
13. 2 x heatsink LED power connectors
14. 1 x clearing CMOS button
15. 1 x power button
16. 1 x reset button
17. 1 x PWM frequency switch
18. 1 x onboard voltage measurement module
19. 1 x 4G Ready button
20. 1 x OC Gear button
21. 1 x CPU BCLK Down button
22. 1 x CPU BCLK Up button
23. 1 x CPU Ratio Down button
24. 1 x CPU Ratio Up button
25. 1 x BIOS switch

Back Panel Connectors
1. 1 x PS/2 keyboard port
2. 1 x PS/2 mouse port
3. 2 x USB 2.0/1.1 ports
4. 2 x USB 3.0/2.0 ports
5. 1 x RJ-45 port
6. 3 x audio jacks (Line In/Mic In/Line Out)

I/O Controller
1. iTE IT8720 chip

H/W Monitoring
1. System voltage detection
2. CPU/System temperature detection
3. CPU/System fan speed detection
4. CPU overheating warning
5. CPU/System fan fail warning
6. CPU/System fan speed control

BIOS
1. 2 x 16 Mbit flash
2. Use of licensed AWARD BIOS
3. Support for DualBIOS™
4. PnP 1.0a, DMI 2.0, SM BIOS 2.4, ACPI 1.0b

Unique Features
1. Support for @BIOS
2. Support for Q-Flash
3. Support for Xpress BIOS Rescue
4. Support for Download Center
5. Support for Xpress Install
6. Support for Xpress Recovery2
7. Support for EasyTune
8. Support for Smart 6™
9. Support for Auto Green
10. Support for eXtreme Hard Drive (X.H.D)
11. Support for ON/OFF Charge
12. Support for Cloud OC
13. Support for Q-Share

Form Factor
1. ATX Form Factor; 30.5cm x 26.4cm
Product Images:
Packaging & Included Accessories: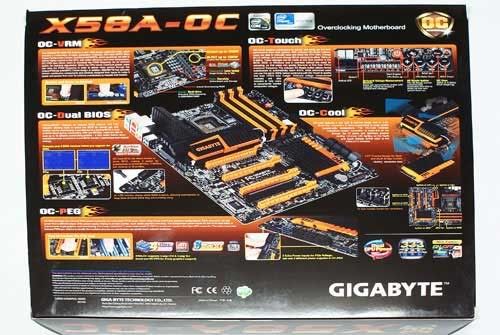 Here we can see the X58A-OC packaging, with the outer box done in black with hints of orange on much of the text. On the front of the box is the "OC" logo and model name along with a three-dimensional neon orange graphic and a few Intel badges. On the rear of the box the board itself is shown centered, with the new "OC" features inscribed in detail surrounding it.
On the sides of the box we see the usual items, Intel badges, motherboard model and brand names, along with a 3-point features and benefits section in several languages.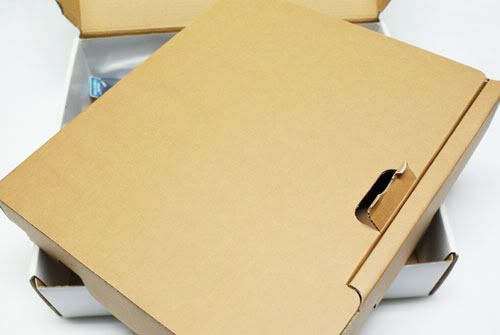 This is the opposite side, showing the same emblems and the model name, this side also has the box label that includes the board revision, serial number, short list of specs and the product UPC Code. Next we have the inner package that actually contains the motherboard itself, GIGABYTE chose to use a plain cardboard box for this as it cuts down on packaging costs allowing more funds to be spent on the board itself. This is perfectly fine as the inner box is rarely seen or used, and it safely and securely holds the motherboard.
Up-close shots of the back of the box show more detail about all of the new "OC" features. These would be OC- VRM, OC-Touch, OC-Dual BIOS, OC-PEG, and OC-Cool. These are all very noteworthy new features, and GIGABYTE has outlined them very well on the package itself (Same as shown above in Unique Features section).
These are the included voltage readout cables which attach directly to headers on the motherboard near the power button. Most any DMM (Digital Multi-Meter) will fit into these cables, and GIGABYTE has included 7 of them, one for each voltage readout point on the board.
Here are all of the included accessories, specifically the installation guides, and motherboard manual and driver CD, 4 Black SATA Cables, Vented I/O shield, Dual SLI and Crossfire cables, SLI 3-way PCB Connector, 7 voltage readout cables, and Dolby and Gigabyte case badge stickers.
Motherboard Itself:
As you can see, the board itself is done with GIGABYTE's new (Real) Black PCB, and accented in a bright orange. The PCIE spacing is set wide, leaving plenty of room for larger cards (I'll show this in more detail further in the review). The GA-X58A-OC provides 32 PCI Express lanes for graphics, those are split into dual PCIE x16 slots, and two PCI Express x8 ports. You can run two-way Crossfire or SLI at x16/x16, or three-way at x16/x8/x8, and Crossfire with four cards can also be utilized at x8/x8/x8/x8 (ATI Only).
You can see this board includes many features just from a quick glance, the new on-board buttons and switches are easily visible. You can also see that this board offers some unique features that GIGABYTE has not used in the past, such as voltage read points, and SATA power attachments directly on the board (OC-PEG).
Here you can get a closer look at the NB (IOH) heatsink, and see that this board offers dual ATX 12V connections for attaching two power supplies to deliver maximum power. We can also see that this is a 6 layer PCB, in contrast to the UD7's 8 layers, for example. This is likely a cost-cutting measure in order to deliver higher quality components to other areas of the board. The board still carries GIGABYTE's traditional Ultra Durable 3 design with 2oz copper PCB offering better cooling capabilities and better electrical delivery.
On the reverse we can see that the north and south bridge heatsinks are secured in place with screws instead of push-pins used on lesser budget oriented boards, however, the VRM part of the heatsink is held in place with push-pins. You can also see just how dark GIGABYTE's new black PCB is, it's actually a very solid black, instead of see-through black with unattractive copper traces showing through.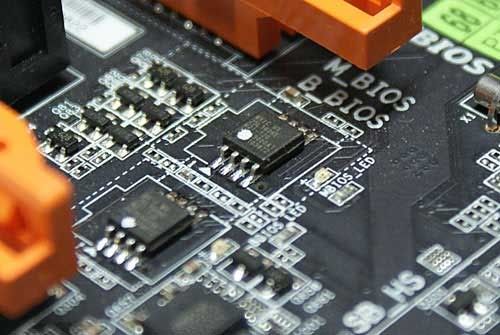 Here is an up-close shot of the Dual ATX 12V connections, better get your power supplies ready! You can also see part of the OC-Dual BIOS here, this is the Main and Backup BIOS chips, along with an LED for each one which lights up when powered on to indicate which BIOS is in use.
Here is a close-up shot of the lower SB corner of the board, the wire coming from the SB heatsink powers a set of orange LEDs, there is a set of LEDs in the NB as well. You can see this board has USB On/Off charge to charge your iPhone or other USB devices directly from the motherboard whether it is on or off. We also see here the front panel header, 8 SATA ports (2 of which are 6Gb/s), and the OC-PEG SATA power connections. On the I/O side of things we have the Realtek audio connections, Gigabit Ethernet port, 2 USB3 ports, and a PS/2 mouse and keyboard port.
Here is a comparison of the X58A-OC's Enhanced ATX (EATX) size 30.5cm x 26.4cm, compared to a normal sized ATX Z68X-UD3H motherboard (which I'll have a review out on shortly) coming in at 30.5cm x 24.4cm. The EATX is 2CM wider, but the mounting holes are in the same places so the X58A-OC should fit in most average sized ATX cases. You may run into some issues though if you try to squeeze this board into a small form factor ATX Case, so be sure you check measurements if you're thinking of using a smaller case.
Edited by lsdmeasap - 7/29/11 at 12:40am
CPU
Motherboard
Graphics
RAM
Intel i7 980X EE ES
Gigabyte GA-X58A-UD7
GIGABYTE GV-R587SO-1GD SOC 1GB GDDR5
Mushkin 998826 Ridgeback / 998966 Radioactive
OS
Monitor
Power
Vista Business x64 SP2
Asus Designo MS238H 23" LED
NZXT HALE90 750W 80+ GOLD
View all
hide details
CPU
Motherboard
Graphics
RAM
Intel i7 980X EE ES
Gigabyte GA-X58A-UD7
GIGABYTE GV-R587SO-1GD SOC 1GB GDDR5
Mushkin 998826 Ridgeback / 998966 Radioactive
OS
Monitor
Power
Vista Business x64 SP2
Asus Designo MS238H 23" LED
NZXT HALE90 750W 80+ GOLD
View all
hide details