Hi,
So the time has come for my first case mod. I want it to be worthwhile so I have few things planned for it. Might not be the most powerful computer in the end but will be enough for me!
What?
Watercooling overclocked x4 640 and a GTX 460 (maybe two).
Case colour theme will be mainly black and red
Case will feature it's own separate surround with a removable dust filter to house the rad and fans (see pic below)
Want a build that can handle temps when needed but be quiet at night
Components
I've done as much research as I can to come up with this list so hopefully its all ok!
Case-Fractal Design Define XL Black Pearl
PSU-Corsair AX750
Graphics-GTX460
Memory-G-Skill DDR3 Ripjaws-7-8-7-24, 4GB
Pump-Laing DDC 18W + EK Rev2 Top
Reservior-
XSPC Single Bay Res
Swiftech MCRES
Radiator-
Swiftech MCR320QP
RS360 and RS240
Fans-5 x 120mm Scythe Gentle Typhoons, 4 x 140mm Thermalright X-Silent
Fan Controller-Lampron FC Touch
CPU Block-EK Supreme HF
GPU Block-EK FC460
Sleeving-MDPC-X sleeving
Table of contents
Update 1 - The case and new parts.
Update 2 - Surround Design
Update 3 - Painting
Update 4 - Sleeving
Update 4 - Case Modifications and making stuff!
Update 5 - All together
Latest update pic-28/08/11-fan and rad surround testing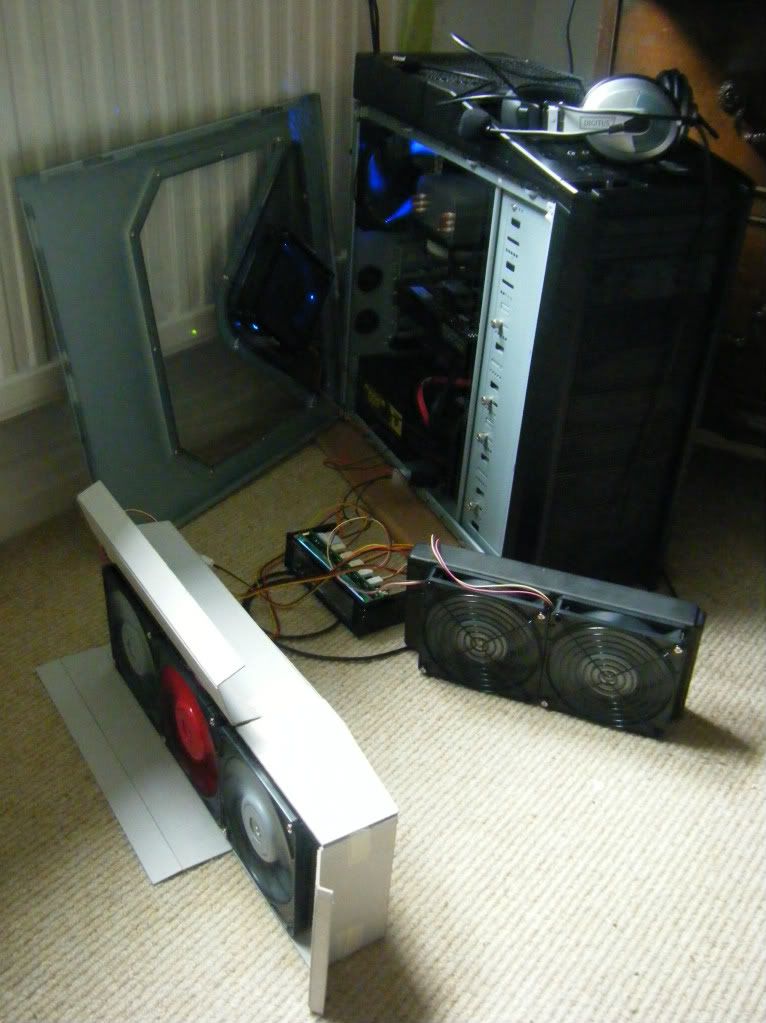 Edited by skaboy607 - 9/4/11 at 11:52am
CPU
Motherboard
Graphics
RAM
Athlon II x4 640
Asus M4A87TD
EVGA GTX460
4GB G-Skill 1600 7-7-7-24
Hard Drive
OS
Power
Case
60GB Agility SSD, 1TB Seagate 7200.11
Windows Ultimate 64 bit
Corsair AX750
Fractal Design Black Pearl
View all
hide details
CPU
Motherboard
Graphics
RAM
Athlon II x4 640
Asus M4A87TD
EVGA GTX460
4GB G-Skill 1600 7-7-7-24
Hard Drive
OS
Power
Case
60GB Agility SSD, 1TB Seagate 7200.11
Windows Ultimate 64 bit
Corsair AX750
Fractal Design Black Pearl
View all
hide details