Took a while to get to this, but I figure it's good for me and my *cough* exceptional *cough* memory to have a place where I can document what I've done to and with the machine. This is my first experience working on my own PC, and the first I've owned in years. Most everything done is what I've learned since mid-June on Overclock.net, jonnyGuru, frostytech, and a couple other sites.
Quote:
To-Do List:
Upgrade PSU

Upgrade GPU

Get and install more/quieter fans

Open up corners on Gentle Typhoons

Install 5.25 drive intake

Get and nstall better CPU cooler

Mount support bracket for GPU
Cut hole in top/center of case for 140mm intake (to feed CPU cooler)
Cut hole in bottom/center of case for 120mm or 140mm intake (to feed GPU cooler)
Block top/rear 140mm exhaust, test with/without top exhaust covered
Open up rear exhaust and remove PCI slot covers
Cut out HDD bay for better air flow
Make HDD mount for bottom of case
Upgrade RAM
At the beginning of this month I became a PC owner again after having shoehorned my Dell Inspiron 6000 into that duty for more than 6 years. Being on something of a budget and knowing little about the state of modern computers, I got
this guy
. Good starting point for $500.
First upgrade.
Being an overanalyzer, I payed attention to the warnings about iBuyPower PSUs and nipped that issue in the bud with a Seasonic S12 after reading about it on
jonnyGURU
. Add $65. Turned the computer on once to verify it worked, then turned it off and swapped the PSU.
Next up, a new GPU.
Nvidia guys told me the 520 wasn't a gaming card, so I grabbed a GTX 460 from MSI (Hawk Talon Attack) while it was on sale for $170. The rebate will eventually knock another $40 off.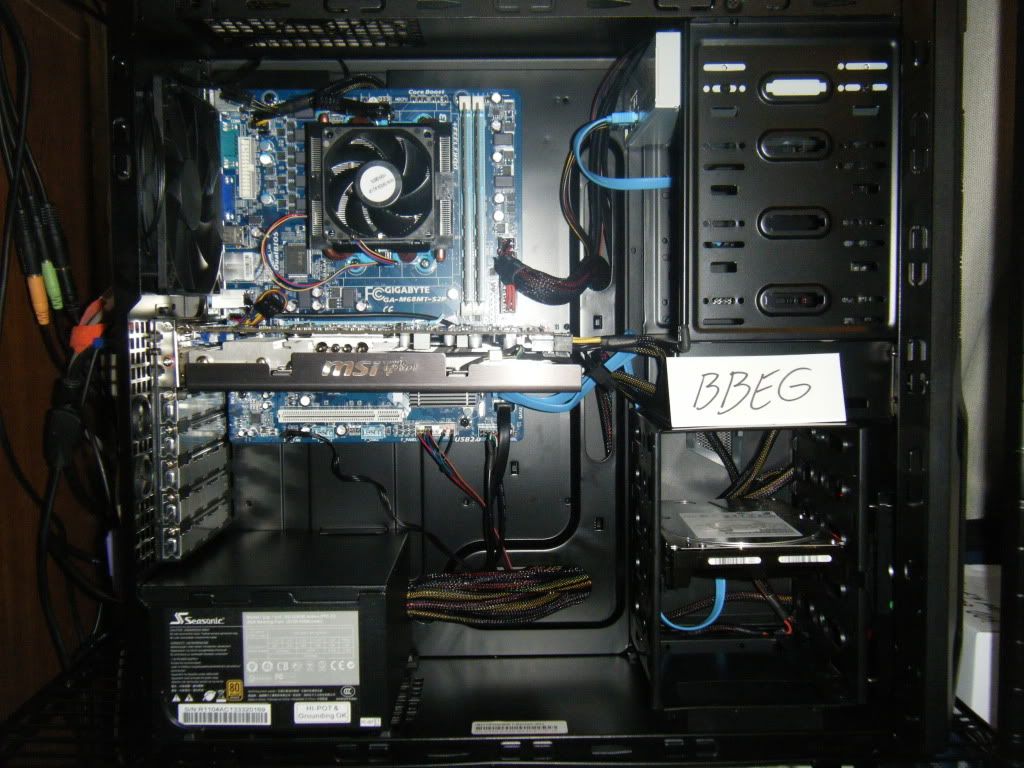 Oh, and I learned about cable management.
Next update:
what happens when BBEG gets his grubby paws on a NoiseBlocker PL-1, Noctua NH-U12P SE2, 2 GT AP-14s, foam, rubber, a bobby pin, watermelon, zipties, state criminal justice sourcebook, and a weekend off?
--------------------------------------------------------------------------------------------------------------------------------------------



Update, 31 July 2011
We'll call this update "Most Of The Stuff". You'll see why shortly. Game plan was to get the intake fan put in, GPU support put in, swap out case fan(s), and install cooler.
As you can see, I've got stuff to cram into the case. Part of cramming things in involves taking things out. Below are my two OEM case fans; I have no idea how fast they turn, how much air they push, or if they're worth keeping. One's LED, one's not, both have the same markings. Either way, they're loud and need to go.
Onward.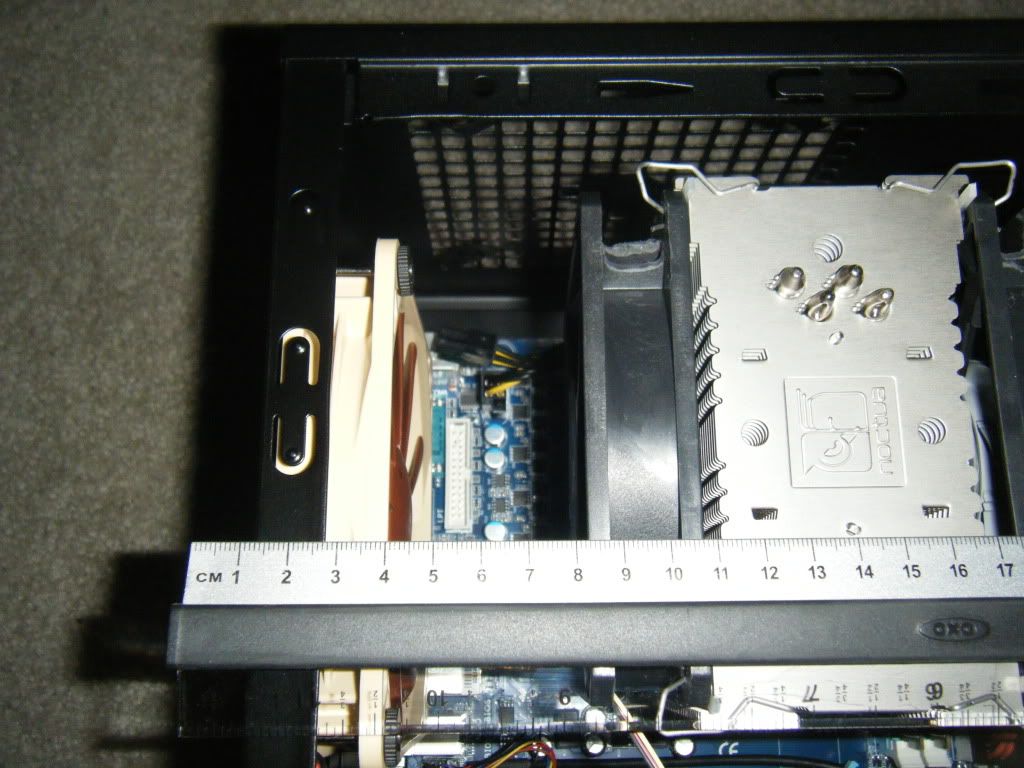 In mocking up where the cooler would be, I found out there would be a few centimeters between the new cooler's pull fan and the case's exhaust fan. Not worth having two fans so close, so I'm nixing the exhaust fan altogether. Whether I cut out the grill or not is still in the air, although when it comes time to chop up the case I might.
Speaking of chopping:
Not bad for a first time and 20 min with a Dremel and 5 min with a file, if I do say so myself. Next time I'll be more patient, but it'll work just fine for mounting to my U12P.
Let's build an intake.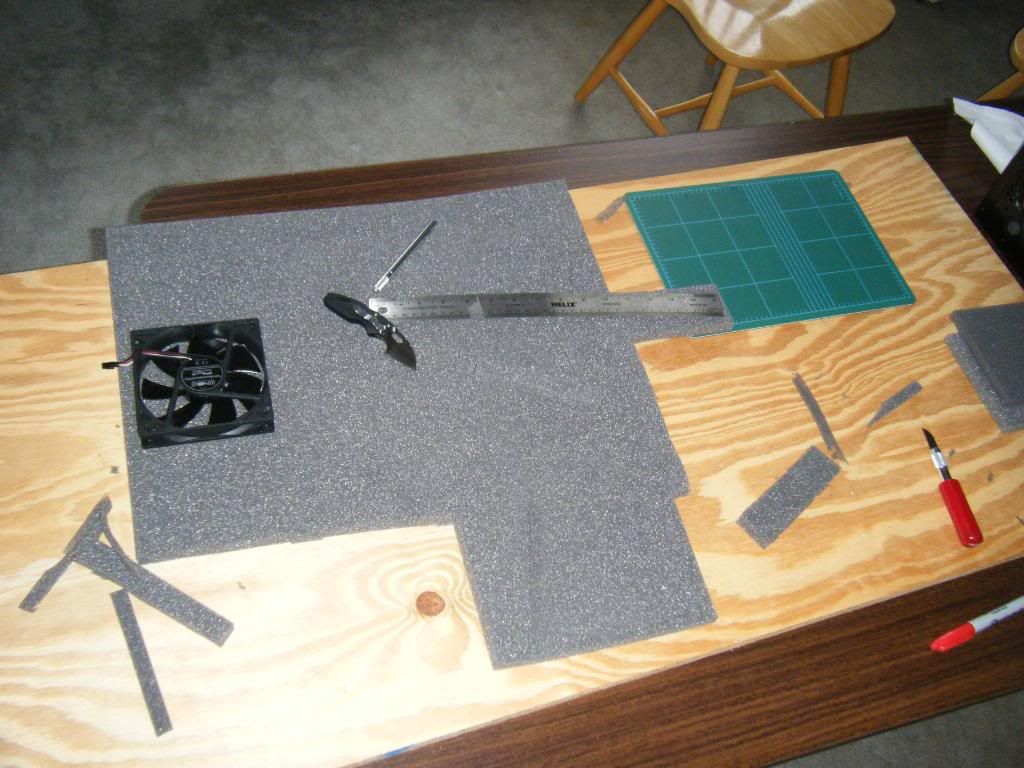 For this I used the foam that came with my computer. It's dense, I have lots of it, and it cost nothin'. Xacto knives work nicely here, but my new workhorse excelled. For anyone considering the
Mini Tuff Lite
, it's an awesome little knife and way sharper than it has any right to be.
Anyway, original plan was something more elegant than the previous 5.25 drive intakes I've seen.
Make a block cut to size, cut out where the fan sits, layer two of them together and voila. End result?
The traditional method.
(You can also see where one of my nf-p12s went, since it was quieter than the stock case fan and moved more air.)
Alrighty, now for the not-so-awesome parts.
The circled regions are the important ones: the processor backplate is oriented the wrong way for my cooler. Mounting the U12P as-is would align it horizontally (air blowing up/down) rather than vertically (air blowing front/back). Now I sit tight and wait for Noctua to send me to the adapter so I can align my cooler correctly.
Regarding my big ol' graphic's card. I've been assured elsewhere that my GPU's existing mounting system was fine, but this part still bothers me: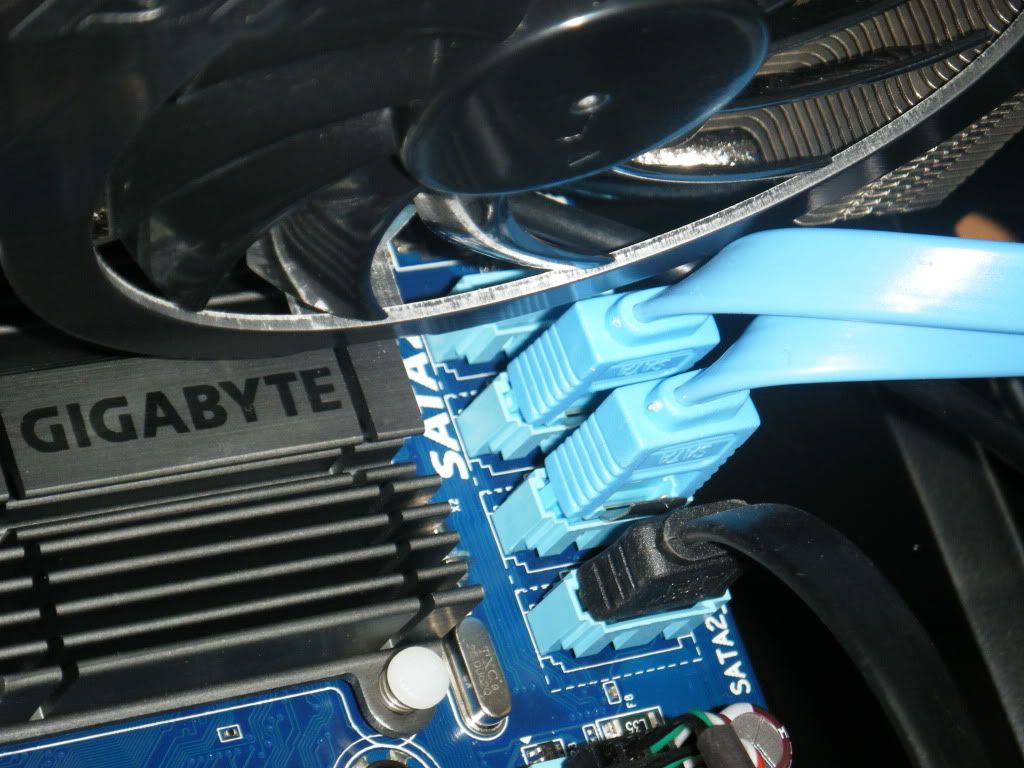 I'll be rectifying that with an angle bracket beside the motherboard or those two-bend brackets like
these
from the 3.5" bay, using a silicon cushion for the corner of my card's cooler to sit on.
Oh, and Cowboys and Aliens was actually pretty cool.
Next Update:
Installing the U12P, function checking, temp checking with different fans, and if spare time permits, start case modding.
Edited by BBEG - 8/10/11 at 6:45pm