Quote:
Originally Posted by
OPENbracket;14414511
I beg to differ,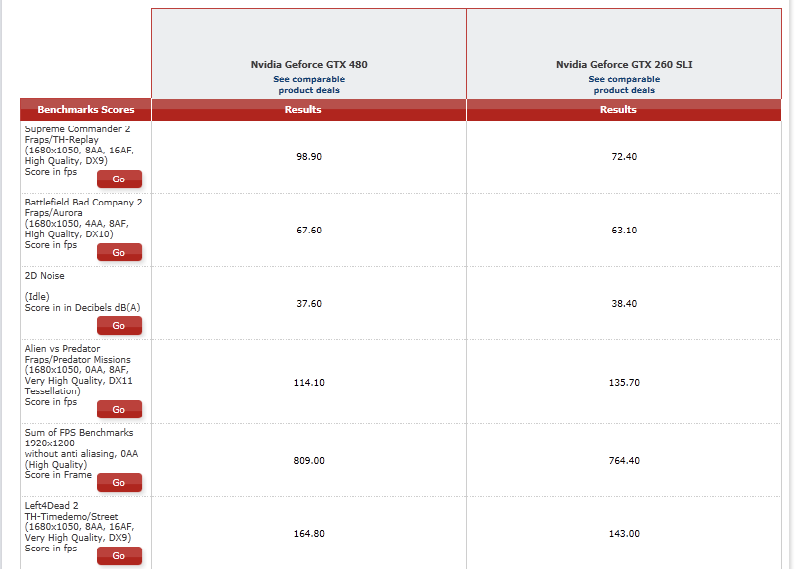 A single GTX 480 is faster than GTX260 SLI even when the SLI scales well. That is a huge win for the 480, and enough for some people to call that a far better solution. Because there will be times the GTX260 SLI won't scale well either due to VRAM bottlenecks or poor driver support, and in those circumstances the 480 will blow them out of the water.
Quote:
Originally Posted by Arizonian;14433559 
Two GTX 580's SLI will beat the AMD 6950's Crossfire and that's where he's going to end up. First choice.

Go with the AMD 6950's now for more performance up front, keep in mind eventually gaming will catch up and you'll have to switch both out. At the end of the road, the two GTX 580's SLI will have taken him further then the AMD 6950's crossfire.
Up front two 6950s will take him further because of how much faster they are. And at the end of the road two 580s will be quite a bit more expensive, especially if opting for the 3GB model. It is viable that, at the end of the road, it would be more enticing to upgrade to a new architecture on a new process node rather than sticking in another relatively old and hot 580. So I think if someone is going to go with a dual card setup, they might as well go with one out of the gate (assuming they need or want that kind of horsepower).
Edited by cusideabelincoln - 8/2/11 at 8:26am
CPU
Motherboard
Graphics
RAM
Core i5 2500K
Asus P8Z68-V LE
GTX 560 Ti
8GB DDR3-1600
Hard Drive
OS
Monitor
Power
64GB Crucial M4 - 1TB Caviar Black
Windows 7 HP
Syncmaster 915n
650W Corsair HX
View all
hide details
CPU
Motherboard
Graphics
RAM
Core i5 2500K
Asus P8Z68-V LE
GTX 560 Ti
8GB DDR3-1600
Hard Drive
OS
Monitor
Power
64GB Crucial M4 - 1TB Caviar Black
Windows 7 HP
Syncmaster 915n
650W Corsair HX
View all
hide details