Okay, here is my system...
Phenom IIx6 1100t @ 4.02
G skill rip-jaw ddr3- 4gb- 1620mhz @ 8-8-8-24
xfx hd5870
asus cross-hair 5 formula
2 WD velociraptor 10k in RAID 0- at 64k (for o.s. and games)
1 samsung 7200k 1tb for storage
Prior to adding the second WD, I just had one of the same
Here are some before/afters, let me know if this is about right or not:
-3d Mark 11- 4694/4653 (probably just a fluke)
-PC Mark 7- 3211/3336
-3d Mark Vantage- 20123 (no before benches)
-Pc Mark Vantage- 9350/10748 (gain of around 1400)
-Windows experience for HD went from 5.9 to 6.1, but we all know that one isnt a very good test of performance.
HD Tune- I only had the trial for the before bench, so it was only a read, average of 101 mbps. After....Avg of 191 mbps. Here are the screens.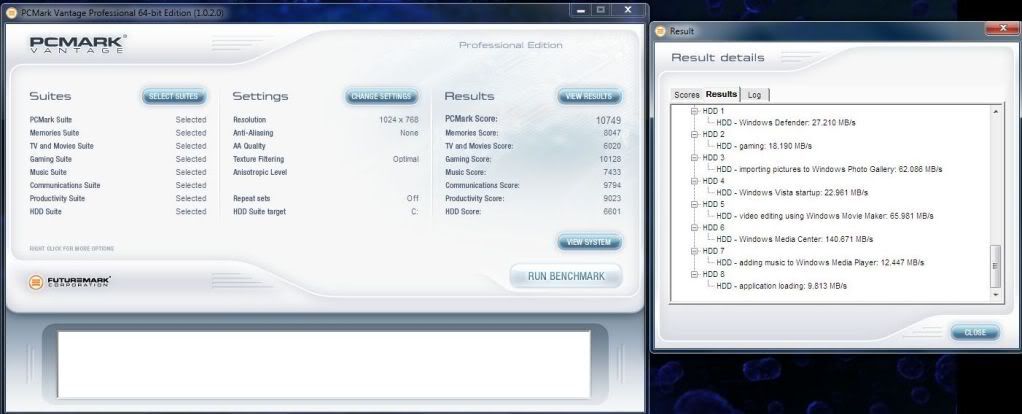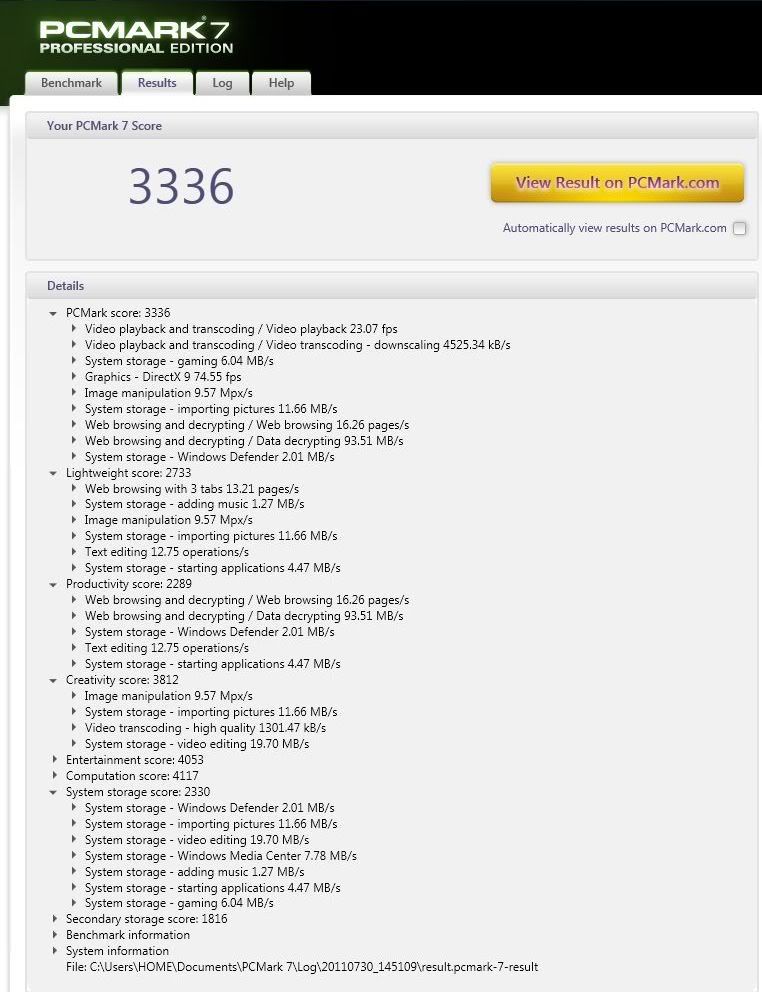 Access time did not change at all from 1 drive to RAID. Also, what is the reason for that random sharp dip half way through? Another program accessing data in the middle of the bench or something?
Not quite sure what that one indicates or if I used the best file size for the bench.
Got this error when I tried to test the write, can someone tell me what that means?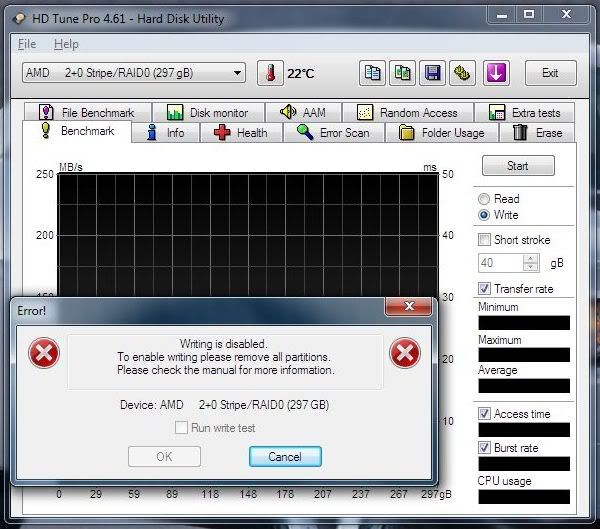 So to sum it all up, I used a 64k stripe size (or strip, whatever its called) because thats what it defaulted to. I also did not short stroke the drive, although I was tempted to set it to the size of one of the drives, 150g. To completely reinstall windows and get back to where I was before with pretty much all the programs took from about 9 am this morning to about 5pm at night, not too bad for a complete do-over and something I have never attempted before. Given my numbers above, my two questions would be, should I attempt a large or smaller stripe size and should I attempt to short stroke down to 150g instead of the 270g of the two? I did, however, notice windows takes about 10-15 seconds longer than my 50 second start to desktop time on one of the WD drives. Thoughts anyone?