Quote:
Originally Posted by
MinitroN;14461973
Even at that speed the 6850 is about as fast as a stock 6870 while the chart shows the overclocked 460 is 11% faster than the stock 6870 at 1920x1080 with 4x AA.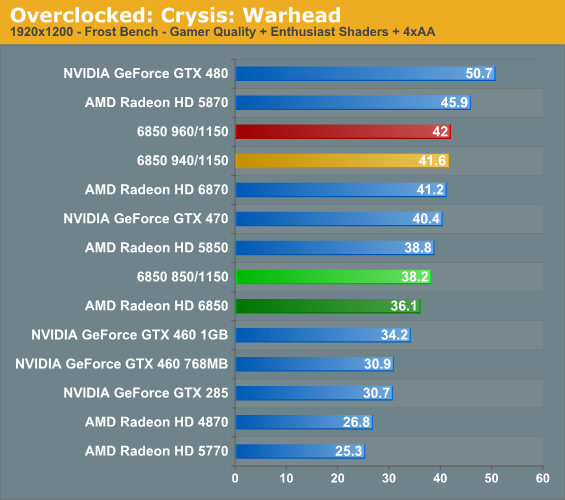 I run my 460 @ 900 and sometimes 920, at it is only equal to a 6870. I'm sure that result is game dependant.
The 460 scales better for sure, but it still got less additional mhz. In the end, I wish I had done additional testing between the cards. As for reference cooler argument, I feel the 460/560ti are just two exceptions to the rule of stock coolers being inadequate for overclocking. I don't know about you guys, but I always pay the premium for the better coolers, on that same note, the premium is usually like 6 dollars more and comes with a slight overclock, usually indicating a higher binned chip.
CPU
Motherboard
Graphics
Cooling
Phenom II X4 @ 4000/2800
ASRock Extreme4 970
Big Air Cheesecake
Tr Silver Arrow
Cooling
Case
Tr Shaman
Centurion 590
View all
hide details
CPU
Motherboard
Graphics
Cooling
Phenom II X4 @ 4000/2800
ASRock Extreme4 970
Big Air Cheesecake
Tr Silver Arrow
Cooling
Case
Tr Shaman
Centurion 590
View all
hide details