Most of the time, I do write ups on DIY PC projects for peeps and on rare occasions myself but today I would be sharing how I made the move from "pc speakers that came with my Dell" to hifi audio.
http://forums.vr-zone.com/troublesho...tcat-htpc.html
The truth is I may be perfectly comfy with the PC side but for the HT I would really ask peeps basics like 2.0 or 5.1/7.1 and digital or analog and the like as I would leave the audio hardware selection to their tastes. Some of them see $5000-10000 as very reasonable so since I do not have hands on experience with audio hardware at that price point I dare not make wrong suggestions hehe
This thread assumes you are really clueless about anything outside PC speakers so on occasion cables, pics and even a block diagram would be shown in the hopes that this thread at least serve as a rough guide how to start getting into hifi audio in your PC.
The subject of this thread covers 2.0 stereo set up paired with a PC but the basics apply to 5.1 and beyond with some tweaks/hardware swap. When I really sat down to plan moving out of my free Dell PC speakers, I knew that I am very much more inclined to music, Internet TV/Movies and on occasions DVDs. I hardly game anymore nor do I feel the need for surround as I have limited space and budget hehe. I may hit a Blu Ray ODD later or add a sub but for now it is to function as a 2.0 set up! Ok before you get bored by walls of text here are the audio hardware that I eventually settled for
Amplifier: Class T Lepai TA2020 (brand new)
Whilst hunting for speakers, I did note that some run very current bookshelf speakers with what looked like vintage stereo integrated amps so initially I thought that these on the cheap would prolly be the most readily available and realistic solution. Enter this little amp
http://www.diyaudio.com/forums/class...ai-ta2020.html
and I was kindda surprised that peeps are pairing this little amp with bookshelf speakers way out of my budget range with great results so it got me intrigued! Peeps are raving how it's sound signature beats bigger, more powerful and several times more expensive amps so my el cheapo radar was in overdrive wee~
Anyway I would explain why this Lepai was my choice. The efficiency, low heat generation and chubby cute looks (Fatcat theme remember) really made the gamble worth while and I wasn't disappointed! To this day I still wonder how something so small/cheap could drive my speakers beautifully. With my DAC volume 50/60 the volume knob hardly getting past 9 o'clock it's plenty loud for near field listening! As with DIY PCs I applied the principle of "not cutting corners" where it counts and decided to go with the cheapest Lepai TA2020 unit without PSU and hit a nice 12V/5A PSU. My research indicated some peeps complaining of the amp being under powered with some models that came with a supplied 12V/2A PSU so why save a buck and regret later since it's so cheap anyway hehe The unit i nabbed came with a bundled 3.5mm male to RCA cable and the power adapter did not come with a plug but as the pic shows it's just your typical plug that one uses with a PC PSU >.<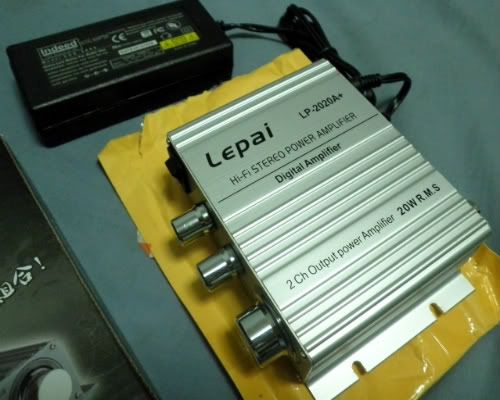 Speakers: Polk Audio M3 Monitor Series 2 bookshelves (used)
Meat and Potatoes! This portion I knew I had to be careful! Sure I could go ultra cheap used stuff but crap speakers would kill a PC audio set up
My Fatcat rig is stationed mostly in my bedroom.....a small bedroom too so I am not looking to fill Albert Hall with audio and I am hardly 3 feet/1m away from the speakers when using the rig. Near field listening is what is required for the most part and even when I am in bed thats just 1.5m further away so LOL Like many peeps I assumed one needed like 90++ dB efficient speakers when paired with the low power Lepai to get worthwhile audio out but apparently some gurus stated something like just 83dB for near field listening? With 2.0 you aren't gonna get super low bass but I wanted something not too bad for the money. These Polks were viewed as "punchy and generating decent bass for their size" so that got me very keen on them! Problem was I had to wait for some time before someone actually had them for sale used hehe. Auditioned them and never looked back hehe. I can say as someone who listens to a wide variety of music I am have no regrets whatsoever! Sure I prefer more bass for my metal/rock but moving away from PC Speakers the sheer clarity of vocals and detail in my music gets propelled to a whole different level and mind you I have untrained "audionoob" ears lol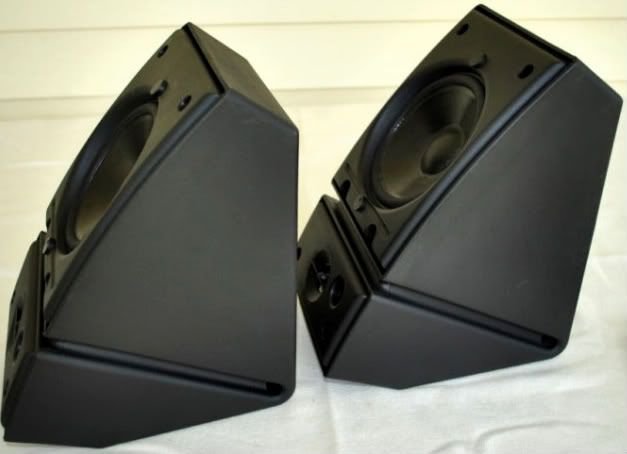 DAC/Headphone Amp : Fiio E7 + L7 (used)
Now I had never bothered with anything pass onboard motherboard sound and frankly with Dell speakers I wasn't missing much me thinks hehe What attracted me to this solution is its flexibility and value it brings to the table! You could use it as a USB DAC via the line out L7 kit with your PC/laptop to your amp. You could have the option, if it gets late and you dun wanna disturb others to off the amp and slot in a pair of cans or iems and use it as a USB DAC + Headphone amp via any of the 2 headphone jacks on the Fiio E7 and boy do these rock even with some el cheapo (but decent) Soundmagic PL11! Music and general audio out from my Polks also picked up and I am using these with the office lappie and I am seriously thinking of hunting a used Acer Iconia W500 tablet after this acquisition! This was the last piece of the puzzle and I am now in the process of archiving/digitizing my CDs in FLAC via Foobar2000.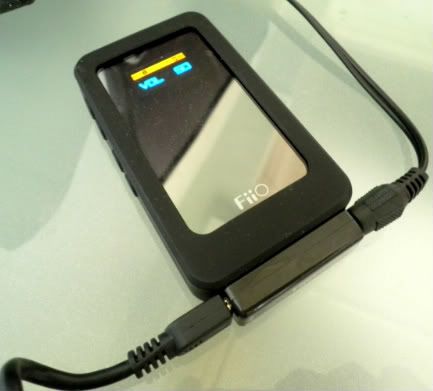 There you have it: one dude's journey from PC speakers to half decent stuff! All in all I would say ignorance is bliss if u have not heard anything better than PC Speakers but if u are serious about better audio performance the journey may take some time and wheeling/dealing but the rewards are phenomenal! I am on the hunt for mid/higher end cans now and for a non surround set up the Fiio E7 absolutely shines as an elegant yet bang for buck solution! It's truly plug and play and since I am dual booting Win 7 Ultimate 64 and Ubuntu 11.04 64 I can state that it works flawlessly both in Windows and Linux! Let me know if any Ubuntu 10.1" tablet is selling cos I would be extremely keen on these as well (Iconia W500 is kindda pricey brand new)
I hope you found this thread informative if u are totally alien to anything outside boxed PC speakers or if u are an old hand perhaps you could offer other tips, avenues one could look into and some fine tuning for better PC Audio on the cheap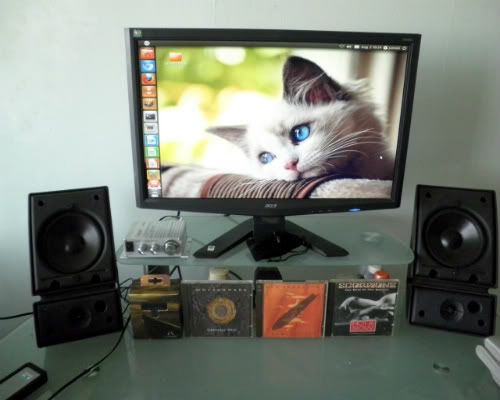 Edited by trog - 8/6/11 at 4:34pm
CPU
Motherboard
Graphics
RAM
Heka 710 @ 3ghz UVOC
Biostar A880G+ HD4250 Surroundview with discret...
Sapphire HD 4670 HDMI, Videomate Compro X50 (An...
2 X 2 GB KVR 1333
Hard Drive
Optical Drive
OS
Monitor
WD 640GB, Hauppauge HVR-3000 (Digital FTA + STB)
LG DVDRW SATA
W7 Ult / Ubuntu 11.04 64 bits
Acer X233H + 32" Panny LCD TV
Keyboard
Power
Case
Audio
iPazzport RF HTPC kb/trackpad combo
CM Silent Pro M500
Chenming Clone shoebox
Pioneer VSX-416 + Kenwood LSK-727 Floor Standers
View all
hide details
CPU
Motherboard
Graphics
RAM
Heka 710 @ 3ghz UVOC
Biostar A880G+ HD4250 Surroundview with discret...
Sapphire HD 4670 HDMI, Videomate Compro X50 (An...
2 X 2 GB KVR 1333
Hard Drive
Optical Drive
OS
Monitor
WD 640GB, Hauppauge HVR-3000 (Digital FTA + STB)
LG DVDRW SATA
W7 Ult / Ubuntu 11.04 64 bits
Acer X233H + 32" Panny LCD TV
Keyboard
Power
Case
Audio
iPazzport RF HTPC kb/trackpad combo
CM Silent Pro M500
Chenming Clone shoebox
Pioneer VSX-416 + Kenwood LSK-727 Floor Standers
View all
hide details