Recently got an
MCP355
+
XSPC Dual Bay Res for DDC pumps
for $70 shipped here off OCN. I sort of jumped on the deal not thinking about how low restriction my loop is. I know from previous research on water cooling and pumps that MCP355 pumps get extremely hot on low restriction loops, so I went searching for cooling methods. I found
Swiftech's MCP35X heatsink
which works for DDC/MCP3xx pumps, and I figured I'd use that.
It hit me that there isn't a lot of space between the wall of the XSPC res and where the MCP355 would get installed, so I did a mock up test to see if it would indeed fit, and there is just a hair less than 2/16" between the bottom of the pump and the side acrylic wall on the res (the SIDE wall, not the front wall where the ruler goes up to, picture below).
I'm not sure if the thermal pad that comes with the Swiftech heatsink is thick enough to make it to where the heatsink will clear the side wall? Should I shave down the side of the heatsink to be flush with with side wall? Or just use cheap heatsinks mounted to the bottom of the pump?
I do not have the MCP355 installed in the loop yet because of this dilemma. Any suggestions?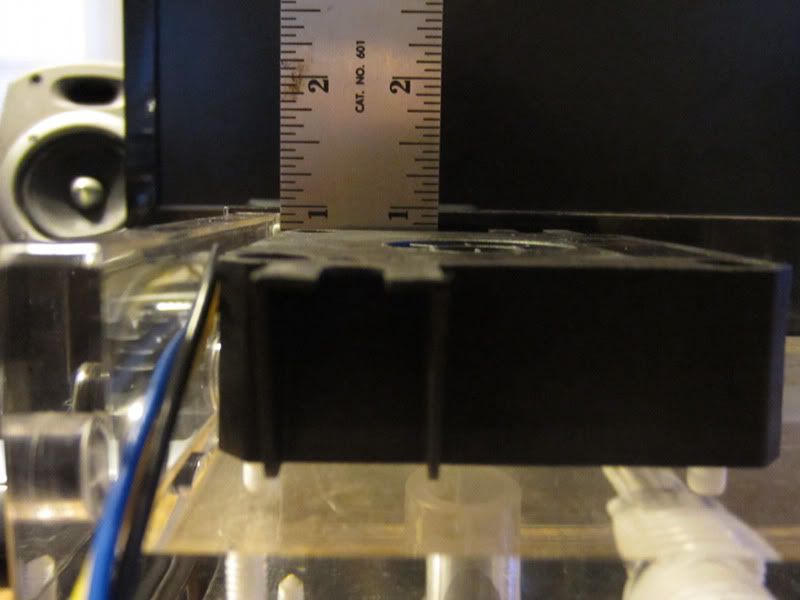 Edited by `br4dz- - 8/2/11 at 5:22pm