Congratulations to AMD SLI guru; the OCN Folding team's Folder of the Month for July.
Who is AMD SLI guru?
Ranked 12th for the overclock.net Folding team (and 402nd in the world), AMD SLI guru is currently the 3rd highest producer for the team. Here are a few of his main stats:
Days Folding - 1,200 days (22nd April 2008)
Best day - 402,249 points (20th July 2011)
Highest PPD - 225,174 (29th May 2011)
What got you into Folding in the first place?
I got into Folding because of my mom. She had been diagnosed with breast cancer and since I'm not a doctor, I couldn't do anything to help. I knew a bit about computers and so I started searching around and found Folding@home.
After reading what they have posted on the website, I felt it was the best way for me to help not only my family, but others as well.
I was already a member of OCN, so it was a natural choice to stick with OCN. Plus, none of the other forums have the same community as OCN does across the whole forum.
Tell us something about yourself.
I love to ride motocross on weekends, but with the heat (105°F days!), it will pretty much kill you. However, it's amazing; there is nothing that I've ever done that can compare. I'm a motorcycle enthusiast and just going out for a ride when I'm stressed or need to clear my head; it's the most freeing thing.
How has your Folding production changed since you began?
Well, when I first started I had been using a AMD 3800+ X2 for years. After seeing everybody else folding I knew I needed to kick it up a gear, so when the AMD 1090T launched, I built a whole new gaming/folding rig to catch up to everyone else. I then saw that OCN had rankings for folding and that is what really kicked me into high gear. I had bought a bunch of GPU farms to try and keep up with the PPD of everybody else, but the heat was just too much for me to deal with.
I ended up selling the GPU farms and switched to bigadv. That was the best choice I ever made. I had went out and bought a few 2600k's and never looked back. When I first started out folding SMP on two cores, I was getting 3,000 PPD. Now I'm hovering around 190,000 PPD.
What's your most memorable Folding moment?
I have two moments:
1) When I finished getting all my rigs in my rack build. To see all that come together was just amazing: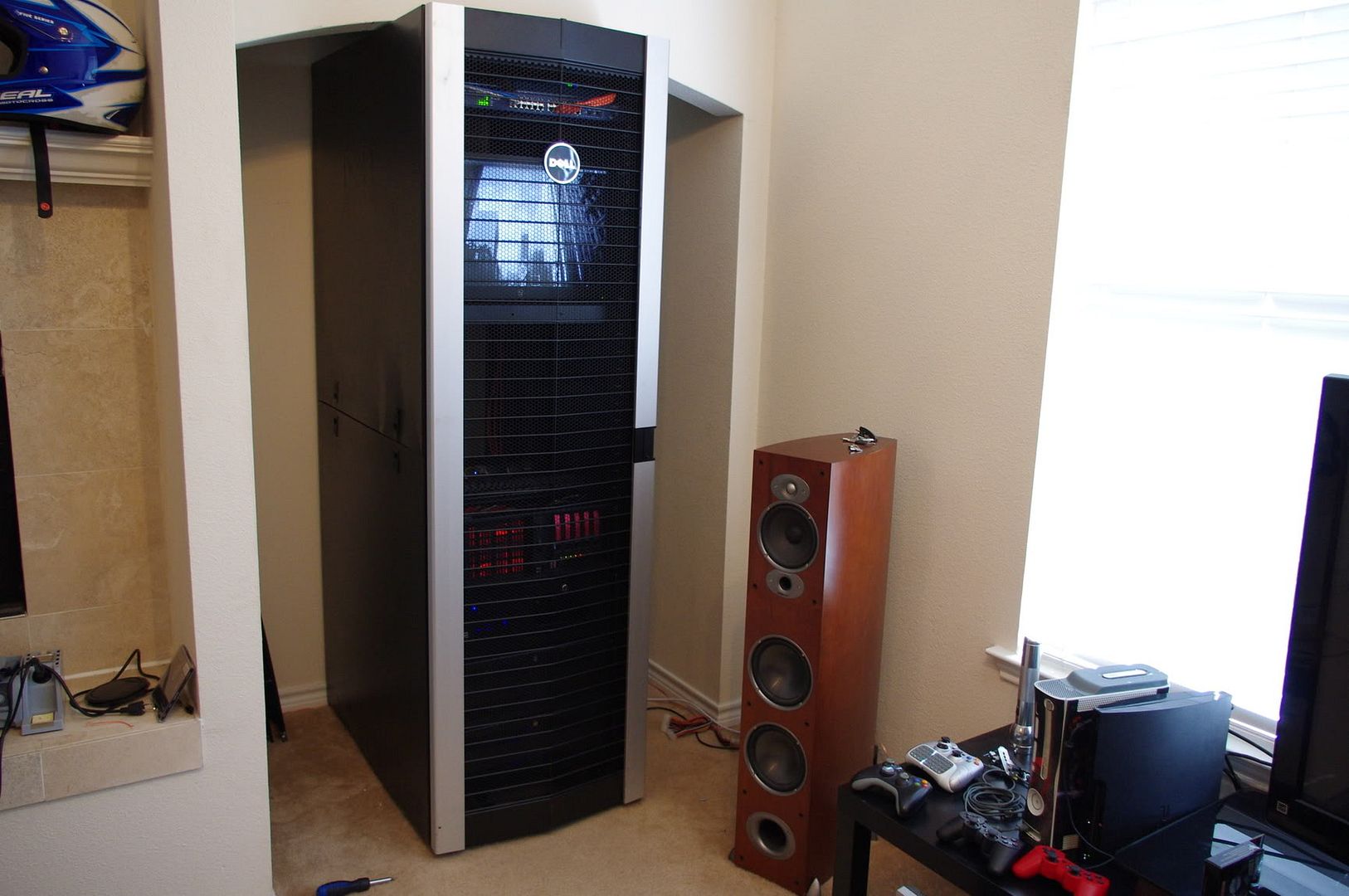 2) When I cracked the top 100 folders on OCN. That was just the most amazing feeling because to be in that group of folders means you really have dedicated yourself to the cause. It is such an honor to be there.
Any plans for the future (Folding or otherwise)?
Plans for the future are to get my hands on a multi socket system. I want to be able to have a rig that can fold 1 bigadv work unit in 1 day. It's a tall order but I think that will be a great addition to my small farm I have going on. I would like to say "
thank you
" to all the OCN folders! You have helped me from just buying the right parts to setting them up to helping me troubleshoot. You guys are awesome!
Also, Lutro I offically challenge you to a race to 45 million points.
Edited by zodac - 8/5/11 at 2:39pm