Alright OCN, I've been playing through a lot of shooters latley, just beat STALKER: SoC and about to beat Dead Space 2, loved both, great games. I'm also playing the **** out of Bad Company 2....
That is a lot of shooters, I've always been a shooter/RPG guy, but playing three shooters in a row has kind of got that itch going for some good customization and stuff.
I bought up Oblivion and Torchlight on the steam sale. I don't really feel like playing Oblivion again right now, played through 4 times on my 360 when it first came out, and Torchlight isn't really pulling me in, I think I'm done with the top-down style after sinking so many hours into D2.
I might even do some classic gaming, so recomend that stuff. I pulled out my old SNES the other night and was playing some LttP, got me wanting to play that or Chrono Trigger or FFIII, all of which I own on cartridge.
IDK though, make me some recommendations and lets see what peaks my interest. If it helps my favorite RPGs of all time are Morrowind, KOTOR, and Chrono Trigger in no particular order.
Here is my steam library to give you an idea of what I like, the only games missing on there are TW1 and TW2, on gog, though one day I will move them to Steam since I like all my games in one spot and CD Project deserves more of my money.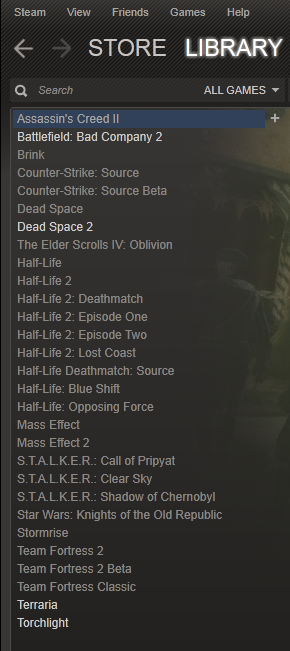 I'm gonna go to the gym, but I'll be back later to check on replies and chime in.
CPU
Motherboard
Graphics
RAM
2500k @ 4.6 1.27V
Asus p67 Pro
SLI 560 TI
Ripjaws X 1600 2x4GB
Hard Drive
Cooling
OS
Monitor
Crucial C300 + Spinpoint F3
Noctua N-D14
Win 7 x64
LG 1920x1080
Keyboard
Power
Case
Mouse
Das Professional
NZXT 750w Hale90
Antec 600
M60
Audio
ATH AD700
View all
hide details
CPU
Motherboard
Graphics
RAM
2500k @ 4.6 1.27V
Asus p67 Pro
SLI 560 TI
Ripjaws X 1600 2x4GB
Hard Drive
Cooling
OS
Monitor
Crucial C300 + Spinpoint F3
Noctua N-D14
Win 7 x64
LG 1920x1080
Keyboard
Power
Case
Mouse
Das Professional
NZXT 750w Hale90
Antec 600
M60
Audio
ATH AD700
View all
hide details