Well I guess I'll start a thread here. I decided my temps weren't gonna be ok. I wanted a better thermal solution to the first and second iteration. I bought a dremel, supplies and got to work.
So here I am with my new Dremel 4000, new gear from all over the place and ready to get to it.
First iteration
Somewhere in June.
Here we see my first leak testing on two gtx's and an ugly looking sli loop. I was proud of it none the least. And when I had only two cards, well temps were ok. But I wanted more!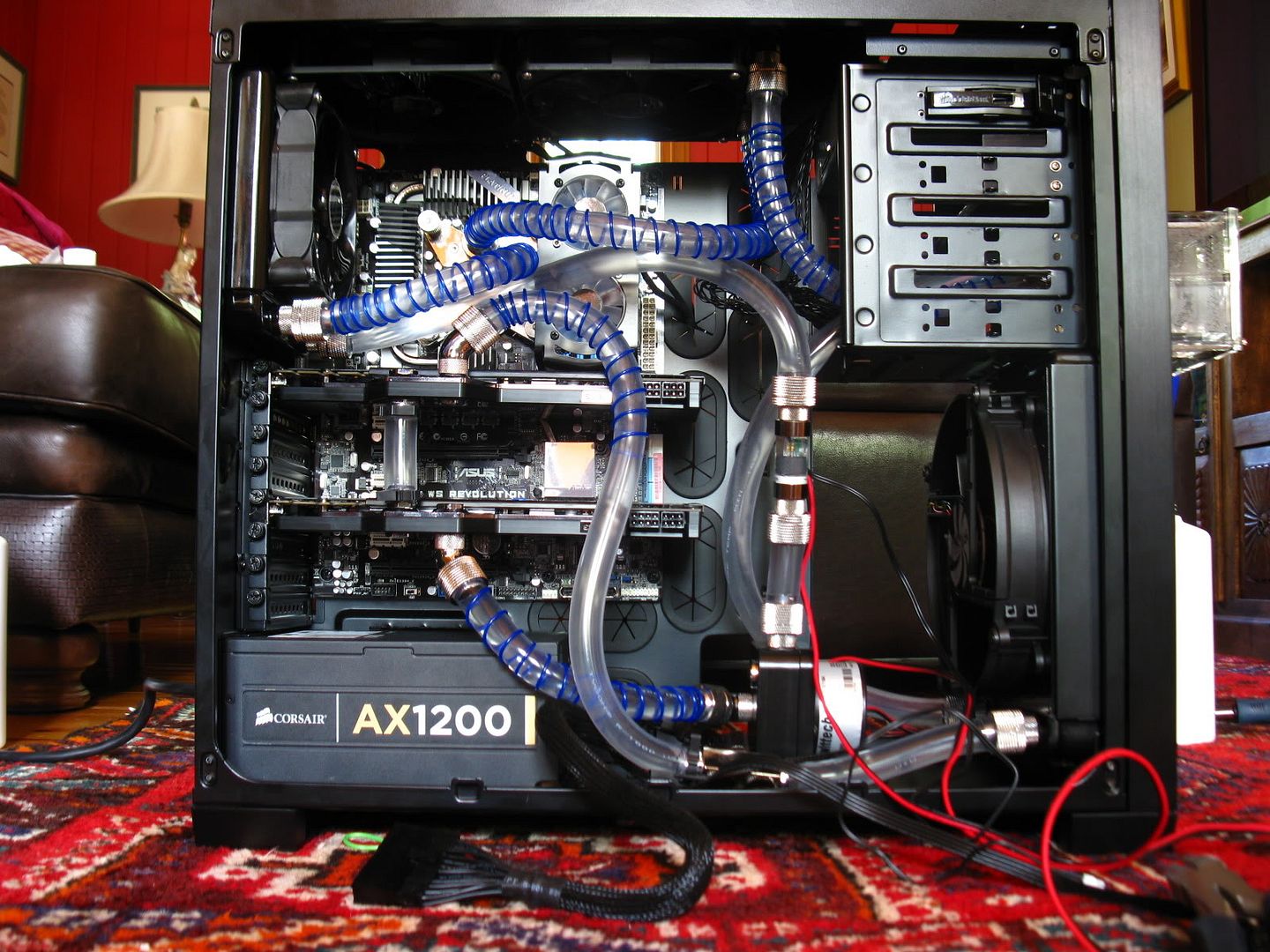 Second iteration
Somehwhere in July.
So I read around and 5760X1080 hit the mark. I needed three GPU's and 2D surround. I bought the third and got some SLI connectors as I knew that tubing and barbs were no longer an option. This is the second leak test one month after I had built and used it. Not much change here.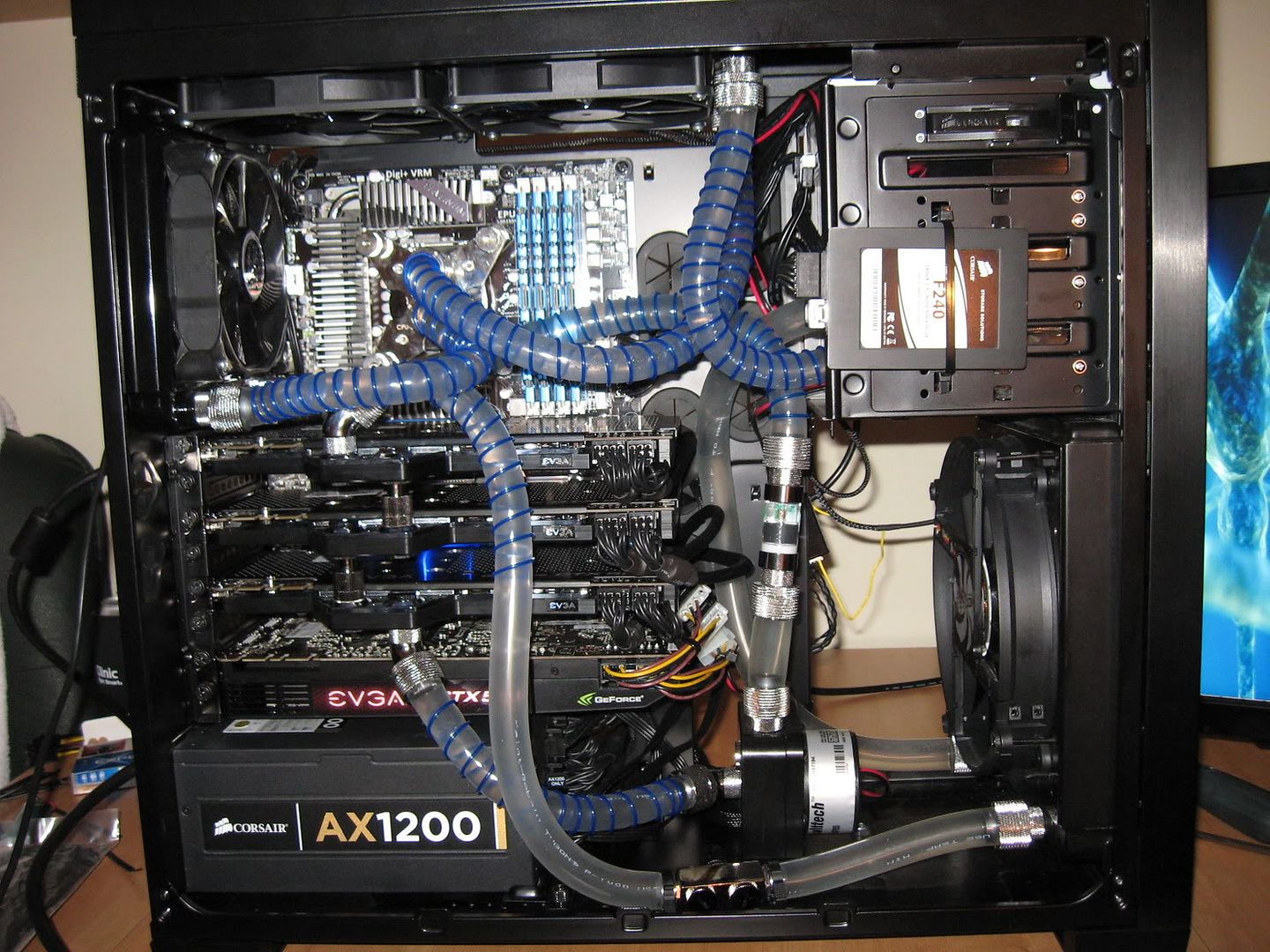 Now the fun stuff, though not finished...
I wanted Push Pull on EVERYTHING, and as we know the 650D is lacking in terms of space for the top rad. I also had a problem with heat as my two other rads were redundant due to the front 200mm pulling in hot air. So I devised a plan to have all the rads pull in and make myself a custom side panel with 4 exhausts. Calculate CFM and make sure I had positive air pressure to reduce dust. Get dust filters on all intakes. I also wanted to lap my CPU (I was getting courageous at that point). So without further ado here it is.
Third iteration
2011-08-02
Computer stripped out almost completely.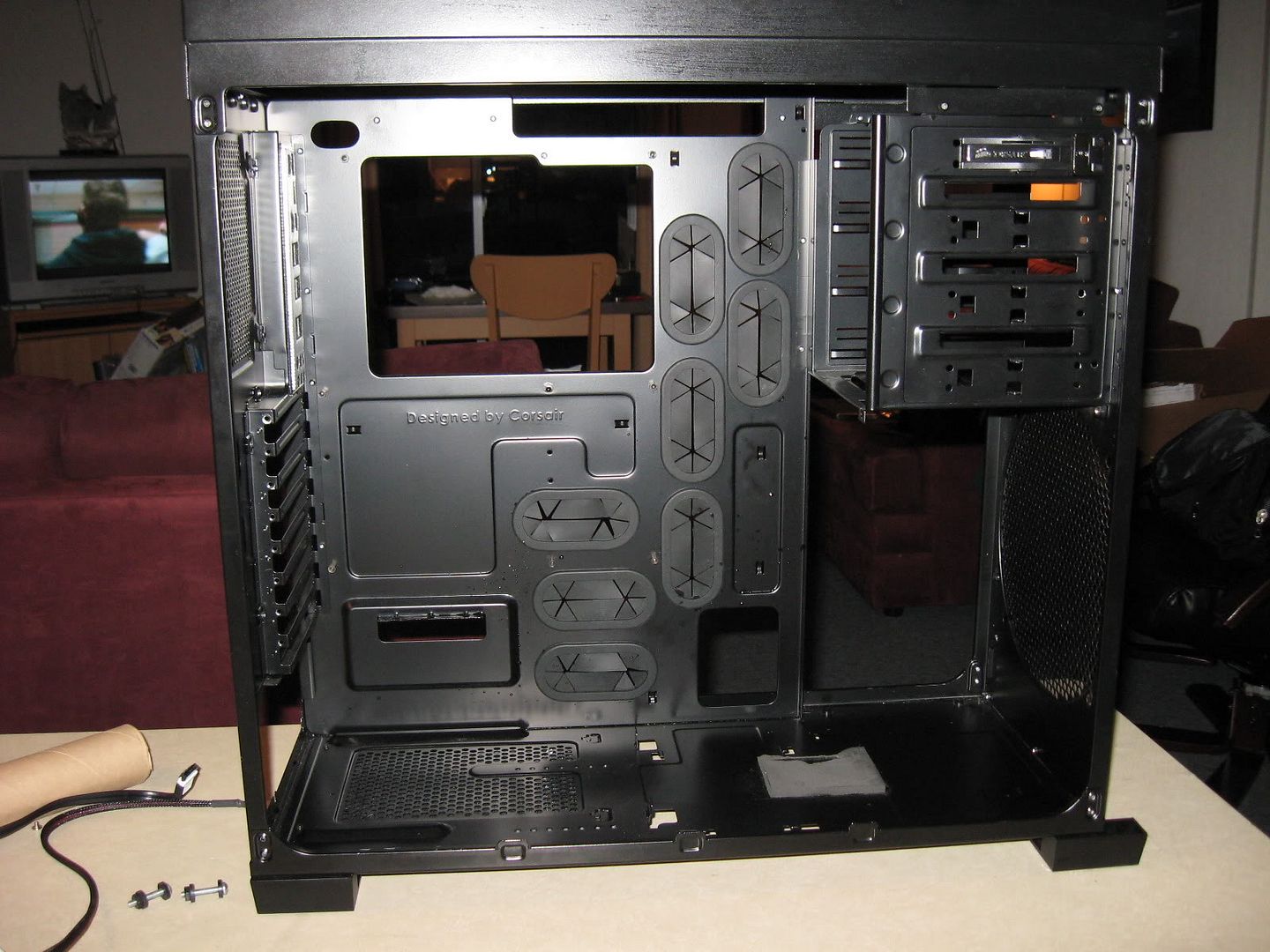 Rear Exhaust tapped. In retrospect, I might have gotten away with just leaving the grill there. But I'll be putting a custom grill in its place. I'm hoping it'll help with noise.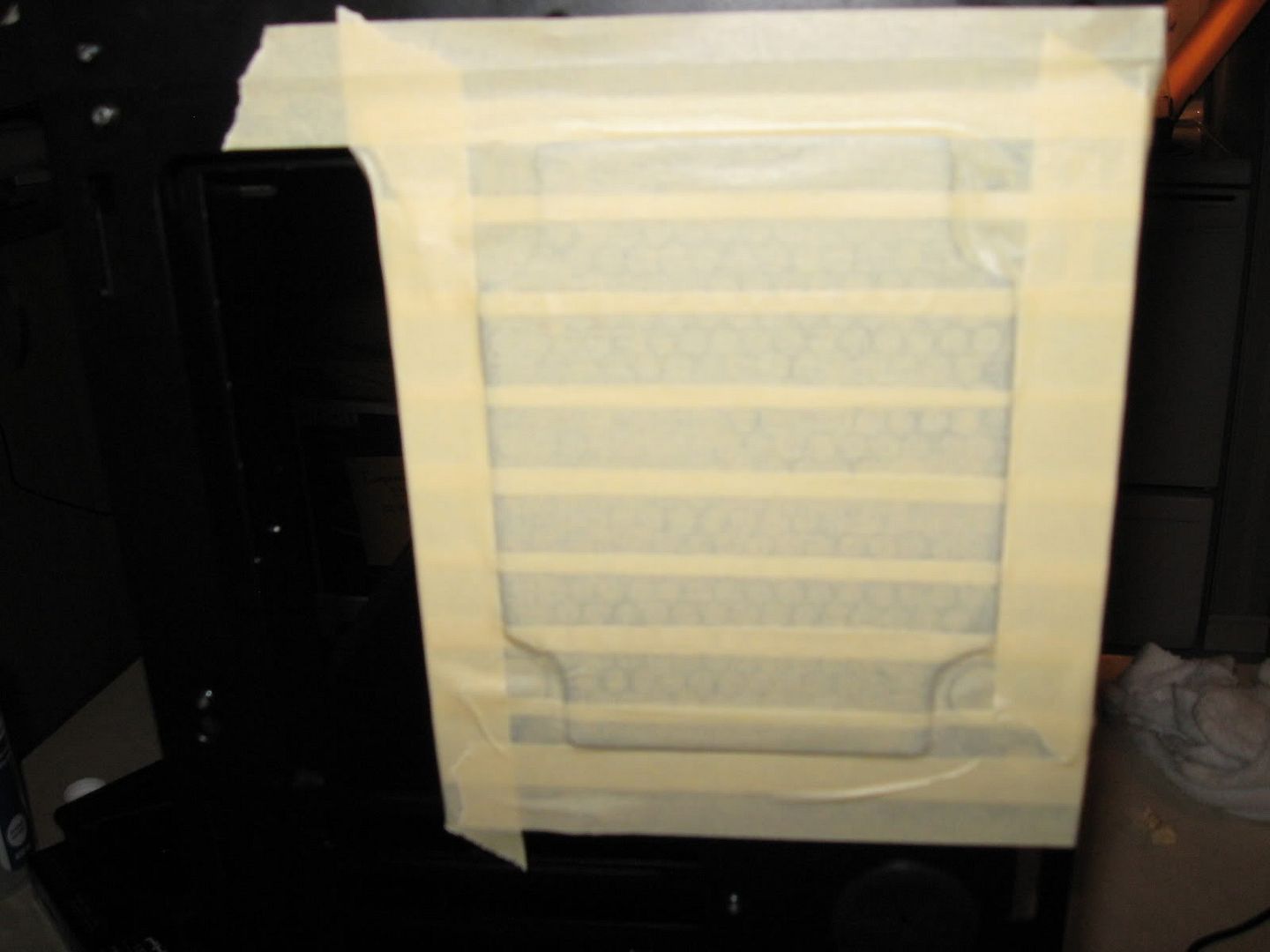 Most important part tapped. Top grill.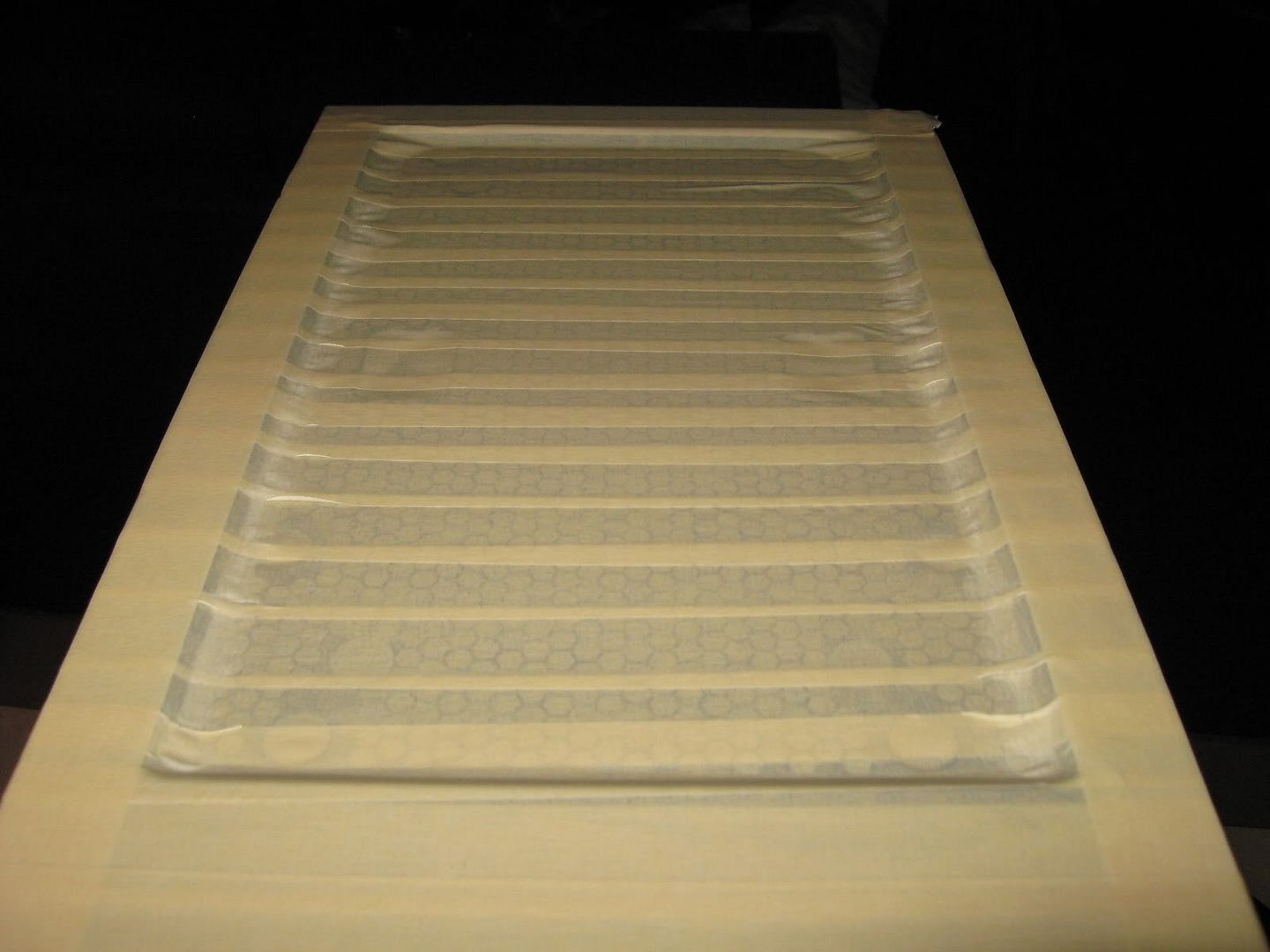 Front 200mm grill. After consideration and a couple beers, I decided not to cut it out due to structural integrety (gotta love Star Trek). I decided to keep the NZXT fan and do a push pull. The thing is NZXT in their omniscient ways decided to go with a not so bright mounting standard. So the holes needed to mount the fan and the rad would have put the holes terribly close to the edge. I decided against the cut. I also have no noise problems as other 650D users have stated... so.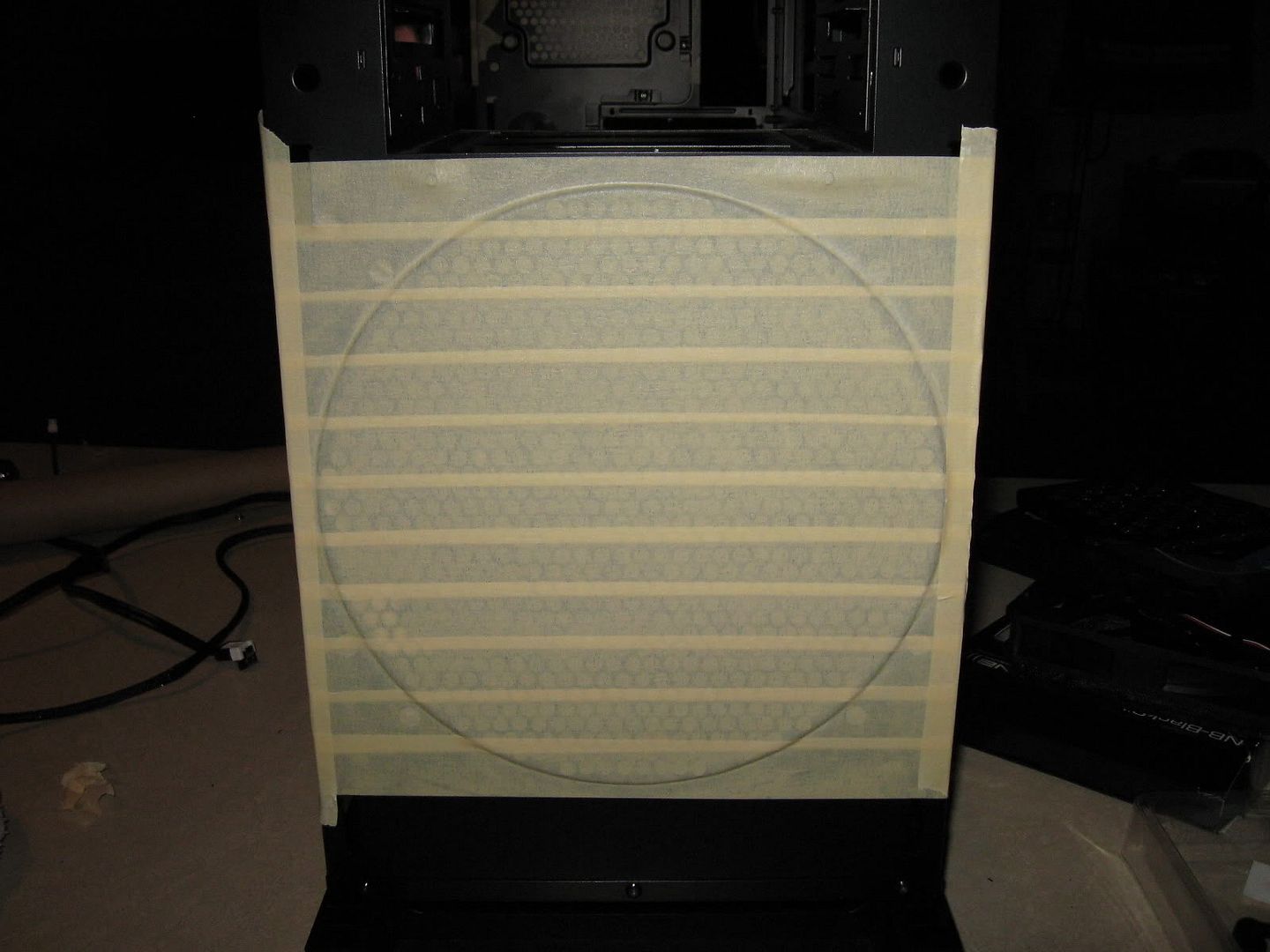 I contacted BitsPower for this. They have two designs for thier rotary compression fittings, and I gather the longer ones are the older models. I have two of those fittings that were sent to me brand new from FrozenCPU and the nickel plating is starting to flake off at the edge of the nozel after only 2 months of use. I'll be sending them a picture of both tonight.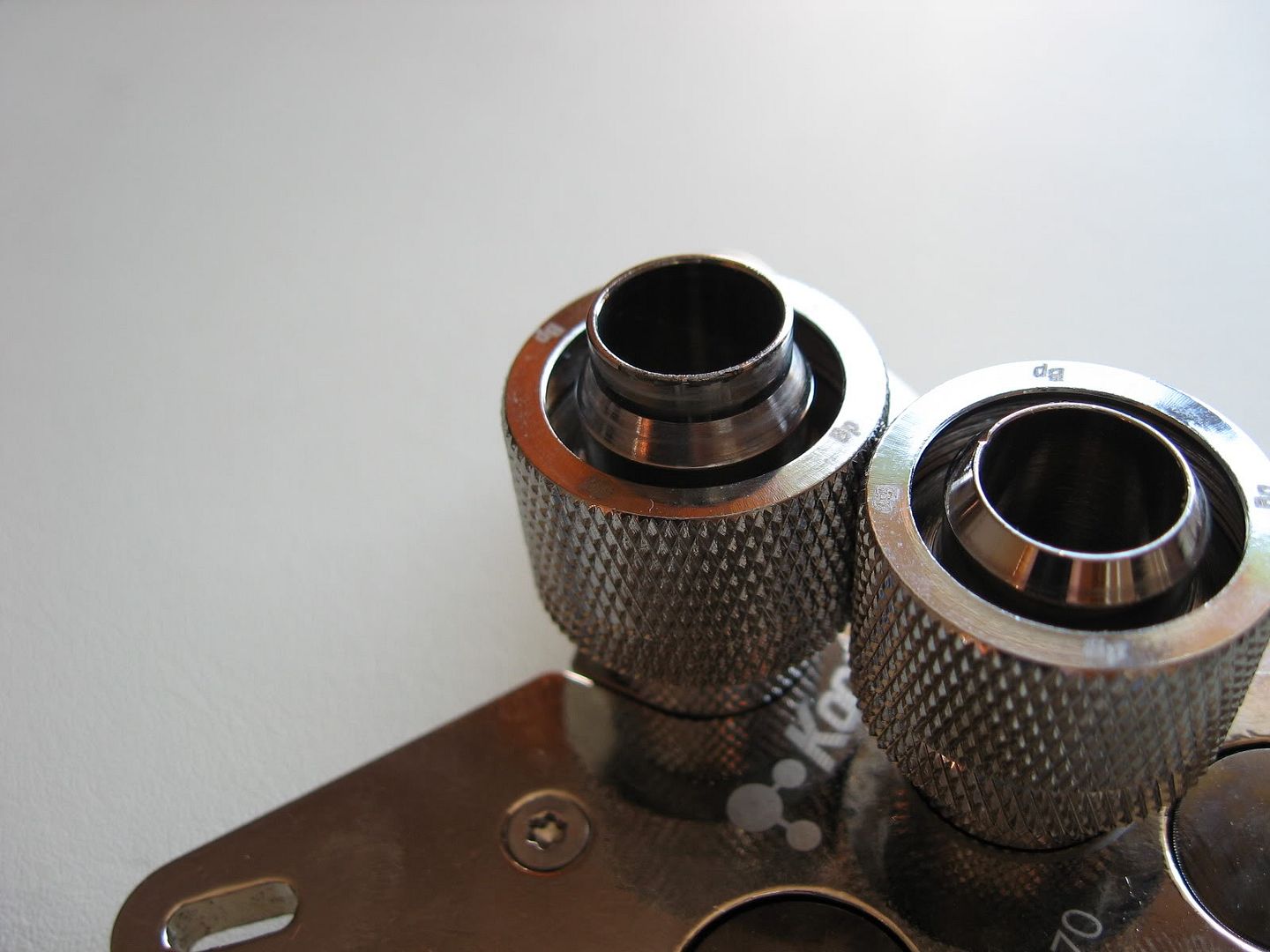 Block cleaned off from TIM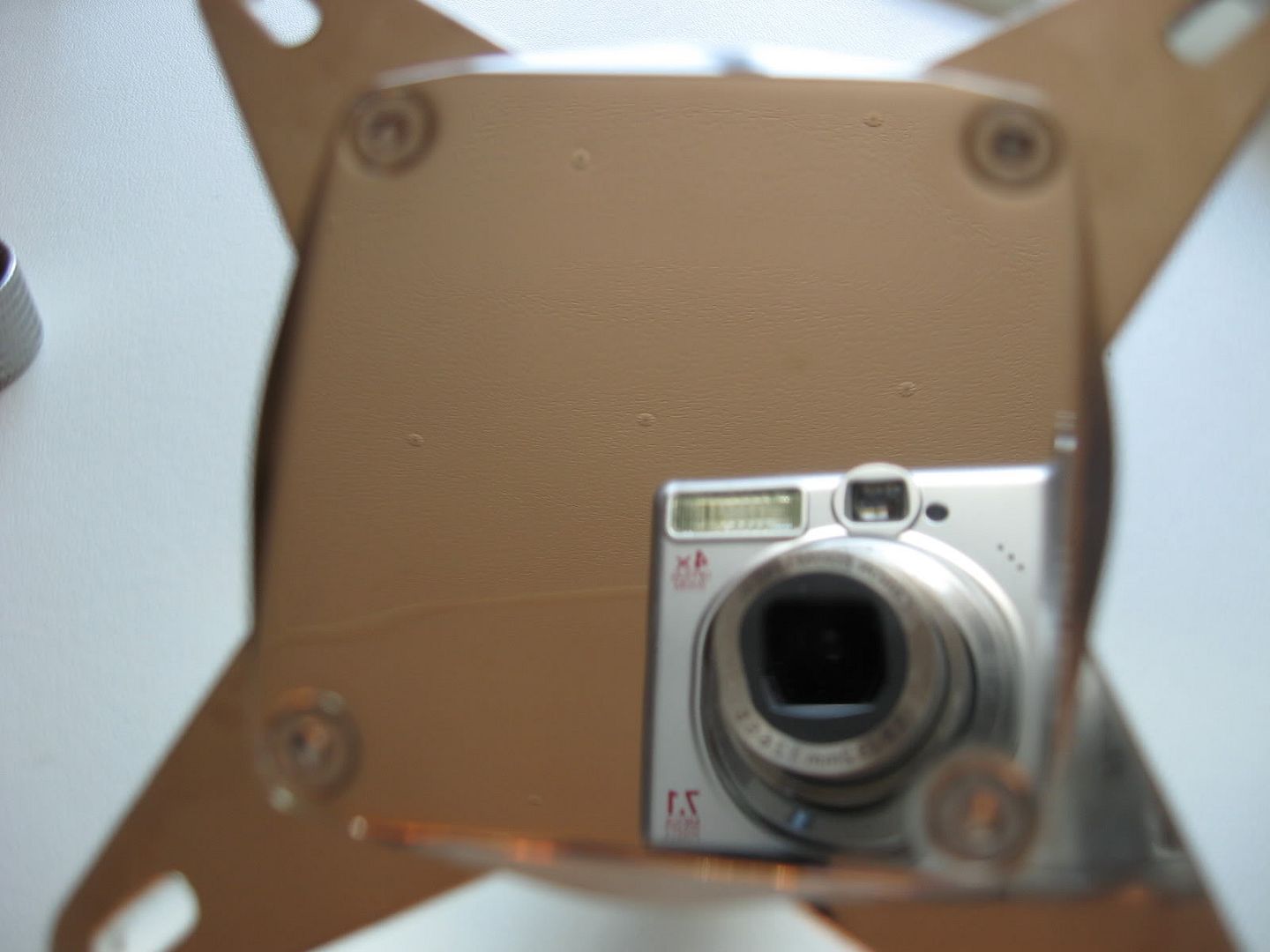 CPU is full of Shin Etsu.
Cleaned!!!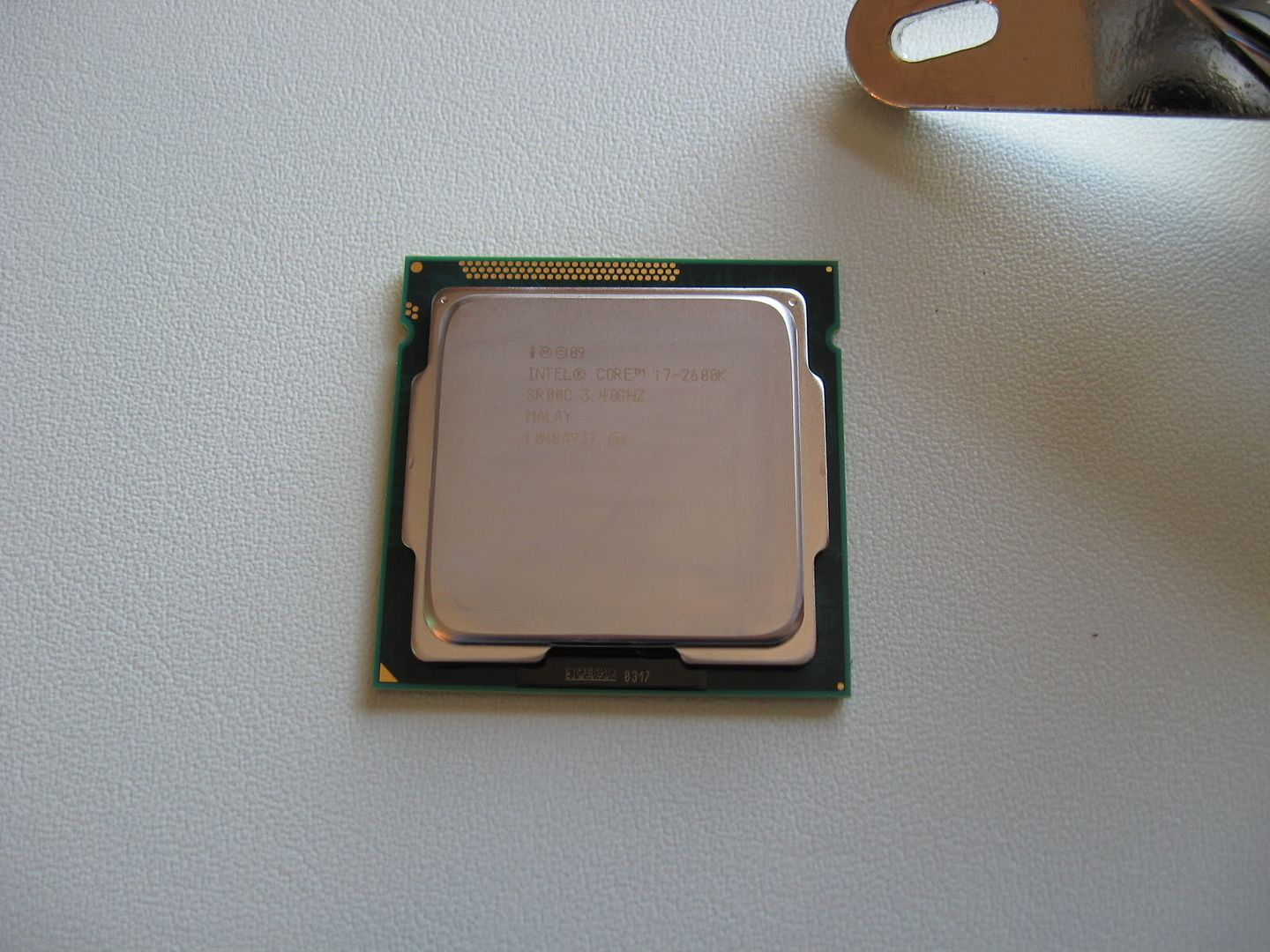 Sorry, old P&S Cannon A560. But the lapping begins. This is after like 15 minutes on 400.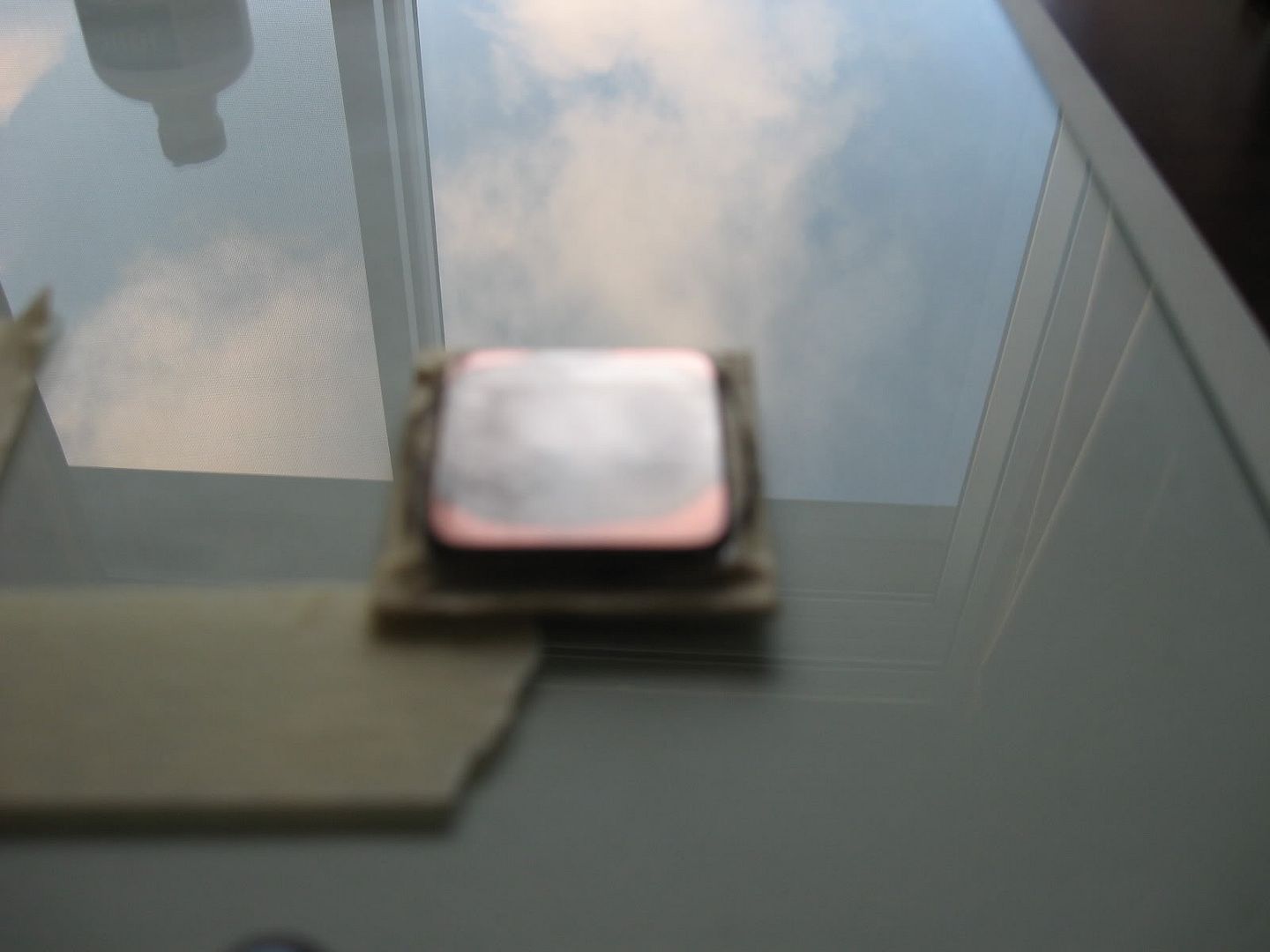 After 30 minutes on 400 still.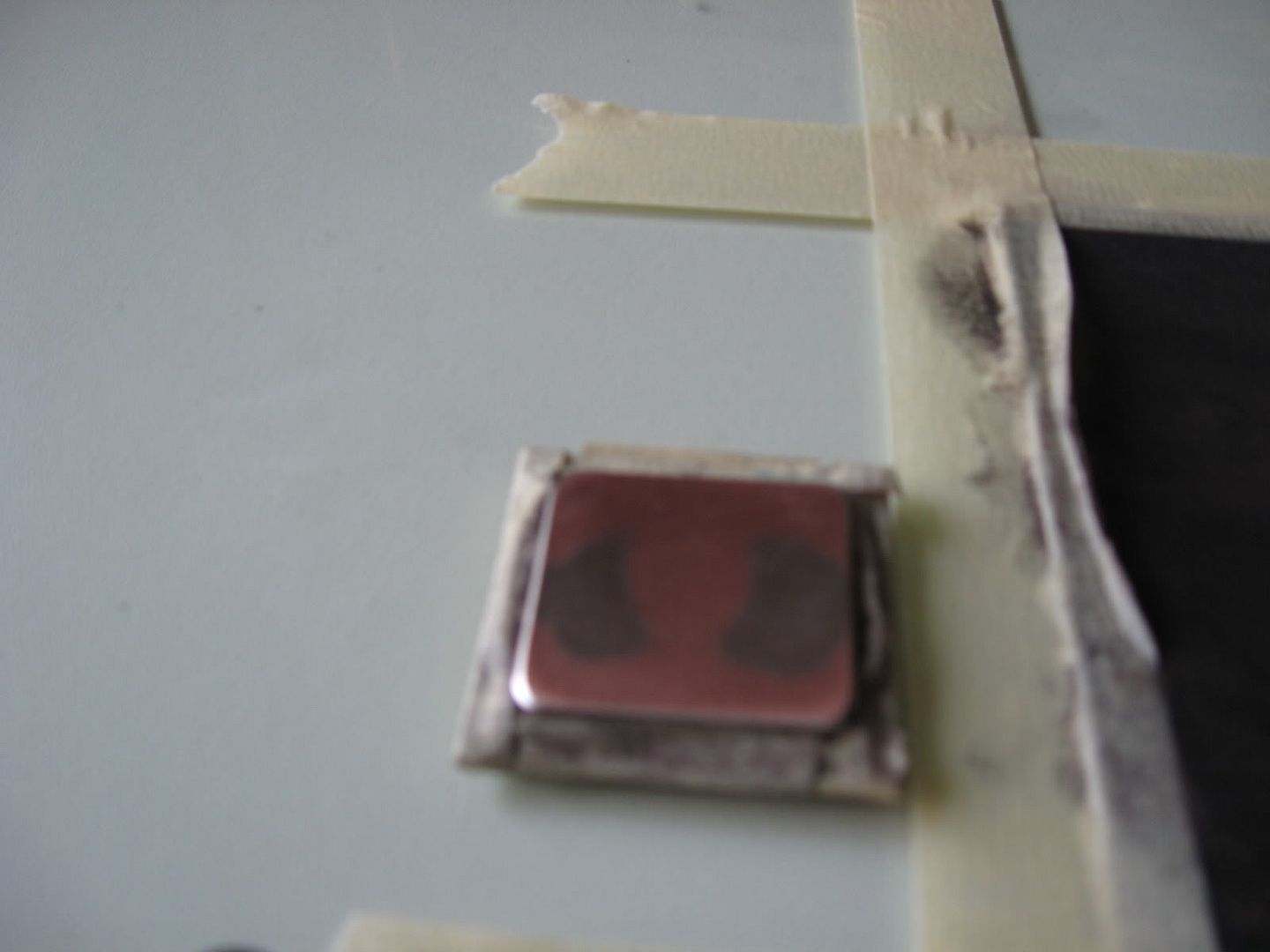 20 mins on 800 did the following...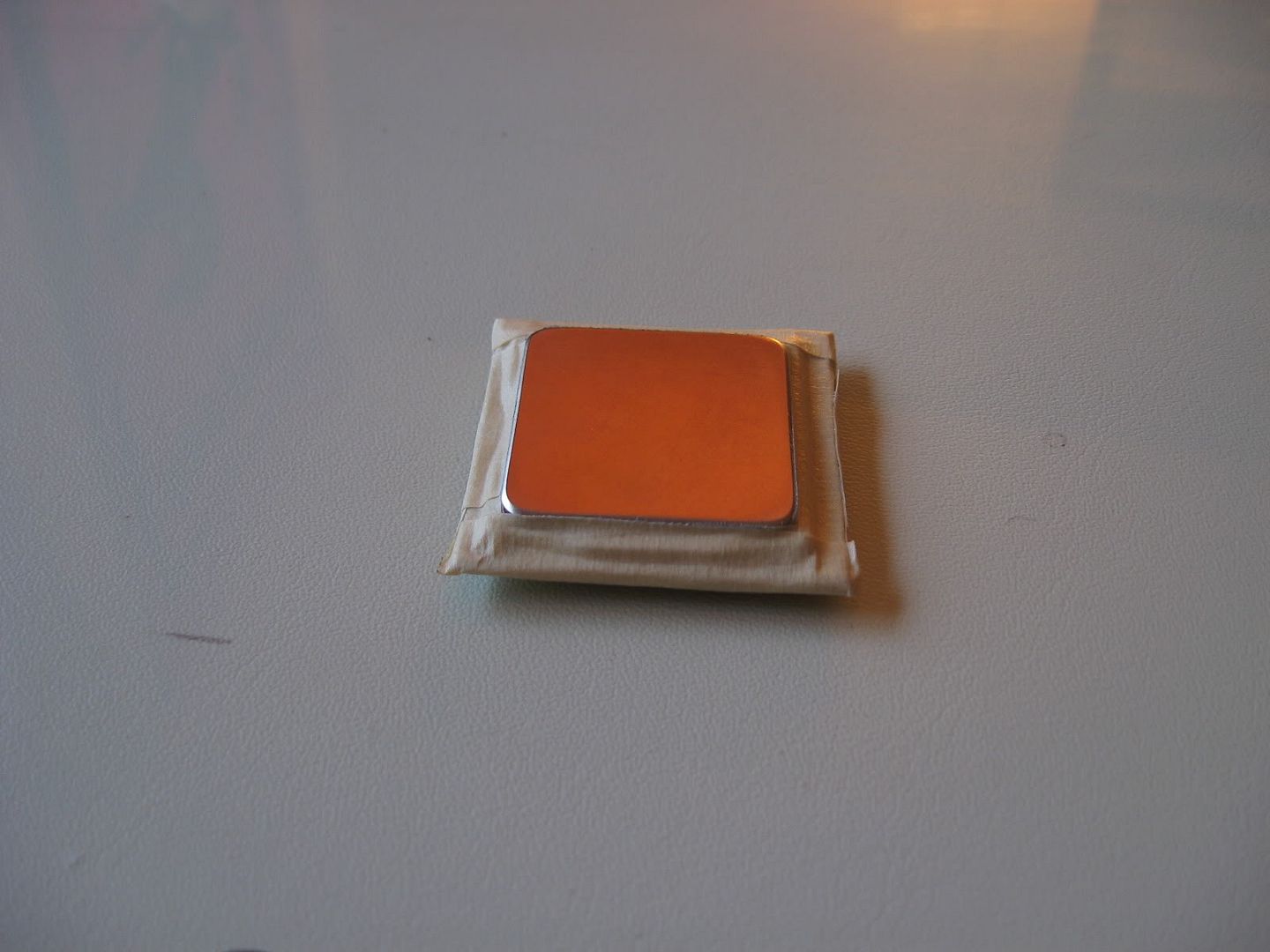 1200 for 15 mins.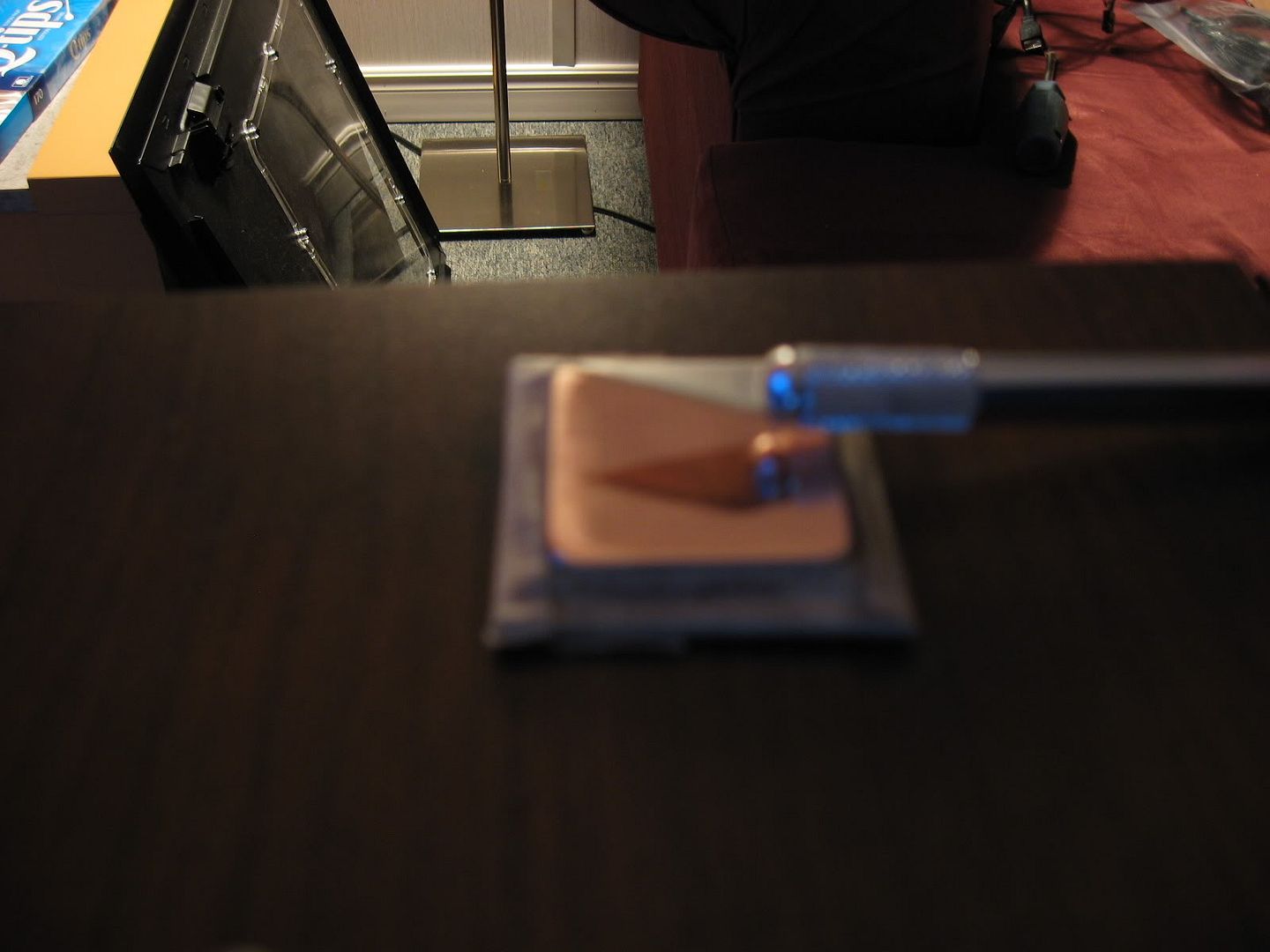 Forgot to take a picture at 2000 grit. But this is 2500 grit about half an hour later.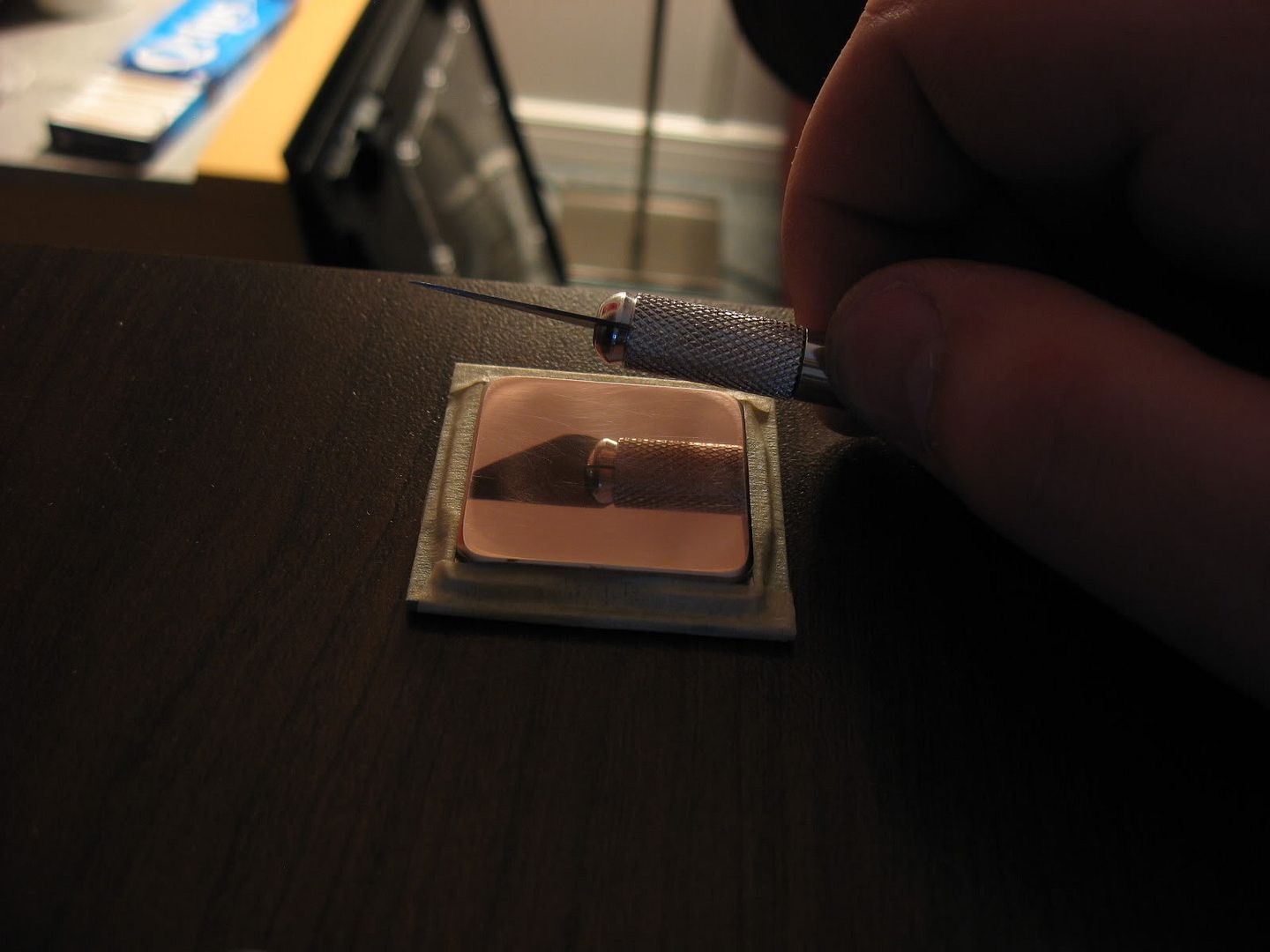 I thought I had taken more pictures of this, but I guess I didn't/ Here's the EK MB block. not a great angle...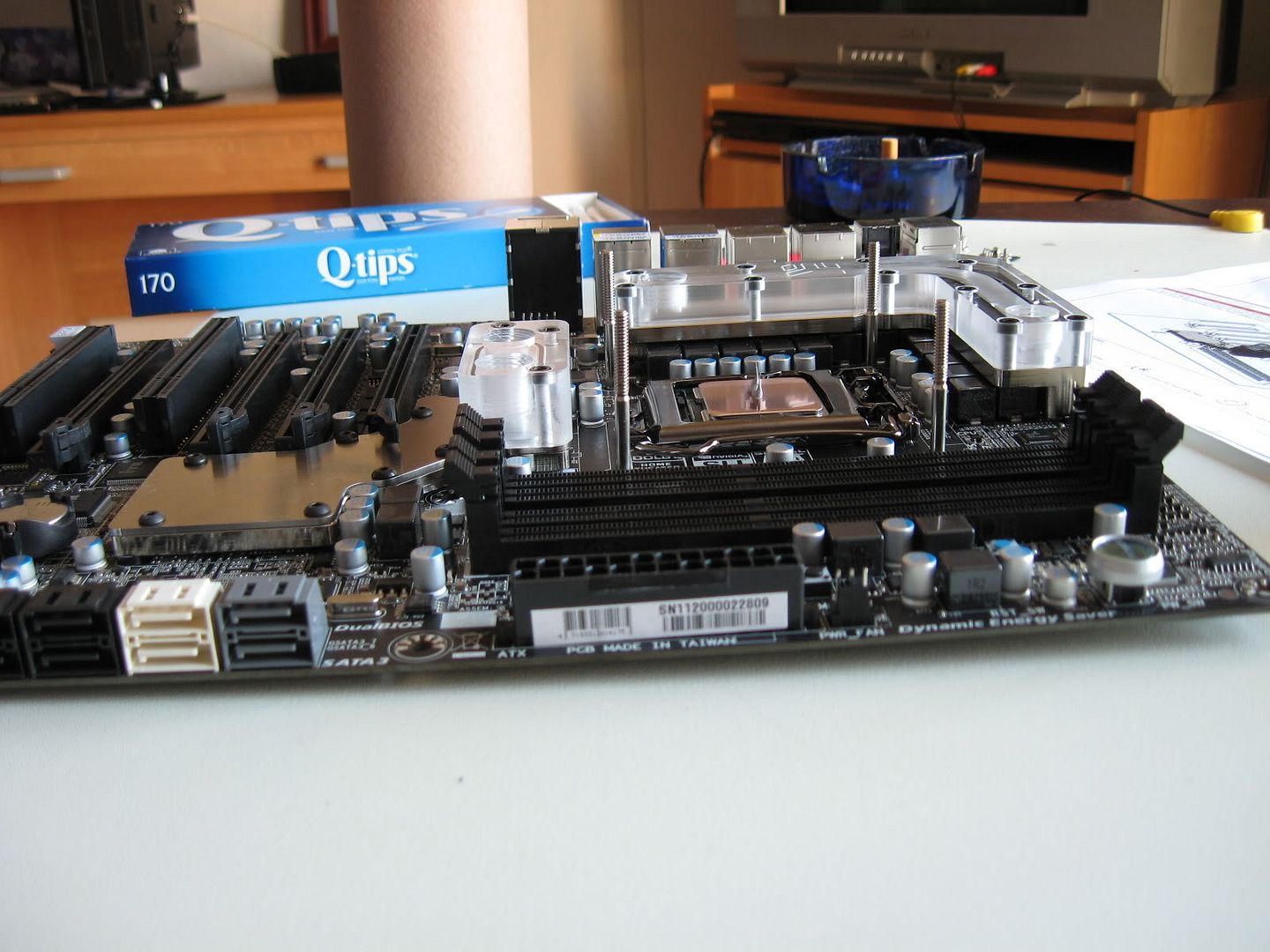 Here's the cut out for the top grill...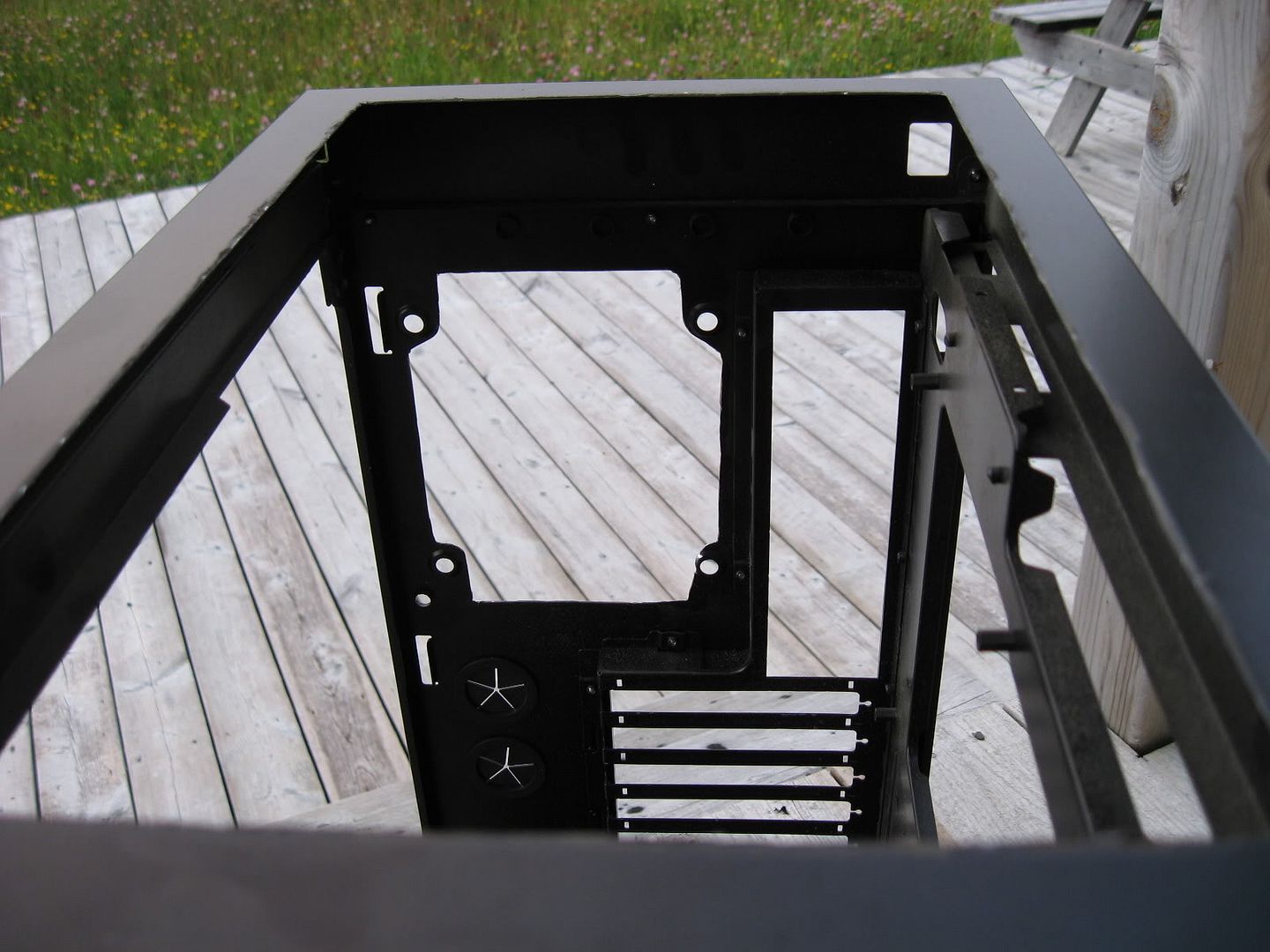 A view from below.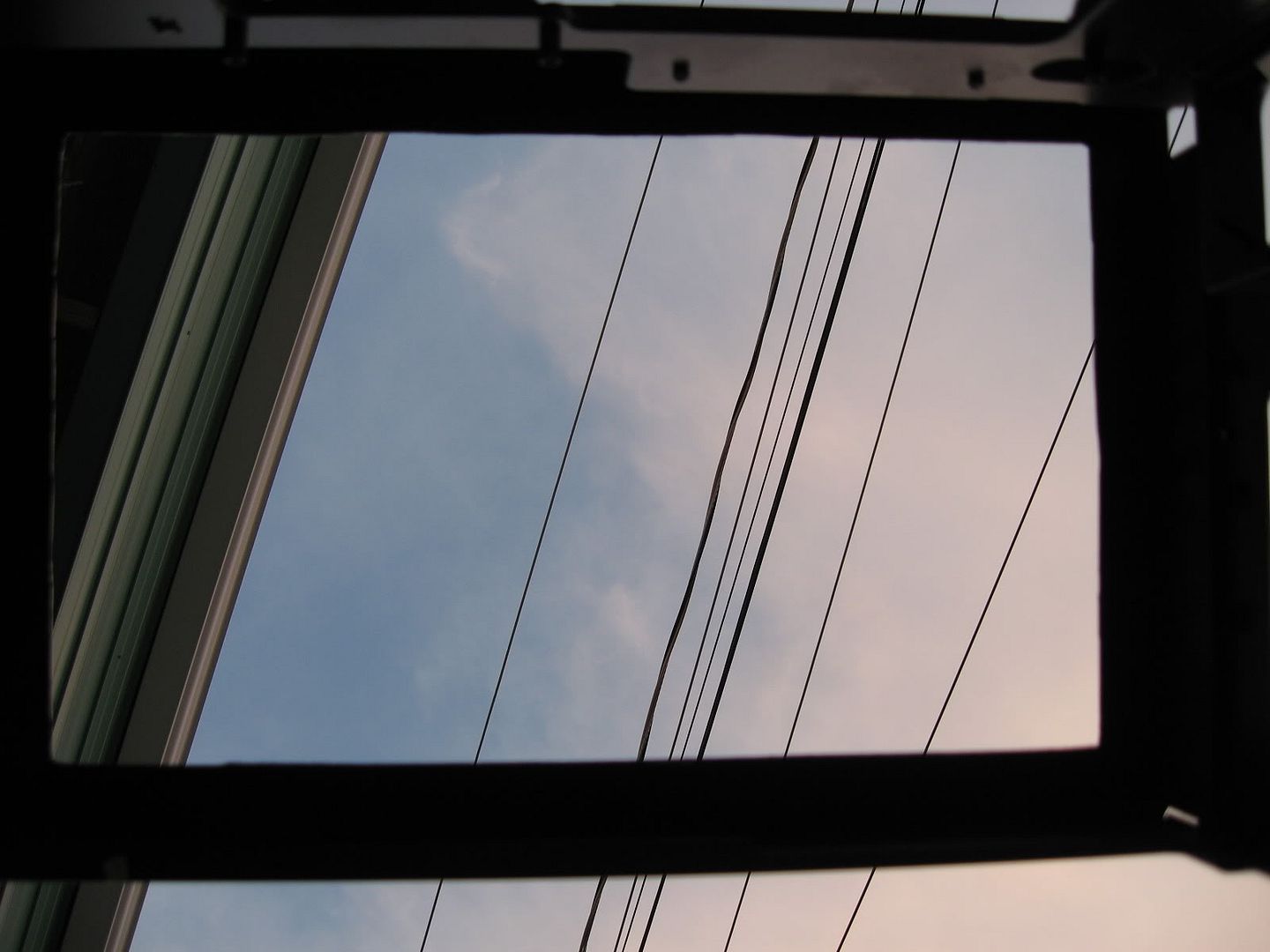 I messed up the rear a little as it was my first time cutting with a dremel... but it works for me.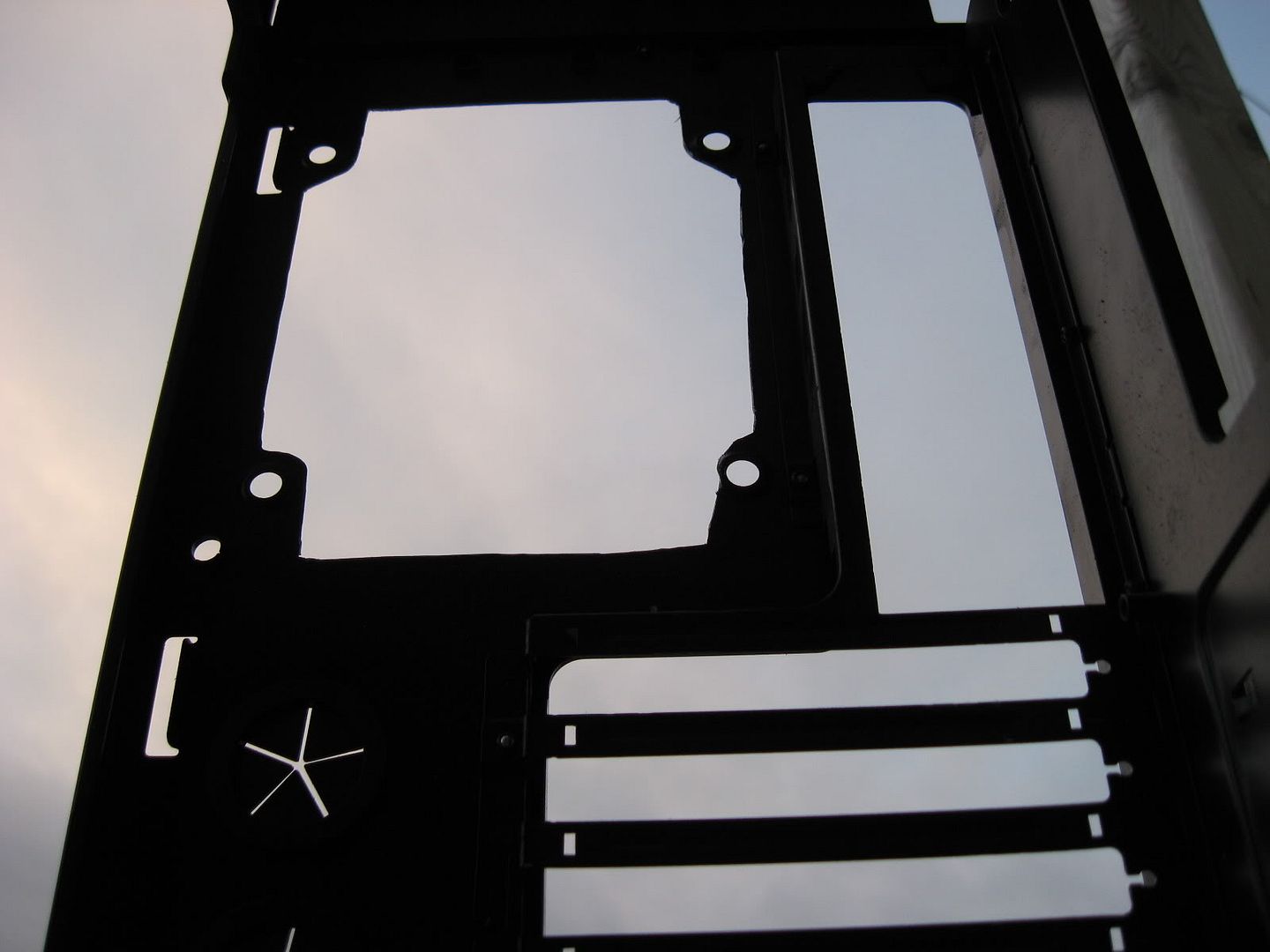 A view from outside.
The koolance shroud fits!!!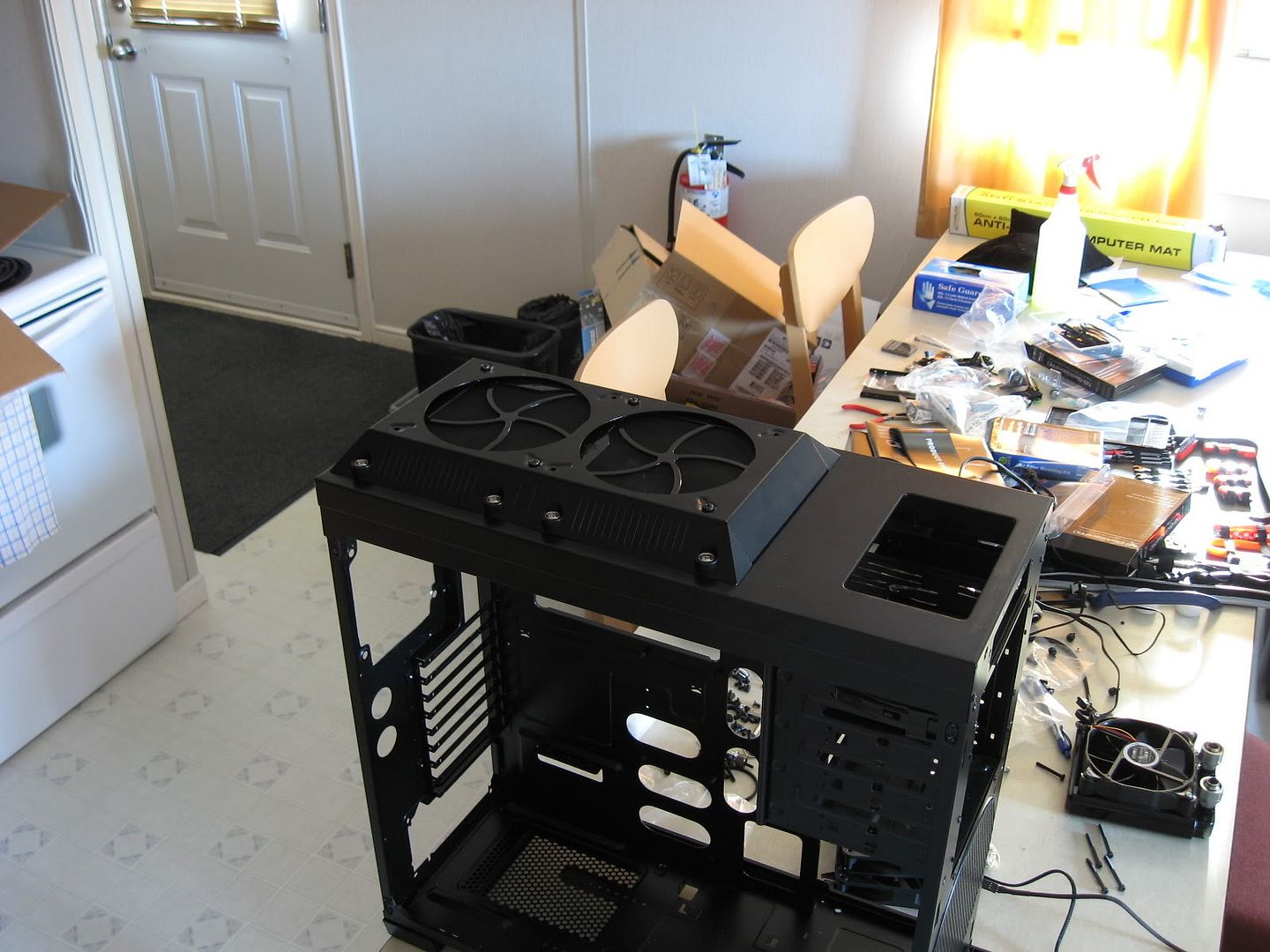 Close up with rad and fans mounted.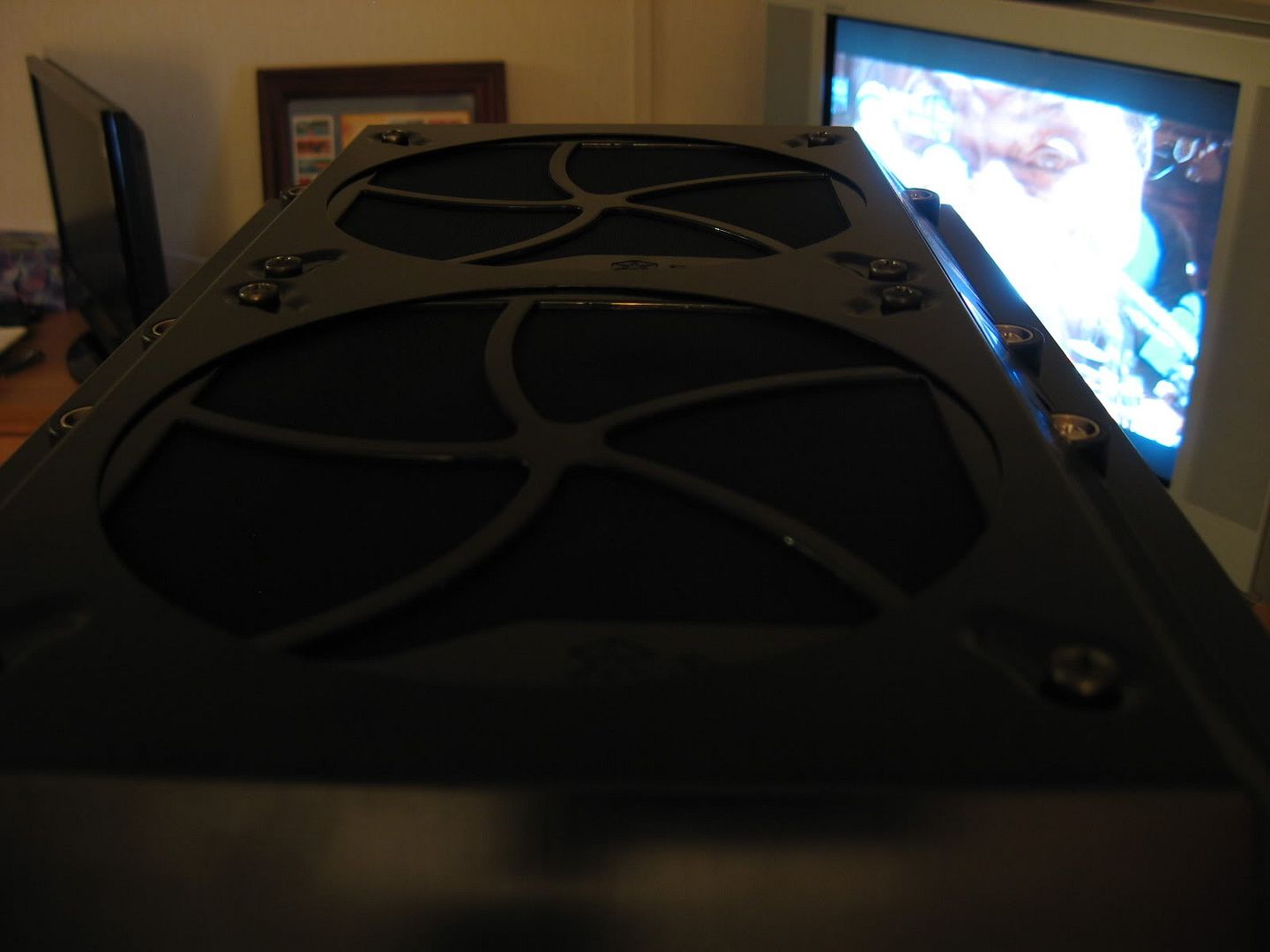 And what I have done so far. Still lots of work but the toughest is done I think.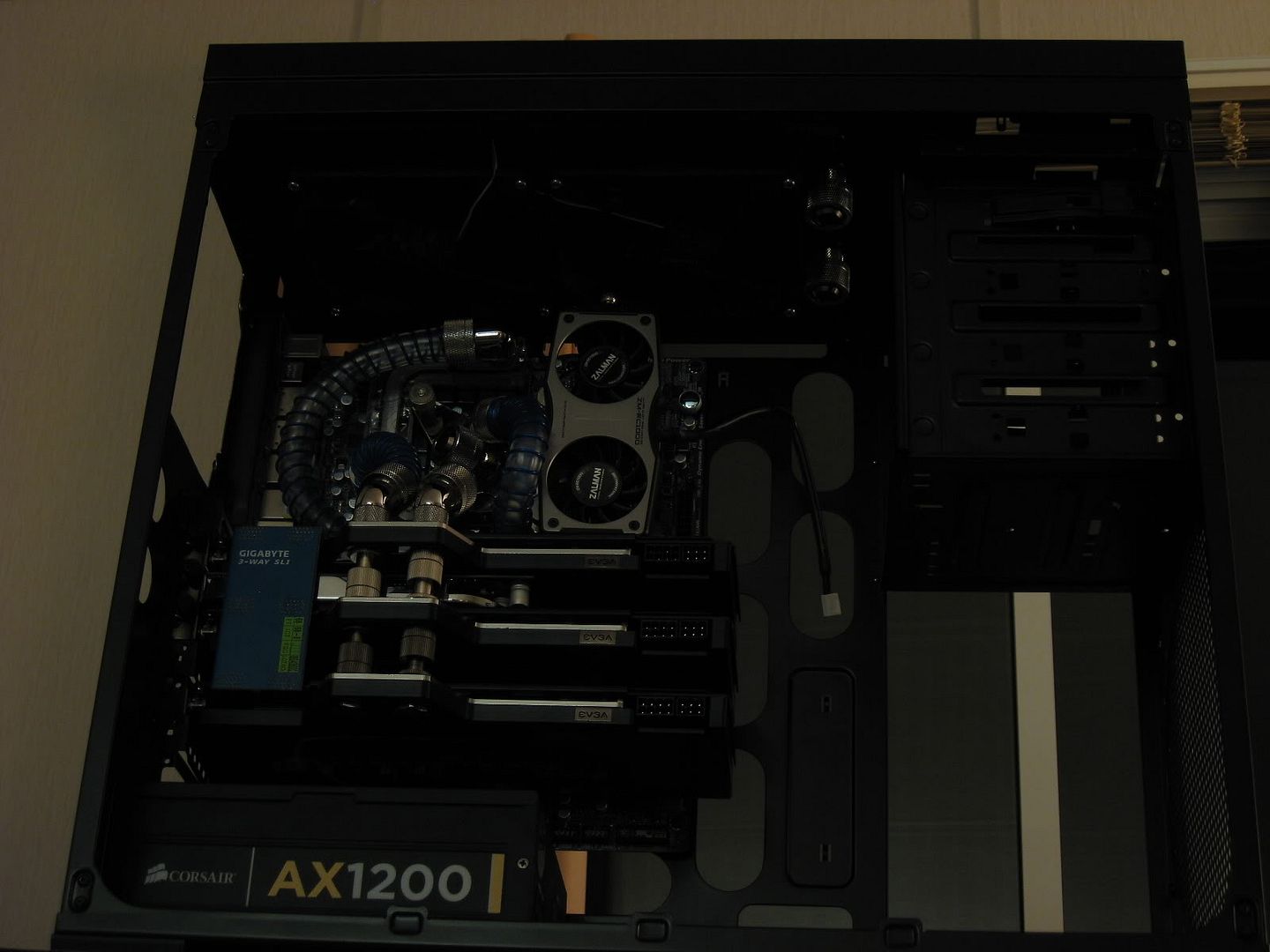 2011-08-03
Shot with flash, it was dark in the rook... =(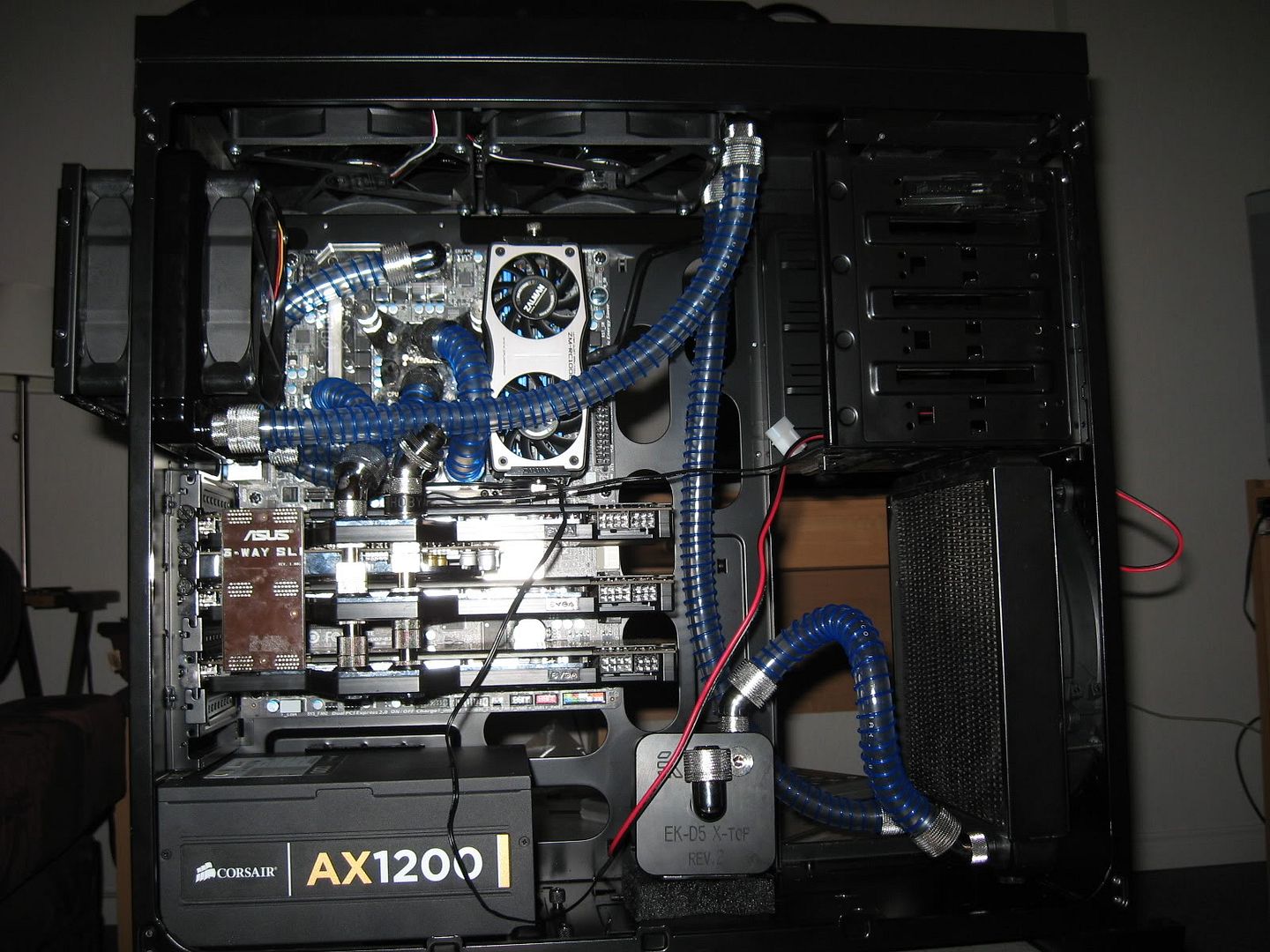 One little corner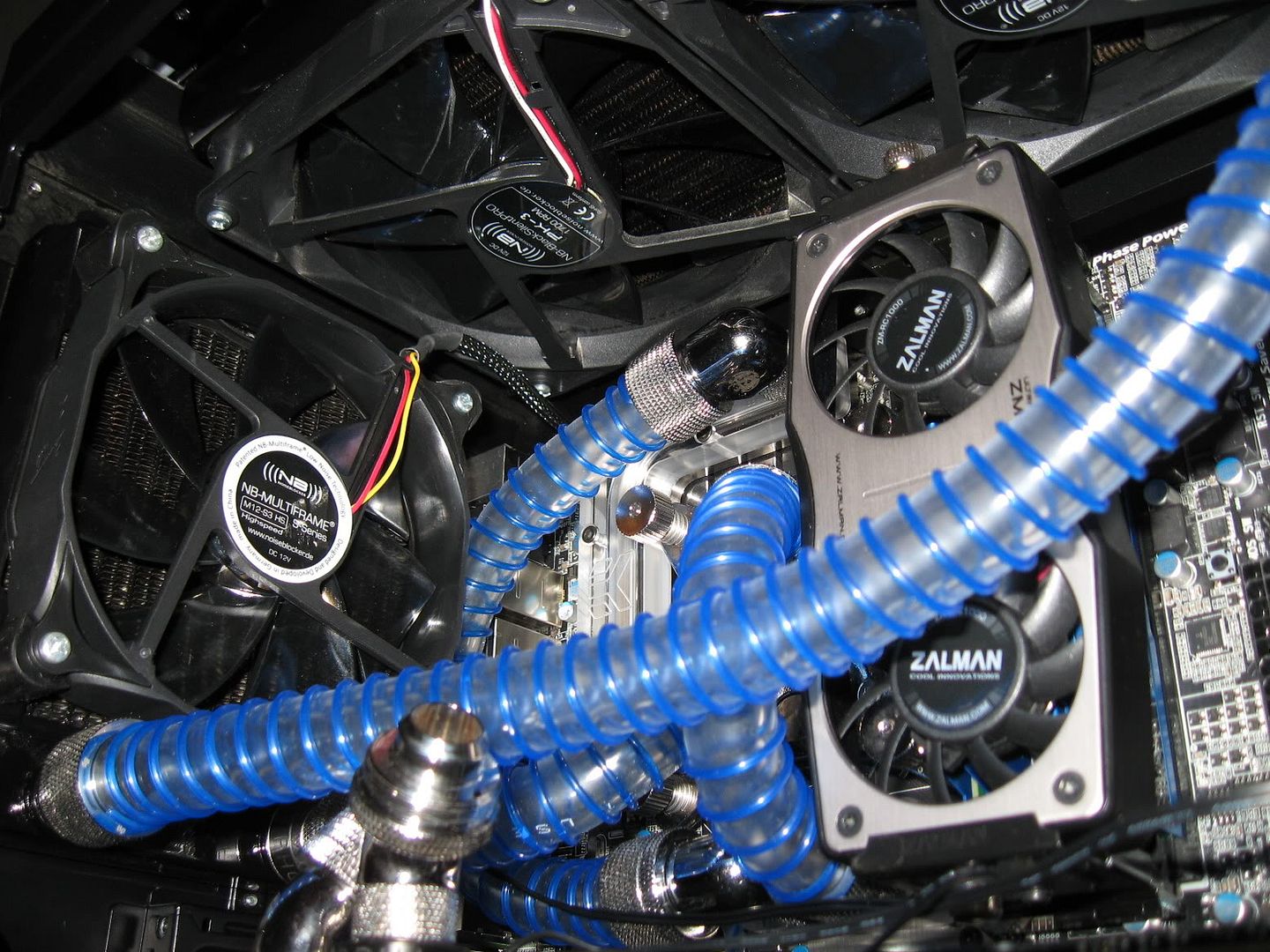 Second angle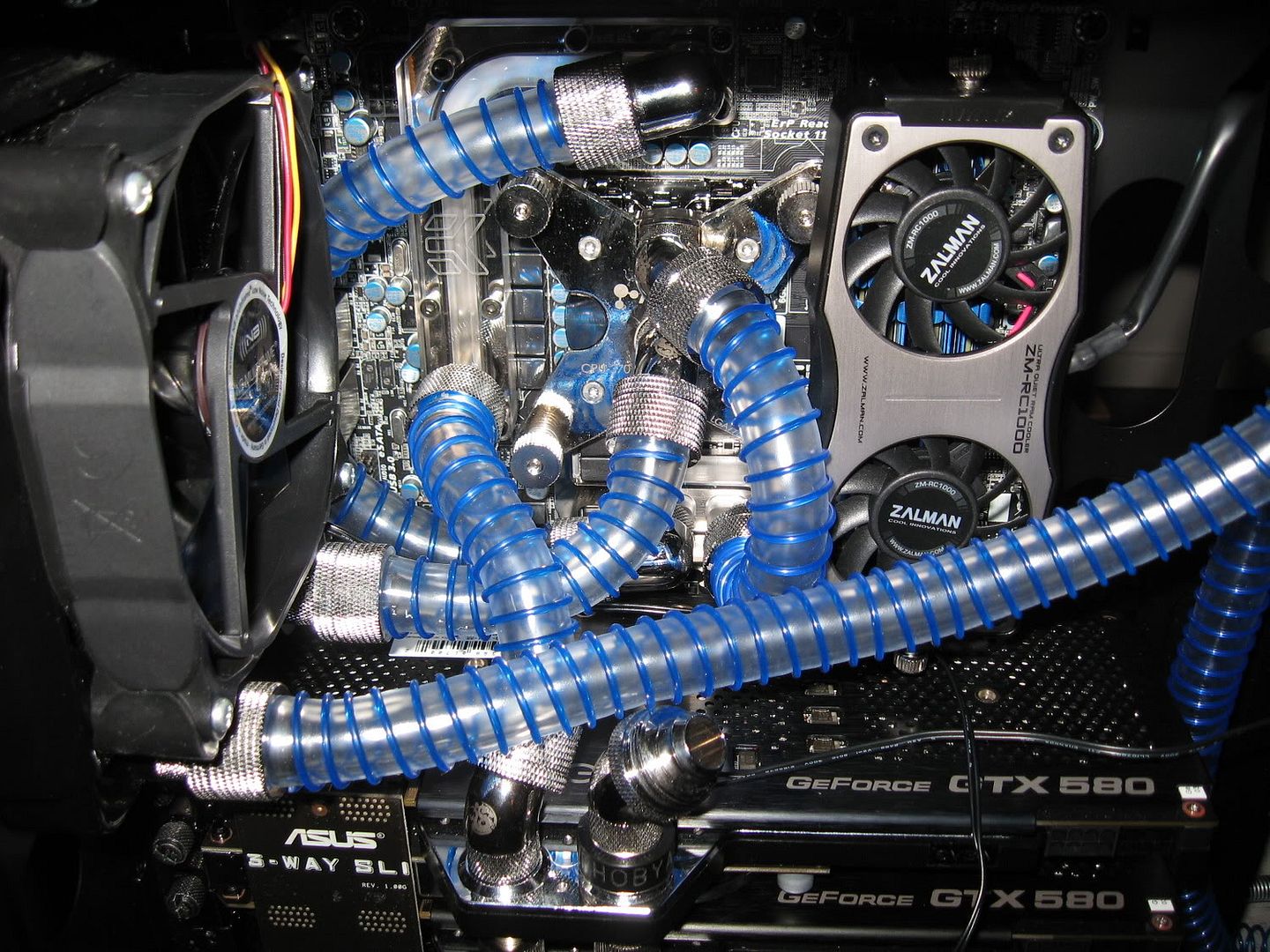 Dark shot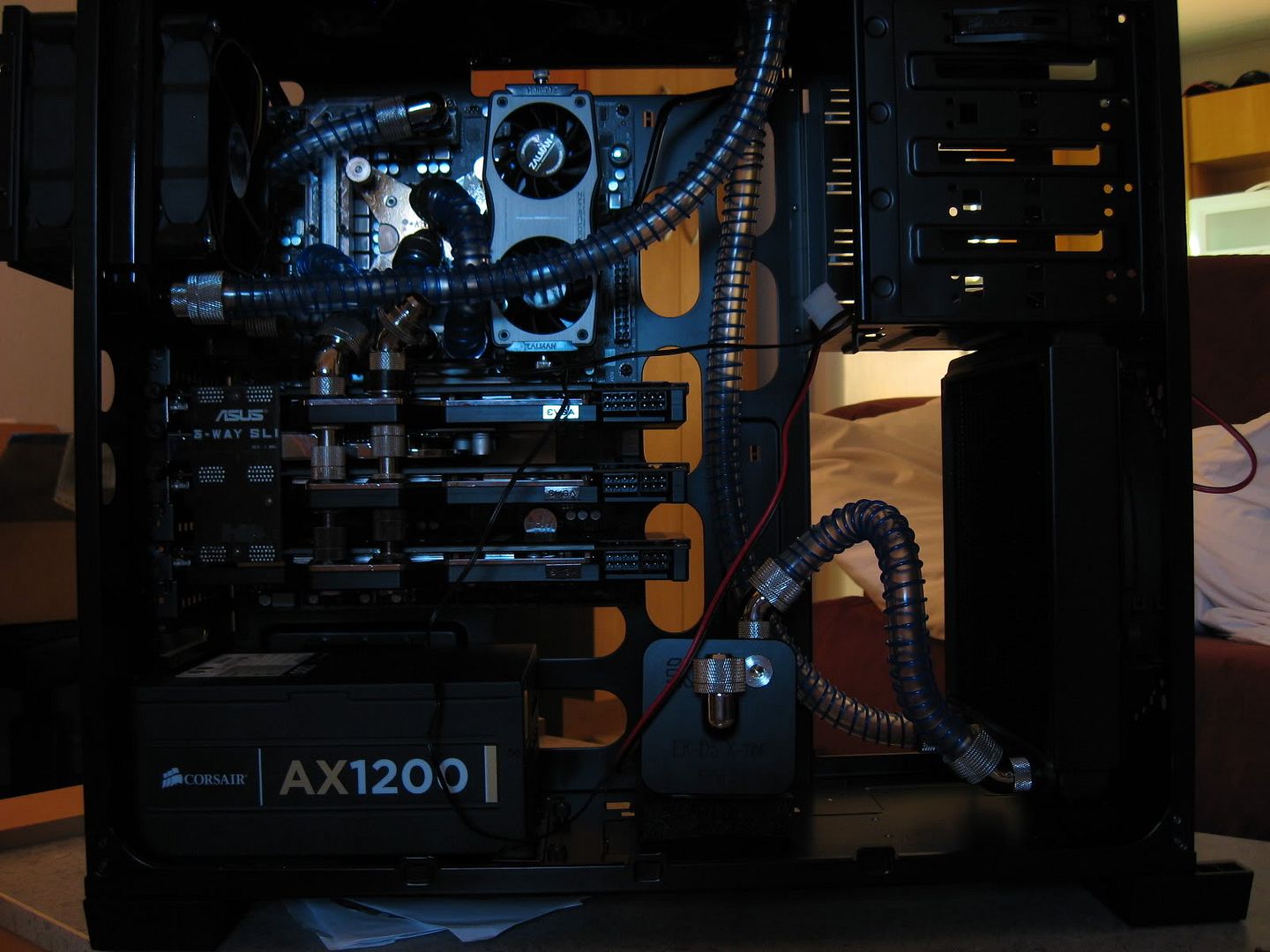 2011-08-05
Well tonight was move night. I had to move everything I had from one place to another. As well as installing LED lights on a VolksWagen Passat. So I tried my new soldering iron.
And then it hit me, The lamptron touch fan controller I bought adjusts fans based on temps. But it adjusts fan channel one based on temp sensor 1 and fan chanel 2 on senors 2. I bought a Phobya inline temp sensor for my water temp and controll fans based on that temp. I don't see myself installing 6 inline Phobya sensors on top of the vid card. It'd look stupid. Then I thought a little.
So I looked at the mess of temp sensors (that comes with the lamptron) and 2 pin connectors, then the soldering iron, then the wires and then the soldering iron.
Then I did this.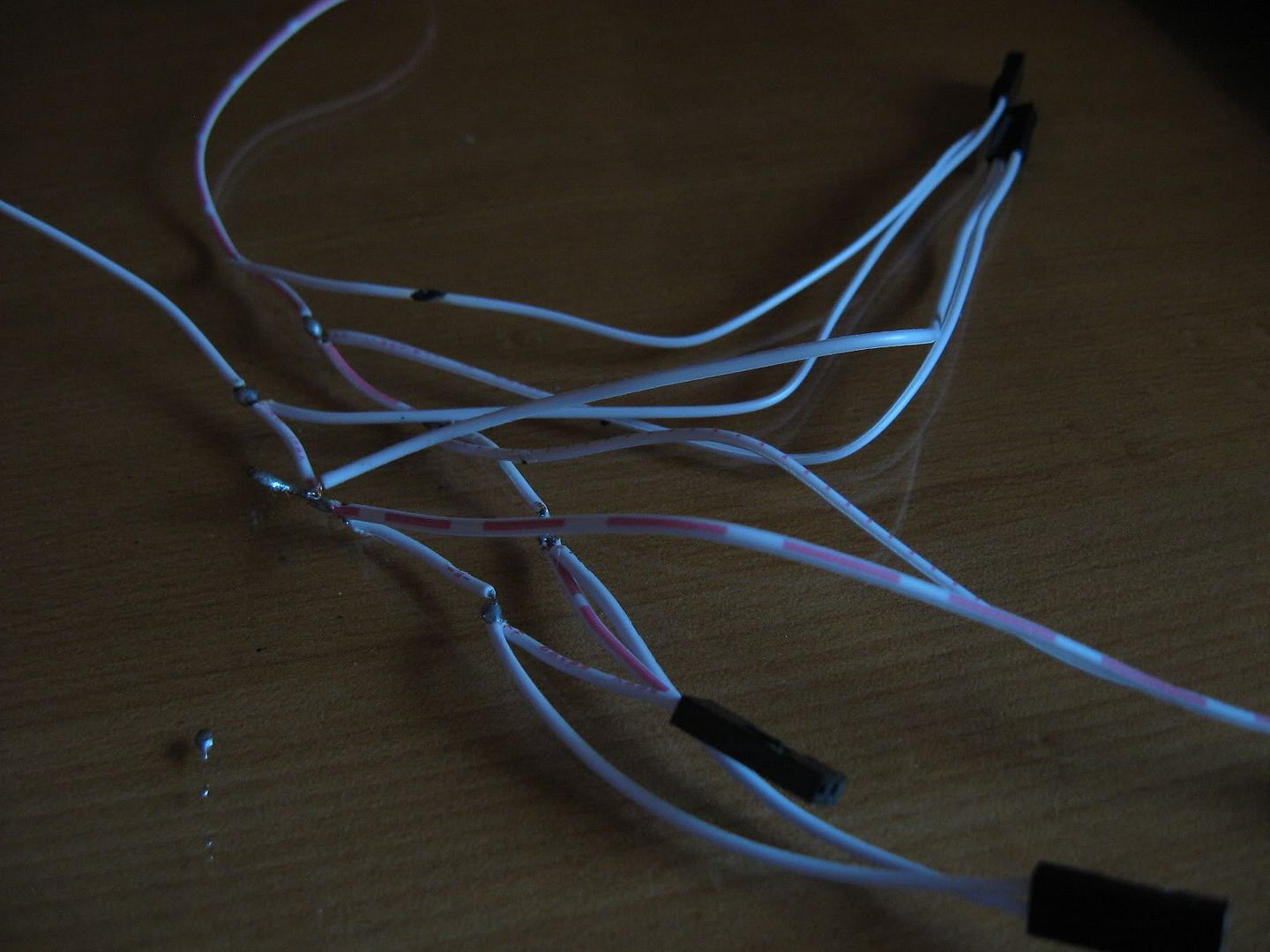 I tried it out... and it works great on all 5 channels (the 6th being the phobya with it's own 2 pin).
This is gonna be awesome!
2011-08-06
AND NOW, FOR ANOTHER ITERATION IF NOOBNESS AND MODDING!
What follows is rated PG. These pictures contain some scenes of metal brutality and little to no awesomeness. Viewer discretion is advised.
So I started the side panel after I got someone with a press drill to get me the holes, makes for a cleaner job. Also prepping to cut the panel.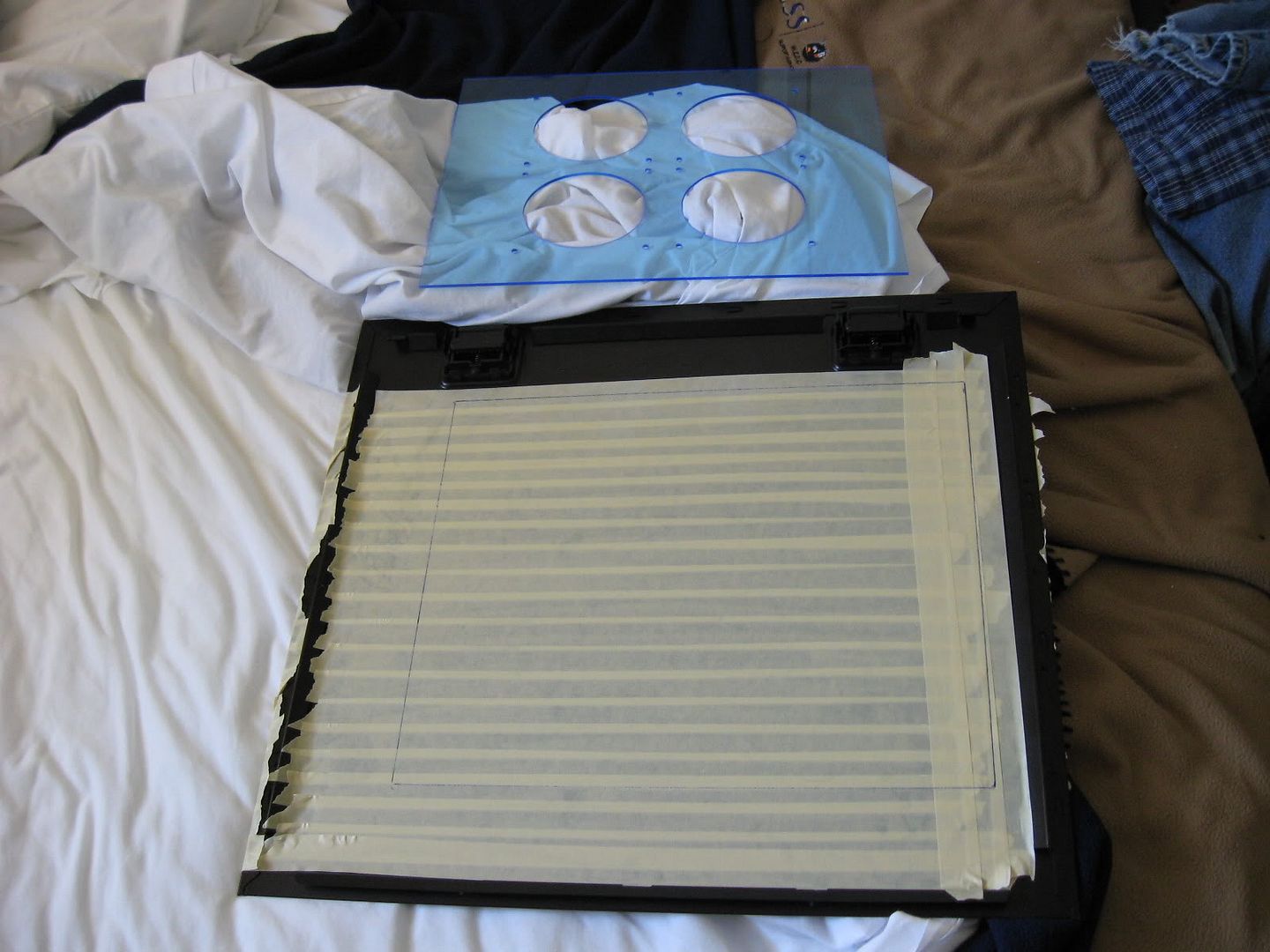 Four hours later. After reading the instructions, re cutting to actually fit, finding out I couldn't get the molding to fit on the panel in one piece. To compound the whole thing I screwed up the modling cuts. I'll be getting some black silicone to fill in the gaps in the corners to cover it up and make a little more tidy. My thumbs are killin' me. Seriously, I thought the worst was over by screwing in those compression fittings. They should send a red warning card in the bag with a bulging thumb. Uhhg!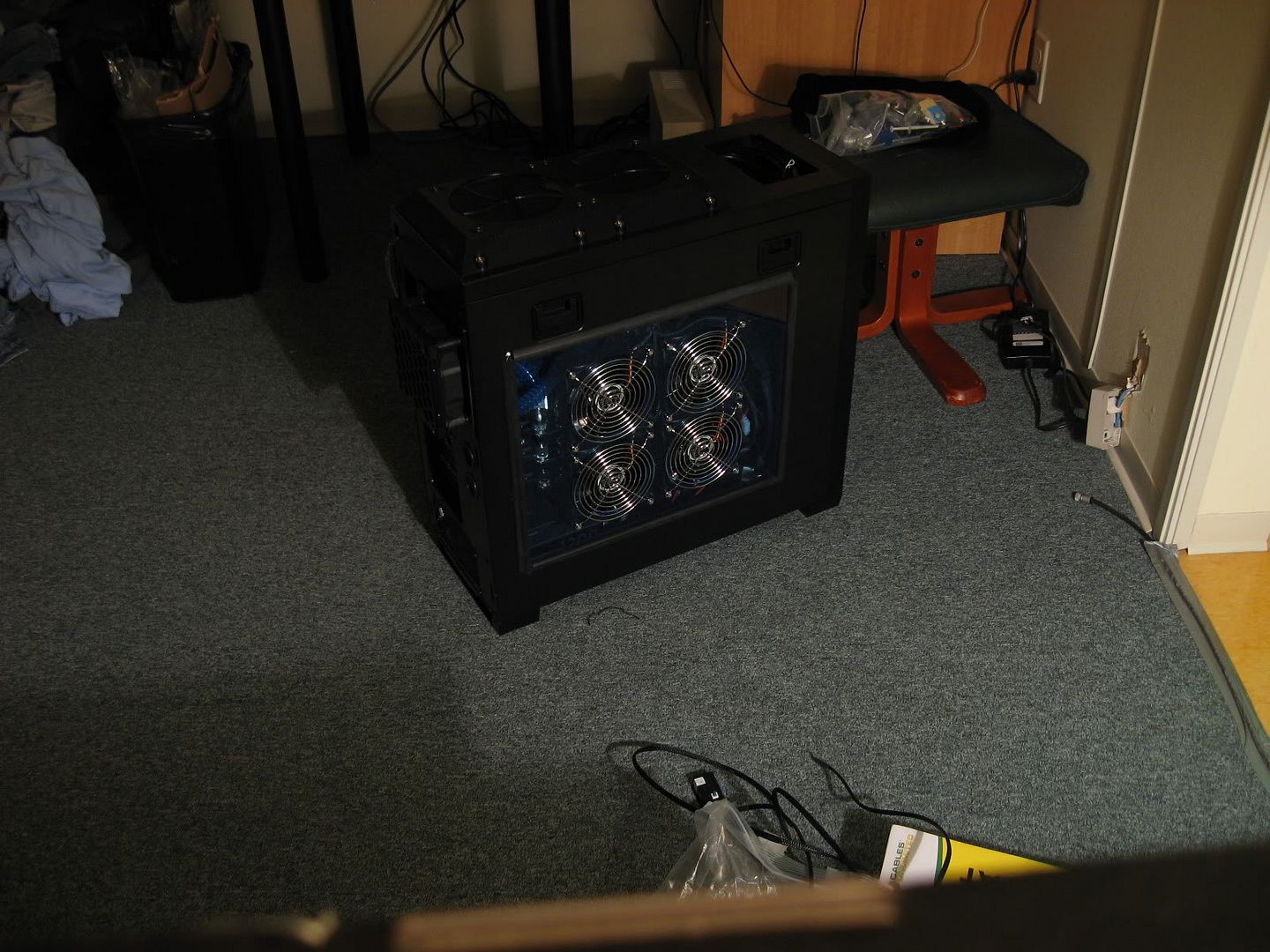 Alright, worked on the next, and last standing mod (withholding the solder and wiring for the temp probes). Here is a basic drawing (missing the second opening square) for the top part of the 650D. I hated the sata 3.0 hot swap, but I hate that gaping hole even more. So the black acrylic will be cut and bolted onto the top where the sata 3.0 went.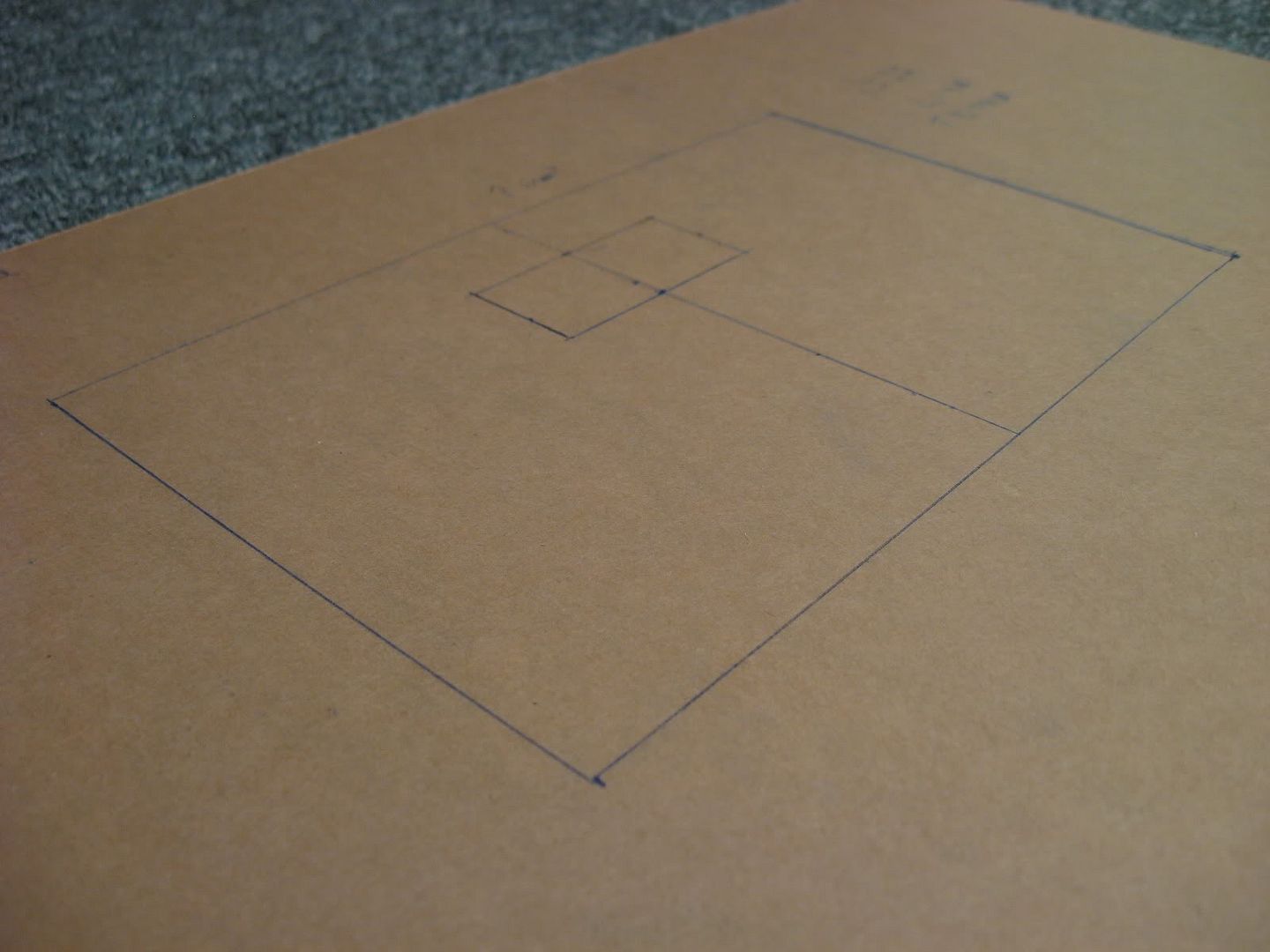 It will be going here.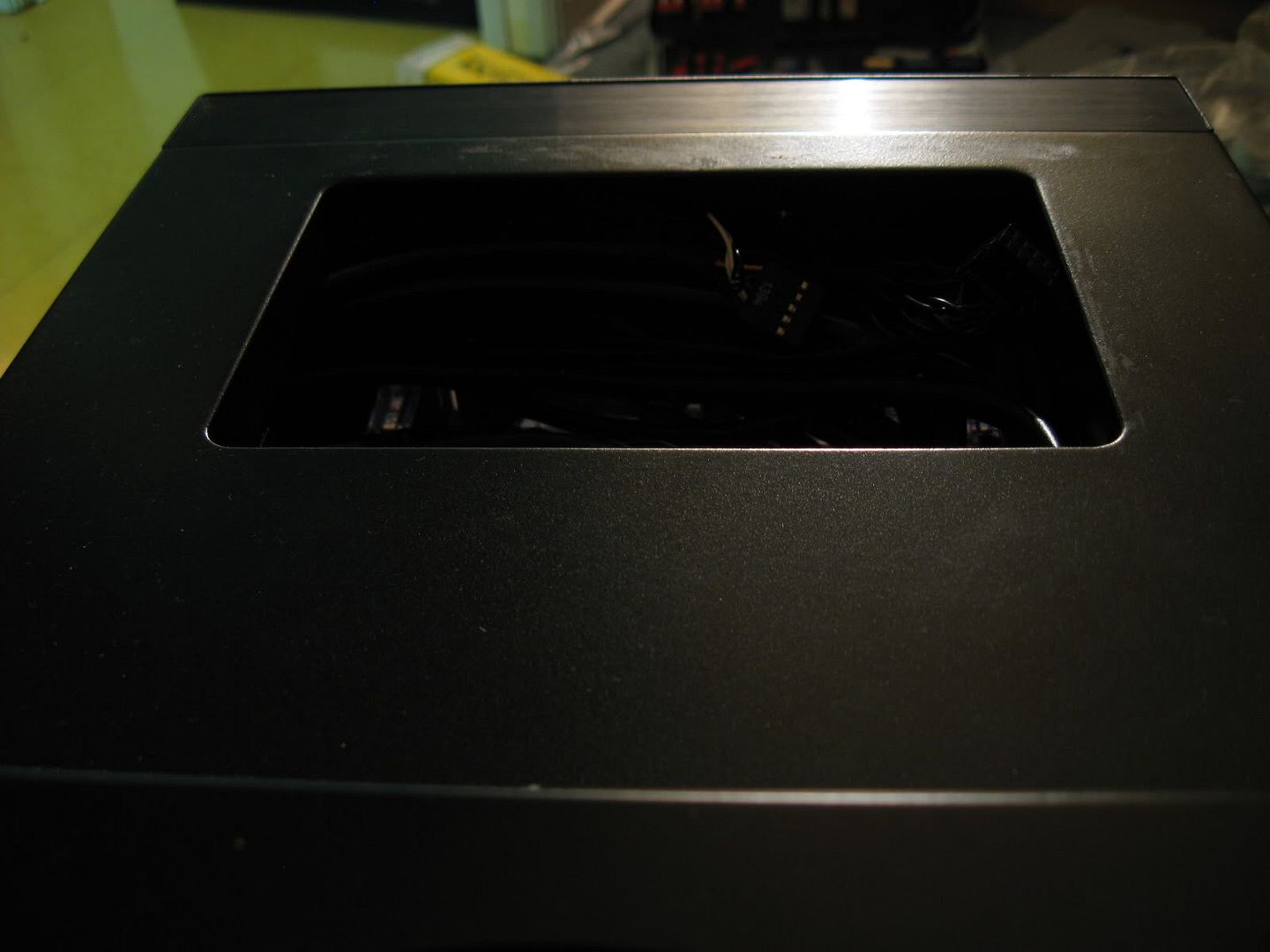 And this is what will fit in the little squares. I still have some soldering to for it to work, but the basic idea is to have my out from my rad (goes through 3 rads for cooler water, I WANT DELTA DAMNIT!) that has a temp sensor mounted will have the blue one. The red one will be the inline temp sensor right out of the vid cards (again, I better have a delta diffrence damnit!). Fills the gap and makes it look nice.
Edited by Rognin - 8/6/11 at 9:54pm
CPU
Motherboard
Graphics
Graphics
Intel Core i7 2700K
Z68X-UD7-B3
NVIDIA GeForce GTX 580
NVIDIA GeForce GTX 580
Graphics
RAM
RAM
RAM
NVIDIA GeForce GTX 580
Corsair
Corsair
Corsair
RAM
Hard Drive
Cooling
Power
Corsair
2x Mushkin 240Gb SSD Raid 0
A lot.
ST1500
Case
Audio
FT02
Xonar ST
View all
hide details
CPU
Motherboard
Graphics
Graphics
Intel Core i7 2700K
Z68X-UD7-B3
NVIDIA GeForce GTX 580
NVIDIA GeForce GTX 580
Graphics
RAM
RAM
RAM
NVIDIA GeForce GTX 580
Corsair
Corsair
Corsair
RAM
Hard Drive
Cooling
Power
Corsair
2x Mushkin 240Gb SSD Raid 0
A lot.
ST1500
Case
Audio
FT02
Xonar ST
View all
hide details