So about a year ago I had my i7 930 OC'd to 4GHz and was getting load temps in the high 60s/low 70s. Recently I noticed though that my idle temps were in the 40s and 50s and my load temps were hitting the high 80s. I remembered that awhile back while cleaning the case I had bumped my heatsink which had caused it to move, so I realized it probably wasn't tight enough. Yesterday I went back, tightened it (and dear lord did it need a lot of tightening), and dusted it while I was at it. Checked my temps and they were down to the high 70s. So then I figured a reseating was in order and about half an hour ago I did just that. Made sure to fully tighten the heatsink's pressure mod this time as well. I then ran prime95 for about 16 minutes and got load temps at nearly 80C on every core (79/78/79/75) and my idle temps are more or less 43C.
What's going on? The heatsink isn't dusty and the only major changes I made to my system in the past year have been removing a dead CPU fan and replacing the other one since it was on its way out too (so now I have push instead of push/pull, but I doubt it could be more than a 1-2C difference and I am using the same model fan now as I was before), adding a fan controller, and upgrading my 5970 to two 6970s. My old OC also became unstable for some reason despite originally passing P95 for 24 hours, so I gave a .01v bump to vcore (so now it's at 1.325v) but surely a bump that small couldn't have resulted in a nearly 10C increase.
Perhaps I used too much AS5, but this is the application method recommended by AS on their site and I used the same application method last year when I had my lower temps so I don't see why it should be any different now. I also realize that AS5 takes 200 hours to cure, but back when I was first OCing I had only had the heatsink installed for maybe a week if even that. Here's a pic I took before I put the heatsink on: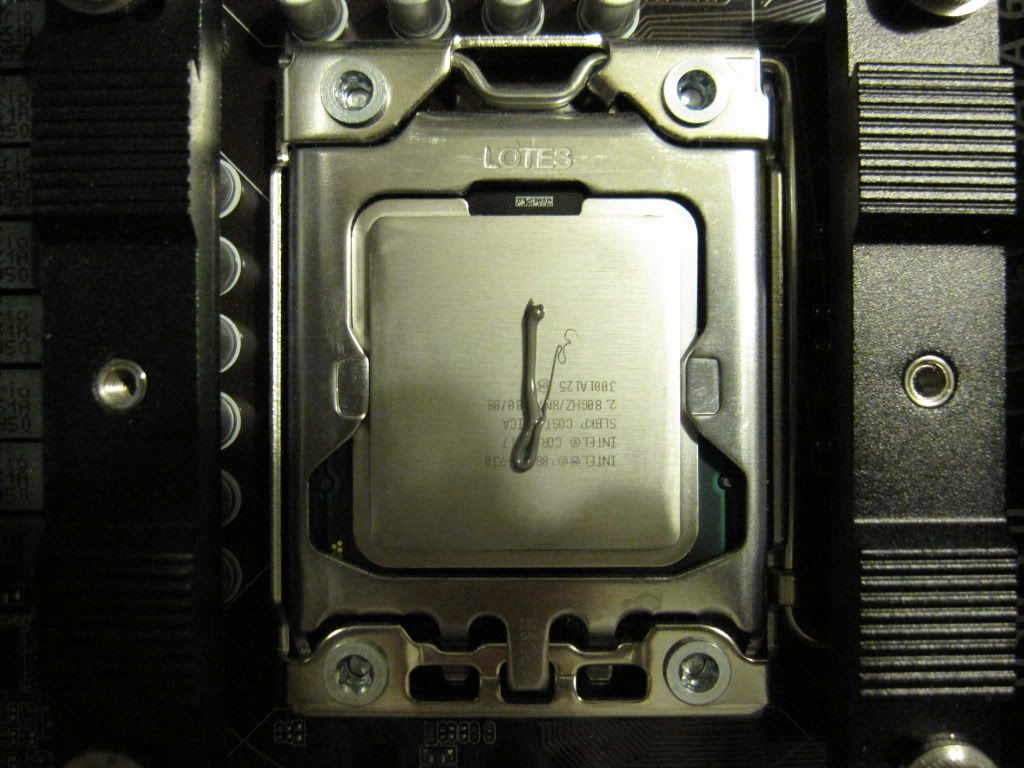 So, what do you guys think?
CPU
Motherboard
Graphics
RAM
i7 930 D0 @ 4.01GHz
P6X58D-E
2x 6970 CFX
G.Skill Pi 3x2GB DDR3 1600MHz 7-8-7-24
Hard Drive
OS
Monitor
Power
160GB Intel X-25M and 1TB Samsung F3 Spinpoint
Windows 7 Ultimate
3x Dell U2311H
Antec TPQ-1200
Case
ATCS 840
View all
hide details
CPU
Motherboard
Graphics
RAM
i7 930 D0 @ 4.01GHz
P6X58D-E
2x 6970 CFX
G.Skill Pi 3x2GB DDR3 1600MHz 7-8-7-24
Hard Drive
OS
Monitor
Power
160GB Intel X-25M and 1TB Samsung F3 Spinpoint
Windows 7 Ultimate
3x Dell U2311H
Antec TPQ-1200
Case
ATCS 840
View all
hide details