Quote:
Originally Posted by
zinfinion
Warning: Spoiler!
(Click to show)
There, fixed that for you.
pox911's original hack:
http://www.cheatengine.org/forum/viewtopic.php?p=5414502&sid=feaa76fde16b24de19d4336f698978c9#5414502
kulatong21's fix:
http://www.cheatengine.org/forum/viewtopic.php?p=5414505&sid=feaa76fde16b24de19d4336f698978c9#5414505
kulatong21's screenshot of the hack at the entrance to the Caustic Caverns (what a shocking coincidence):
And the root post that includes pox911's hack (update #30) along with all the others:
http://www.cheatengine.org/forum/viewtopic.php?p=5407859&sid=feaa76fde16b24de19d4336f698978c9#5407859
For reference, the only legitimate place to get a Vermi to spawn is at the farm located in The Tundra. And then it usually takes 15 minutes of waiting for the multiple stages of evolution to happen, and it isn't always a guaranteed thing.
Not true. I've seen it done in Caustic at least 10 times. All totally legite on a live stream I jump into from time-to-time. I even helped out yesterday but we couldn't get him to spawn there so we went to the farm house and got him on our second try but, he didn't drop anything because we had a level 38 with us...even with four 50's he doesn't always drop good loot. Sometimes it's just piles of money. But it's an interesting/intense and fun challenge to do. Not at all easy.
Don't read this if you haven't finished the game and/or like discovering things about bosses for yourself:
Warning: Spoiler!
(Click to show)
Vermi is what Warrior and Terra should have been. Warrior's birds should have been more aggressive, even in Normal Mode; and, in TVHM there should have been baby dragons attacking you while you fight Warrior. Same with Terra--super aggressive bird things and when you kill a tentacle it spawns a thresher---that's a boss fight. For TVHM they made the bosses too easy when even 1 player of 4 is using Legendary gear properly.
All you have to do is keep them aggro'ed. Keep moving at least kinda near them. You have to keep their attention. Shoot in their general direction.
Warning: Spoiler!
(Click to show)
If you try in Caustic, someone has to run and kill any Chrystalisks that get near because the Varkyds will want to go fight them. Spec for healing as a Siren--and don't use Crowd Control, super heavy as a Zerker.
Really cool guy was kind enough to give me this yesterday:
Warning: Spoiler!
(Click to show)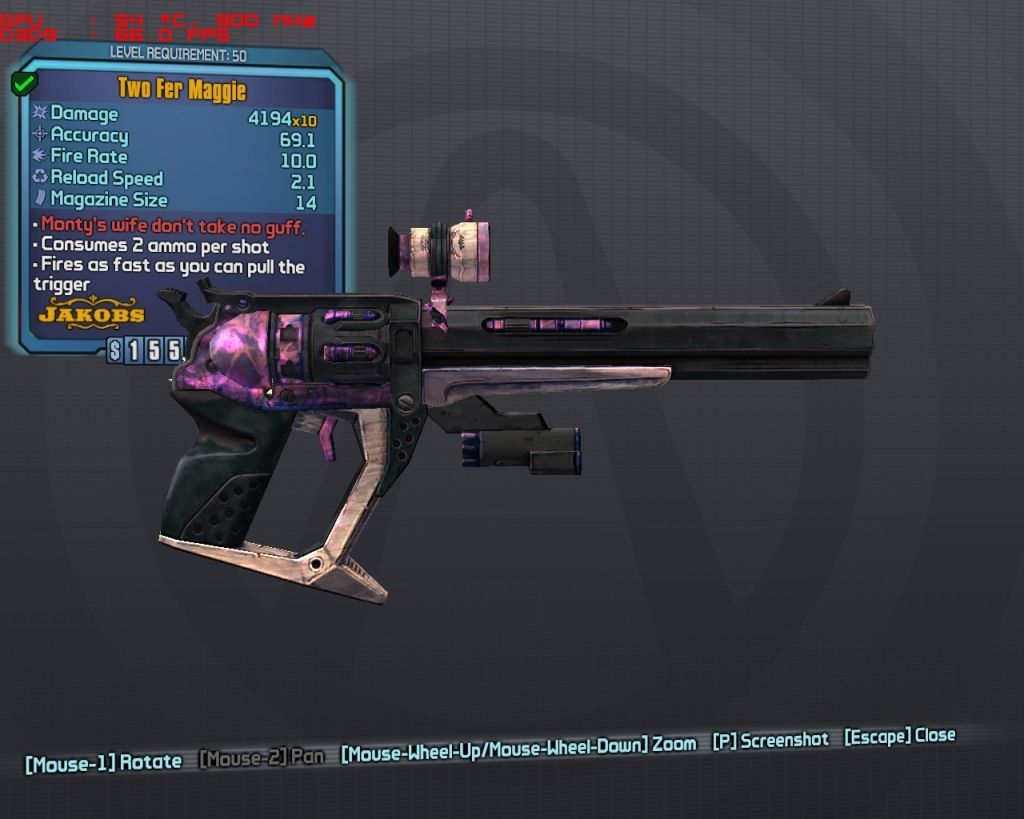 How cool is that..? Plus I got an Orange shotty for helping with Vermi yesterday. I think I'm good for now.
Really think I need to get my Siren past level 5 now...
Almost forgot why I even came here:
BL2 Tweaks
. For anyone who hasn't tried it--try playing without those thick black outlines. IMO, it makes the game look a bit better and will actually give you a few frames back...on average I saw an increase of about 5-9 fps.
@Sev
I like the look without the lines. BL2's art style still really shines without them. And til my GTX 660 gets here I could really use the frames.
Edited by crashdummy35 - 10/8/12 at 1:56pm