Back to the the Extreme3 Gen3
After a particularly tiring session helping to fix up the Z68 Fatal1ty Pro mobo UEFI Vcore bug, I received the E3 G3 and E7 G3 mobos and found the E3 G3 P1.00 UEFI too obviously bugged (again Vcore bug
) to be properly tested and immediately sent my feedback to Asrock Taiwan. Meanwhile I moved on to the E7 G3 and found the semi-R & R break I needed cos the E7 G3 is such a dream stable mobo in comparison to the other mobos.
But by the time Asrock Taiwan rushed me the P1.00B for the E4 G3, I was just too caught up with testing the E7 G3 and exploring its superlative RAM UVOC capabilities in great depths to be going back to the E3 G3 (and dreading it too). Then came the E4 G3, which like all E4 mobos historically before it, is simply well done right from the start.
And that brings me back to the P1.00B UEFI for the E3 G3 and I am happy to say it is way much better than the retail P1.00 but sad to say, it is still below par compared to the usual Asrock standard.
1333C9 LP KVR KTC o'ced to 1600C9 1T
at stock vDIMM of 1.5V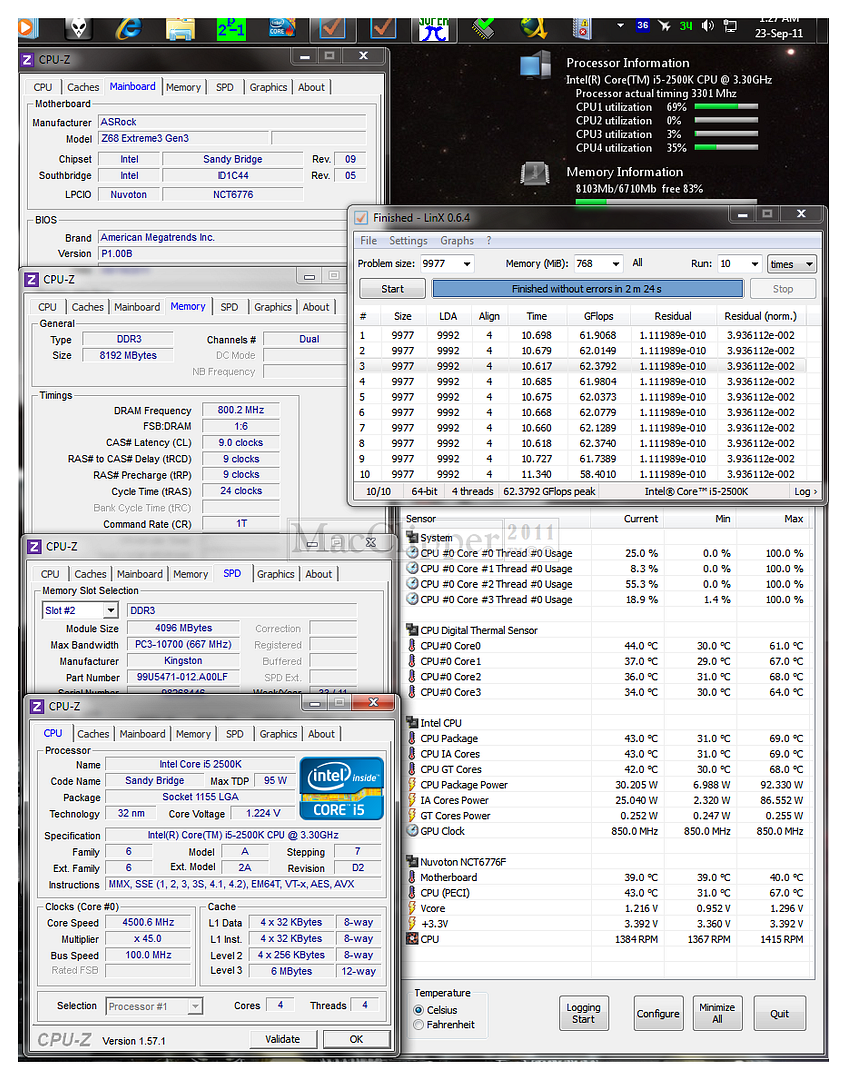 1333C9 LP KVR KTC o'ced to 1866C10 1T
at vDIMM of 1.580V
P1.00B UEFI for the E3 G3Good
More consistent, no more Vcore holes which result in failures to even POST
Vcore in Offset Mode is now stable with LLC Auto (Stable enough to do o'c stress testing, hooray!)
Bad
Vcore in Offset Mode is still unstable with LLC on any manual settings
Needs to be fixed still esp. LLC manual settings
Anyone who wants P1.00B UEFI for the E3 G3 just holler, OK? Meanwhile, time to get back to pestering Asrock Taiwan to work harder on the E3 G3...
Edited by MacClipper - 9/22/11 at 11:31pm
CPU
Motherboard
Graphics
RAM
AMD | Intel
Asrock | Asus
AMD
32GB Vengeance Pro DDR3-2666
Hard Drive
Optical Drive
Cooling
OS
IntelSSD
Pioneer | Samsung
NiCu Heatkiller 3.0 | 655 | MicroRes | GTX360
Win7 x64
Monitor
Keyboard
Power
Case
1920x1200
Logitech
Corsair-Enermax
Open air MoBoX | MSI Bench 3G
View all
hide details
CPU
Motherboard
Graphics
RAM
AMD | Intel
Asrock | Asus
AMD
32GB Vengeance Pro DDR3-2666
Hard Drive
Optical Drive
Cooling
OS
IntelSSD
Pioneer | Samsung
NiCu Heatkiller 3.0 | 655 | MicroRes | GTX360
Win7 x64
Monitor
Keyboard
Power
Case
1920x1200
Logitech
Corsair-Enermax
Open air MoBoX | MSI Bench 3G
View all
hide details