Quote:
Originally Posted by phantasmor;14622854 
OK, great cabling too! can you post a shot of it from further away? also, how did you get the mobo white or did it come like that?
here you go.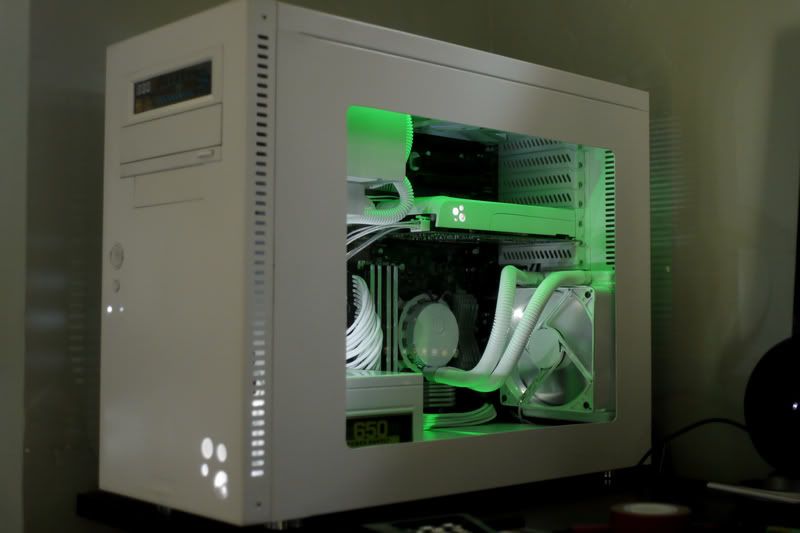 i painted all the mobo ports black (the pcb is already black), and used black slot covers from frozencpu.com for the slots i couldn't paint...the heatsinks on the mobo took a dip in drano to get rid of the blue anodizing. that's about it for the mobo.
CPU
Motherboard
Graphics
RAM
i7 2600k @ 4.7ghz 1.34v
Asus P8P67 Pro B3 Rev 3.0
GTX 550ti-not a gamer!
8GB Corsair XMS3 1600mhz 1.5v
Hard Drive
Optical Drive
OS
Monitor
OS: Crucial M4 64GB, 2x WD Caviar Blue 1TB
Lite-On iHBS212
Windows 7 HP 64-bit
HP 2311x 23" LED 1920x1080
Keyboard
Power
Case
Mouse
BTC Illuminated
Corsair TX650W
All White Lian Li A05N
Microsoft Arc - White
Mouse Pad
No
View all
hide details
CPU
Motherboard
Graphics
RAM
i7 2600k @ 4.7ghz 1.34v
Asus P8P67 Pro B3 Rev 3.0
GTX 550ti-not a gamer!
8GB Corsair XMS3 1600mhz 1.5v
Hard Drive
Optical Drive
OS
Monitor
OS: Crucial M4 64GB, 2x WD Caviar Blue 1TB
Lite-On iHBS212
Windows 7 HP 64-bit
HP 2311x 23" LED 1920x1080
Keyboard
Power
Case
Mouse
BTC Illuminated
Corsair TX650W
All White Lian Li A05N
Microsoft Arc - White
Mouse Pad
No
View all
hide details