I've been lurking here for about 6 months. I got out of the PC game when I was 15 and got a new money pit (truck), and got into ps3 gaming (COD). I finally jumped back in last year. I've been folding under the OCN team number for awhile and now need to get a couple posts to join a team for some friendly competition on here. Here's the new system, it's not much, but it's a big upgrade from the prescott p4 I was still running with free parts from family and friends:
Phenom II 965 BE @ 4.1 w/mugen II and two coolermaster fans
8 gigs gskill ram
Asus M4A89GTD
Asus EAH6850 @ stock speeds
Raidmax 530 watt psu
500gb caviar black
Looking back, wish I woulda went with a 6 core and a 6870, but for the $700 I invested it's treating me well. Future upgrades will probably be Nvidia cards with patched SLI when I have the cash for 3 22" monitors. For now I'm running it through my optoma HD66 720p projector on a 110" screen. Quite a sqeeze in my 14x14' room, but I make it work.
Here's some pics of the other money pit to add some fun to this lame ass thread.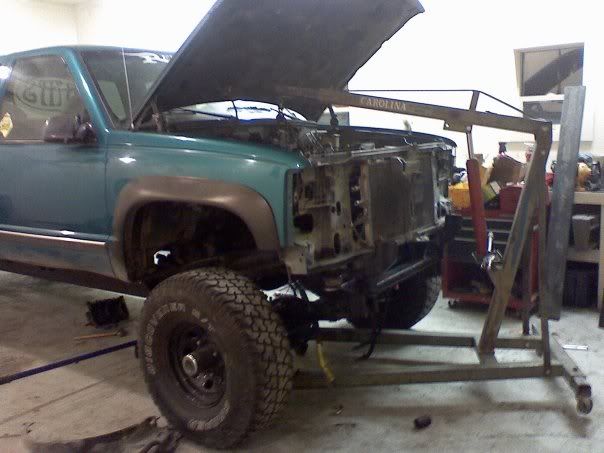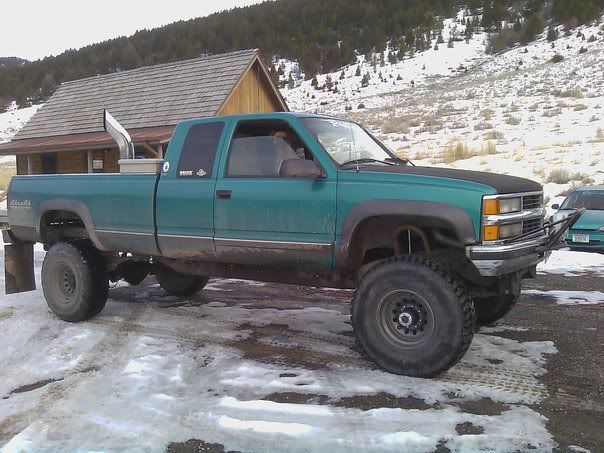 '95 Chevy 3/4 ton with a Dana 60 front and a '95 Cummins, everything fabricated myself. In that trim it dyno'd 280.2hp and 920.7 ft-lbs torque with the stock turbo, '97 injectors, pump mods, and LOTS of timing on stock head bolts retorqued.
This is how it's sitting now with 53" Boggers, but after shearing the bolts off the front yoke, I realized I don't have the money to make it work so it's going back down to 40s.
Also a pic of the prescott build when it was first done. It later deteriorated to air cooled on a cardboard box.