Hey guys, lets discuss this new laptop, your thoughs and opinions..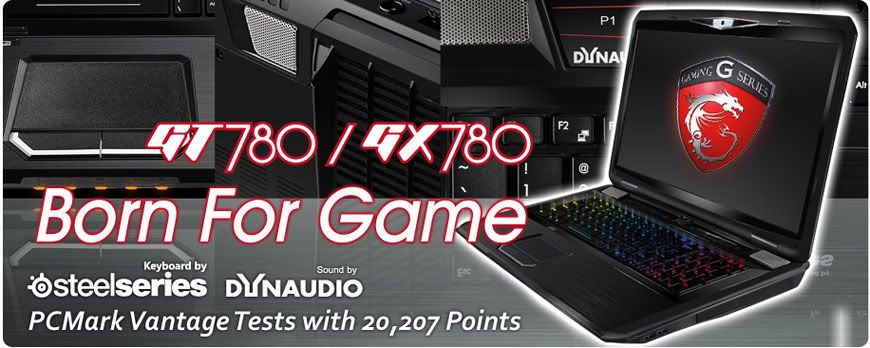 Specifications :
• Intel® Core™ i7-2630QM Processor
• Windows® 7 Home Premium 64bit
• 17.3" Full HD Anti-reflective Display (16:9; 1920 x 1080)
• NVIDIA® GeForce® GTX 570M, 1.5GB GDDR5
• Accelerated performance with MSI TDE Technology
• Full-color programmable backlit keyboard by SteelSeries
• MSI Cooler Boost Technology
• Dynaudio Premium Sound Speakers
• 1TB hard drive with Raid 0
• 8GB DDR3 system memory
• USB 3.0 for high speed data transfer
• HDMI 1.4 (High-Definition Multimedia Interface) output
• Built-in 720p HD webcam
• 802.11 b/g/ n Wireless LAN with Bluetooth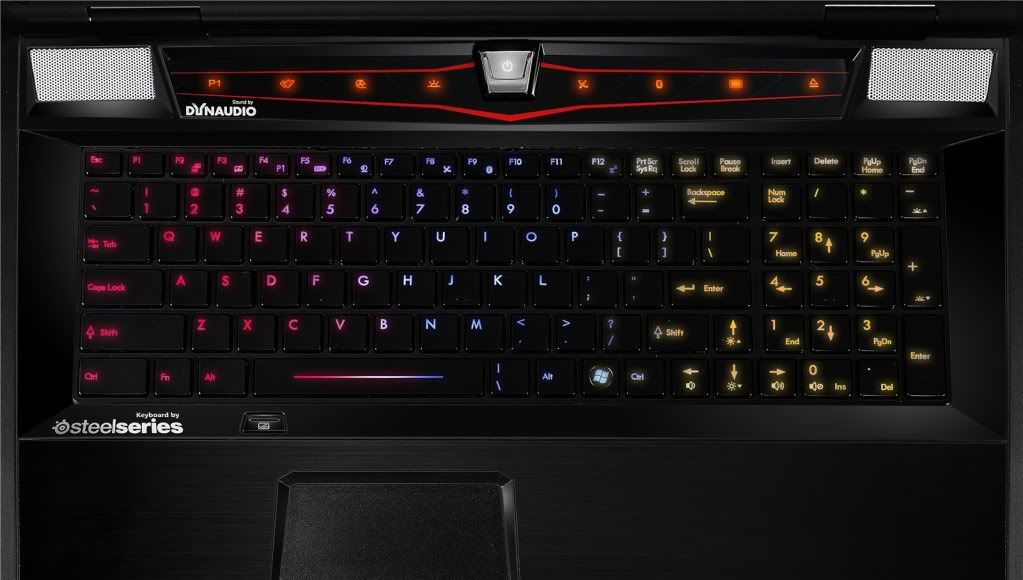 ---
First time doing something like this, please correct me if i made any mistake. I would appreciate it. On topic, what do you think about this beast ? Are you going to buy it ?
EDIT: All threads are unofficial unless authorized by the editing staff, there is no need to add unofficial to the title
CPU
Motherboard
Graphics
RAM
Intel Sandy Bridge i7-2760QM 3,5Ghz
Intel® HM67 Express Chipset
Nvidia GeForce GTX 570M 1.5GB GDDR5
16GB DDR3, 1333Mhz
Hard Drive
Hard Drive
Cooling
OS
WD Scorpio Black 750Gb, 7200rpm RAID 0
WD Scorpio Black 750Gb, 7200rpm RAID 0
IC Diamond
Windows 7 Home Premium, 64-bit
Monitor
Keyboard
Power
Case
17,3 1920x1080 Matte
Roccat Isku
9-Cell 7800 mAh
Aluminium + Solid Plastic
Mouse
Mouse Pad
Other
Other
Roccat KONE+
Roccat SENSE blue
Roccat Valo
CoolerMaster CF-19 Laptop Cooler
Other
Other
Other
Belkin Cush top Case
Laptop Keyboard by Steelseries
Laptop Sound by DYNAudio 2.1
View all
CPU
Motherboard
Graphics
RAM
Xeon X3440 @3,8 Ghz
MSI Big Bang-Fuzion
GIGABYTE GTX570
Geil Value+ 2x2GB DDR3, 1600 MHz
Hard Drive
Hard Drive
Hard Drive
Cooling
Samsung F3 500 Gb
Samsung F1 TB
WD External 500 Gb
Coolermaster 212+
Cooling
Cooling
OS
Monitor
Gigabyte Stock cooler
Noctua Fans
Windows 7 Home Premium, 64-bit
Acer GD245HQbid + 3D Vision Kit + 3D Glasses
Keyboard
Power
Case
Mouse
Roccat Isku
SEASONIC X-750W (80Plus Gold)
CM Elite 430 - Black Ed.(cheap crap)
Roccat KONE+
Mouse Pad
Audio
Roccat Sense
Realtek Audio
View all
hide details
CPU
Motherboard
Graphics
RAM
Intel Sandy Bridge i7-2760QM 3,5Ghz
Intel® HM67 Express Chipset
Nvidia GeForce GTX 570M 1.5GB GDDR5
16GB DDR3, 1333Mhz
Hard Drive
Hard Drive
Cooling
OS
WD Scorpio Black 750Gb, 7200rpm RAID 0
WD Scorpio Black 750Gb, 7200rpm RAID 0
IC Diamond
Windows 7 Home Premium, 64-bit
Monitor
Keyboard
Power
Case
17,3 1920x1080 Matte
Roccat Isku
9-Cell 7800 mAh
Aluminium + Solid Plastic
Mouse
Mouse Pad
Other
Other
Roccat KONE+
Roccat SENSE blue
Roccat Valo
CoolerMaster CF-19 Laptop Cooler
Other
Other
Other
Belkin Cush top Case
Laptop Keyboard by Steelseries
Laptop Sound by DYNAudio 2.1
View all
CPU
Motherboard
Graphics
RAM
Xeon X3440 @3,8 Ghz
MSI Big Bang-Fuzion
GIGABYTE GTX570
Geil Value+ 2x2GB DDR3, 1600 MHz
Hard Drive
Hard Drive
Hard Drive
Cooling
Samsung F3 500 Gb
Samsung F1 TB
WD External 500 Gb
Coolermaster 212+
Cooling
Cooling
OS
Monitor
Gigabyte Stock cooler
Noctua Fans
Windows 7 Home Premium, 64-bit
Acer GD245HQbid + 3D Vision Kit + 3D Glasses
Keyboard
Power
Case
Mouse
Roccat Isku
SEASONIC X-750W (80Plus Gold)
CM Elite 430 - Black Ed.(cheap crap)
Roccat KONE+
Mouse Pad
Audio
Roccat Sense
Realtek Audio
View all
hide details