Quote:
Originally Posted by
traveler;15503002
I was wondering what that MSI BurnRecovery icon was all about. So it burns the hidden partition with the factory OEM to optical. Good to know. I'll have to do that soon.
Why didn't you create an image of all your stuff as is? That would have saved tons of time?
To use MSI burn recovery you just need 3 blank DVD's,
My laptop is just factory spec so the burn recovery was good enough for my needs
been playing with the MSI afterburner today and been clocking the graphics card and wtching temps.
What have others ben getting on the 570m???
Mine are Core clock 729Mhz, shader Clock 1458Mhz, Memory Clock 1950Mhz temps max have been 65c that's what MSI fterburner has shown me
GPU-z below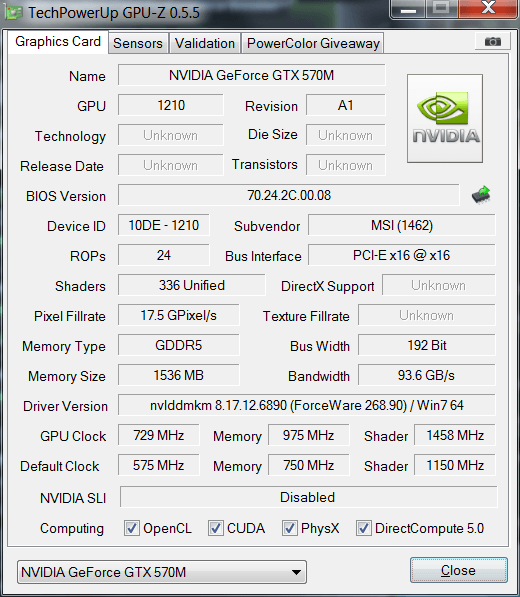 CPU
Motherboard
Graphics
RAM
i7 2860qm
MSI
NVIDIA® GeForce® GTX 570M, 1.5GB GDDR5
12GB DDR3 1600mhz
Hard Drive
Optical Drive
OS
Monitor
2x 750gb 7200.4rpm Sata2 RAID 0
Blue ray Player
Windows® 7 Home Premium 64bit
17.3" Full HD Anti-reflective Display (16:9; 1920
Keyboard
Power
Case
Mouse
Steel Series
180W
MSI GT780DX
ASUS ROG GX800
View all
hide details
CPU
Motherboard
Graphics
RAM
i7 2860qm
MSI
NVIDIA® GeForce® GTX 570M, 1.5GB GDDR5
12GB DDR3 1600mhz
Hard Drive
Optical Drive
OS
Monitor
2x 750gb 7200.4rpm Sata2 RAID 0
Blue ray Player
Windows® 7 Home Premium 64bit
17.3" Full HD Anti-reflective Display (16:9; 1920
Keyboard
Power
Case
Mouse
Steel Series
180W
MSI GT780DX
ASUS ROG GX800
View all
hide details