Hey all, first review here, so if I'm missing anything, let me know...
Specs:
model name: dv6 3150us
Processor:
Intel i5 460m
RAM: 4GB DDR3
Graphics: Intel HD3000
Hard drive: 600GB 5400rpm
screen size: 15.6"
I've had this for about 6 months now and am ready to share my thoughts. I'll start off by talking about the things I don't like: the trackpad and build quality.
The trackpad is decently sized, but it's just annoying to use, and eventually drove me to buy a wireless mouse, but you can't use that everywhere. The trackpad has a red LED in the top left corner that, if you double tap anywhere near it, the LED will come on and the track pad will be disabled. This is a pretty dumb feature that, while i can count the number of times it has happened on my two hands, is still really annoying. And the fingerprint reader is too sensitive. I'll be doing something else and accidentally swipe anything across it, and it outputs a 'pop' noise when it fails to read. I'd need about fifty people's hands to count how many times that has happened.
The whole shell has a lot of flex to it, like it's made of little tikes plastic. When closed, you can push down on the top of the screen a lot further down than it should be able to. The screen when open also has a lot of flex. Also, a portion of the bottom panel that houses the hard drive and upgradeable ram slots has partially popped open. I fiddled around with it without actually removing the panel and was unable to push the clips back inside. This could likely be fixed by unscrewing the panel and replacing it, but it's still something that shouldn't happen. If you've never turned the machine on, you'd think this was a $400 machine.
Except it isn't. And when you do turn it on, your opinion will probably change. After cleaning the typical crapware, the dual core easily cuts through applications and multitasking, while the 4gb of ram keeps it smooth. I remember running photoshop, video encoding, while watching a 720p youtube video and the system still remained reasonably responsive. And the intel IGP, while not really suited for gaming, runs video just fine. The two games i tried, Halo and Minecraft, were mostly playable on lower settings, with minecraft moving between 25 and 30 fps. Halo was almost entirely dependent on resolution. The hard drive, while being a slow 5400 rpm, is otherwise fine. The screen is also nice, with a good amount of real estate. Only disappointment is the 1366x768 resolution.
I'm sure I'll update this later with more, but that's all for now. Thanks for reading!
Pictures: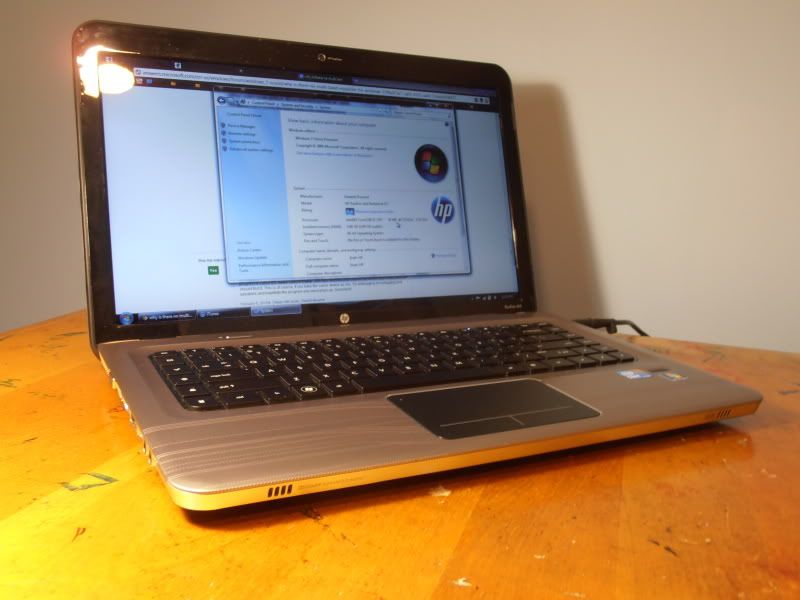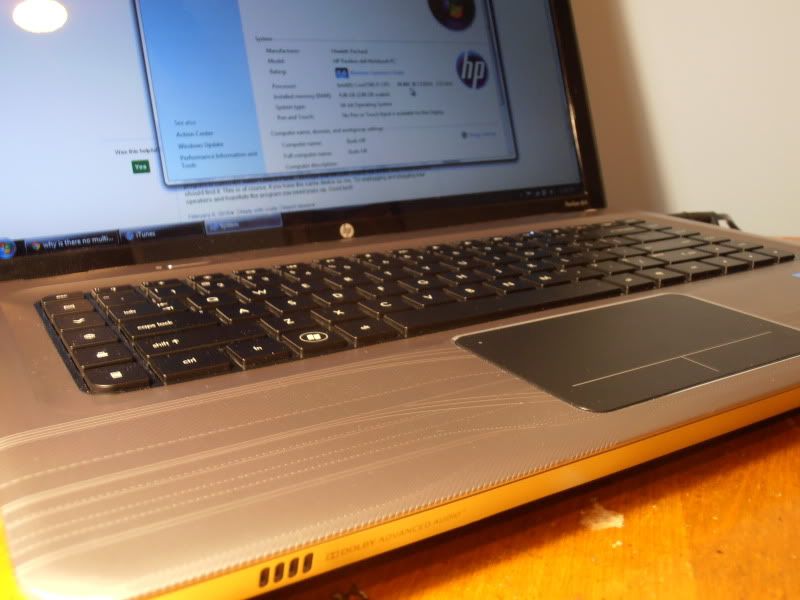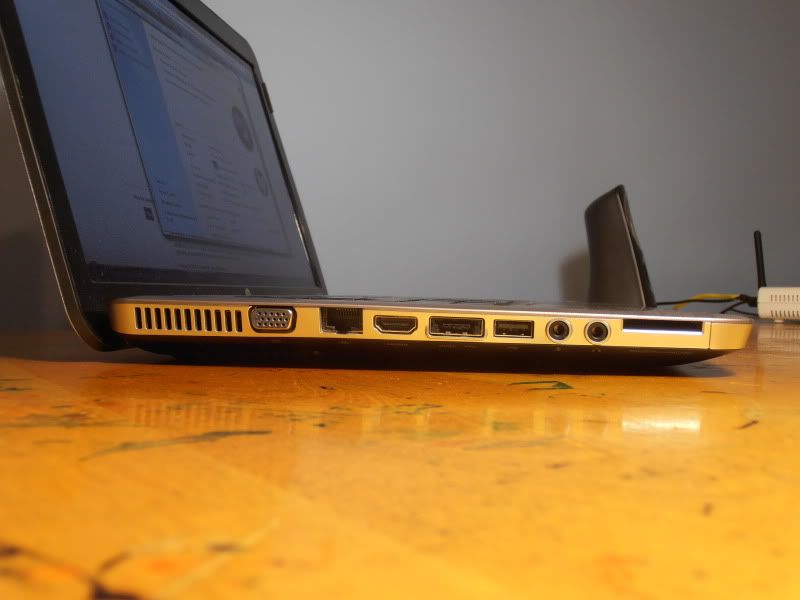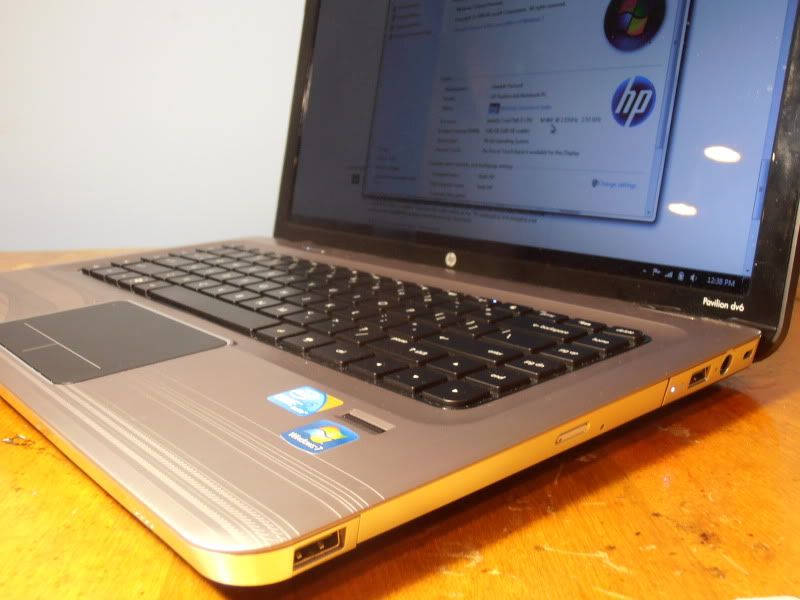 The popped panel I talked about \\/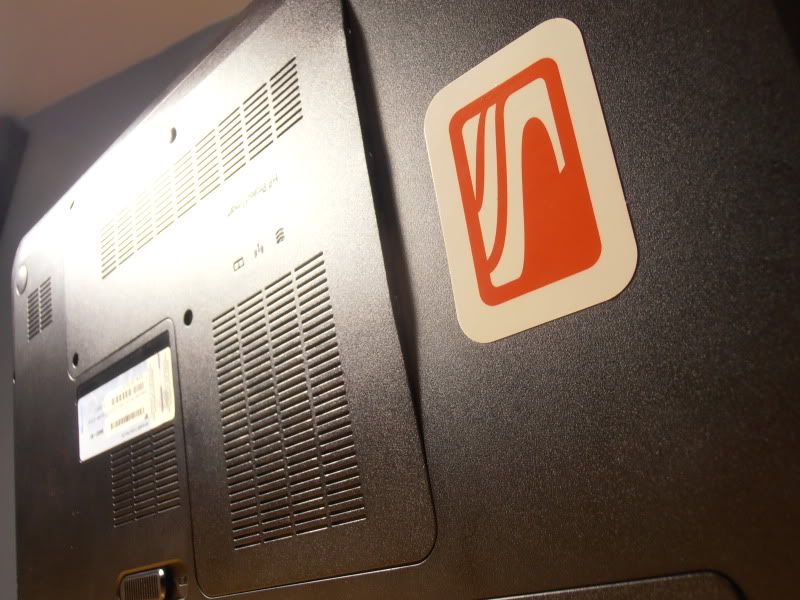 CPU
Motherboard
Graphics
RAM
Phenom 550BE @3.6ghz no unlock :(
Giga GA-MA78LM
XFX 6770
4GB Corsair ddr2 800
Hard Drive
Cooling
OS
Monitor
500GB WD Cav Green
Cooler Master Gemin II
Win7 x86 (64 coming soon)
LG 20", HP 17"
Keyboard
Power
Case
Logi G15
Corsair 400w
Antec 300 plastidipped
View all
hide details
CPU
Motherboard
Graphics
RAM
Phenom 550BE @3.6ghz no unlock :(
Giga GA-MA78LM
XFX 6770
4GB Corsair ddr2 800
Hard Drive
Cooling
OS
Monitor
500GB WD Cav Green
Cooler Master Gemin II
Win7 x86 (64 coming soon)
LG 20", HP 17"
Keyboard
Power
Case
Logi G15
Corsair 400w
Antec 300 plastidipped
View all
hide details